The 2020 Buick Encore GX steals the parking spot left between the smallest mainstream and luxury crossovers in a stylish package. Buick does a double take for the 2020 model year. It's offering the older Encore hatchback while it introduces the new Encore GX, which isn't much more expensive or much bigger. The GX is the Encore you want to drive, though, thanks to gains in styling, safety, and features. Offered in Preferred, Select, and Essence versions, the 2020 Encore GX.
The Encore GX revisits the same premium hatchback/crossover puzzle as the prior Encore, but it solves it more convincingly. The GX's cresty, curvy body isn't much bigger or wider than before but it's more handsome, and wears better details from its chrome roofline trim to its softly rounded LED taillights. The cabin works harder to earn your vote, with high-end models draped in metallic trim, upholstered dash panels, and a smarter touchscreen with an easier to use interface.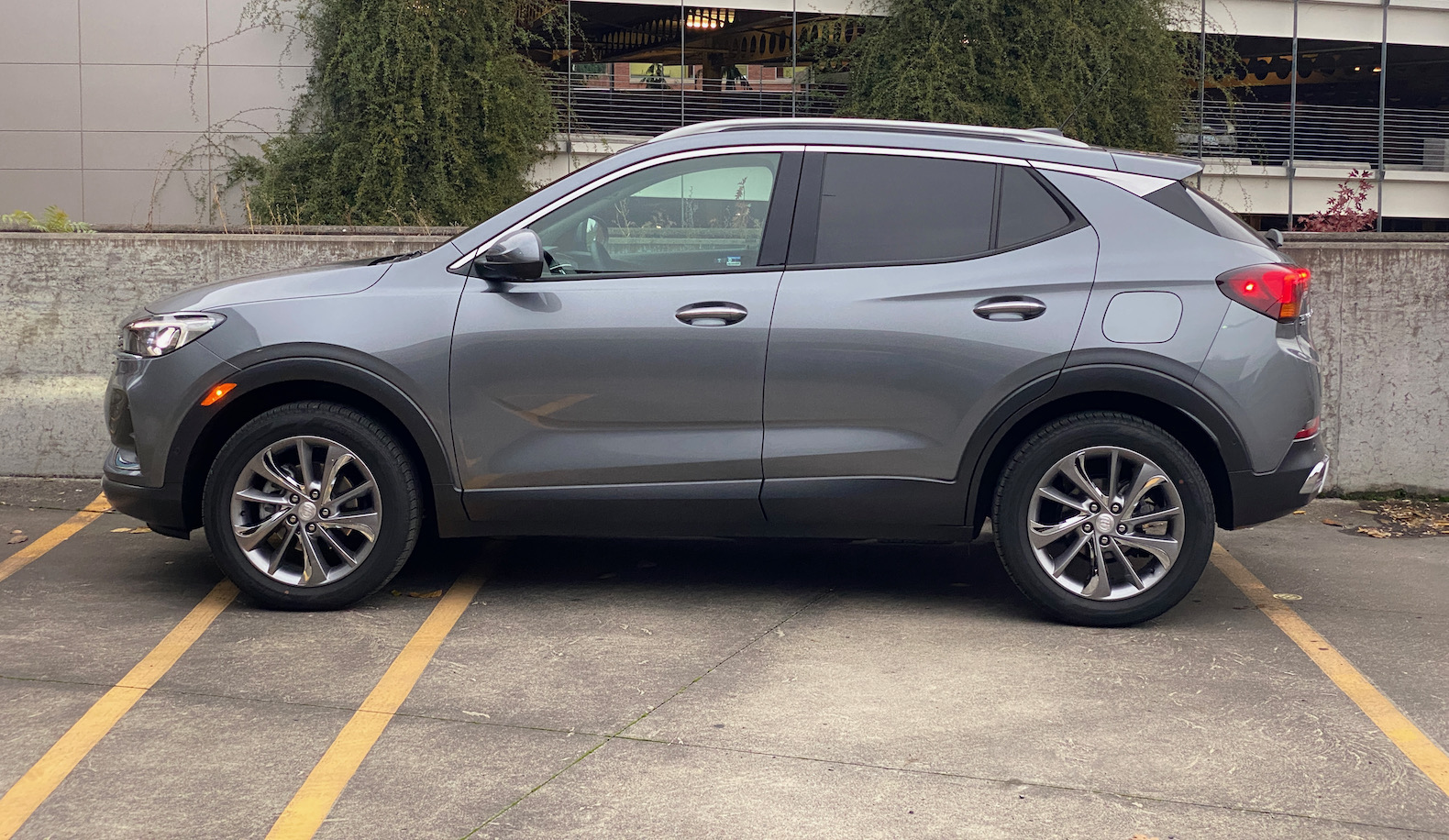 A turbo-3 engine powers the Encore GX, and it's more impressive than the 4-cylinder it replaces. A lower-output 1.2-liter version comes standard, but a $395 upcharge brings the Encore GX a better-tuned 1.3-liter turbo-3 with 155 horsepower and ample low-end torque. Teamed with a continuously variable automatic transmission (CVT) in front-wheel-drive or a 9-speed automatic in all-wheel drive, the powertrain lays down eight-second 0-60 mph times, plenty for the Encore GX's commuter-car mission. It rides well without handling like a much larger vehicle.

Every Encore GX has automatic emergency braking, while blind-spot monitors and adaptive cruise control are available but limited crash test data exists. The 2020 models range from about $26,000 to more than $34,000. With standard touchscreen infotainment, power features, newly standard wireless Apple CarPlay and Android Auto, and options for Bose audio and a panoramic roof, we think the best Encore GX is the Select trim, with a sticker price near $27,000.
The Buick Encore GX fashions itself as an upscale hatchback. Sometimes a curve is all it takes. Buick's older Encore seemed too tall and too stubby; not so much longer or wider, the Encore GX has proportions and details that look way better. It's a more appealing shape, front to back, with a broad single-wing grille and slim LED headlights that frame its nose. Three sculpted lines carve some visual weight out of its doors, and the beltline rises gradually to the rear end. The proportions aren't much different from those of the older Encore, but a spline of chrome, a rib at the rear roof pillar, and the choice of a black-painted roof make better sense of the short dimensions of the GX. A Sport Touring package dresses it up with gloss wheels, body-colored fender arches, and a black mesh grille with red accents.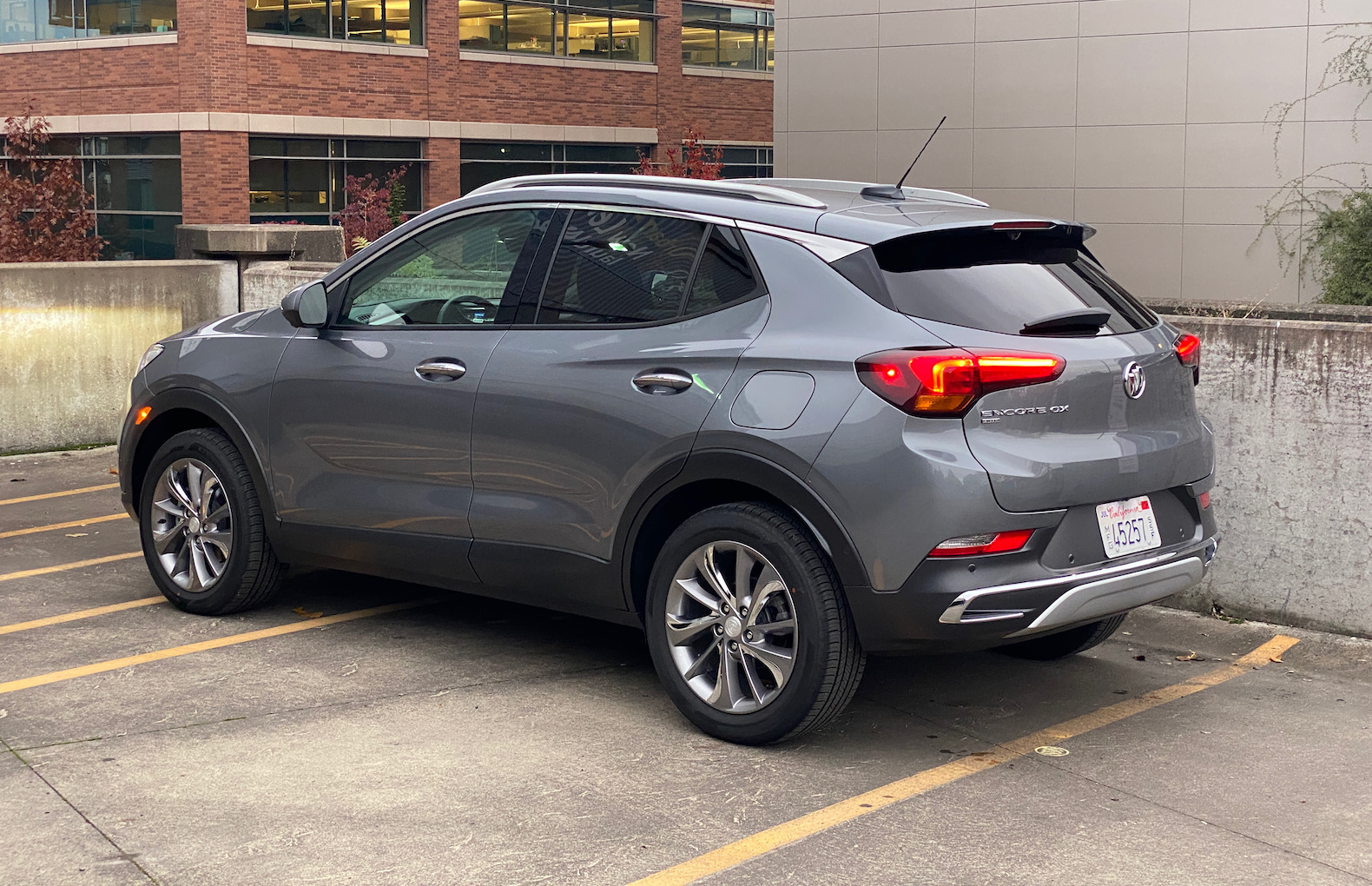 The Encore GX taps three cylinders for point-and-shoot performance. With a pair of new turbo-3 engines, the Buick Encore GX goes down on cylinder count but up on driving pleasure. A 1.2-liter turbo-3 engine anchors the Encore GX lineup. Buick quotes it at 137 hp and 162 pound-feet of torque, and offers it only with front-wheel drive and a CVT. We haven't driven this version yet, but the differences should be minimal with the larger-displacement engine.

That 1.3-liter turbo-3 develops 155 hp and 174 lb-ft of torque. A $395 option, it's paired with a CVT as a front-driver, but gains a 9-speed automatic with all-wheel drive. We drove the 9-speed auto version, which makes the most of the low-rev torque peak and extracts a 0-60 mph time quoted by Buick at about eight seconds. Behind plenty of sound deadening, the engine sounds well-muted under hard acceleration. The automatic acts nearly invisibly, an exception among small cars and there's even a button to change gears.

The Encore GX weighs from 3,025 to 3,273 pounds, and some models can tow up to 1,000 pounds. Ride quality trumps handling with the Encore GX. It's absorbent enough on city roads, and mostly calm at highway speeds on decent roads. It takes a more stable set as speeds rise on wide, long curves and outshines the old Encore, which carries into 2020 in a few low-priced trims. The GX's light steering doesn't deliver much feel, though the brake-pedal feedback is tuned well. While engine noise is muted, the suspension thunks as the tires try to cope with potholes and steel patches. In all, the Encore GX tames the road much better than the standard Encore.
The Encore GX goes light on gas. In every version, the Buick Encore GX earns 30 mpg highway or more. The EPA rates the Encore GX with the 1.2-liter turbo-3 at 28 mpg city, 31 highway, 29 combined. With the slightly larger 1.3-liter engine, it's pegged at 30/32/31 mpg with front-wheel drive, and 26/29/28 mpg with all-wheel drive. With our week in an all-wheel drive Essence which comes standard with the large 1.3L engine and 9-speed automatic, we averaged. 27.9 mpg.
The Encore GX has only been partially crash tested since it's a new model. What limited crash testing as been done by the NHTSA, it scored good but not great where it scored 4-stars across the board except for side impact testing where it earned 5-stars. The IIHS has yet to test the Encore GX. All Encore GX hatchbacks come with automatic emergency braking, active lane control, and LED headlights with automatic high beams. An option package adds features such as a surround-view camera system, a rear camera mirror, adaptive cruise control, automatic park assist, and front and rear parking sensors, where they're not already standard.
The Encore GX carves out space for four adults from its hatchback body with upscale interior appointments. Interior space seems more expansive in the Encore GX, though it's not much larger than the Encore. Four adults fit well, but Buick fits narrow front seats that don't fit wider bodies well. Ample back-seat head and leg room turn into 50.2 cubic feet of cargo space with the back seats folded down.
Inside, the wing-like dash echoes the Encore GX grille. The Encore GX presents front passengers with an attractive dash, upholstered in synthetic leather on the most expensive versions, and fitted with a cleanly designed touchscreen interface. Basic versions wear basic garb, but higher-end versions wear graphic trim that simulates etched metal, along with upholstered dash panels in brown or beige or black. A in 8.0-inch touchscreen cants back away from the driver, and some hard plastics finish off the doors and lower dash, but in top models the Encore GX fares better at its premium goals than the old Encore ever did. The GX has a deep, narrow center console, and a deep, narrow bin for smartphones, as well as door pockets big enough for water bottles and a usefully sized glove box.

The Essence version we drove had leather power seats with a lot of vertical travel to ensure a good driving position. It's a shame the seats are so narrow, though. The back seat in the Encore GX fares much better. The bench doles out three seatbelts, but two adults take up most of the available space. The rear seat cushion tilts at the forward edge for good comfort, and the door cuts make it easy to step into the Encore GX. It has less than half an inch more in rear-seat leg room, but the GX feels more roomy than the old Encore. The trick in selling premium cars is to build an inexpensive car that looks and feels expensive. With lots of sound deadening and plush materials on the Essence car we drove, the Encore GX hits the mark.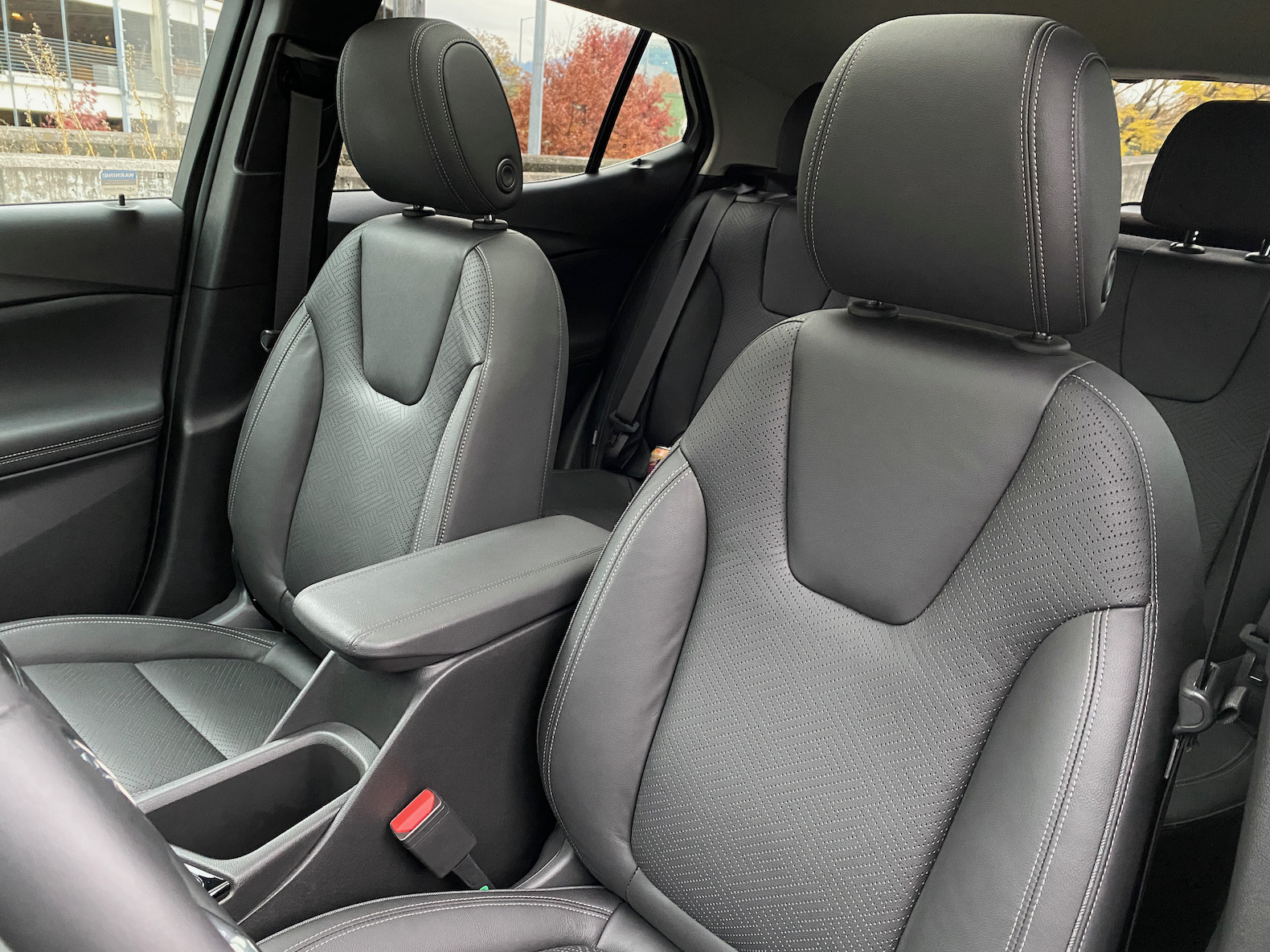 About the size of a Honda Element, the Encore GX measures in at 171.4 inches overall, with a wheelbase of 102.2 inches, width of 71.4 inches. Compared with the older, last-generation Encore that's still on sale, it's longer by 2 inches, including 1.6 inches added in its wheelbase, and wider by an inch. The rear seats split and fold forward for a total of 50.2 cubic feet of storage, and the front passenger seat folds flat to make room for objects up to 8 feet long. With the rear seats up, the Encore GX has 23.5 cubic feet of cargo space, and it sports a two-level cargo floor and on some versions, a hands-free power tailgate. 
The 2021 Encore GX lacks for little even in its base configuration, and GM's latest infotainment system gets kudos for its interface and for its connectivity. Pricing for the 2020 Encore GX, Buick charges $25,095 for the Preferred edition, $26,695 for the Select, and $29,495 for the Essence. All-wheel drive costs $2,000 on any version. The Encore GX Preferred has standard power features, an 8.0-inch touchscreen for infotainment, two-device Bluetooth connectivity, wireless Apple CarPlay and Android Auto compatibility, six speakers, keyless start, 18-inch wheels, and cloth/synthetic leather seats. The Encore GX also has Amazon Alexa compatibility, which lets users ping the service to control navigation, read audiobooks, even send orders to a home-based device.

Meanwhile the Encore GX Select, adds blind-spot monitors, heated front seats, satellite radio, remote start, and an eight-way power-adjustable driver's seat. For $395, it gains the 1.3-liter turbo-3.Buick's Encore GX Essence tops off its features tank with leather upholstery, a heated leather steering wheel, and an eight-way power-adjustable passenger front seat. It can be equipped with Bose premium audio, a panoramic roof, a hands-free power tailgate, wireless smartphone charging, and a surround-view camera system. It's possible to configure an Essence that costs more than $35,000. Option packages bundle adaptive cruise control, a surround-view camera system, a head-up display, and parking sensors. Buick's warranty checks in at an average 3 years/36,000 miles.
The 2020 Buick Encore GX is a true encore to the original by being better than it in every way without costing much more. Buick has taken what it has learned in the small upscale crossover market and applied it liberally to the new Encore GX. With the GX, Buick has given it more room, better driving manners with improved fuel economy, and wrapped it in a much more stylish package that oozes value. Buick clearly has another winner on its hands that deserves to a look.
For all your new car shopping needs, check out: drivevise.com Vehicle shopping made simple!