The 2019 Lexus ES deletes "sedate" from its vocabulary. Freed from its burden of being the mid-size sedan for every luxury buyer, the 2019 Lexus ES sedan has grown slightly sharper in each of its several distinct flavors: ES350, F Sport, and ES 300h hybrid. Beneath its sleek, toned shape the 2019 Lexus ES has a split personality. Base ES350 and hybrid ES 300h models prioritize plush control, while the F Sport pipes in a sporty personality, as well as exhaust sounds. For this review, we'll be focusing on the the ES 300h hybrid and it's claimed combined 44 mpg.

From its sinewy spindle grille to its asymmetric dash, the 2019 ES tosses tradition in the trash. Before it drew its latest LC coupe and LS sedan, Lexus styling landed somewhere in excitement between pro golf and echinacea supplements. The 2017 sea-change has scrubbed the boring off many of its vehicles, and the 2019 ES is the best sedan result yet. Less a scaled-down LS than a spindle-grilled 5-Series, the ES spills all Lexus' visual tricks at once. The grille stands tall and proud and pinched at its waist, the roofline trails lower and in a more daring fashion, and brightwork glints off the rear doors at the roof pillar. Big shoulder lines draw attention back toward the trunk's shapely LED taillights.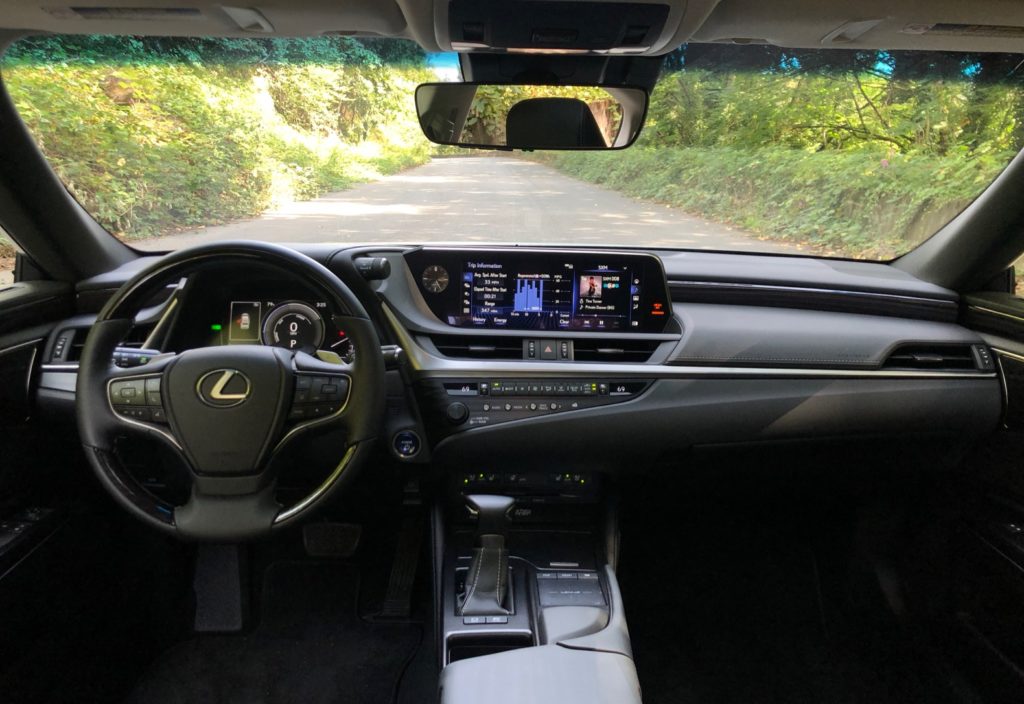 Inside, the sweeping lines that snip driver from front passenger echo the last generation ES, but there's a measure of chaos to be endured, too. With the boomerang bend of the center stack, the right-side droop of the infotainment screen, the twisty traction controls that top the gauge binnacle, and the dots that comprise the dash's audio controls, the ES cockpit drops any pretense of symmetry. We confess to admiring its chutzpah while getting a little frustrated in the first half-hour of driving. The latter dissipated, but the former didn't. Light colors trim the non-F ES; the bamboo option's fetching as always. The surfaces yield to touch, the instruments sharp and legible, and the textures fine. Lexus stuffs its 2019 ES300h sedan with luxury touches and has a long-standing rep for great service. It's nearly perfect here but its infotainment system is so unsatisfying it dulls the buzz.

The ES cabin has its share of buttons and switches styled to fit unique spaces. It's tough to find some of the studs that control audio at highway speeds (hint: try the ones on the steering wheel), and the Shrek-like controls over the gauge pod really reach for something the Lexus ES is not. But sit back and admire what the ES cabin does deliver: Tight fit and finish, some wood or aluminum trim, a good grade of leather (or better, for a price), well-muted sounds so long as you pay for acoustic glass. It's one of the least expensive Lexus sedans and that's difficult to tell, from the inside.
The latest Lexus ES doesn't mind a bend or two in the road for once. With the 2019 ES 300h, Lexus puts solid effort into shifting its performance reputation a little closer to the sport-sedan bullseye. It's still a luxury sedan with a long pedigree of comfort, and that's its best, highest use.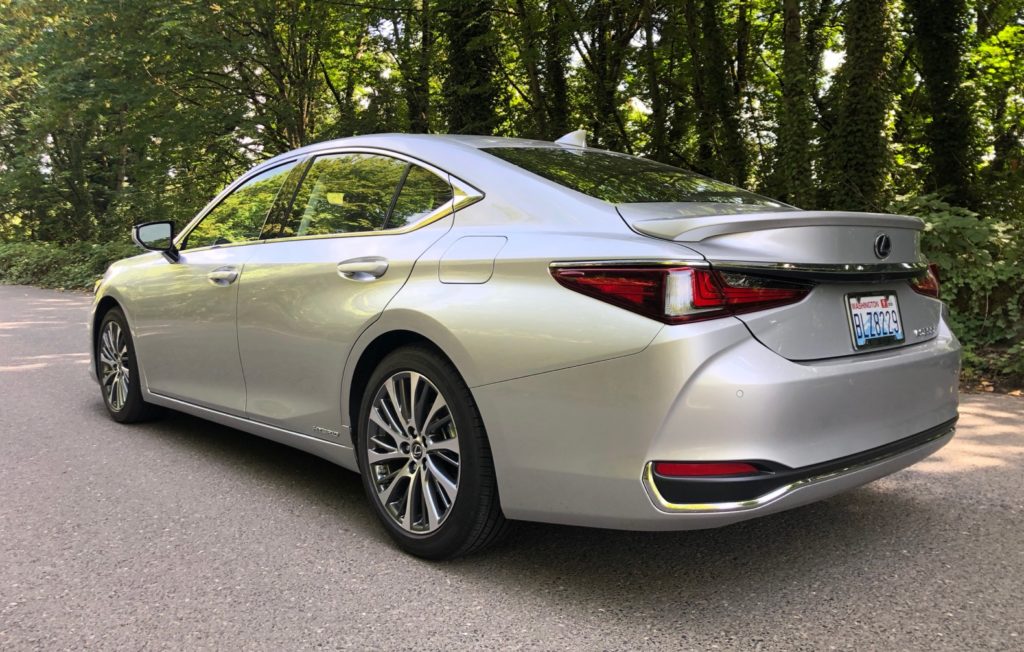 The ES is the lineup's solid foundation. The front-wheel-drive sedan sports a 2.5-liter inline-4 paired to an electric motor and a nickel-metal hydride battery tucked under the rear seat, good for 215 combined horsepower. The more important figure here is 44 mpg combined, as in fuel economy, as in stellar ratings for a big sedan. In the case of the 300h the powertrain is linked to a CVT transaxle but still incorporates a manual mode with paddle shift controls.
With its stock strut and link suspension, the ES no longer leans into corners with a total lack of interest. It still can cruise an interstate in near-silence while it shushes bumps with a good balance of suspension travel and damping. It steers with a light touch and doesn't mind a mid-speed hustle, though a hardcore stretch of tightly knotted roads make its soft tires wail. The regenerative brakes of the ES300h can still be a little tough to modulate but you quickly get used to them.
It's not our first choice for spirited driving, but for the driving most Lexus ES drivers seem to do, we'd steer them all into the ES 300h. After you take the stock ES350 powertrain and swap it out for the hybrid; the result: the 3,704-lb ES 300h, which shaves the ES 350's performance roughly by 10 percent while gas mileage soars, to 44 mpg combined. It'll run to 60 mph in 8.1 seconds, a top speed of 112 mph, deliver a creamy ride with just a bit more noise than other ES sedans. There's less of a weight penalty in this new edition, and save for slower acceleration and more noise from its lower-friction tires, the road manners of the ES hybrid pass all the daily-driving hurdles we'd set.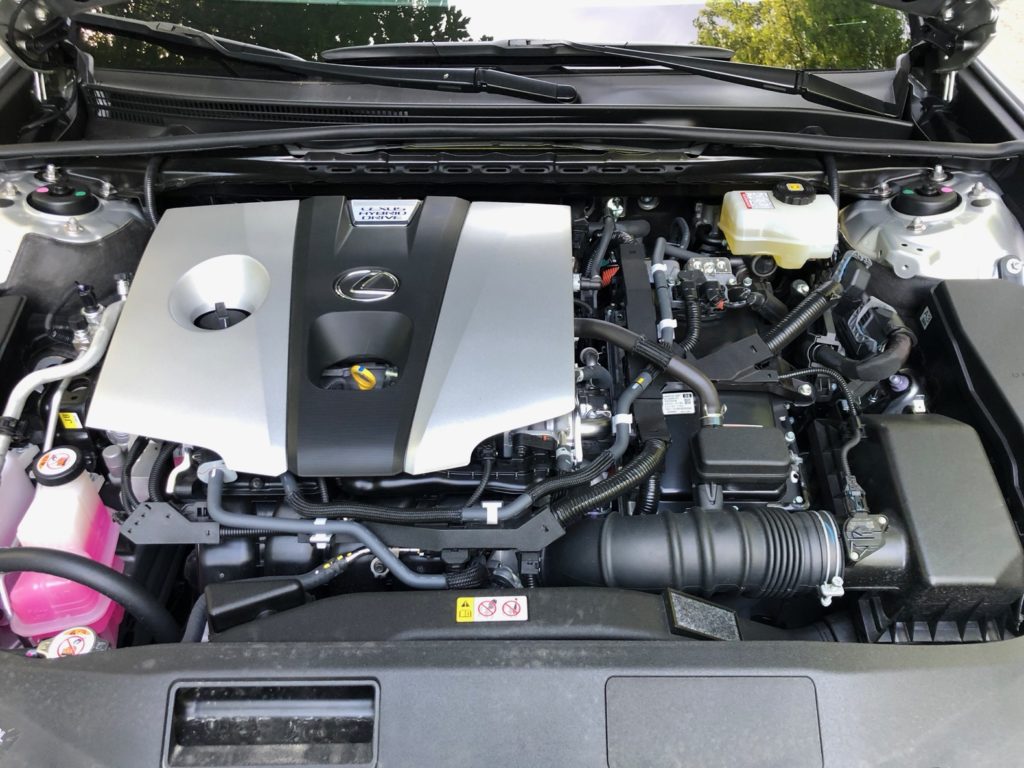 Sky-high gas mileage makes the Lexus ES300h the best pick. As a gas-powered sedan the Lexus ES fares just fine in fuel economy. As a hybrid, it's stellar. For comparison, the stock ES 350 four-door carries EPA ratings of 22 mpg city, 33 highway, 26 combined. With the F Sport's bigger tires, the numbers fall to 22/31/25 mpg. The hybrid's the most impressive offering in its class. It's scored at 43/45/44 mpg, and in our test drives, we've average exactly the same 44 mpg combined.
The 2019 ES aims for perfect safety. The IIHS says the 2019 ES sedan merits its Top Safety Pick+ award, when equipped with adaptive headlights. They're rated "Good," while the standard LED headlights are merely "Acceptable." The NHTSA hasn't yet provided crash scores for the new sedan. All ES sedans get full-speed automatic emergency braking, active lane control, automatic high beams, adaptive cruise control, and lane-departure warnings. It's a complete set of cutting-edge safety technology that many luxury car brands still insist should be options. Lexus and Toyota deserve kudos for making it standard.
Spread-out space and luxury fitments swank up the Lexus ES experience. Lots of space greets passengers in the Lexus ES, and good cargo space, too. The premium-to-luxury feel swells with swell fit and finish. The latest Lexus ES rides on a 113.0-inch wheelbase, and sits 195.9 inches long. It's either a very large mid-size sedan, or an actual EPA-classified Large car minus a tenth of a cubic foot of interior space. We call it a long-distance cruiser of the first order. Front passengers in the ES 300h get the best two seats in the five-seat cabin. They're covered in supple synthetic leather in base models, real leather in all others, and can be heated and cooled. Lexus has made huge strides in seat shapes, and in more than 400 miles of driving, our ES test sedan ranked with Lincoln and Volvo for touring comfort, for hours on end. That ES back seat, though. It's spacious in every direction, suitable for three adults for reasonable journeys. Compared to the front seats' 42.4 inches of leg room, the back bench gets 39.2 inches, enough for our six-footers to sit behind themselves in comfort. The ES trunk checks in at a useful 16.7 cubic feet for both the ES 350 and the hybrid; a redesigned battery pack no longer shaves valuable luggage space from the trunk.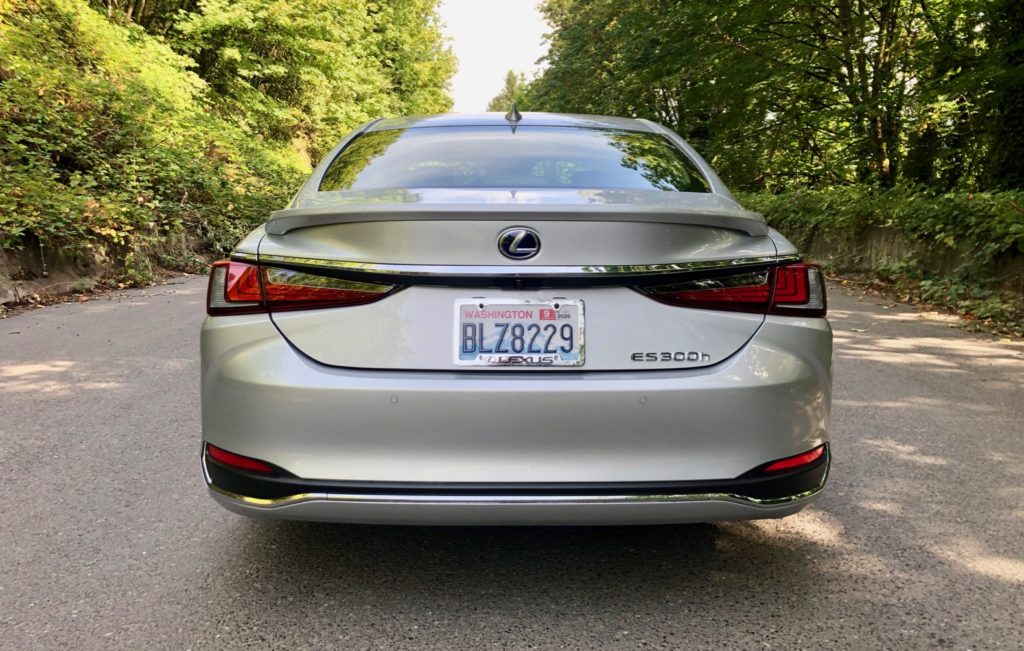 The $42,335 Hybrid won't leave many drivers dissatisfied. It has 17-inch wheels with all-season tires, LED headlights, a power moonroof, synthetic leather upholstery, 10-way power front seats, keyless ignition, dual-zone automatic climate control, three USB ports, 10-speaker AM/FM/XM/HD/CD audio with Bluetooth streaming and Apple CarPlay compatibility, and an 8.0-inch infotainment display. Options include a power tilt/telescope wheel, heated and cooled front seats, leather upholstery, wood trim, acoustic side glass, premium leather, and a hands-free trunk lid. Other stand-alone Lexus ES options include a heated wood steering wheel, an adaptive suspension, adaptive LED headlights, a head-up display, navigation with a 12.3-inch display, wireless smartphone charging, blind-spot monitors, parking sensors, 18-inch wheels and tires, and Mark Levinson audio that renders some of the best sound in its price class. We just wish the impressive panoramic roof was available on the Hybrid, a big miss to us.
The ES Hybrid is hard not to recommend, it blends the best of Lexus with a new sportier demeanor while wrapping it all in handsome package and impressive fuel economy. While its best trait might be goggled up miles of highway in supreme comfort, it's also no longer scared of the twisties. Add in Lexus reliability and service and the ES 300h should be on everyone Mid-Size Luxury sedan shopping list.