The 2019 BMW 330i moves back toward the sweet spot in sport-sedan greatness with the launch the latest "G20" generation of 3-Series, while it plans a slew of vehicles that will join the family in years to come: An M Sport, a new M3, and a plug-in hybrid 330e.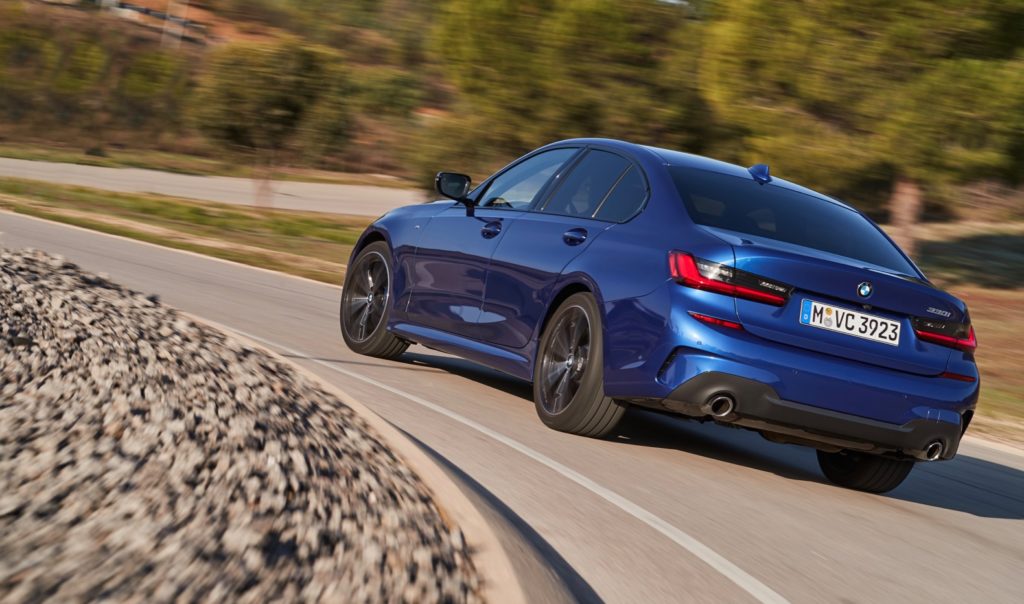 With a slightly more sporty look, the latest 3-Series sports a more dramatic face, one with a more chin prominent, slimmer headlights, and a grille that reaches back further into the hood. It still sports classic 3-Series sport-sedan proportions, and the usual upturned kink at the rear roof pillar. Thinner headlights come standard as LEDs, but BMW fits its adaptive beams or its matrix-LED "Laserlight" headlights for a fee.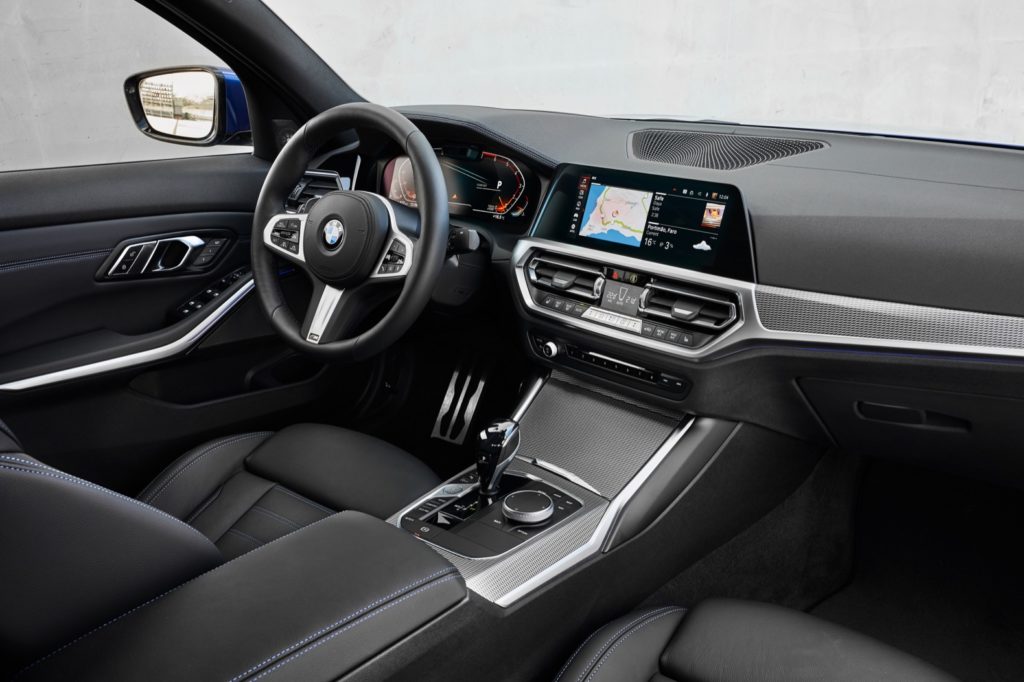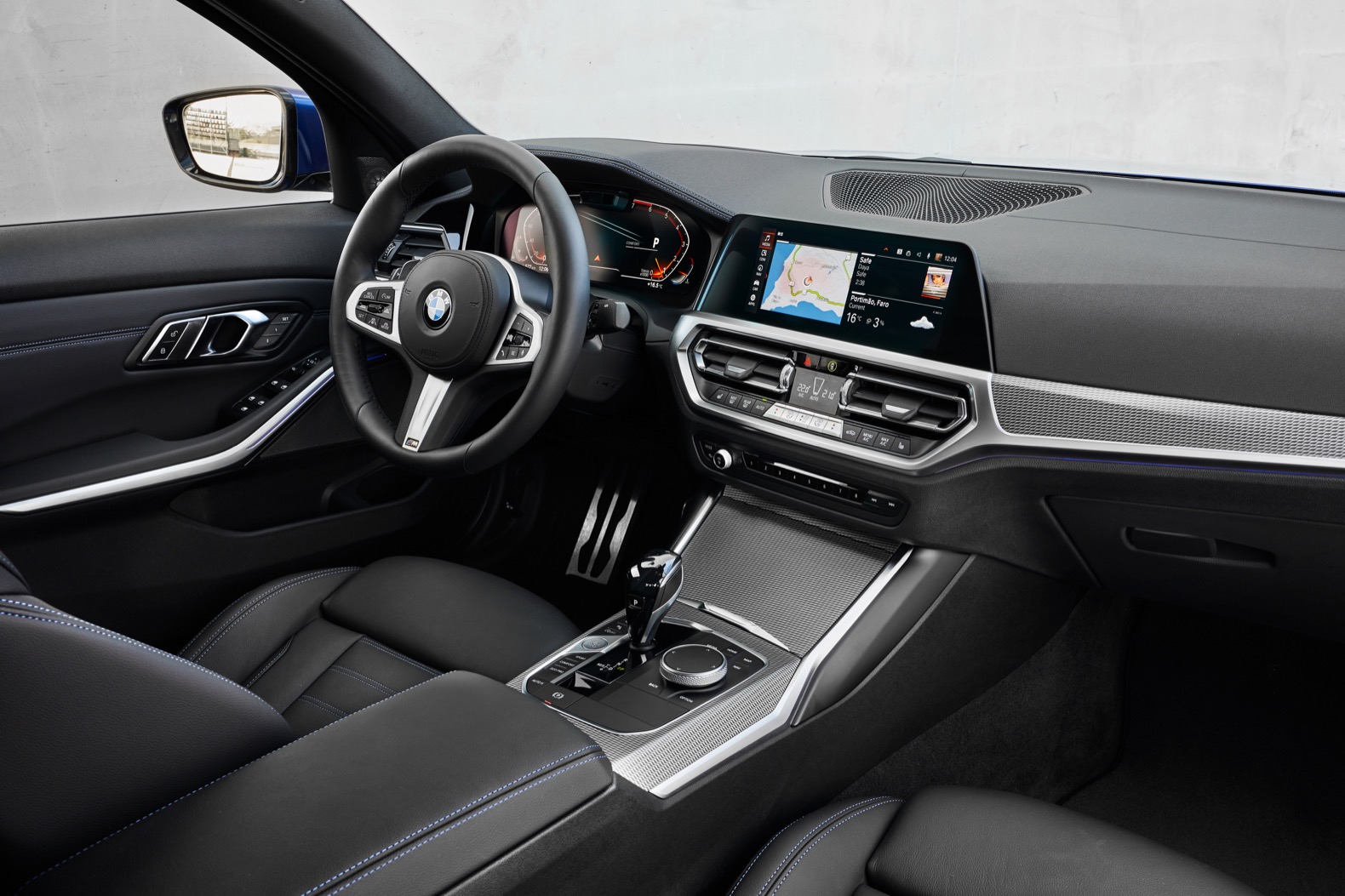 Inside the cabin adopts some of the visual cues of the i8, with a wave of ambient lighting that wraps around the cabin and unites a pair of digital displays that cap a tech-heavy update. The 3-Series interior is mostly unchanged, with somewhat less head room but with standard, grippy sport seats that are very comfortable and supportive. The rear seat can seat two adults comfortably or hold two child seats; while the trunk offers 17 cubic feet of space.
A base 2.0-liter turbo-4 powers the new 330i with 255 horsepower through an 8-speed automatic. The upcoming 340i sticks with a classic BMW inline-6 with 3.0 liters and a single turbo putting out 382 horsepower and 369 lb-ft of torque. The manual transmission is gone, but the 3-Series still can be had with either rear- or all-wheel drive. All 330's come with stop/start to save fuel resulting in the new sedan getting 26 city, 36 highway, and 30 combined, with all-wheel drive netting 25/34/28 mpg.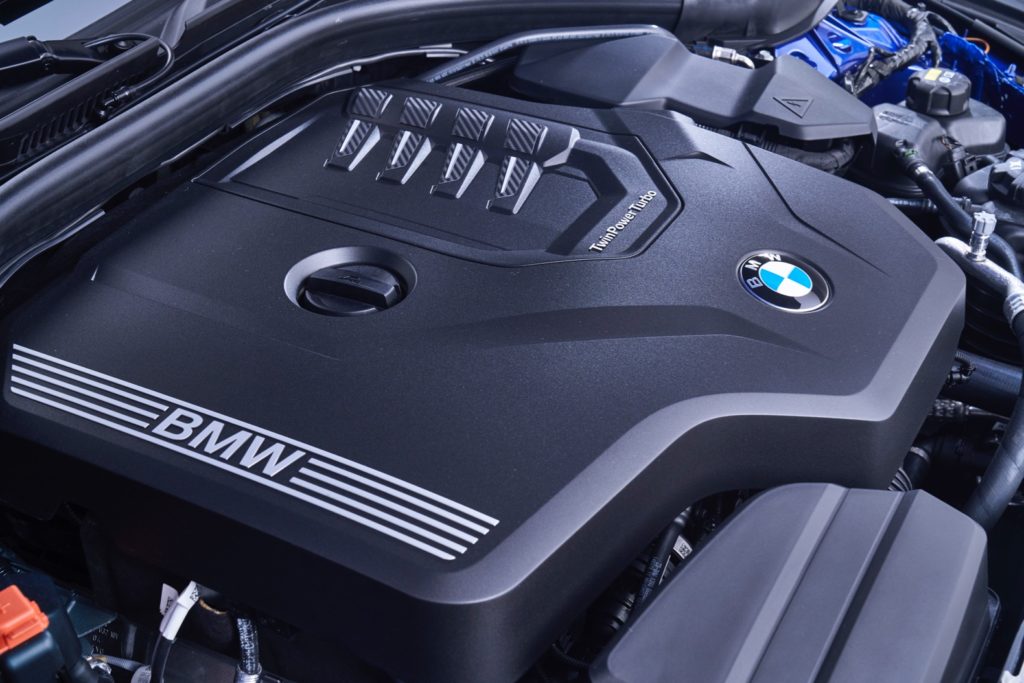 On the steering and suspension front, BMW outfits the 3-Series with either a conventional set of struts and links, or with adaptive dampers. We've spent most of our time in cars with the M Sport suspension, which lowers ride height and stiffens the shock valving, wears bigger 19-inch wheels and summer tires with a limited-slip differential.
With the standard M Sport pack, the 340i has a tense feel and jitters a bit on junky roads. It's somewhere between supple and brittle, thanks to the 19-inch summer tires. It's better at swallowing larger bumps at higher speeds than it is at dissolving the smaller pits that patter through its wheels into the car. The big wheels also induce some vaguer feel on center, amplified in some way by the enormously thick steering wheel. The variable-ratio steering allows a fair amount of on-center play, and needs to be in Sport mode before that goes away, before the car delivers consistent effort through corners.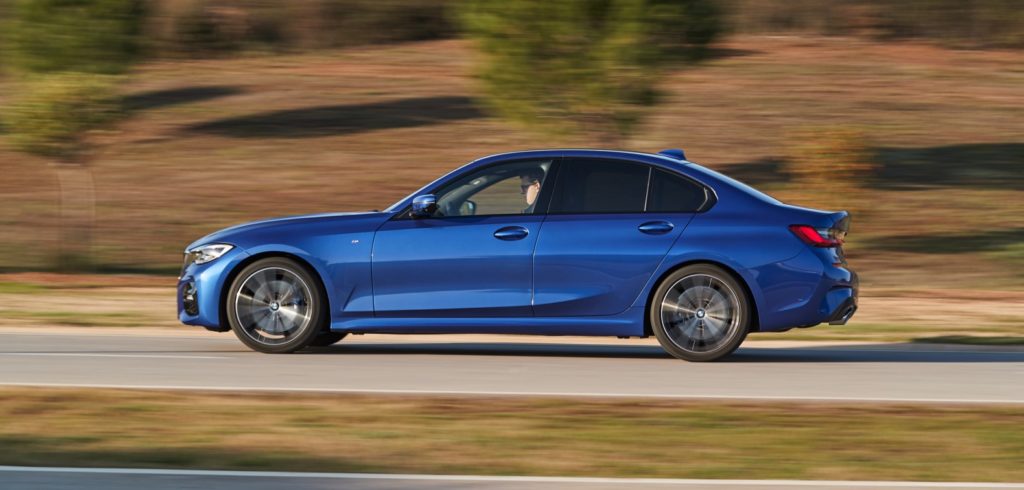 All 2019 3-Series adopted standard low-speed automatic emergency braking across the board. Any version can be outfitted with active lane control and adaptive cruise control, and a new parking-assistance feature can recall how the 3-Series slid into a parking spot, and can use that information to steer out of the spot. The 3-Series can also be fitted with an active drive control system that can sense when drivers aren't paying attention, and can alert them while it maintains the car's lane control. The 2019 BMW 3-Series has earned the IIHS' Top Safety Pick+ award.
The base $41,245 3-Series hits showrooms for the 2019 model year with the usual power features, 18-inch wheels with all-season tires, climate control, a sunroof, a split-fold rear seat, power front seats, cruise control, ambient lighting, oak trim, and AM/FM/HD radio with Bluetooth and audio streaming. It also has standard forward-collision warnings with automatic emergency braking. Apple CarPlay comes with navigation, a head-up display, and heated seats in a $2,800 package, which requires a $2,150 convenience package, but they're also available with navigation as a $1,600 stand-alone option. Automatic high beams, a surround-view camera system, gesture controls, and those fancy Laserlight headlights come in a $2,100 package. After a year, BMW charges $80 annually for its wireless smartphone connection. No other automaker charges those fees.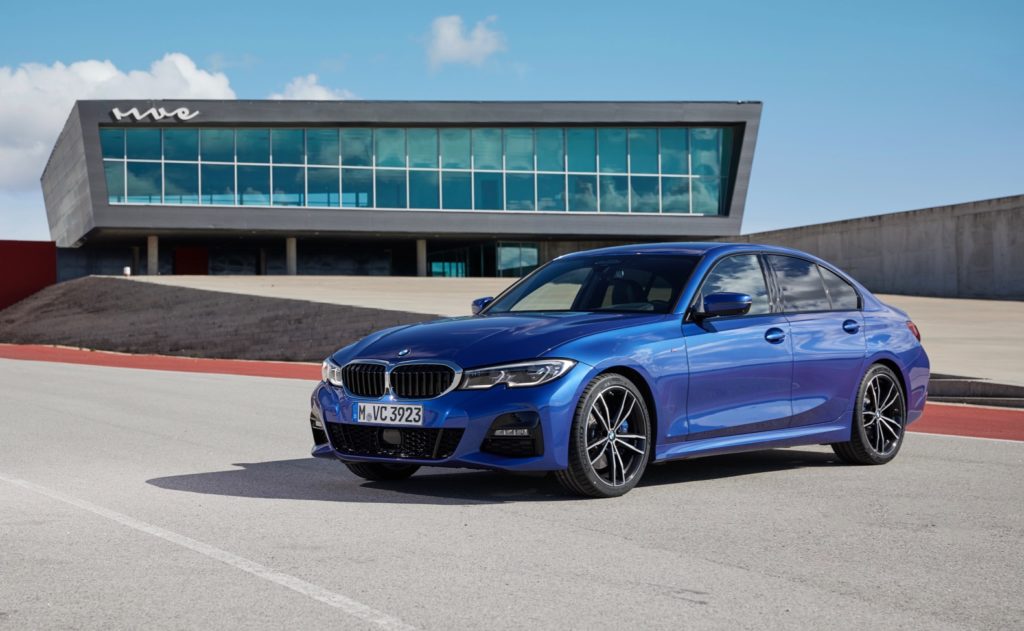 The $5,000 M Sport package on our tester includes the variable sport steering,  19-inch wheels (225/40 front, 255/35 rear), synthetic leather dash, aluminum or wood trim, and ante up another $700 for adaptive dampers. Track Handling is a $2,450 option that gets M Sport brakes, sport differential, and adaptive dampers.Is the new 3-series still king of the sport sedan hill? In a short answer, yes, with caveats. As new cars become more technology laden, it's hard to retain the essence of a true driver's car, but I think BMW has succeeded. The key is going to come down to how raw you like your vehicle to drive and option is accordingly. At least BMW offers you those options and brings back the driving joy in the process.