The 2020 Toyota Avalon works best as a stylish, comfortable cruiser, and not as a wannabe sports sedan. Ordered in XLE and Limited trims, it's a relaxed highway cruiser ready to soak up long distances. In hybrid guise, it's as thrifty as a subcompact sedan but with a spacious interior. And this year's sporty Avalon TRD hankers for a winding road. That size is also an asset when it comes to interior space. A true five-seater, the Avalon can handle the entire family in comfort. The right-priced Avalon Limited is even draped in leather and gorgeous wood trim. We'll take ours in the warm Cognac hue inside, thank you. If a big four-door is on your list, the Avalon is worth a look.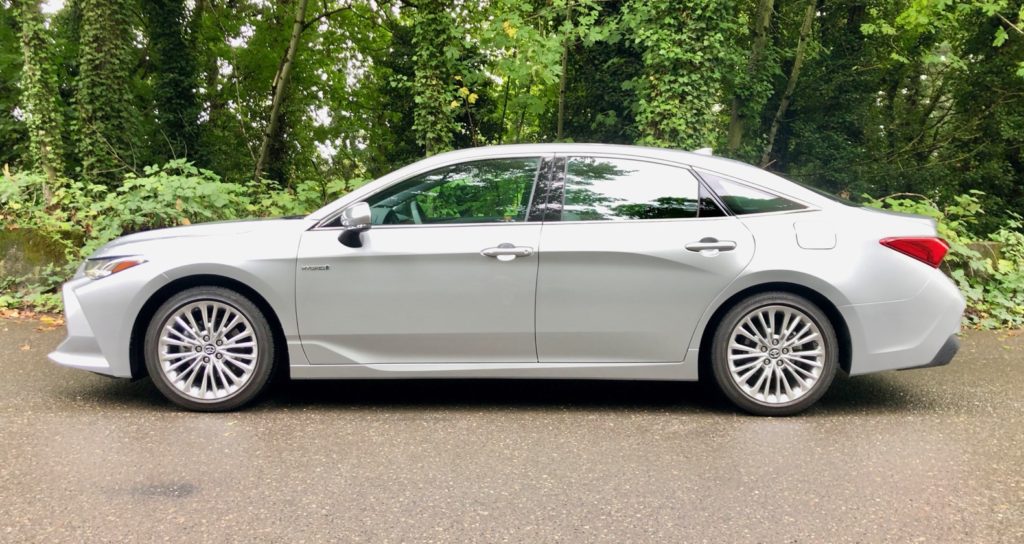 The 2020 Toyota Avalon desperately wants to play with sports sedans. If the Avalon could talk, this full-size sedan would say it's a toned, muscular jock. The Avalon comes in three basic styling configurations: XLE and Limited share a clean, cohesive look, while XSE and Touring trims slap on a gaping front grille with a mesh-style insert that looks like it came from a sports catalog. The new Avalon TRD goes even further with a functional aero kit, a feature we never expected to see on an Avalon.  Standard LED headlights point the way forward. The range-topping Avalon Touring comes with effective laser-cut headlights. LED taillights at the rear have an elegant look not totally in sync with the front end.
The 2020 Toyota Avalon can be had with either strong V-6 power or a thrifty hybrid powertrain as in our tester, and it sends power to the front wheels unlike some of its rivals that offer all-wheel drive.  The standard 3.5-liter V-6 churns out a healthy 301 horsepower, which is sent to the front wheels through an 8-speed automatic transmission. The V-6 tugs the Avalon along well, and the engine is muffled in most trims. The XSE and TRD include a piped-in intake noise that spoils the mood. Avalon hybrids swap in a 176-hp inline-4 teamed with an electric motor that combines for 215 horsepower through a continuously variable automatic transmission (CVT). It accelerates well around town but can feel winded climbing hills or passing slower traffic. That's the trade-off for an impressive class-leading 43-mpg combined, especially considering it's the only vehicle in it's class to offer a hybrid powertrain.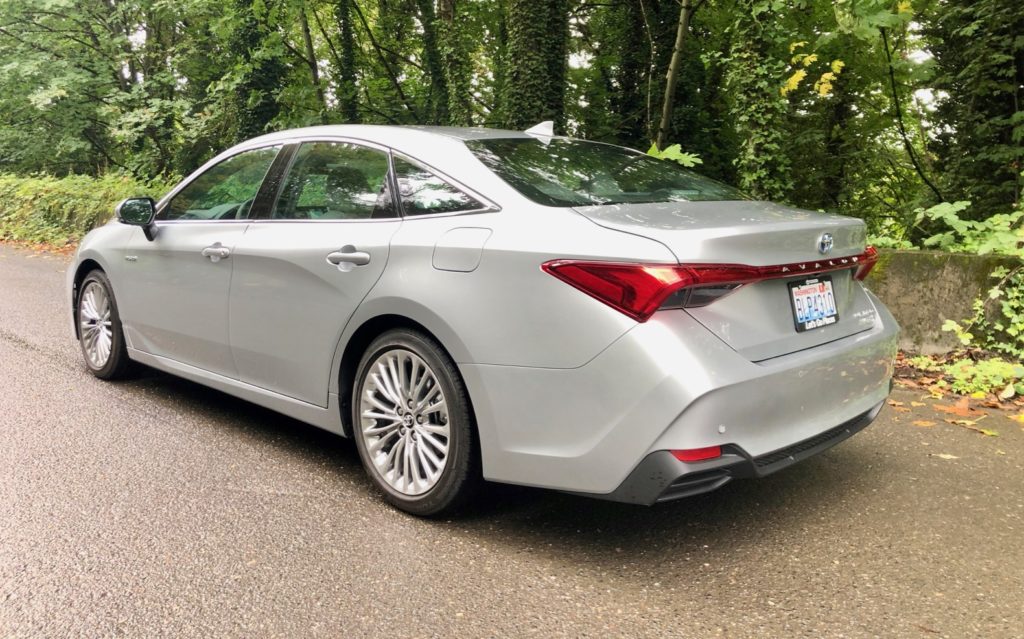 Underneath, the Avalon uses an independent MacPherson strut in front and multi-link rear suspension. Range-topping Touring trim makes use of a variable suspension that can be stiffened up at the tap of a button, perhaps too much in Sport+ mode. Good steering heft in any mode helps the Avalon feel somewhat entertaining, though its size and generally soft demeanor make it far from nimble. This year's new Avalon TRD builds on the XSE with 19-inch wheels and a louder exhaust. It makes all the right noises, and a few of the right moves.
Stick with the hybrid and the 2020 Toyota Avalon is a miserly big sedan. What a difference an engine makes. The 2020 Toyota Avalon is something mid-pack with the standard V-6, while the optional hybrid powertrain bests most small cars.  The V-6 is rated at 22 mpg city, 31 highway, 25 combined, though the smaller wheels and tires on the base XLE bump those figures to 22/32/26 mpg. Those figures are mostly on par with other full-size sedans.  Most Avalon hybrids earn 43 mpg no matter how you drive them—43/43/43 mpg on the EPA's test, except again the XLE is rated higher at 44/43/44 mpg. Ironically we averaged, you guessed it, 43 mpg for our test with the Avalon Hybrid.

Good crash-test scores and lots of safety gear make the 2020 Toyota Avalon a good pick. The 2020 Toyota Avalon is well-equipped with collision-avoidance tech and it has done well in crash tests.  Every 2020 Avalon drives off from the factory with adaptive cruise control, automatic emergency braking, blind-spot monitors, active lane control, high-beam assist, and rear cross-traffic alert. An option package for Limited and Touring trims adds a surround-view camera system and rear cross-traffic braking. The NHTSA rated the big sedan at five stars overall, with four stars in the calculated rollover measurement and four stars for frontal crash test. IIHS testers largely agreed, bestowing the sedan with a Top Safety Pick+ award.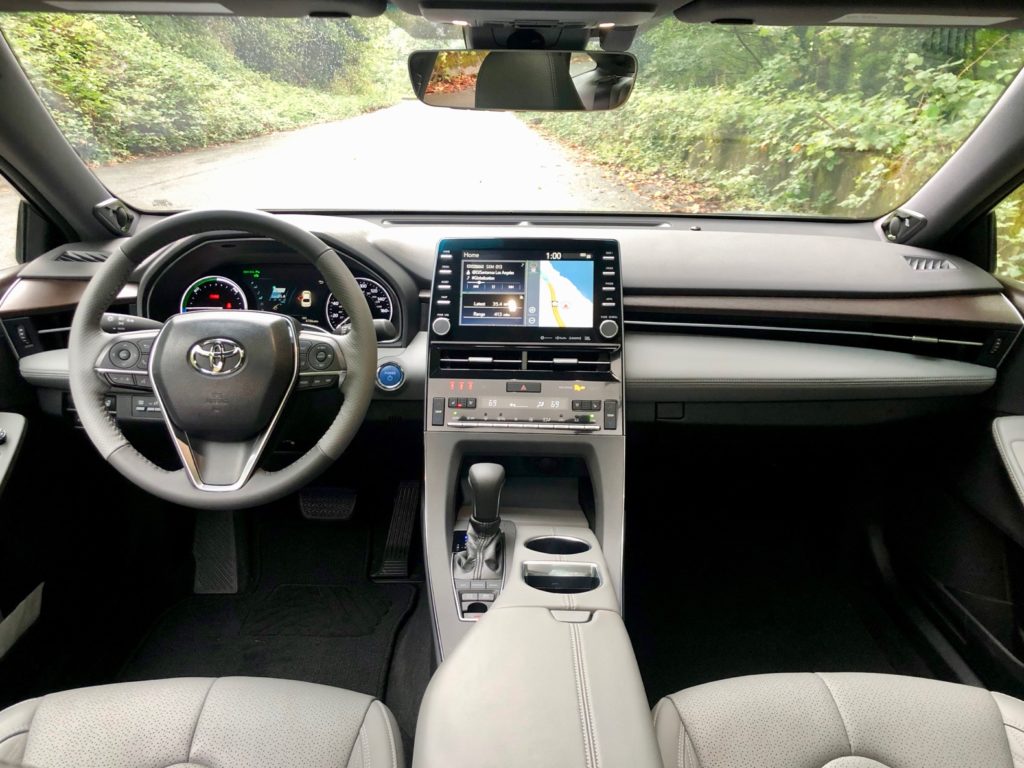 The Avalon's interior is daring with hues far from ordinary and available woodgrain trim supplied by musical instrument manufacturer Yamaha. It's not quite a Lexus, but the line is fine indeed. The 2020 Toyota Avalon delivers luxury goods at a palatable price. With its spacious, luxurious interior, the 2020 Toyota Avalon rivals cars that cost twice as much when it comes to wafting down the highway in comfort. Supportive front seats with a wide array of adjustment offer the kind of all-day support expected in a mile-eating sedan. They're just bolstered enough for curvy road duty, and they're power-adjustable. The rear seat has 40 inches of legroom, enough for most riders to cross their legs in comfort. Toyota drapes the Avalon with quality materials inside. Base XLEs feature convincing synthetic leather, while most other trims use real hides. Wood trim supplied to Toyota by Yamaha adorns the Limited trim level to good effect, while the aluminum on XSE and Touring has a sporty look. The Avalon's trunk can swallow about 16 cubic feet of luggage, a relatively average number given its large footprint.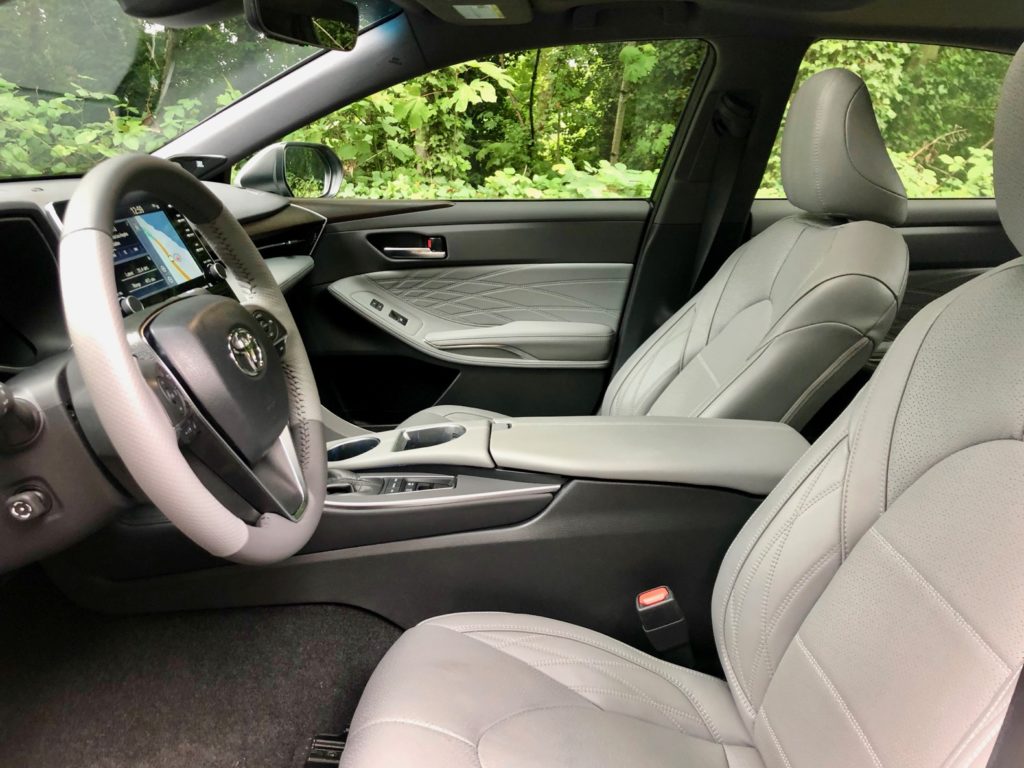 A standard 9.0-inch touchscreen is complemented by a 7.0-inch display in the instrument cluster. Toyota's built-in software can be menu-intensive, though the standard Apple CarPlay and Amazon Alexa compatibility work well. Just don't look for Android Auto compatibility, it's not on the Avalon, at least not yet. 
The 2020 Toyota Avalon is well-equipped and well-priced in most trims. For around $37,000, the 2020 Toyota Avalon delivers more than just space for the money. It's a well-equipped sedan at every level.  The base Avalon XLE comes with active safety gear, a 9.0-inch touchscreen with Apple CarPlay compatibility, five USB ports, power and heated front seats, and synthetic leather upholstery.  Tick all the options and an Avalon Touring comes in about $44,000 with JBL speakers, heated and cooled front seats swathed in synthetic leather and suede, and adaptive dampers. The polished and highly recommended hybrid will set you back another $1,000.

The best buy here, as far as we're concerned, is the Avalon Limited Hybrid, which for around $43,000 comes with the plushest suspension settings and an interior draped in leather and wood, the kind of trappings we'd expect from a much costlier luxury car. So if a large sedan with great road manners, class leading fuel economy, and impeccable reliability are on your list; look no further than the Toyota Avalon Hybrid.