Toyota recently had us out to their Texas headquarters in conjunction with State Fair that included a day of Off-Roading to test the new TRD Pro model in it's natural environment. We came away more impressed than ever to the point where we decided to write about each model individually. For this review we'll focus on the impressively unstoppable 4Runner TRD Pro.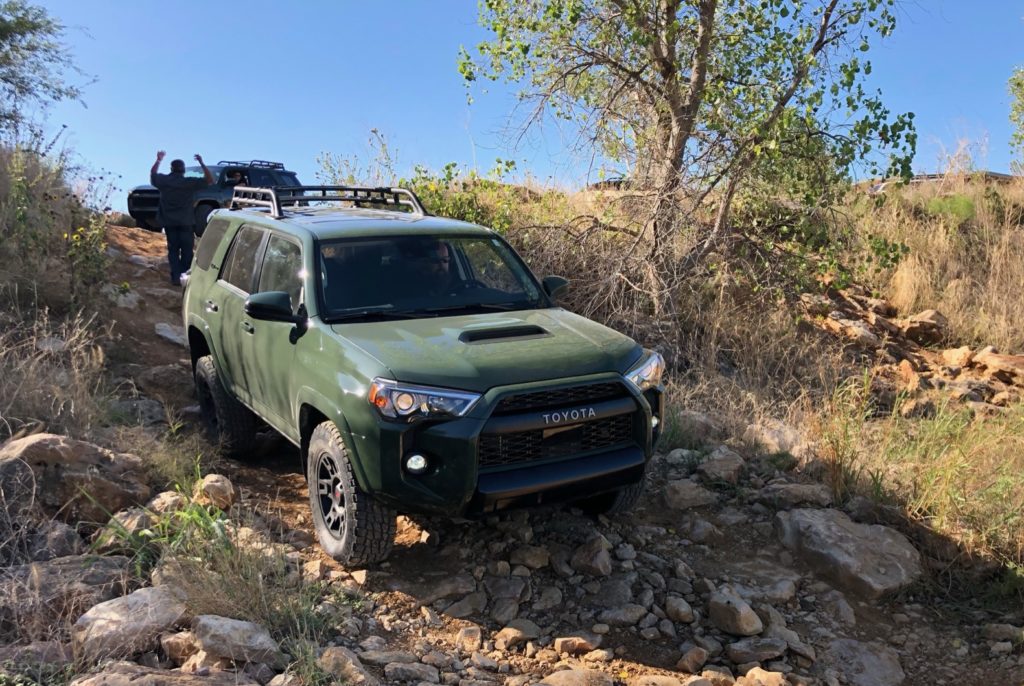 The 2020 Toyota 4Runner is a solid choice for weekend warriors made better this year thanks to more safety gear. The 4Runner's basic, off-road design makes it a relic compared to car-like crossover SUVs. Beneath its bulky exterior, the 4Runner has a separate frame called Body-on-Frame with a solid rear axle, heavy-metal bits typically associated with pickup trucks. Those rugged parts give the 4Runner serious off-roading capability, especially in TRD Off Road and TRD Pro configurations.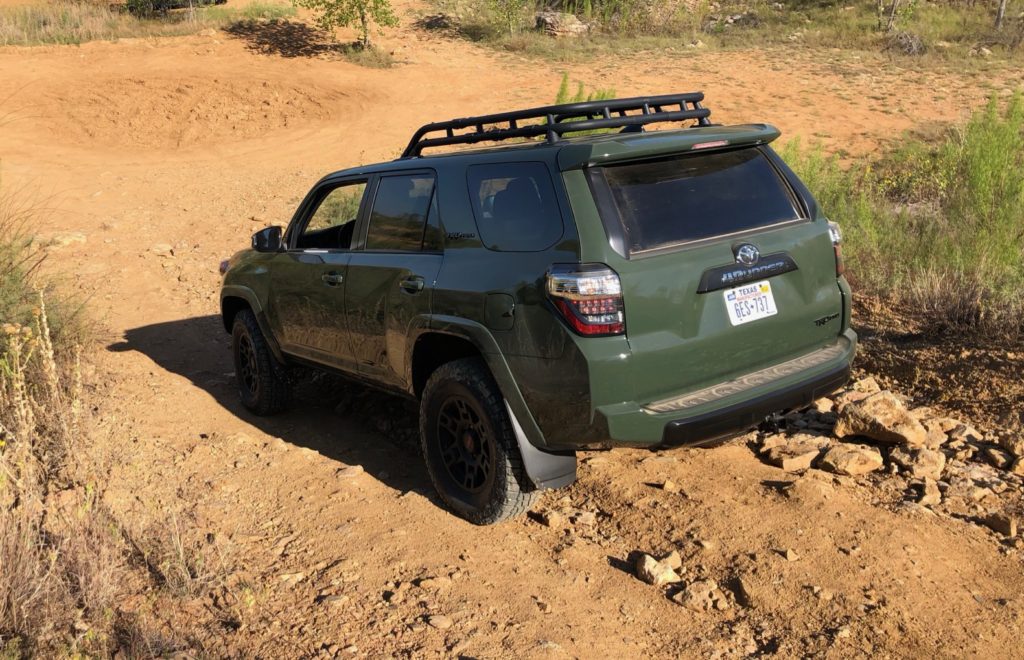 Any version is decently capable at taming rough roads, though TRD 4Runners offer more capability thanks to some impressive four-wheeling gear. The TRD Off Road adds a locking rear differential, a knob that tailors the traction control system to different conditions such as mud or rocks, and an off-road speed system that can control the SUV along at a snail's pace over serious off-road sections. We'd recommend the optional Kinetic Dynamic Suspension System on the 4Runner TRD Off Road, which consists of thicker, hydraulically actuated sway bars that reduce lean on pavement and increase wheel travel off-road. The suspension doesn't transform the 4Runner, but it helps quell body motions over the standard suspension. Spring for the 4Runner TRD Pro and Toyota slaps a lifted suspension underneath paired to Fox shocks that give it a plush ride on or away from pavement. For most users, the suspension is probably overkill, though its ride quality is remarkably compliant.
The 2020 Toyota 4Runner has ruggedly blocky styling that has aged well. With its chiseled front end, the 2020 Toyota 4Runner is an eye-catcher. It sits high off the ground and rides on tires nearly as tall as the roof of some sports cars. The 4Runner's front end has big air intakes and sharp headlights that dig deep into its flared fenders. This year, the grille design is tweaked to house sensors for the automatic emergency braking and adaptive cruise control systems, but you'll have to look closely to spot the differences. At the rear, the 4Runner's styling continues it's chunky looks with squared-off bumper and lights.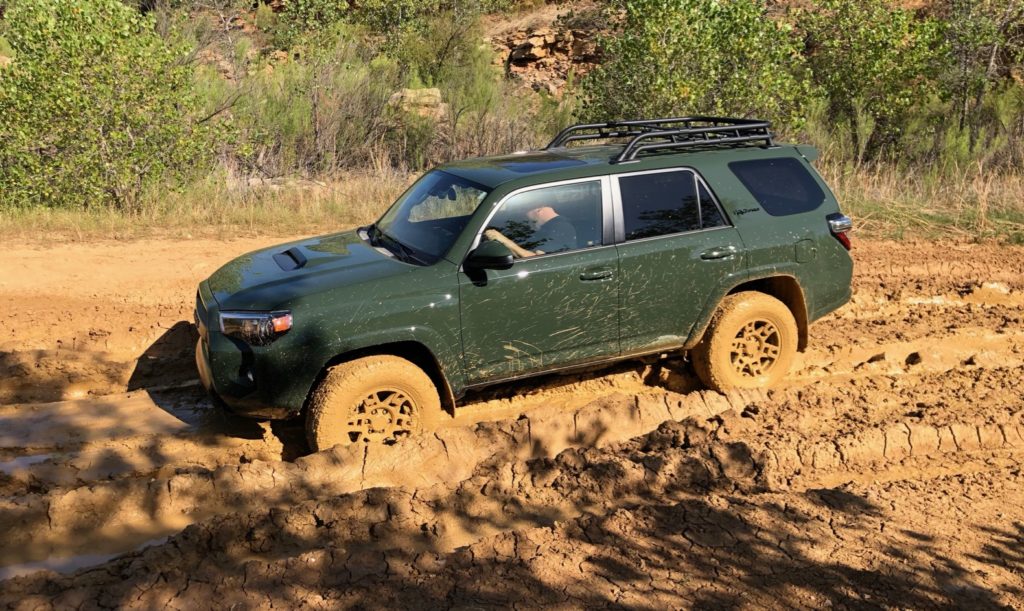 Inside, the 2020 4Runner have a blocky dashboard that puts an 8.0-inch touchscreen up high. Enormous audio and climate control knobs are comically oversized. Tough cloth seats come standard, but 4Runners on dealer lots are upholstered in easy-to-clean synthetic and real leather trim. The standard cloth upholstery has a durable, tough feel. The optional synthetic and real leather trim is a good choice for those bound to get their SUVs dirty because it'll be easier to clean. The 4Runner has a relatively short cabin with a high floor and a low roof. It's not ideal for passengers, though its big footprint means there's fairly spacious with plenty of space inside for gear.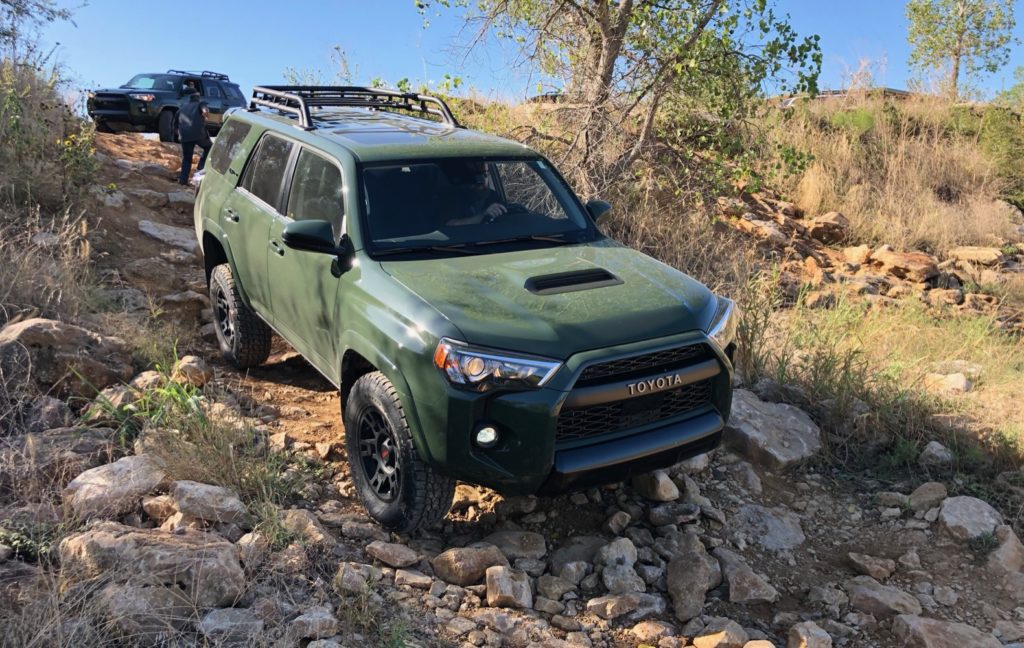 The front seats are large and plush; drivers and front-seat passengers sit with their legs out, rather than an upright position more common in SUVs. The rear seat has decent space for outboard passengers but the middle position is tight. Head room is acceptable in every seat, but not generous with the optional sunroof. High window sills and beefy roof pillars mean outward vision is not great. The 4Runner doesn't offer a power tailgate like many competitors, but its rear window slides down at the touch of a button. Cargo space is good at around 48 cubic feet with the second-row seat upright and nearly 90 cubes with it folded. There's just 9 cubic feet behind the optional third row, however. To make up for the 4Runner's high cargo floor, Toyota offers a handy slide-out floor as an option on 4Runner SUVs without the third row.
Under the hood, the 4Runner has a 4.0-liter V-6 rated at 270 horsepower and 278 pound-feet of torque. A 5-speed automatic transmission sends power to the wheels with the optional four-wheel-drive system standard on both the TRD Off-Road and Pro trims. The 4Runner is heavy and rides on big tires that give it unstoppable performance off-road but can leave it with ponderous handling on pavement. Opt for the 4Runner TRD Off Road and the truck can be equipped with trick, hydraulically actuated sway bars that reduce lean in curves while aiding suspension droop off-road to keep the wheels on firm on the ground. The 4Runner TRD Pro discards that setup for Fox dual-reservoir shocks and a 2.5-inch suspension lift that gives it a plush ride and serious capability. 

These SUVs ride on big tires and have a lot of ground clearance, so it's not surprising that they can be a handful on pavement. Most versions bounce softy over big bumps and have light steering that requires extra corrections at speed. Their brakes are plenty strong, but suffer from numb pedal feel. On the highway, the 4Runner's steering is nervous, though this year's newly standard adaptive cruise control should make it a more relaxing road-tripper. All TRD 4Runners are four-wheel drive and they're rated at 17 mpg city, 20 highway, 18 combined regardless of trim level.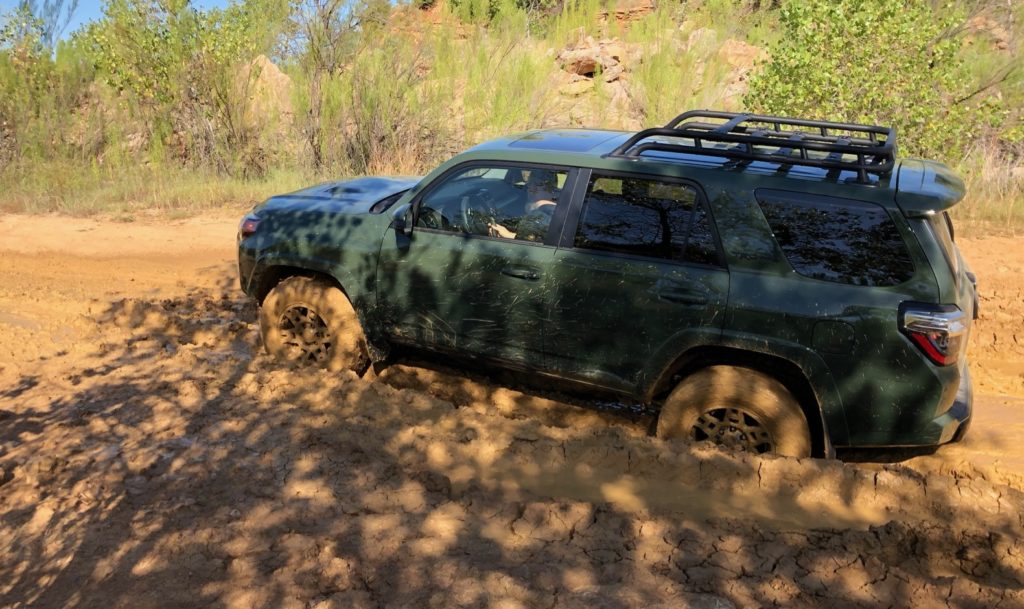 The 2020 Toyota 4Runner now comes standard with a full suite of active safety tech including automatic emergency braking, adaptive cruise control, and blind-spot monitors. The NHTSA rated the 4Runner at four out of five stars overall, including four stars for frontal crash, five for side-impact crashes, and three stars in the calculated rollover evaluation. The IIHS agrees. The 4Runner earned "Good" scores in many crash tests, but the "Marginal" in the driver-side small-overlap test that simulates impact with an object such as an oncoming car or a utility pole is concerning. The 4Runner's headlights rated "Poor" in the IIHS' testing, too.
On the pricing side, we think the 4Runner TRD Off Road is worth the $3,000 bump over the SR5. It builds on the SR5 with a locking rear differential, off-road cruise control, driving modes for four-wheeling. As on the SR5, the optional Premium package drapes the seats in synthetic leather and adds a power moonroof. A better bet is the Kinetic Dynamic Suspension System, which Toyota bundles with navigation for about $1,600.
The 4Runner TRD Pro goes all out with Fox shocks, a suspension lift, all-terrain tires with lightweight wheels, a beefy roof rack, and additional underbody protection. It's a pricey off-roader at $50,000, but adding that kit to a 4Runner SR5 via the aftermarket would cost way more than what Toyota charges—and the 4Runner TRD Pro comes with a full warranty, while whatever you've bolted on in your driveway lacks the same safety net.

At the end of the day, we came away super impressed that Toyota has been able to bring stellar capability and refinement with reliability and a warranty to the true off-road enthusiast. So if your weekends adventures involve mudding, rock climbing, or taking your outdoor gear to some of the most remote extremes on the planet, the 2020 Toyota 4Runner should be at the top of your list because no one else does it better.