"The Cloud", that's what we quickly came to call the 2020 Rolls-Royce Cullinan. The way the Cullinan glides down the road, even over a rutted dirt road, barely unsettling its passengers. The way you view the world outside the Rolls-Royce as a silent movie. The way the interior coddles you in its warm robin's egg blue hue. The Cullinan really can pass as a cloud. But can a cloud do duty as a proper SUV with camping, hardware store, and off-roading excursions? We put it through crafty challenges to find out.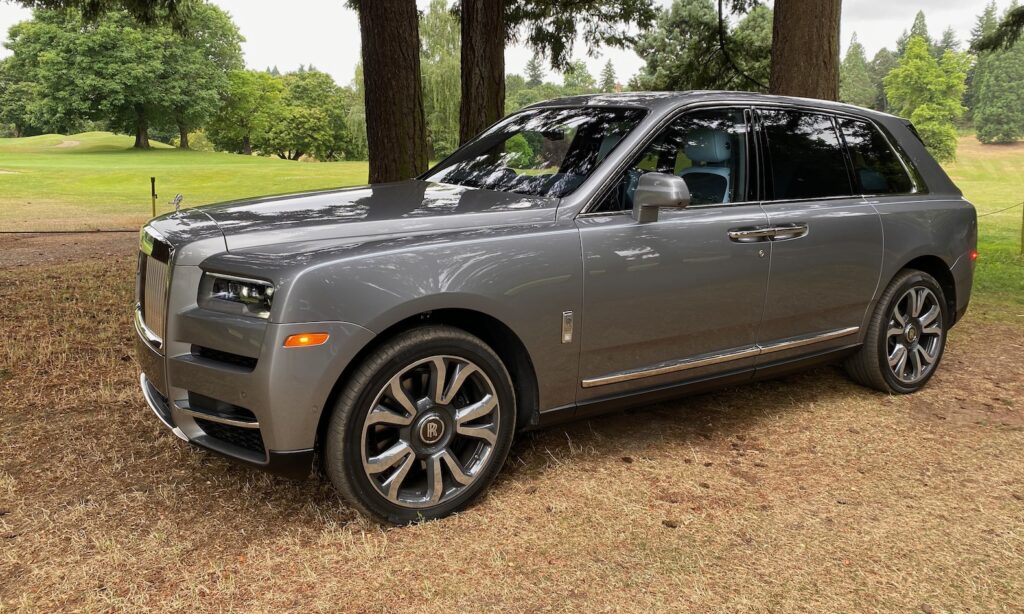 Let's start from the exterior, a true first impression. And the 2020 Rolls-Royce Cullinan does just that. From its imposing grille, the Spirit of Ecstasy (which still lowers to safety if you need it to), to its large standard 22" wheels; the Cullinan commands respect. The hood remains squared off, available in contrasting bare aluminum, but flows into serene non-offensive sides. Around back, the motto of refined elegance continues with a tapering roofline and squared off taillights, that give the rear a current modern look but not flashy. Timeless elegance.
Surprising the large wheels and tires contribute to a reassured ride both on and off-road while the smooth flanks lack any sort of adornment or styling fad that might catch branches while taking an unpaved jaunt. The air suspension, off-road driving programs, and hydraulic roll bars all contribute to make the Cullinan quite capable when the terra-firma becomes quite un-firma. In addition, the smooth unadorned rear quickly blows clean at speed. Off-road ability: check.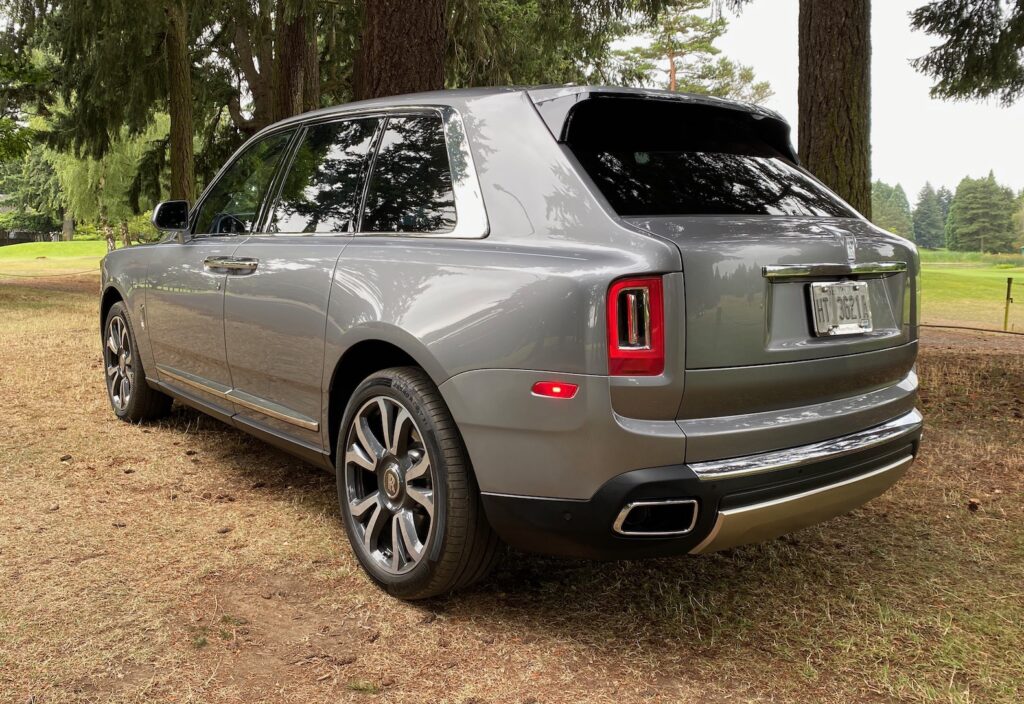 Under the hood of our Jubilee Silver Cullinan is a rolling sanctuary, a movable fortress of social isolation. It rides atop the Ghost's architecture, and is powered by the same 6.75-liter twin-turbo V12, with 571 horsepower with an eerily smooth 627 pound-feet of torque and runs as whisper-quiet as you would expect. All-wheel drive is standard, although we suspect buyers will never venture off the tarmac. The Cullinan rides on an air suspension that automatically adjusts its height using a road-scanning camera; ride comfort is beyond the standards of regular luxury vehicles, and it wafts down the road transmitting nothing unpleasant to the interior.
Speaking of the interior, it's leather, all leather; as in everything you touch including the matching key. That of course is off set by the thickest wool carpeting you'll find on production vehicle. The dash remains fairly squared off in true Rolls-Royce fashion including real chrome accents and air vent pulls. Every seating position is all-day comfortable so you'll arrive at your destination ready to go. Even rear seat passengers are treated to individual charging ports, map lights, multiple air vents, screens, and tray tables but also include buttons to close the doors just like the front. Getting in and out of the vehicle is a throwback to days of old with true suicide doors that actually make the cabin easy to access from any angle.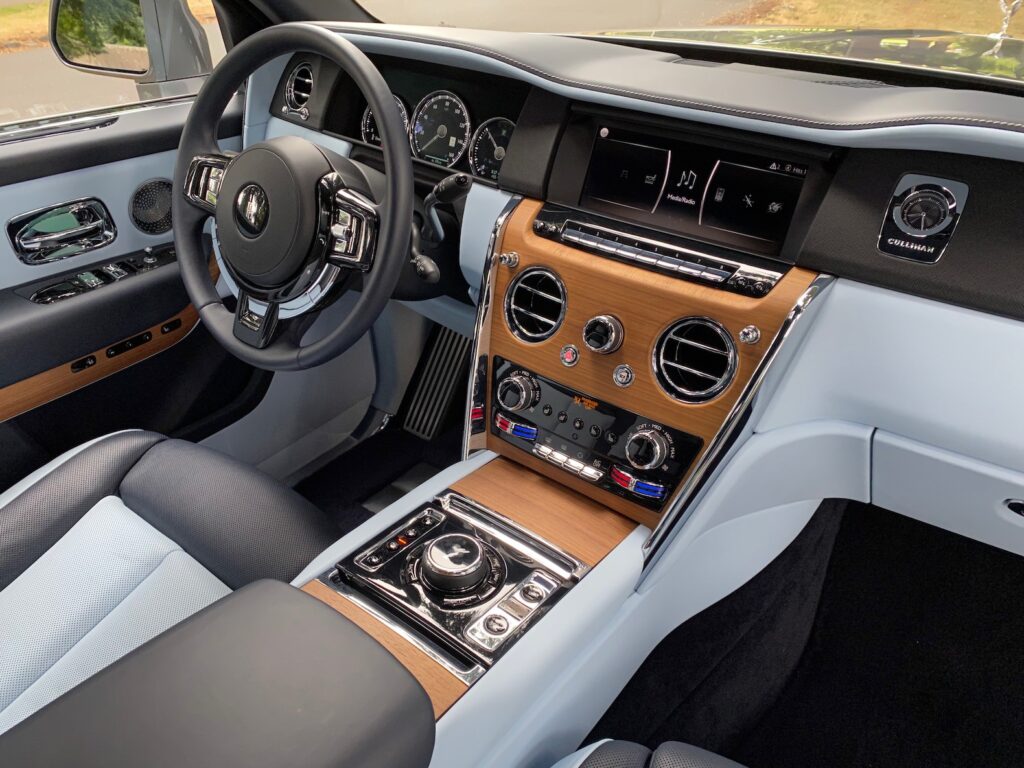 But how does that leather laden interior handle a hardware store run? Surprisingly well. You're not going to run to the nursery and put loads of manure in the back. Perish the thought. However, the interior has been thoroughly well thought out so that the rear cargo hold is entirely carpeted to protect it from the undesirable materials. Even the rear cargo cover that is leather of course, is easily removed and stored to protect it from damage. We did a quick run to the hardware store and found that with the rear tailgate setup, the Cullinan could easily haul with the best of them. It even includes comments and stares from passerby's offering judgement. Hardware Store hauling: check.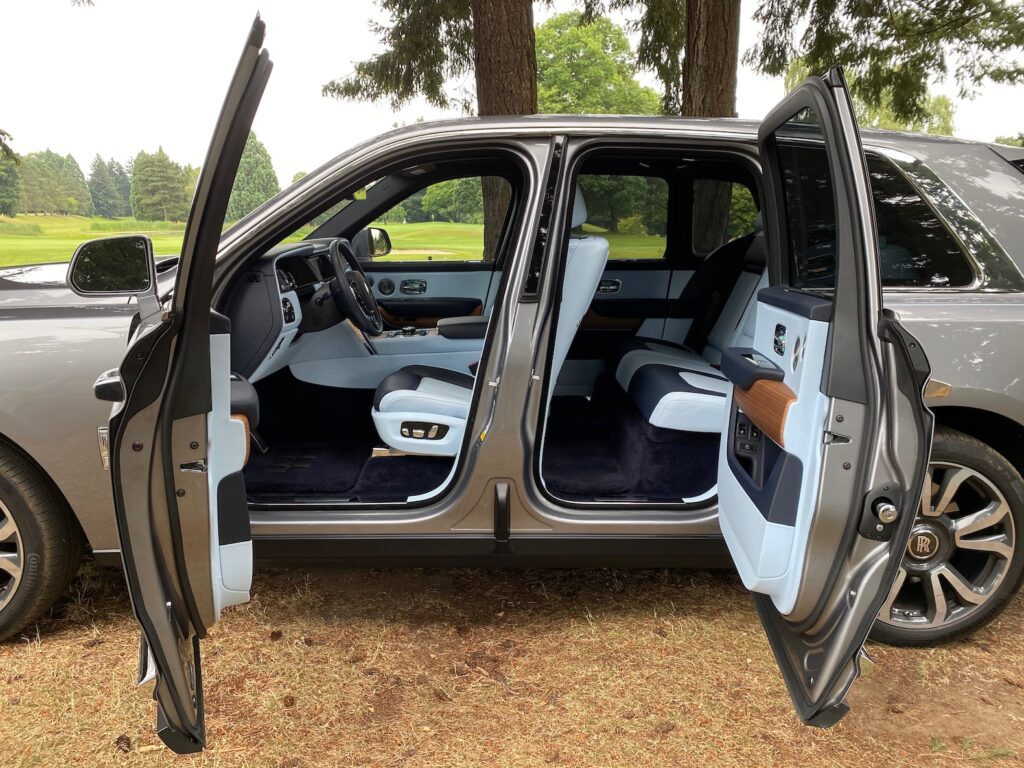 With the interior being incredibly coddling and flexible, we wondered if the interior could handle other types of use. We headed to our favorite woodsy escape and folded down the seats to find out. After folding down the rear seats, via power switches mind you, you quickly realize how large the Cullinan really is. An air mattress and two sleeping bags easily fit with enough room for your 6'1" editor to lay down in the rear and still be able close the rear hatch. Not only that, but while you're laying there the rear seat USB ports are at perfect point to play on your phone wile charging it. Camping flexibility: check.
The 2020 Cullinan can now be ordered with leather to match its optional Viewing Suite and all-new Sanctuary Seats. These upgraded rear thrones add extra padding and a power-adjustable calf rest on the right rear seat. Although these options sound as if they're from some art deco theater, just remember that Rolls-Royce customers prefer to be pampered on another level. Of course, only the grandest Cullinans will have the newly available leather floormats and piano-white veneer.
The Royce is not made for serious off-road applications: With a starting price of $327,750 and an as-tested sticker of $394,000 you'd have to be insane to run it in Baja and you're probably missing the point. Which is where the Rolls-Royce panache kicks in. We can only imagine a life where we could afford a Cullinan. In that make-believe scenario, we'd choose the Jubilee Silver paint scheme from our test vehicle, the 22-inch seven-spoke shadow wheels, and the electronic tow hitch. Inside, we'd go with the Immersive Seating with Center Console, which gives the rear seats massage functions separated by a central cooling bin with two champagne flutes and a whiskey decanter. Of course, we can't pass on the Shooting Star headliner that contains fiber optics that replicate shooting stars. Finally, we'd add our favorite option, the $19,900 "Viewing Suite". Pop the rear tailgate down, activate an electronic switch, and two leather-bound chairs electronically swivel out, complete with a center "cocktail" table.
Which leads us to a verdict… Is the Rolls-Royce Cullinan a proper SUV? The answer is a resounding yes. It can do everything a modest SUV can do and more. In the end it just begs you to ask the question; just because you could, should you? That's what roughly $400K as tested offers; choice, and brilliance doing whatever you ask of it. Supreme liberty.
For all your new car shopping needs, check out: drivevise.com Vehicle shopping made simple!