The 2020 Nissan Pathfinder three-row crossover blazes a trail right through middle America for families. It returns this year without any changes from last year, now a few years removed from a light refresh, and hits at the heart of what families need from big vehicles but the Pathfinder lacks a hook. Like last year, the 2020 Pathfinder is available in S, SV, SL, and Platinum trims. A Rock Creek edition, like our handsome test vehicle, is available again and it adds tougher looking exterior elements. The Pathfinder hasn't changed its looks much in the past few years; it's inoffensive but has aged well.  Same goes for the interior, which is bright in lighter shades but also unadorned.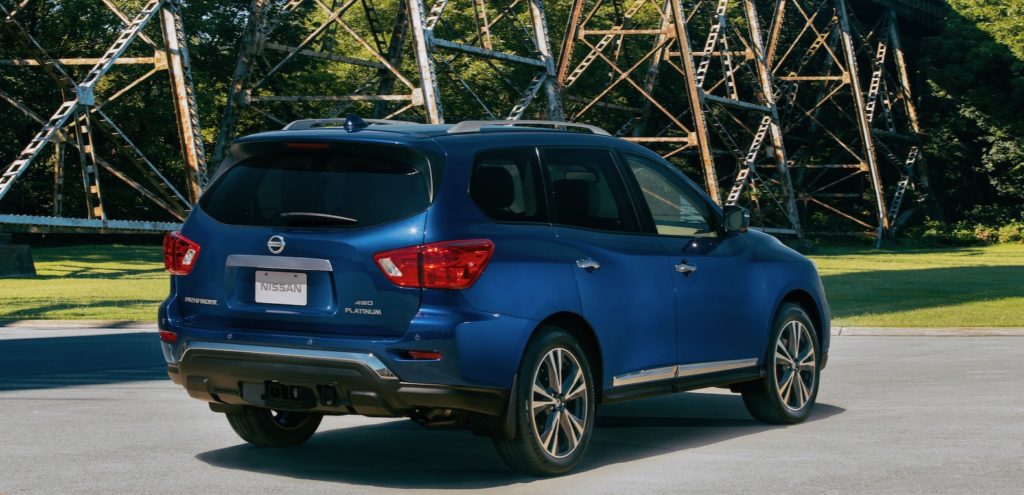 The Pathfinder is powered by a workaday 3.5-liter V-6 that makes 284 horsepower mated to a continuously variable automatic transmission (CVT). It works best when it's not asked to break a sweat, like us. Front-wheel drive is standard and all-wheel drive is an option, but comfort trumps capability in any instance. The Pathfinder is rated to tow up to 6,000 when properly configured.  The Pathfinder seats up to seven in three rows of seats. Rows one and two are fine for adults and long-haul comfortable, with ample leg room and head room.  Behind row three is more than 16 cubic feet of cargo room, which is about the same size as a trunk of a mid-size sedan. With the third row folded, that space grows nearly three-fold to more than 47 cubic feet.
The IIHS called the Pathfinder a Top Safety Pick for 2019, and every crossover is equipped with life-saving automatic emergency braking. Blind-spot monitors, adaptive cruise control, and rear cross-traffic alert are standard on Pathfinder SV and higher.  Nissan includes 18-inch wheels, cloth upholstery, seating for up to seven, keyless ignition, up to six USB ports, and an 8.0-inch touchscreen for infotainment on every Pathfinder, but no amount of money adds Apple CarPlay or Android Auto.
The rounded shapes of the 2020 Pathfinder won't offend many, but they're blending into the same-ness among three-row crossovers. From the front, the 2020 Pathfinder looks more car-like than its blocky namesake and bulges around the wheels add much-needed flair. Large windows are a boon to outward visibility and a small kickup toward the rear pillar adds some pizzazz to the profile. In back, the Pathfinder has a big rear window, again good for visibility again, but it's not as expressive as the two-row Murano.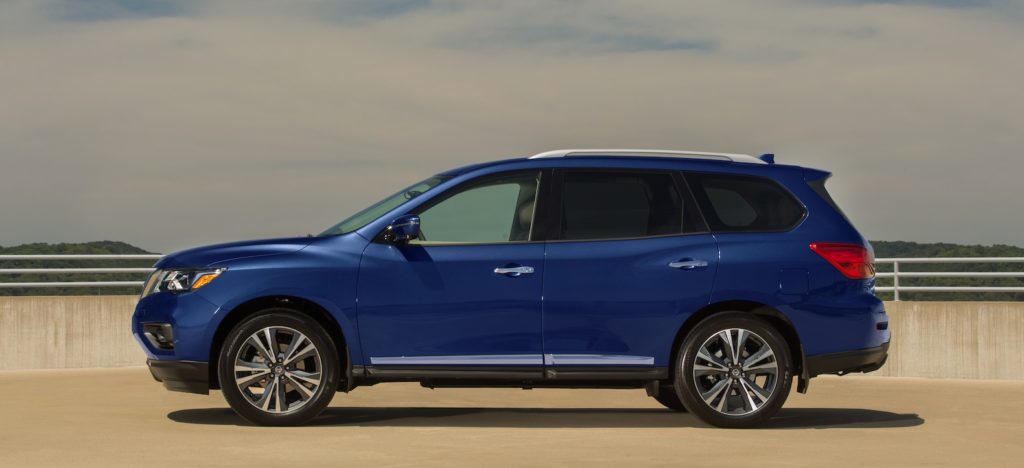 Comfort is the 2020 Pathfinder's first priority above speed or handling prowess, which is perfect for it's family mission. Nissan stitches together the right threads for a competent crossover: a powerful V-6 engine, front- or all-wheel drive, automatic transmission, and four-wheel independent suspension. Under the hoods of all Pathfinders is a 284-hp 3.5-liter V-6. It can tow up to 6,000 pounds when properly equipped and it returns combined fuel economy in the mid- to low-20s consistently. The V-6 is tasked with hauling more than two tons of crossover unladen, which it does well. It's mated to a CVT that's meant to keep the Pathfinder off the boil to stay quiet and also efficient.

All-wheel drive adds all-weather traction, but the Pathfinder won't scramble up many difficult trails with just 7.0 inches of ground clearance. That optional all-wheel-drive system can be locked by the driver in front-drive only to aid fuel economy, automatic, and all-wheel-drive modes. The Pathfinder rides atop a four-wheel independent suspension that includes front struts and a rear multi-link. Compared to other crossovers, the Pathfinder is a little heavier on the road, but the benefit is it rides extremely well regardless of its 18- or 20-inch wheels.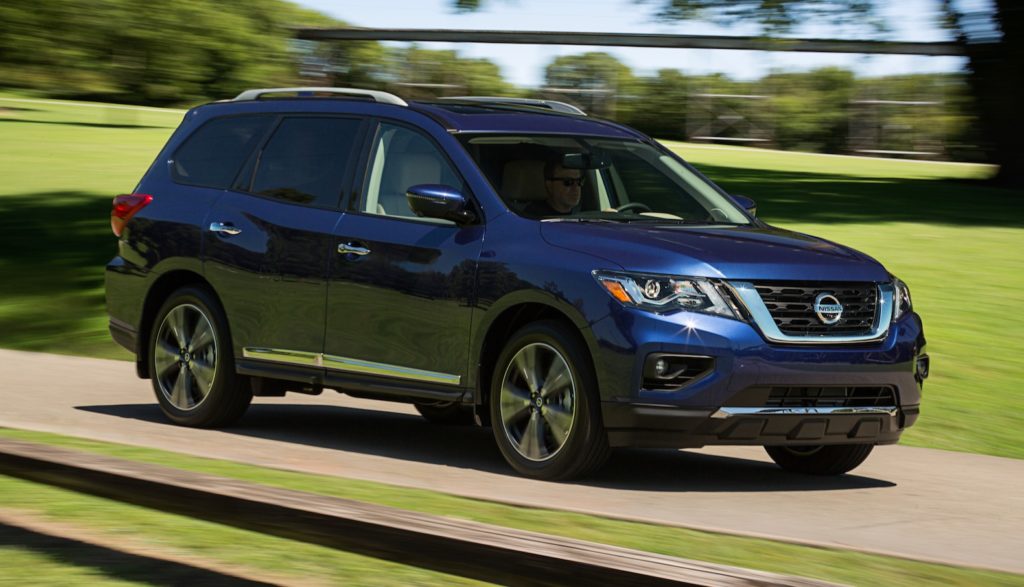 You won't find hybrid batteries in any 2020 Nissan Pathfinder but the big three-row crossover manages respectable fuel economy among competitors nonetheless. With all-wheel drive, the Pathfinder manages 19 mpg city, 26 highway, 22 combined. Front-drive Pathfinders fare slightly better in official ratings. The EPA scores those at 20/27/23 mpg. The 2020 Pathfinder Platinum, which is only all-wheel drive, has bigger wheels that get rated separately: 19/26/21 mpg. Among three-row family crossovers, the Pathfinder is competitive. The 2020 Chevy Traverse is rated at 20 mpg combined with all-wheel drive, and most Honda Pilots manage 21 mpg, according to the EPA.
Good active safety features and an impressive safety scorecard make the 2020 Pathfinder a safe pick for families. Federal testers gave the Pathfinder a five-star overall score for crashworthiness.  The IIHS gave the Pathfinder a Top Safety Pick nod for 2019 when equipped with LED headlights, the last year that data was made available. The IIHS gave the Pathfinder mostly "Good" scores in its tests, including the driver-side small-overlap crash and its automatic emergency braking system. Small-overlap crashes simulate a car hitting a fixed, small object such as a light pole or tree. 
Every Pathfinder is equipped with automatic emergency braking that the IIHS said prevented a forward crash at 12 mph and slowed the car by 14 mph in a 25-mph test.  Blind-spot monitors, adaptive cruise control, and rear cross-traffic alerts are standard on Pathfinder SV and higher trims and are nearly mandatory for the large crossover. A surround-view camera system is standard on SL and Platinum Pathfinders.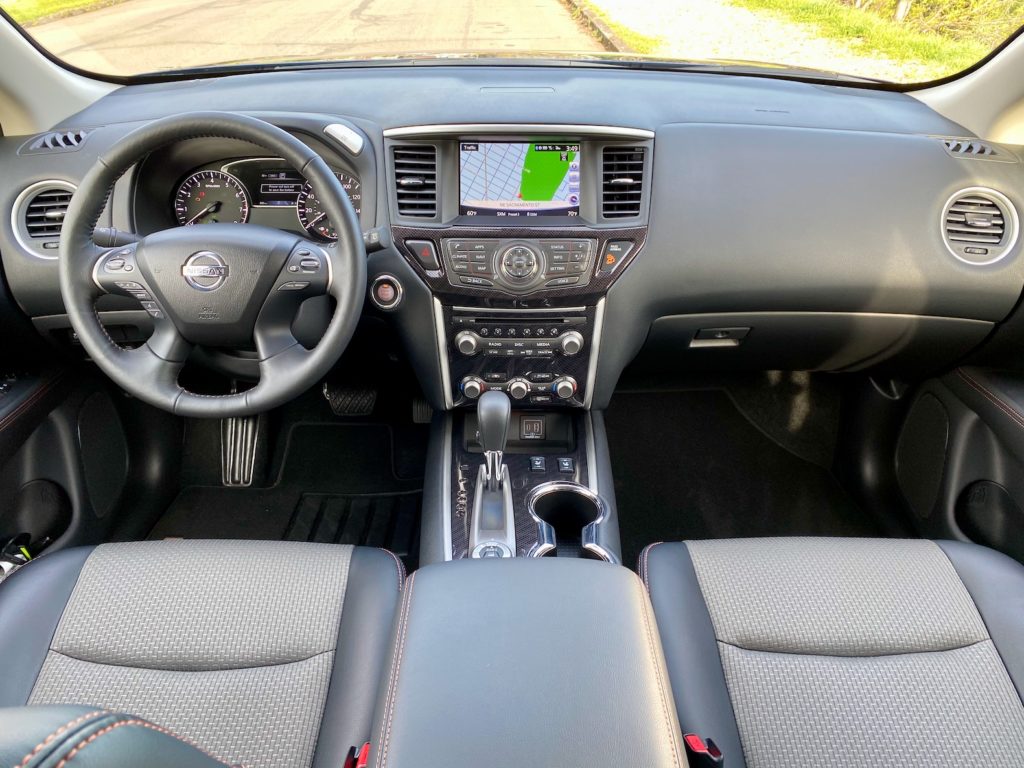 The 2020 Pathfinder is spacious and comfortable for most families and isn't the vehicle you may remember from the 1990s. That's a good thing for comfort and space. The Pathfinder is now a three-row family crossover with space for up to seven passengers. It has about the same room and accessibility as others in its class, but the Pathfinder trades on a familiar Nissan name and its relative affordability among pricier competitors. The material quality in the Pathfinder is up to par for the class but the crossover is best dressed in lighter colors. Leather upholstery is standard in the first two rows in the SL and Platinum versions and Rock Creek editions get special black and orange color combo that reads more macho than the rest of the lineup but can be a little dark inside.

The front seats are the most comfortable and spacious and were drawn from Nissan's deep well of ergonomic studies. They're all-day comfortable for a wide range of body types and sit up high for a good view of the road ahead. The second row is easily accessible and seats up to three adults with more than 40 inches of leg room. The seats slide fore and aft for better accessibility to the third row and can recline for better long haul comfort. The third row in the Pathfinder is best for smaller adults and the seats offer 30 inches of leg room once aboard. Behind the third row, the Pathfinder offers more than 16 cubic feet of cargo room that expands to more than 47 cubic feet with the third row folded.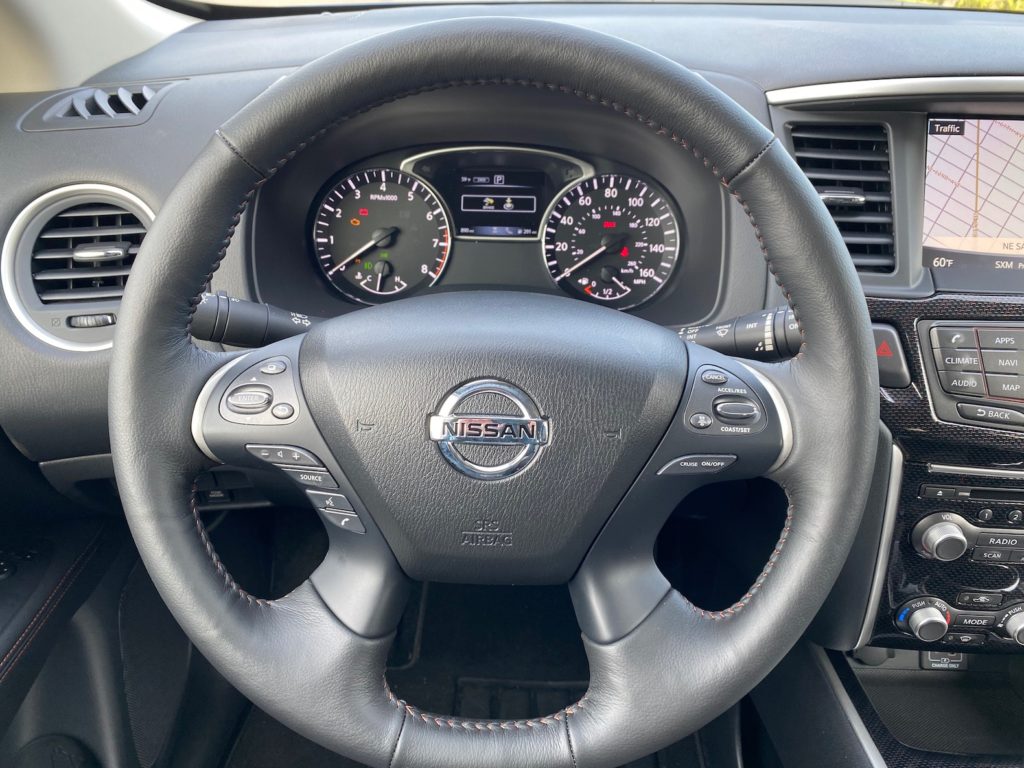 All Pathfinders come with an 8.0-inch touchscreen for infotainment, with Bluetooth and USB connectivity but not Apple CarPlay or Android Auto compatibility. There are redundant hard buttons beneath the touchscreen for navigation and audio, including a dial controller. Navigation is included in SL and Platinum versions, optional on SV models, but we'd prefer the convenience of Waze, Google Maps, or Apple Maps instead. It's best to set frequently used destinations into the navigation system, such as work or home, and use those quick buttons instead of manual destination entry. 

Most 2020 Nissan Pathfinders will have the convenience features that families need. Every Pathfinder gets at least 18-inch wheels, seating for up to seven, keyless ignition, cloth upholstery, up to six USB ports, and an 8.0-inch touchscreen for infotainment, and automatic emergency braking. Like last year, the Pathfinder is available in S, SV, SL, and Platinum trims with a manly Rock Creek Edition package available on SV and SL trims. The Pathfinder S costs $32,725, including destination, all the way up to a Pathfinder Platinum that costs $43,965. All-wheel drive is an option on every Pathfinder for $1,690.
For $35,515 to start, the SV adds a power-adjustable driver's seat, adaptive cruise control, blind-spot monitors. The Pathfinder Platinum goes all-in with 20-inch wheels, leather upholstery, heated and cooled front seats, heated second-row seats, dual-pane sunroof, premium audio, navigation, wood trim, a surround-view camera system, and power-adjustable front seats and a power-adjustable steering wheel. Pathfinder Platinum crossovers start at $43,695, including destination. A rear-seat entertainment package is available for $1,700 on Platinum versions.

In the end the 2020 Nissan Pathfinder remains a solid choice for families. It's safe, performs well, and won't break the bank while taking the kids to soccer practice. It may not be the boulder-crawling Pathfinder you remember but often, change is for the better and this Nissan easily lives up to it's likable namesake.
For all your new car shopping needs, check out: drivevise.com Vehicle shopping made simple!