The 2019 Toyota C-HR compact crossover is all about looks. On looks alone, the 2019 Toyota C-HR is a breath of fresh air for small crossovers, and because it's all about about the look, and we freely admit that it won't be for most people. We're totally ok with that. The 2019 C-HR trades on its looks, which will appeal to some. The funky intersecting and stylish shapes are deceptively hiding a relatively big crossover, but they write a check that passengers will have to cash. The good news this year is a new base version that rings the bell at just under $22,000 and includes an 8.0-inch touchscreen with Apple CarPlay compatibility, standard automatic emergency braking, Bluetooth and USB connectivity, 17-inch wheels, and cloth upholstery. That's relatively good value among competitors, and may look better to some first-time shoppers than the sheet metal.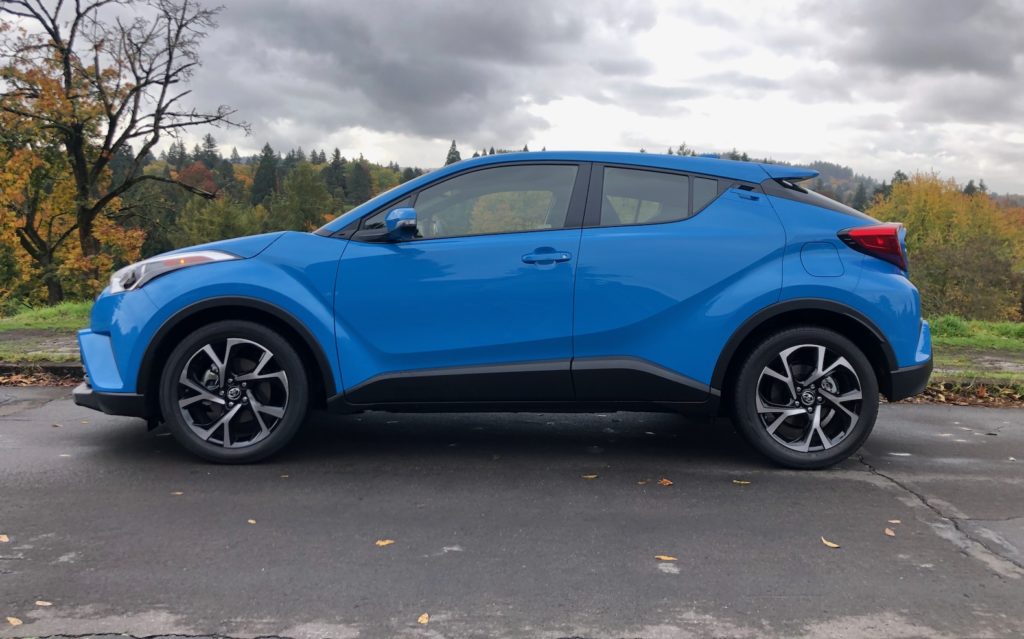 The 2019 Toyota C-HR has style to spare, which is more than many crossovers can say these days. Whether you like the C-HR's style is another question. Picking up where the Nissan Juke left off, the C-HR is a smattering of kinks, curves, kickbacks, and curls rolled into one. It's a clever design for what would otherwise be a five-door hatchback. Boil it down to the essence and its the same "rising window line, sloped roof line" that others have somehow made boring already. The C-HR, Toyota says it means "Coupe, High Riding", is visually smaller than its measurements. It's wider and taller than the Yaris, but hides it in all the right places. That's somewhat due to the lines that distract from the car's overall size. The headlights wrap tightly into the wheel wells, and the deep side stampings press into the skeletal shape. The busy rear end sticks out, literally and figuratively, with bracketed taillights that are equally expressive as the rest of the car. A contrast-color roof is available for $500 more for extroverts with money to spend.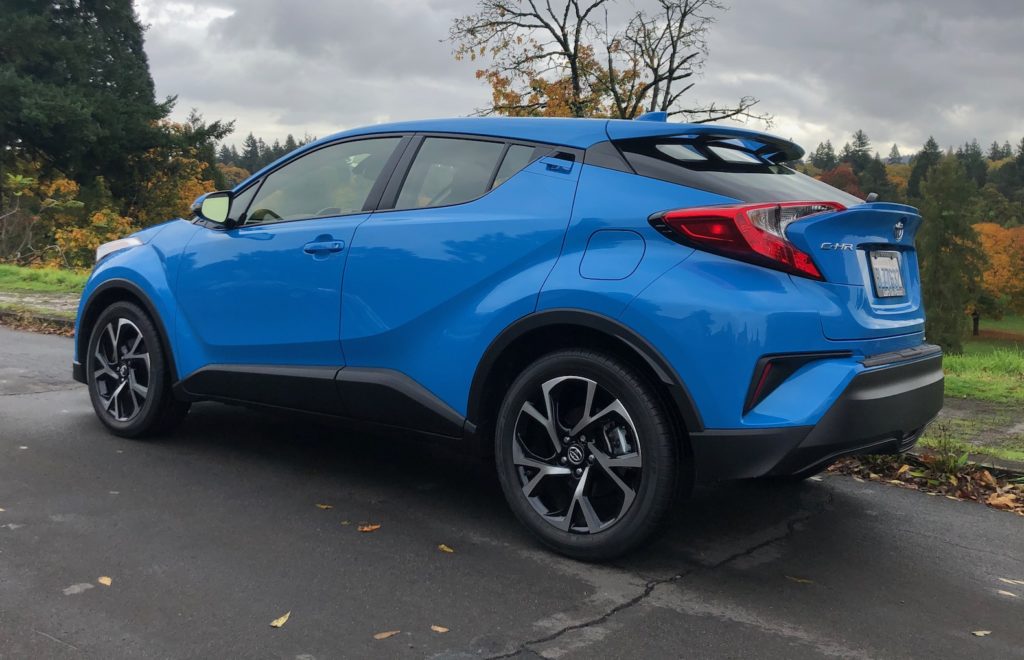 The 2019 Toyota C-HR lacks power to be anything more than a tall-riding urban hatchback. Maybe you're not in a rush? Maybe your commute begins in the bedroom and ends in your home office? Maybe the speed limit seems to high? Maybe we presume too much. We're firm in one opinion: You won't get the 2019 Toyota C-HR going in a hurry. That's because the C-HR's single powertrain doesn't motivate the crossover's mass with any urgency. All-wheel drive isn't available and that's probably a good thing. The tale of the tape doesn't lie: the C-HR relies on a 2.0-liter inline-4 that makes 144 horsepower and 139 pound-feet of torque to move 3,300 pounds. We estimate that the C-HR accelerates up to 60 mph from a stop somewhere between "eventually" and "some day." The engine is teamed with a continuously variable automatic transmission (CVT) that helps keep the C-HR efficient and likely geared toward around-town jaunts, think stoplight-to-stoplight stuff. The CVT does its best to stay out of the way, which is a good thing. Dial it into "Sport" mode and the CVT steps through simulated gears with a spritely character.

The better news comes from the C-HR's handling and steering, which is good for a small car that starts around $20,000. Toyota gifted the C-HR front struts with Sachs dampers and a beefy front stabilizer bar, and an independent rear suspension with double wishbones. The C-HR skips the econobox treatment of a rear twist beam and it pays off: the C-HR can be fun to drive. Provided you stay on the pavement, of course. Stateside, the C-HR skips all-wheel drive and lacks the ground clearance to be anything other than an urban runabout. Unlike other Toyotas that are very light, the C-HR's steering feels heavier and with more consequence, which we like.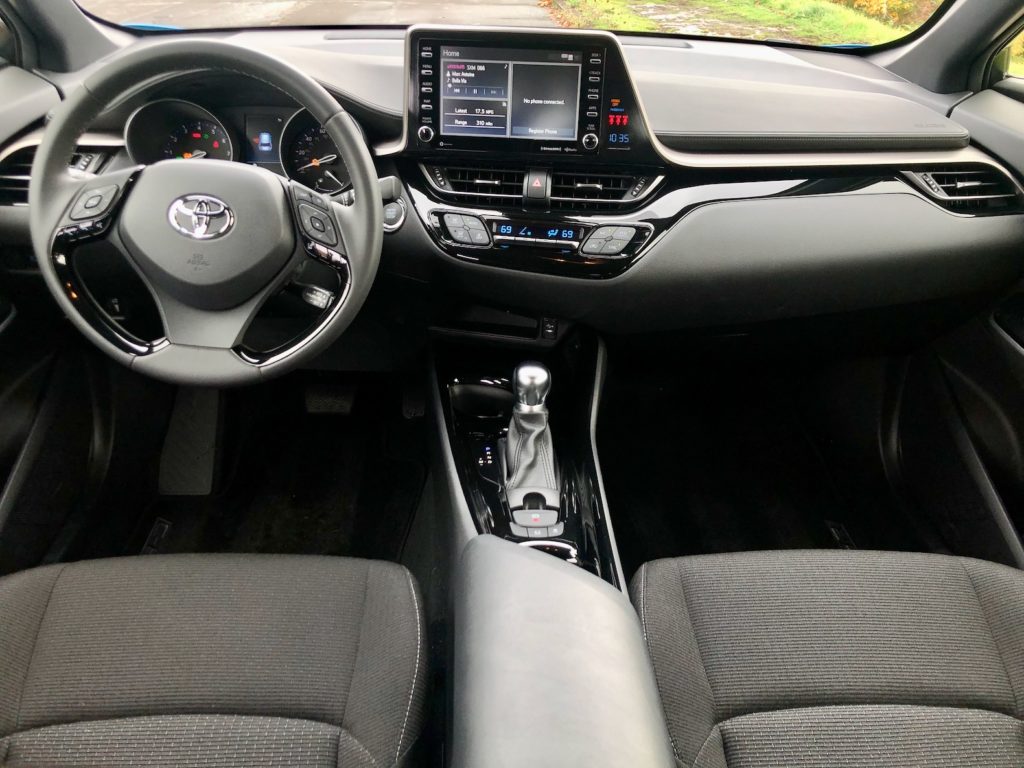 The 2019 C-HR pays a price for being underpowered in fuel economy, too. Despite its small size, the 2019 Toyota C-HR's relatively heavy body means that its only average for fuel economy. The EPA rates the 2019 C-HR at 27 mpg city, 31 highway, 29 combined. Other competitors do better. Front-wheel-drive versions of the 2019 Mazda CX-3 and 2019 Honda HR-V are rated at 30 mpg combined or better. The Nissan Kicks leads much of the bunch at 33 mpg combined, and the hybrid Kia Niro goes further.

The 2019 C-HR's standard automatic emergency braking outshines small demerits in the Toyota's safety scorecard. The 2019 Toyota C-HR gets all the big safety stuff right. Federal and independent testers give the crossover good marks for crash safety and Toyota bundles in a comprehensive set of advanced safety features. A closer look at the crash-safety numbers reveals a five-star overall score, including four stars for front- and rollover-crash safety. The IIHS gave the C-HR top "Good" scores on all its tests, including the new passenger-side small overlap crash test. The IIHS also rated the small Toyota's automatic emergency braking system as "Superior" at avoiding forward crashes. The rest of the suite of advanced safety features on the C-HR help, too. In addition to automatic braking, the C-HR gets as standard forward-collision warnings, active lane control, automatic high beams, and adaptive cruise control. Blind-spot monitors are optional. Those blind spots are prodigious though. The chunky looks eat into outward vision toward the rear and makes the blind-spot monitors not only a good idea, but also somewhat mandatory.

The 2019 Toyota C-HR has all the attitude of a sporty 'ute with spunk, we just wished it developed the "utility" part a little more. The C-HR rides atop a compact platform that it shares with other small Toyotas including the Prius and Corolla that measures 103.9 inches between the wheels. Unlike those cars, the CH-R needs some of that real estate for its expressive shape, which includes awkward rear door handles and cutouts, that cuts into rear leg room. By the numbers, rear seat passengers get 31.7 inches of leg room, but tall front-seat riders can significantly cut into that. The front seats are supportive but can feel thin, and sit lower than we'd expect from a tall-riding hatchback. The rear seats sit higher, and have head room for 6-footers, but feel dark due to the car's aggressive shape and small windows. One bright spot: We've noticed that car seats fit into the rear seats surprisingly well. The C-HR offers 19.0 cubic feet of cargo room behind the second row that expands to 36.4 cubes, which is capacious for a small SUV. A small rear cutout somewhat spoils the utility of that space, something the new Toyota Corolla Hatchback aces. Like a tango, we see the C-HR being best for two.
We have our reservations about the base infotainment system: it's not especially intuitive compared to its rivals. The good news this year is newfound Apple CarPlay compatibility that supplements the system with a popular smartphone interface that handles most daily tasks. The bad news is that there is no Android Auto compatibility for that infotainment system, sorry Android fans.
The news this year for the Toyota C-HR is a base LE trim level that makes the spunky sprite more affordable for buyers. Starting at about $22,000, the 2019 Toyota C-HR LE is equipped with cloth upholstery, daytime running lights, 17-inch wheels, a suite of advanced safety features (that we cover above), dual-climate control, Bluetooth connectivity, and an 8.0-inch touchscreen for infotainment with Apple CarPlay compatibility.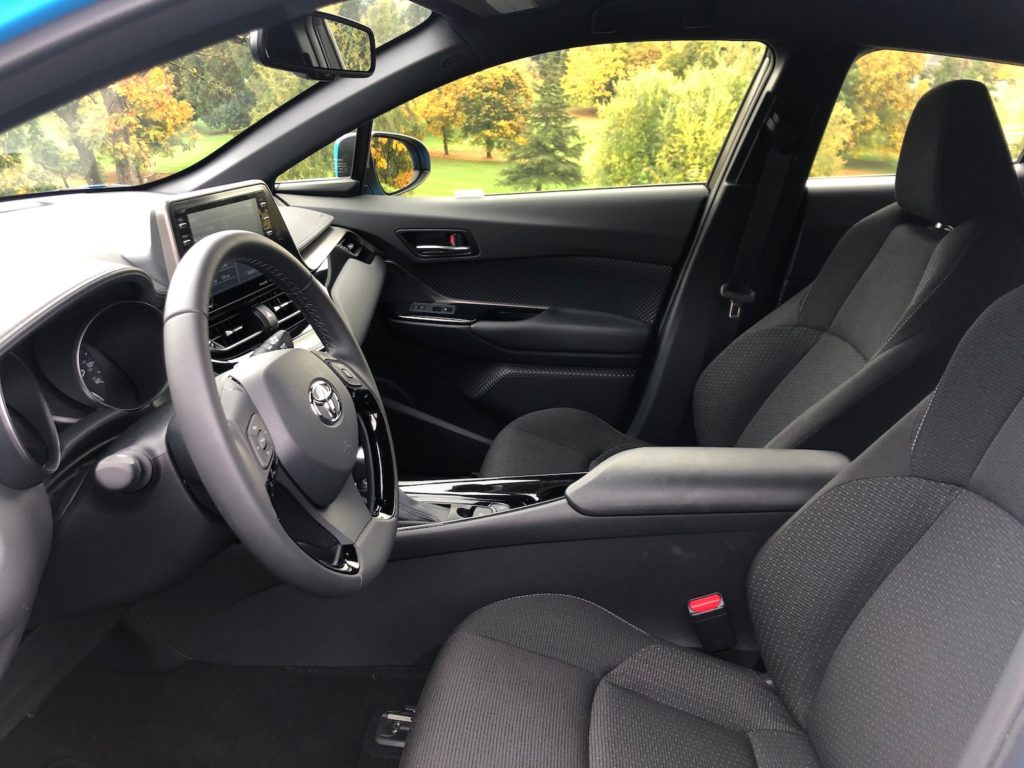 You could spend more on the C-HR, but we're not sure you're getting more. The top trim this year is a new C-HR Limited grade that adds leather upholstery with front seats with power lumbar adjustment, premium audio, 18-inch wheels, blind-spot monitors, keyless ignition, and fog lights for more than $27,000 to start. We're not sold on that value and would advise many to stick with the base trim, especially considering the crossover's intended audience of first-time car buyers. A handful of personalization options available from the factory and dealers can customize the C-HR's looks, which will appeal to many shoppers who are attracted to the funky looks of the cute Toyota 'ute.
At the end of the day, the Toyota C-HR might just be what you need. It's relatively small size, great safety tech, and Toyota reliability make it a great urban get-about for first time car buyers. For that's it's worth a look and looks are what it has in spades if you want to stand out from the rest of the boring subcompact crossover crowd. Sometimes it's all about being different and enjoying doing so.
For all your new car shopping needs, check out: drivevise.com Vehicle shopping made simple!