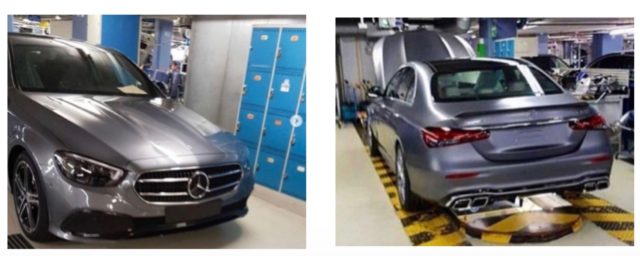 Yesterday we posted lots of photos of the 2021 Mercedes-Benz E-Class, but the E-Class in those photos was camouflaged so we couldn't see all the updates. Now we have two leaked photos of the 2021 E-Class that were recently posted on Instagram.
These two photos were allegedly taken on the production floor and posted by cochespias, the same Instagram profile that recently posted a leaked photo of the 2021 Volkswagen Golf R. At the front we can see that the updated 2021 E-Class gets new headlights and a restyled grille, while the biggest change at the rear are new taillights. It's hard to make out the badges on the rear, but we're likely looking at an AMG version here.
Mercedes-Benz has also announced that the 2021 E-Class will get the latest version of its MBUX infotainment system and we'll also see the first ever E-Class plug-in hybrid debut in the US as well. It's not known yet when Mercedes-Benz plans to unveil the 2021 E-Class, so stay tuned.