Close your eyes and picture a sports car that won't bankrupt your bank account. For most of us who aren't members of royalty that car looks a lot like the 2019 Mazda MX-5 Miata, a small wonder and long-running staple for the automaker. The 2019 Mazda MX-5 Miata keeps the crown of "affordable fun" after adding a more potent engine this year. The current Miata bowed for 2016, although its roots reach back to the late 1980s. The same shape has outlived other fads thanks to its handsome profile and focus on drivability, fun never goes out of style.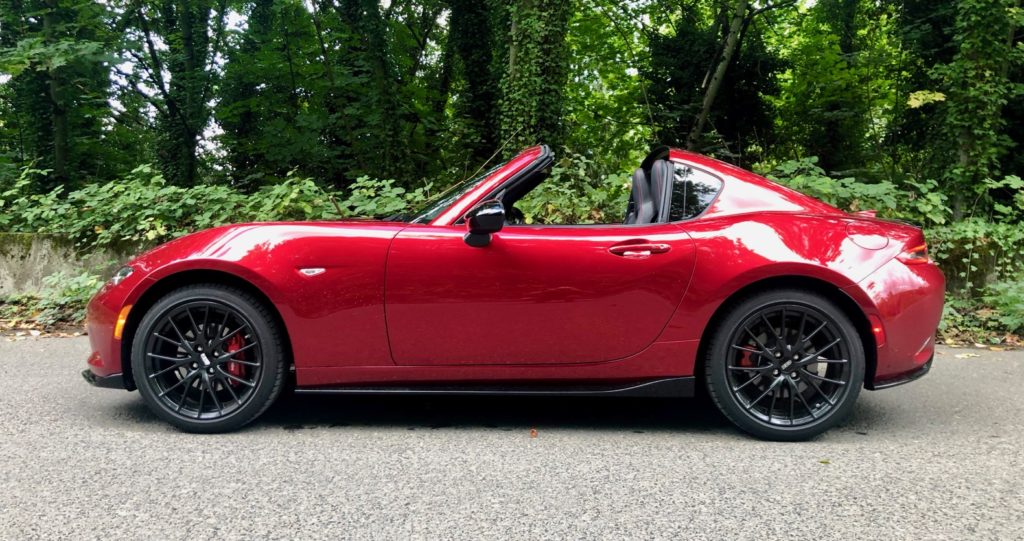 The Miata's small size and low ride height promise comfort for two only and mostly deliver. Bad knees and backs may struggle to fit into the small confines, but their flexibility is rewarded with a cozy cabin that doesn't take away from the view of the road ahead. Mazda's Miata skips many luxury features that some competitors now offer, and that's mostly fine by us. Like last year, the Miata is available as a convertible or folding hard-top model that Mazda calls "RF" (retractable fastback), which is version we tested in Club trim. There's no bad pick, but spending more on the Miata doesn't enhance its best feature: how fun the MX-5 is to drive.

The Mazda Miata MX-5's shape has endured decades for good reasons. Even before this newest generation of Mazda MX-5 Miata was unveiled four years ago, it was already a sports car Allstar. The same proportions have served small roadsters well for decades, the latest Miata adds just a handful of expressive features to a standout silhouette. We don't have a favorite between RF hardtop and convertible models; there's not a bad move to make as both look great. Arguably our favorite generation of the Miata thus far.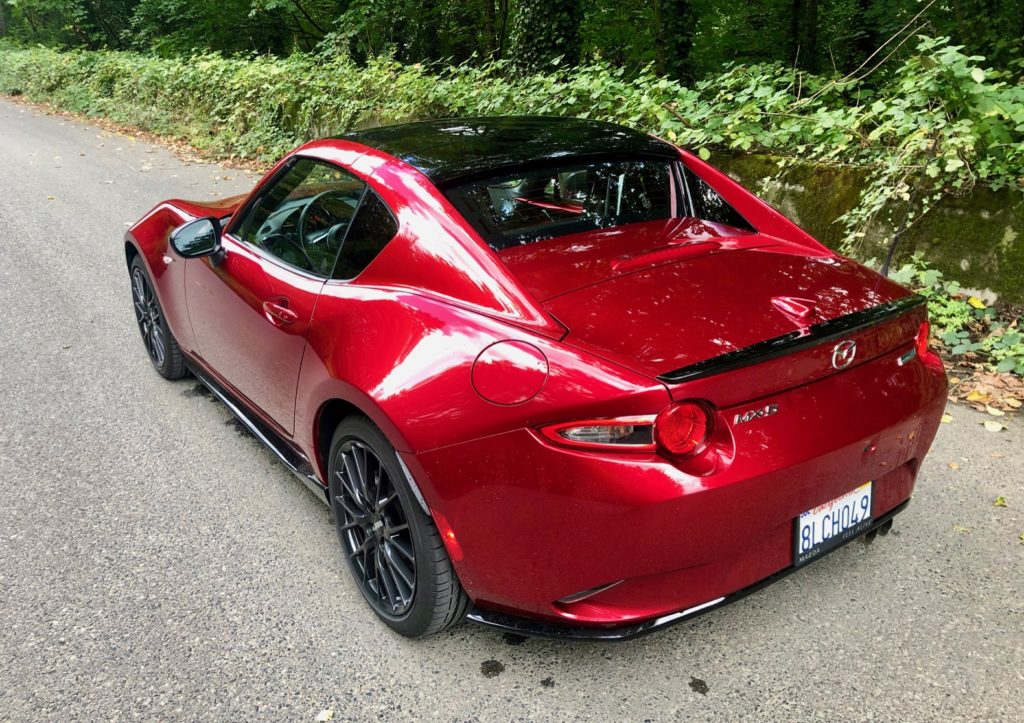 The long hood and short trunk add to the MX-5's already racy profile. Beyond previous generations of the Miata, this version has rakish, debonair headlights and a tighter front bumper that closes up some of Mazda's traditional gape. While the hood has sharper creases this time around and the MX-5's daytime running lights add small dimples to the creases of the lower front fascia. Along the body sides, a short trunk makes a small wheelbase look even smaller. The RF's hardtop is closer to a targa than it is a true convertible, making it slightly more practical in colder climates. In back, the flat trunk gracefully drops toward both wheels without casting a bad shadow on the expressive, round taillights.
Few cars offer better performance value than the 2019 Mazda MX-5. An improved drivetrain this year keeps the 2020 Mazda MX-5 Miata high among performers on our list. We had good feelings about the old engine, but have better feelings about this year's new version. A short and positive 6-speed manual ideally mates to the new engine and the small Miata's legendary handling returns again. Despite having the same displacement as the previous 2.0-liter inline-4, this year's engine in the Miata was significantly upgraded to handle more power and rev higher. Revised intake and exhaust ports complement a throttle that breathes freer for 28 percent more airflow to the engine. The result is an engine that happily spins up to 7,200 rpm or higher (last year's peaked at 6,800 rpm) and makes 181 hp. When Mazda updated the engine, all the vital components (pistons, connecting rods, crankshaft) are lighter and were made stronger to handle the increased pressure from more power. Its injectors now pressurize the fuel more for a better bang, depending on speed.
If that all sounds good, we have better news: the Miata's handling is just as sharp. Just as generations before it have excelled at turning sheets of pavement into ribbons, this year's Miata delivers the same budget thrills that rivals cars twice or even three times the cost. The MX-5 skips the jittery high-speed racks found in other sports cars for a comparatively sedate 15.5:1 ratio. What it lacks in outright speed it makes up for in precision and a progressive feel.
The Miata rides atop standard double wishbones up front with a rear multi-link setup for the rear end. Club versions get stiffer springs, a slightly lower ride height, and larger front strut tower for better performance along with a rear limited-slip differential. Grand Touring trims can add the same hardware for roughly $750 more, but only on manual-equipped models. All Miatas filter out road imperfections well, although bigger wheels and stiffer springs on Club models (and so-equipped Grand Touring trims) trade road comfort for track aptitude. If you don't need the track hardware found on our tester, we'd recommend sticking to the standard suspension which is more forgiving on a day-to-day basis.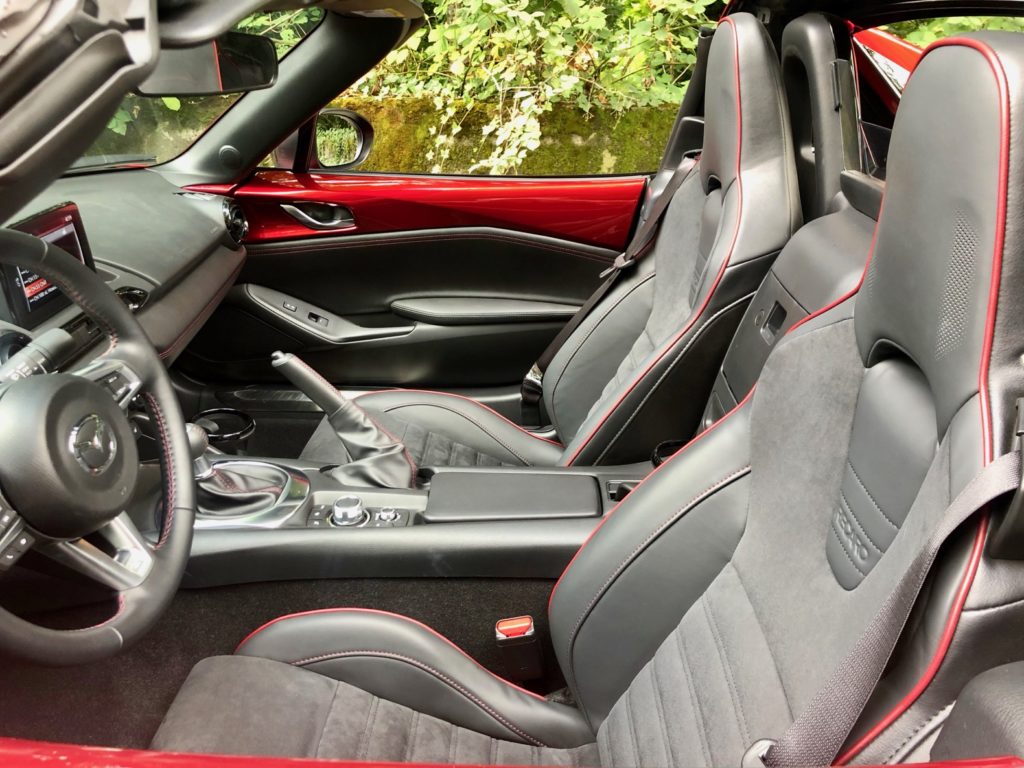 Behind the wheel, the changes net to a throttle pedal that's supernaturally connected to our reptilian brains that are hardwired for more speed. Each stab at the pedal creates a predictable and repeatable response for more revs, more speed, and more sound. Mazda's engineering prowess for making cars that are fun to drive is distilled in the MX-5; then refined, weaponized, and turned loose in the MX-5. Yep, it's incredibly fun to drive. The best pairing is a sharp and positive 6-speed manual transmission that clicks through all six gears with precision. The clutch takeup is firm, but not stiff, with just enough slack to keep the MX-5 drivable every day in stop-and-go traffic. The optional 6-speed automatic is complemented by standard paddle shifters, although it's not as quick to shift as other paddle-shifted autoboxes we've tested before. With the changes this year, Mazda dialed up the drama from the Miata's exhaust for a more confident burble coming from the small car's backside. No MX-5 is quiet, but the RF was pleasant enough with the top down to carry on a conversation through a Bluetooth-connected phone.
A power bump for this year doesn't mar the Mazda MX-5 Miata's good fuel-economy scores. That's a good thing. When equipped with a 6-speed manual, the EPA rates the MX-5 at 26 mpg city, 34 highway, 29 combined. Those numbers are for the convertible and RF hardtop. The numbers are slightly better with an automatic, even if it's just a little less fun. The EPA rates those cars at 26/35/30 mpg. Both figures fare favorably to competitors. The Toyota 86 rates 24 mpg combined with a manual and the Audi TT rates 26 mpg with its automatic. The Fiat 124 Spider is related to the MX-5 but uses a different engine. The EPA doesn't care much and rates both Fiat and Mazda nearly identically.
Federal and independent testers haven't rated the Mazda MX-5 Miata's crashworthiness. Outward vision in the little convertible is expectedly exceptional with an unfettered view around the car with the top down. The RF convertible's rear roof pillars only cut into rear three-quarter looks but come equipped with standard blind-spot monitors to remedy. Low-speed automatic emergency braking is optional on base and Club trim levels, but standard Grand Touring trims. In other cars, the low-speed system was rated as "Advanced" by the IIHS and avoided forward crashes at 12 mph or slower. However, the system doesn't meet federal criteria for forward-collision warnings. Club trims and higher are equipped with blind-spot monitors as standard equipment and Grand Touring trims get lane-departure warning systems. A rearview camera is standard.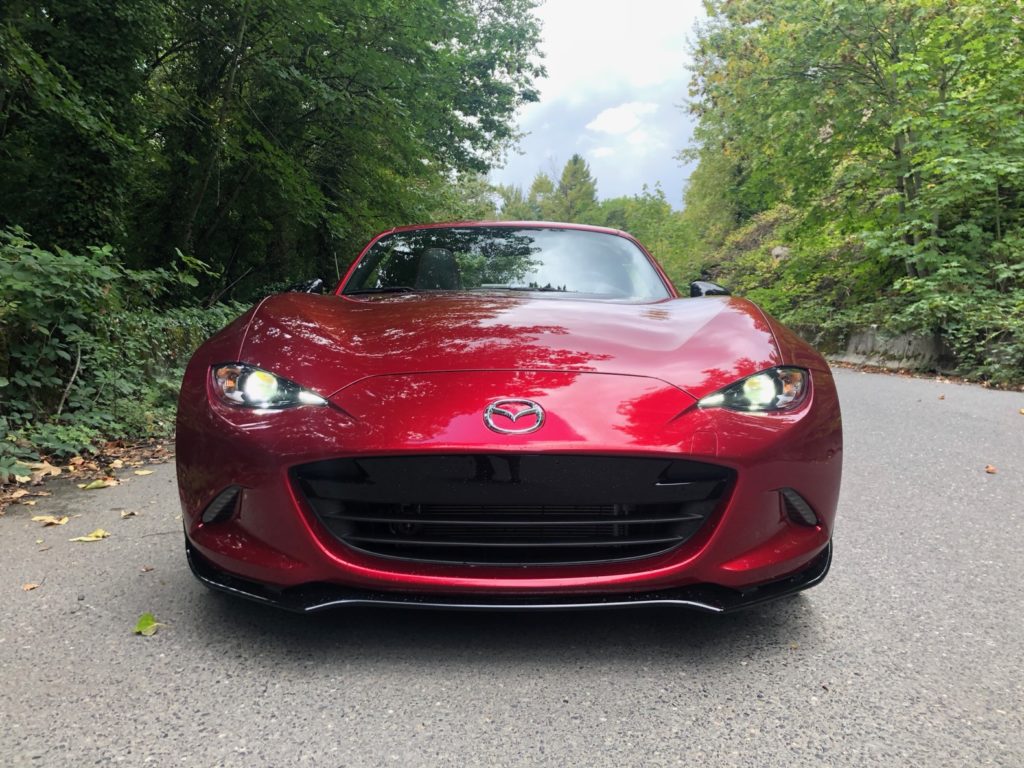 The convertible features 4.6 cubic feet of cargo room and the RF hardtop convertible shaves a scant hair from that figure (the top folds behind the seats, but ahead of the trunk). Neither one is particularly spacious, but the square cargo hold is deep and offers enough room for groceries or small luggage. Fold the top down, and the Miata offers roughly 20,000 vertical feet of cargo storage in the front seat for the brave among us. Go ahead, bring the scarf with you this trip as you will want the top down to enjoy the view.

Inside, the cabin is spartan but not sparse. Body-colored door sills are a nice look and bring some of the outsides inside. We're partial to Soul Red, which is a $595 option, but worth every penny for its brilliant shine. Much like the exterior, the interior of the MX-5 is a exercise in restraint that works well. It's aesthetically pleasing, although not ergonomically perfect. The 2019 Mazda MX-5 doesn't make promises it can't keep. Its cozy cabin offers to seat two belted passengers and a small trunk for weekend bags. It's not a family car and it doesn't pretend to be.

Despite its small size, most tall bodies will fit comfortably in the MX-5, provided they can crouch low enough to enter. The MX-5 steering wheel tilts and telescopes, which helps long legs and short torsos better fit in the cabin. Most Miatas will feature durable cloth upholstery that skips springs and padding for suspended fabric that's lighter. They're not ideal for cross-country sojourns but have enough padding for day trips and weekend getaways. The upgraded leather seats are just as comfortable but aren't especially convincing as luxury seats in the MX-5. Club versions, like our tester, are equipped with grippy Recaro seats are ideal for track cars. Their bolstering is firm and inspires confidence around corners, but is a pricey option on Club cars and not suitable for everyday drivers.
Ergonomic curiosities abound. The infotainment controller is placed in an awkward location near the driver's forearm, the cupholders are hilariously out of reach, and the 12-volt connector is an unwelcome placement we encourage owners to discover on their own, but not everything can be perfect. The 2019 Mazda MX-5's best feature is the road ahead. Connectivity in the 2019 Mazda MX-5 takes on a new meaning. The connection the car makes between the driver and the road is more entertaining than any infotainment software. Base models are fairly spartan and dressy trims are far from luxurious.

We do take issue with infotainment system in the MX-5. The software's pared-down display makes any typical task a chore, right down to changing the radio station. The 7.0-inch display is sharp and bright but its controller is out of reach and requires an unusually high number of button presses for even common tasks. We've frequently bumped the controller and buttons with our forearms while shifting, adding to our overall irritation. Unlike Mazda's crossovers, there's no help from available Apple CarPlay or Android Auto in the MX-5.
Base Sport convertibles, which cost more than $26,500, are equipped with cloth interior, a 7.0-inch infotainment display, 16-inch wheels, a leather-wrapped steering wheel, Bluetooth connectivity, and two USB ports. Newly standard this year are a rearview camera and a steering wheel that tilts and telescopes. Sport convertibles are the version we'd suggest for most buyers without track days circled on their calendars. A spend-up safety package adds blind-spot monitors, lane departure warnings and low-speed automatic emergency braking for $850.
The Club trim adds performance-related features such as a limited-slip differential, stiffer springs and front shock tower brace (manual transmission versions only); 17-inch wheels with wider tires; upgraded audio; and upgraded cloth seats for nearly $4,000 more than the base convertible. Two pricey options packages add heated Recaro seats and upgraded brakes, or leather upholstery, upgraded brakes, and wheels. Either package adds $4,400 or $3,700 to the overall price, so we suggest approaching both with caution. Grand Touring models go further with more luxury items but stop short of feeling like a luxury car. Leather upholstery, heated seats, navigation, adaptive headlights, and traffic sign recognition swell the bottom line beyond $30,000. Grand Touring trims opt out of the Club's racier limited-slip differential and stiffer springs but can sub those back in for more money.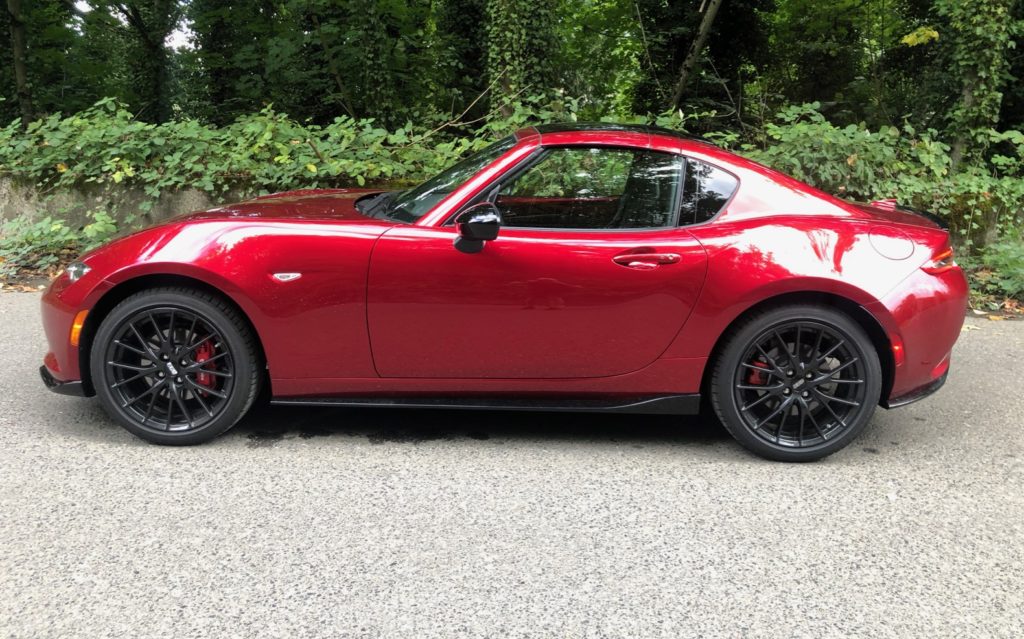 The RF hardtop is only available in Club and Grand Touring trim levels and costs roughly $2,700 more than comparably equipped convertibles and does little to affect the driving experience; so in our opinion, money well spent. Mazda charges more for three brilliant shades on the MX-5 Miata: Soul Red, Snowflake White, and Machine Gray. We wouldn't judge any buyer for spending more on any of the colors, particularly the inspiring Soul Red.
In the end, if your weekend budget is looking for something fun and grin-inducing while looking like something costing thousands more, there really is no better choice. The 2019 Mazda MX-5 is a driving wonder that all should experience and luckily for us, Mazda provides just what we want.