Jeep has unveiled six Jeep Gladiator concepts, which are going to debut at the 2019 Moab Easter Jeep Safari that takes place in Moab, Utah from April 13-21.
All six concepts are based on the Gladiator and actually look ready for production, with the exception of the retro M-715 Five-Quarter concept.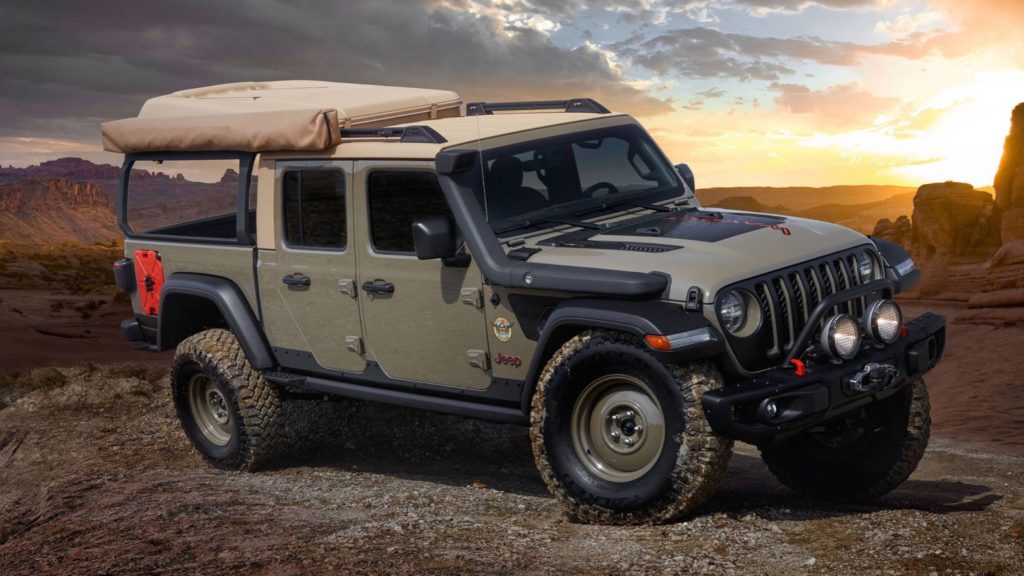 The Jeep Wayout concept is an overlanding vehicle with a full roof-top tent and custom, large sprawling canopy. It's exterior is painted in a new Gator Green color that will be available on the 2020 Gladiator. It also features a custom bed rack with an integrated ladder that sleeps two and a 270-degree awning with amber LED task lighting. Two custom-fit auxiliary fuel tanks are integrated into the bedsides and an ARB on-board air system.
The Wayout concept also features a two-inch lift kit and rides on 17-inch wheels that are wrapped in 37-inch mud-terrain tires.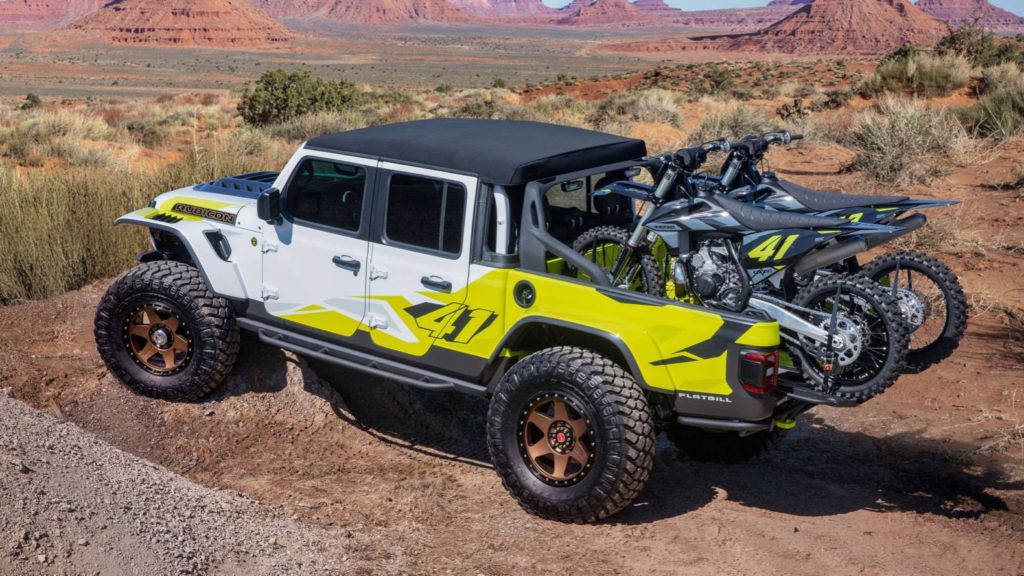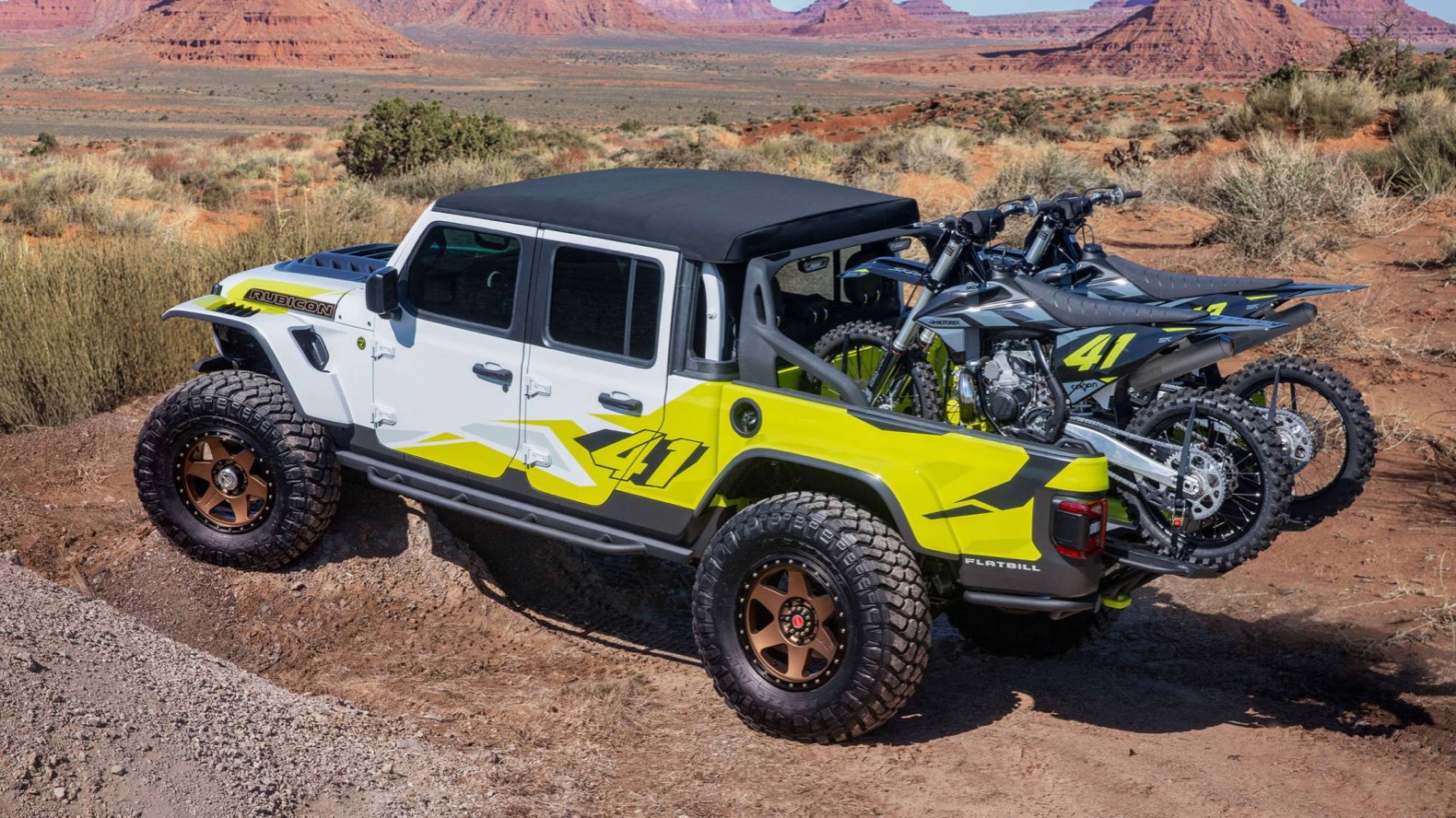 The Jeep Flatbill concept is designed for Motocross fans. On the outside it features a vented carbon hood and high-clearance flares, a custom-designed shortened front bumper and skid plate. The Jeep Flatbill is ready to transport your dirt bikes. With the removal of the tailgate, dedicated wheel ramps have been installed that slide out for easy access and loading.
The Flatbill concept also features Dynatrac Pro-Rock 60 front and rear axles, plus an Off-Road Evolution custom four-inch lift kit, large rear bypass shocks and 20-inch wheels wrapped in 40-inch tires.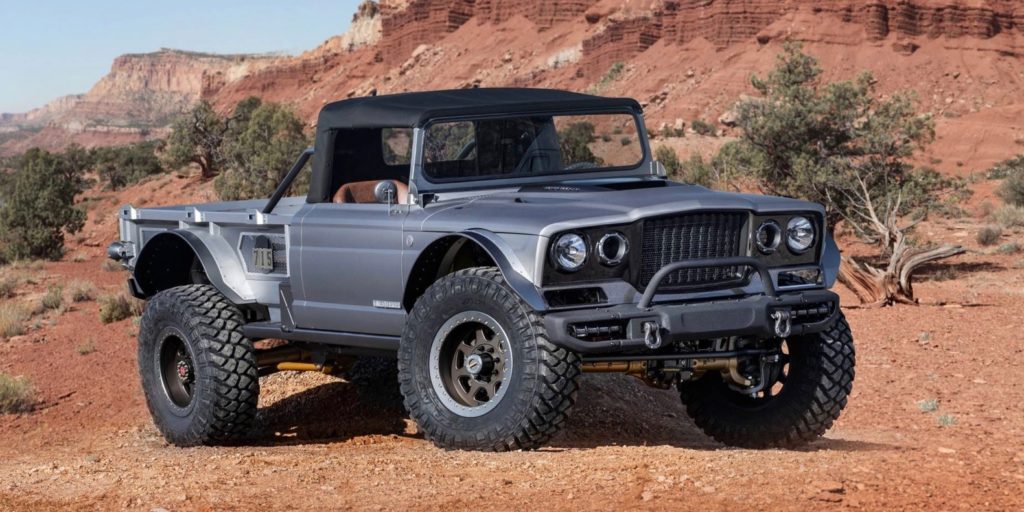 The Jeep M-715 Five-Quarter concept is inspired by the past. The term "Five-Quarter" is a tribute to Jeep trucks of the past that were one-and-one-quarter tons or "five quarters, like the 1968 M-715.
Underneath the skim, the M-715 Five-Quarter concept is all Gladiator, but on the outside it features a carbon-fiber front end. A bobbed 6-foot custom-fabricated aluminum bed was installed and a 3.5-inch drop to its convertible soft-top. Its headlights have been replaced with new HID lights along with LED auxiliary lights and at the rear, LED halo lights have been installed in the original taillight buckets.
The M-715 Five-Quarter is even more off-road ready thanks to a heavy-duty link/coil suspension system. The front axle has been pulled forward two inches and replaced with a Dynatrac Pro-rock 60 front axle and a Dynatrac Pro-rock 80 axle in the rear, while 20-inch beadlock wheels are wrapped with large 40-inch tires. Lastly it's powered by a 6.2-liter supercharged "Hellcrate" HEMI® V-8 engine with more than 700 horsepower.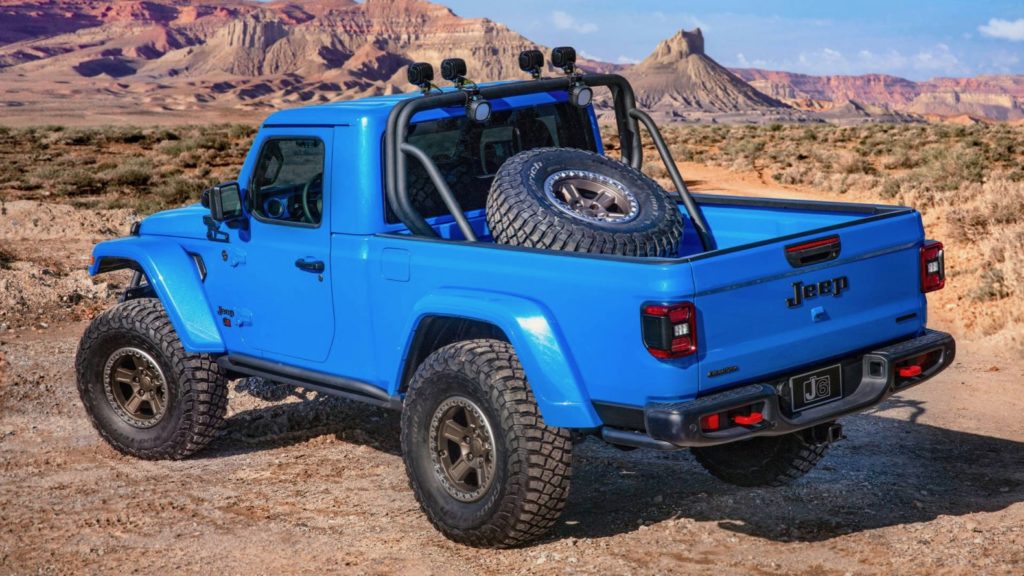 The Jeep J6 concept mixes the classic Jeep truck styling of the late 1970s with Jeep Performance Parts from Mopar. The big thing you'll notice is that the Jeep J6 features a two-door layout, which provides more cargo space in the back with a large, six-foot functional bed that is 12 inches longer than the standard Jeep Gladiator's bed. It's also painted in Metallic Brilliant Blue paint, which is a homage to the exterior of the 1978 Jeep Honcho.
The Jeep J6 concept rides on prototype 17-inch beadlock wheels with a "deep dish" design with 37-inch tires. A production Jeep Performance Parts two-inch lift kit has also been added. Additional upgrades include a prototype two-inch steel stinger bar and rock rails customized with two-inch steel tubes.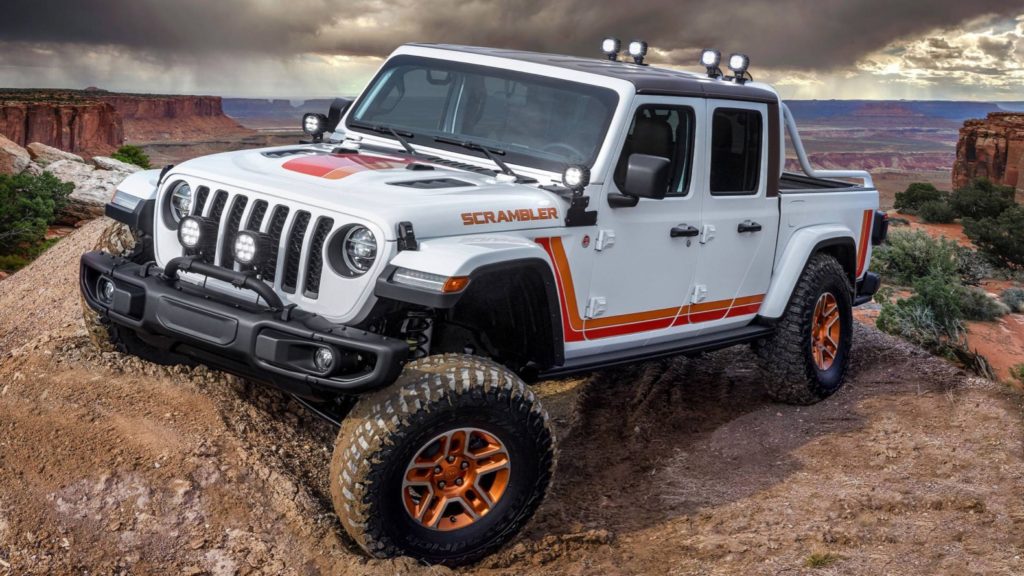 The Jeep JT Scrambler concept is a throwback to the CJ Scrambler. The look of the early 1980s-era CJ8 Scrambler is recreated with prototype Punk'N Metallic Orange and Nacho body- side stripes running from the front panels to the bed and a matching hood graphic. The white exterior is topped off with a freedom top painted in vintage amber.
Based on the Jeep Gladiator Rubicon, the JT Scrambler gets four five-inch LED lights stationed atop the sport/roll bar and two stationed on the vehicle's A- pillars, plus two seven-inch LED lights on the brush guard. It also gets a two-inch Jeep Performance Parts lift kit, 37-inch tires and the 3.6-liter engine gets a Mopar cold-air intake and cat-back exhaust.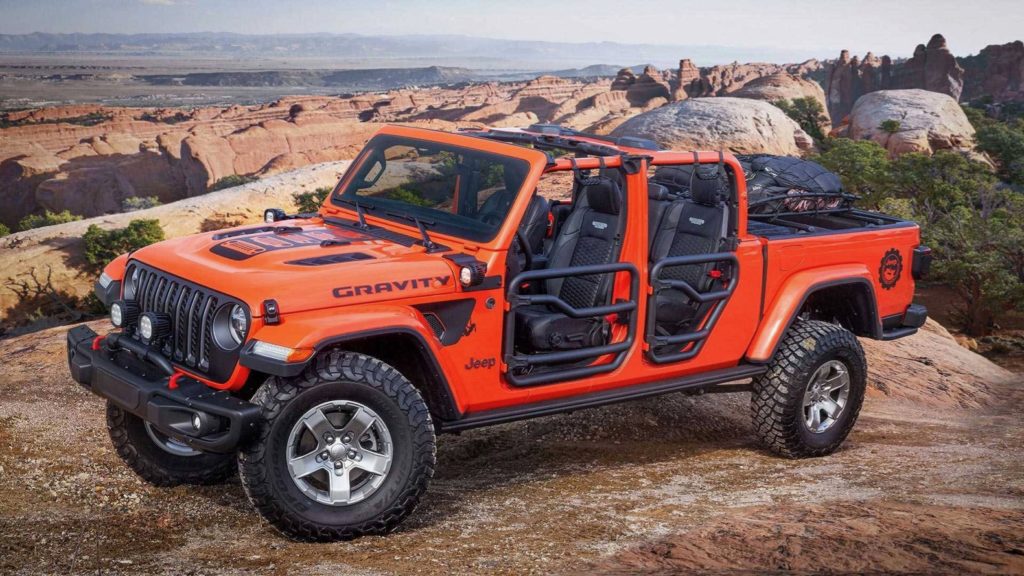 Lastly the Jeep Gladiator Gravity concept is painted in Punk'N Metallic Orange. The bed area features Mopar cross rails and a cargo carrier basket to deliver storage space for rock-climbing gear, such as ropes, carabiners, helmets and shoes. It also features a unique Mopar/Decked truck bed storage system.
The Gladiator Gravity concept is ready for open-air fun with two-inch round steel tube doors, a mesh sunbonnet and tie-down straps that secure the windshield when lowered. The Jeep Gladiator Gravity concept also gets a 2-inch lift kit, 17-inch gear wheels with 35-inch tires, a cold-air intake and cat-back exhaust system.