The 2020 Infiniti Q50 hasn't drifted from view in the face of newer rivals, it's still very powerful, satisfying, and sleek. The Q50 is often forgotten among luxury sedan buyers, which is unfortunate. Good looks, impressive powertrains, and decent value in the right form warrant a longer look. For 2020, the Q50 gets a twin-turbo V-6 power as standard, improving the sedan's value proposition. The infotainment system also gets an update to include standard Apple CarPlay and Android Auto compatibility. It's sold in Pure, Luxe, Sport, and Red Sport editions. With the Q50 looking this good so long into its life is a testament to the original design, emphasizing sleek curves and thoughtful details over straight lines. Even base models look upscale, and top-tier Red Sport 400 models, like our test vehicle, check all the right sport sedan boxes. The interior is beginning to show it's age, but it's still neatly organized and attractively composed.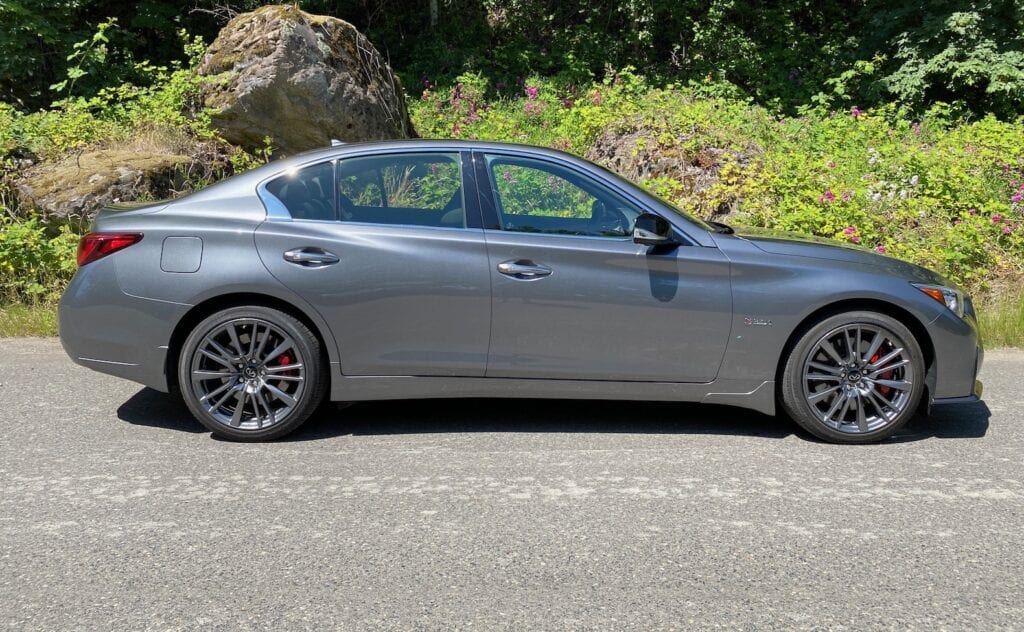 Though we had no qualms with the 2.0-liter turbo-4 that powered the base Q50 last year, it's long gone now. Instead, all 2020 Q50s get a standard twin-turbo V-6 with 300 horsepower, making it the most powerful entry-level compact luxury sedan. A 400-horsepower version of the same engine is available in the Red Sport 400 model, and both rear- and all-wheel-drive are available. Other competitors are slightly more engaging to drive, but with optional adaptive dampers and massive power as standard, our complaints are limited. With an improved infotainment system that now includes Apple CarPlay and Android Auto, the Q50 is a more enticing value proposition than ever. Standard equipment includes synthetic leather upholstery, automatic emergency braking, power front seats, and two USB charge points for $37,425.
The 2020 Infiniti Q50 is a familiar face by now, but familiar faces can be handsome too. A sharply creased hood, curvy, confident lines, and the right sport sedan proportions make the exterior of the Q50 one of our favorites in the class. Pure and Luxe trims get chrome and statelier accents, while the Sport and Red Sport versions dial up the track-ready look with black accents and more flourish. We're waiting for the next-generation Q50 to see if Infiniti's design team can keep the magic going since they've been on a roll lately, but for now, the current Q50 holds its own.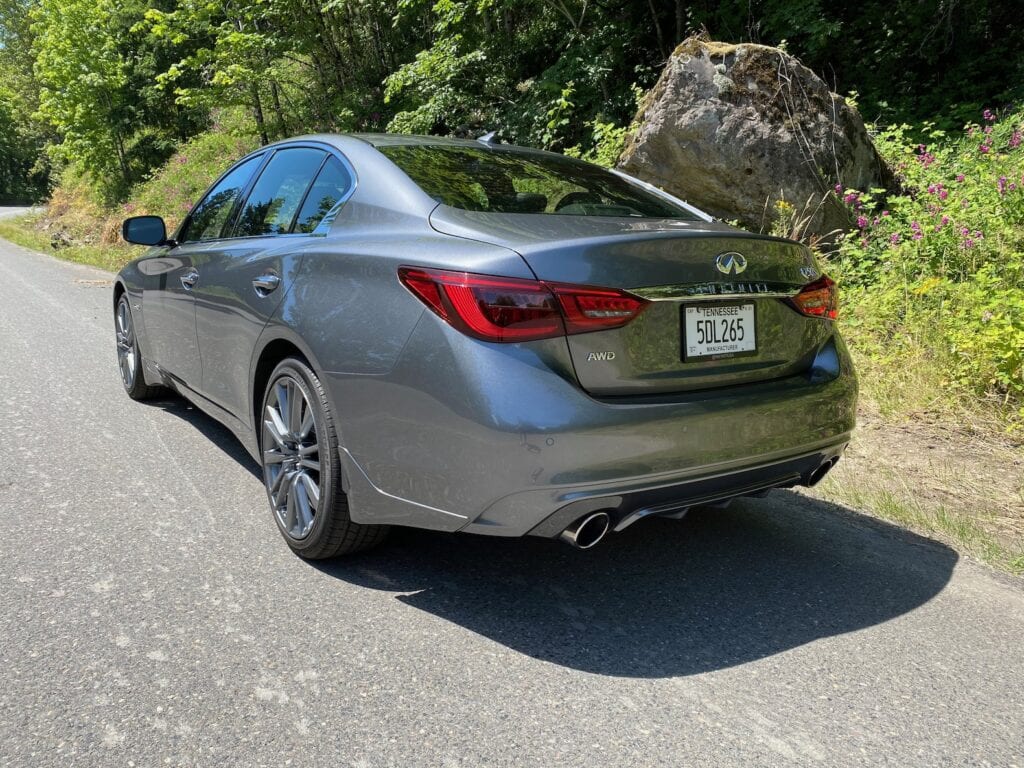 For 2020 the Infiniti Q50 gets a big bump in standard power. Though we had no issues with the old base engine, the 2020 Infiniti Q50 now gets its optional engine as standard, making for the most powerful entry luxury sedan. In an effort to improve its already impressive value, the 3.0-liter twin-turbo V-6 from mid-tier Q50 models last year is now standard. It's rated at 300 horsepower and 295 pound-feet of torque. Rear-wheel drive and a 7-speed automatic are the base configuration, but all-wheel drive is optional. That power figure is tops for a base entry-luxury sedan, putting the Q50 in closer competition with the BMW M340i and Mercedes-Benz AMG C43 than garden-variety cars.

Red Sport models, like our tester, bump the power output to 400 hp and 350 lb-ft from the same stalwart engine, and power is absolutely effortless in this form. The less potent V-6 has decent fuel economy and plenty of grunt, but can't match the rocket acceleration and mesmerizing sounds of the Red Sport. While the Q50 isn't as dynamically precise as some rivals, it handles confidently and competently, and while adaptive dampers are available, the standard springs are plenty capable of delivering a well-composed ride. Infiniti uses an optional steer-by-wire system on some Q50s. Though the weight savings and benefit for active lane control are noticeable, it removes a fair amount of feedback from the steering system.
The 2020 Infiniti Q50 is less efficient than last year at 22-23 mpg combined thanks to a more powerful base engine. Its thriftiest engine is no more, so the 2020 Infiniti Q50 suffers in the fuel economy department. Rear-wheel-drive 300-horsepower Q50 sedans manage 20 mpg city, 29 highway, 23 combined. Adding all-wheel drive drops those numbers to 19/27/22 mpg, while the Red Sport 400 in rear-wheel-drive form makes 20/26/22 mpg. The all-wheel-drive Red Sport 400 gets just 1 mpg less on the city cycle than its rear-wheel-drive counterpart (19/26/22 mpg). Regardless of engine choice, premium fuel is required for all models.
The 2020 Infiniti Q50 lacks complete safety information but offers standard automatic braking and other optional active features. The only federal score that exists for the 2020 Q50 is a five-star rollover rating. The IIHS has given the Q50 "Good" scores in four categories and an "Acceptable" score for the optional headlights, but without complete ratings, it's ineligible for award status which is unfortunate given the existing results are good. Infiniti fits the Q50 with standard automatic emergency braking. Blind-spot monitors, active lane control, adaptive cruise control, rear automatic emergency braking, and a surround-view camera system are all available on mid-tier models and above.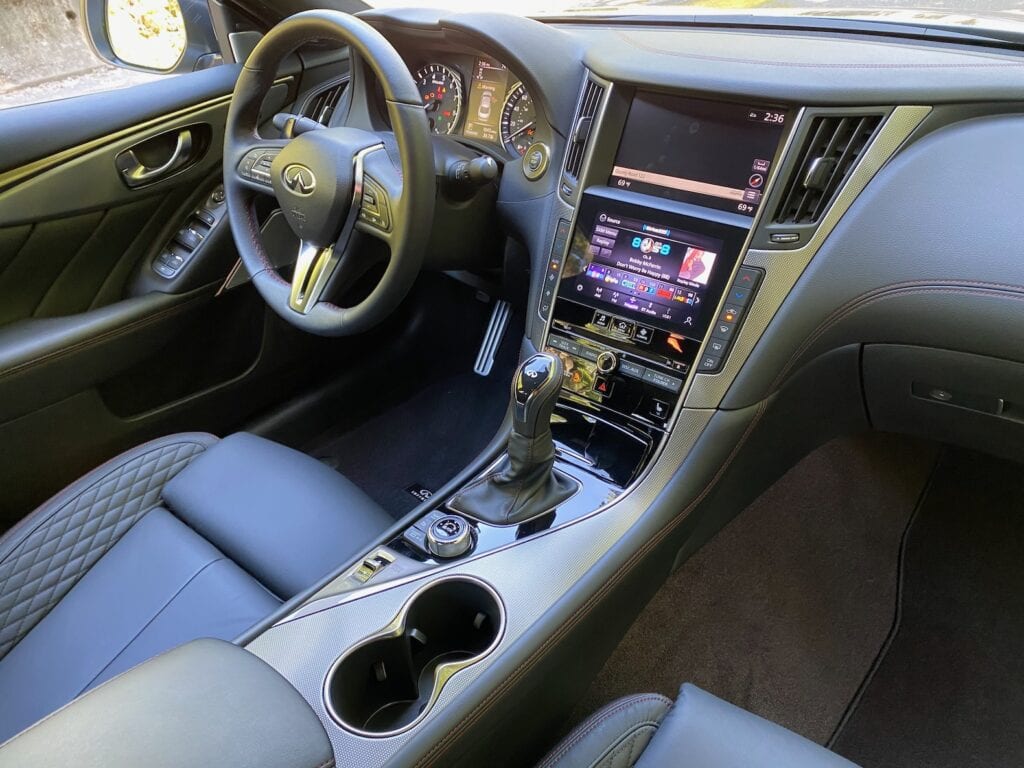 The interior looks good since it's last update in 2013, but most Infiniti cabins look a little dated compared to the hyper-contemporary Germans. Quality is great though, and touches like a stitched dashboard and the dual-screen infotainment system set it apart. The 2020 Infiniti Q50 puts front-seat comfort at the top of its list. The Q50 offers what matters most in a sedan: comfort and space for four adults including excellent front seats. Infiniti's thickly padded front buckets are some of our favorites of any automaker. Supple and supportive, the front pair are perfect for long journeys.

Rear passengers fare well too, with 35.1 inches of leg room in the Q50, enough for a pair of adults but not really comfortable enough for a fifth. One thing missing is rear USB charging ports, but the back seat is otherwise comfortable for most journeys. A 13.2-cubic-foot trunk is on par for the segment but is indicative of why buyers are switching to SUVs in droves. Its small-ish opening and lack of vertical storage space leave us wanting a crossover when more hauling capability is needed. Fit and finish is up to snuff for luxury vehicles, with entry-level models sporting synthetic leather and top-tier versions wearing semi-aniline hides.
The 2020 Infiniti Q50 was already an impressive value proposition in the past, but expanded and improved standard features make this year's model more enticing than ever at the low end. Base models are given the designation Pure, and include eight-way power front seats, dual-zone automatic climate control, 17-inch wheels, synthetic leather upholstery, automatic emergency braking, and an updated dual-screen infotainment system that finally includes Apple CarPlay and Android Auto compatibility. With the twin-turbo V-6 now standard, it's a better deal than ever at less than $38,000.

Luxe models get chrome details on the front fascia, a power sliding moonroof, 18-inch wheels, and aluminum interior trim. The Sport trim gets 19-inch wheels, leather upholstery, satellite navigation, Bose audio, heated front seats and a heated steering wheel, blind-spot monitors, a surround-view camera system, as well as improved brakes, adaptive suspension, and unique interior trim bits like paddle shifters. Finally, the top-tier Red Sport 400 gets an improved version of the boosted V-6 with 400 horsepower, as well as semi-aniline leather, metal pedals, contrast stitching, a unique exhaust system, and the full range of active safety features available. All-wheel drive is an extra $2,000 for every trim, and a few packages are available to add luxury and safety features to lower and mid-tier models.
The Infiniti Q50 is a standout, especially in Red Sport trim. With a rocketing 400 Horsepower, AWD, and cutting-edge technology, the Q50 Red Sport demands to be on anyone's shopping list. The fact that Infiniti bakes in impressive values only solidifies the need for a look.
For all your new car shopping needs, check out: drivevise.com Vehicle shopping made simple!