Volvo's smallest electric SUV offers a lot to like at an affordable price.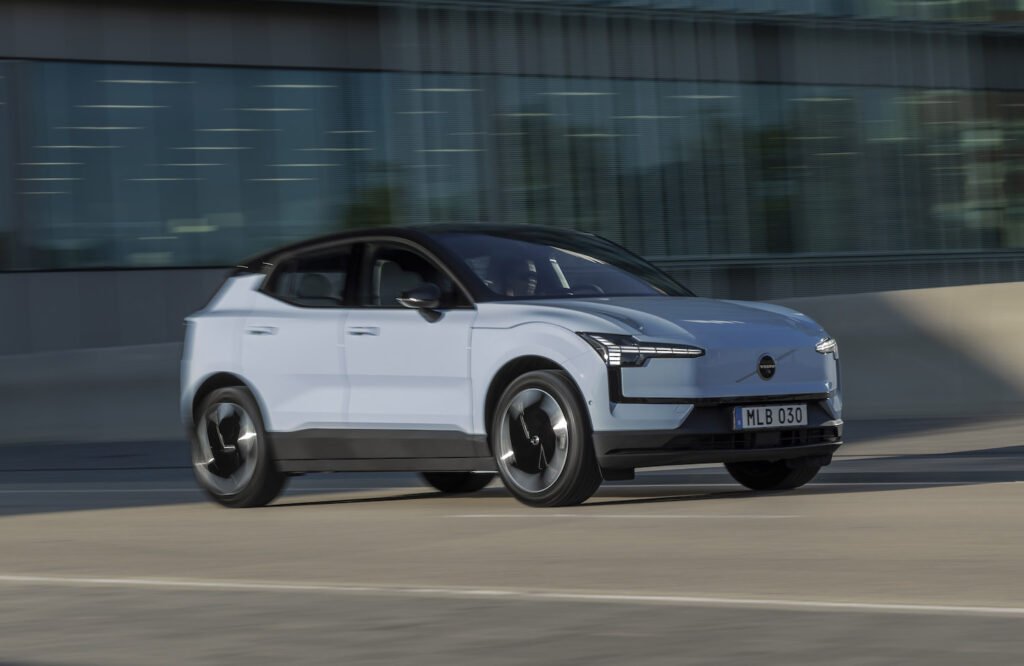 The pint-sized electric EX30 is Volvo's next big thing. Priced from $36,245, including $1,295 for destination, the EX30 won't just be the Volvo's cheapest EV, it'll be the brand's least-expensive new car, period, and a crucial stepping stone on the Swedish company's path to becoming a fully electric carmaker by 2030.
Good thing, then, that this little cutie is absolutely bursting with personality. From its available Cloud Blue or Moss Yellow paint colors to its intriguing blue or green interiors, the EX30 takes Volvo design in an uncharacteristically vibrant direction. Yet it also stays true to the brand's core belief of sustainability, incorporating more recycled materials into its construction than any other Volvo car to date. Want proof? That blue interior trim doesn't just look cool – it's made from the scrap fibers that are usually thrown away when recycling denim.
Reducing the number of interior components also helps with sustainability by lowering manufacturing complexity, so yes, it's by design that the dash panels on either side of the 12.3-inch multimedia display are identical and that – somewhat annoyingly – there are only two up/down toggles for four windows. That said, aside from a few lackluster bits of plastic on the doors, the EX30's interior doesn't feel like a cheap product of cost-cutting; those recycled materials have a premium look and finish, and the vegan fabric seats are super-duper comfy. They're power-adjustable and heated, too.
That 12.3-inch portrait-oriented display controls just about everything, from mirror adjustments to vehicle settings, and unfortunately, it's the only place where you'll find key bits of info like the speedometer and current state of charge. At least Volvo opted to have a fixed row of icons along the bottom of the display for the most frequently used items, and the Android-powered software within the screen is snappy and intuitive.
All US-spec Volvo EX30s will be powered by a 69-kilowatt-hour battery pack with a 64-kWh usable capacity. A maximum DC fast-charging speed of 153 kW will allow the EX30 to use the bulk of public Level 3 chargers, and while Volvo (and corporate cousin Polestar) will soon adopt Tesla's North American Charging Standard plug, the first year of EX30s will still come with an adapter that allows them to use Superchargers. It's a necessary workaround for the time being.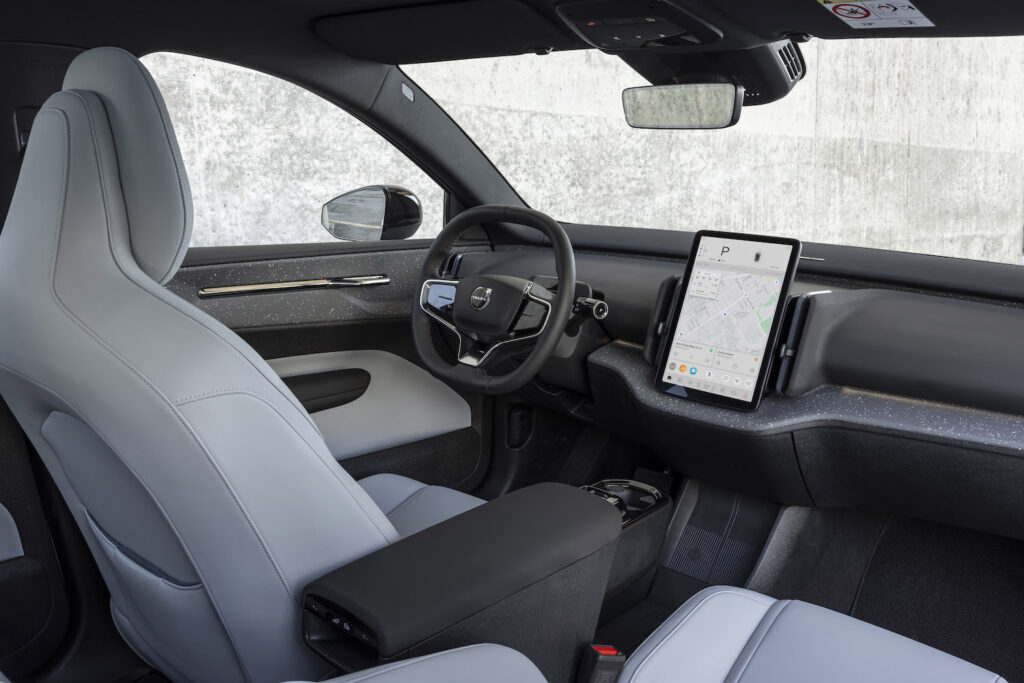 In its standard single-motor, rear-wheel-drive configuration, the EX30 offers 268 horsepower, 253 pound-feet of torque and an estimated driving range of 275 miles. Opting for the all-wheel-drive Twin Motor Performance model adds a second drive unit to the front axle, greatly upping power to the tune of 422 hp and 400 lb-ft. Range only takes a small hit with the dual-motor setup, as well; Volvo says this version should be good for 265 miles.
The EX30 Twin Motor Performance is the quickest production car Volvo's ever made, able to hit 60 mph in 3.4 seconds. That's great if you plan on launching this thing on the regular, but most people will be just fine going for the Single Motor Extended Range model. Its 5.1-second 0-to-60-mph time is in no way lackluster, especially since all EVs feel quick thanks to their instant electric torque. This version is also 282 pounds lighter, and all that heft comes off the front axle, making it a bit more lively while zipping along winding roads.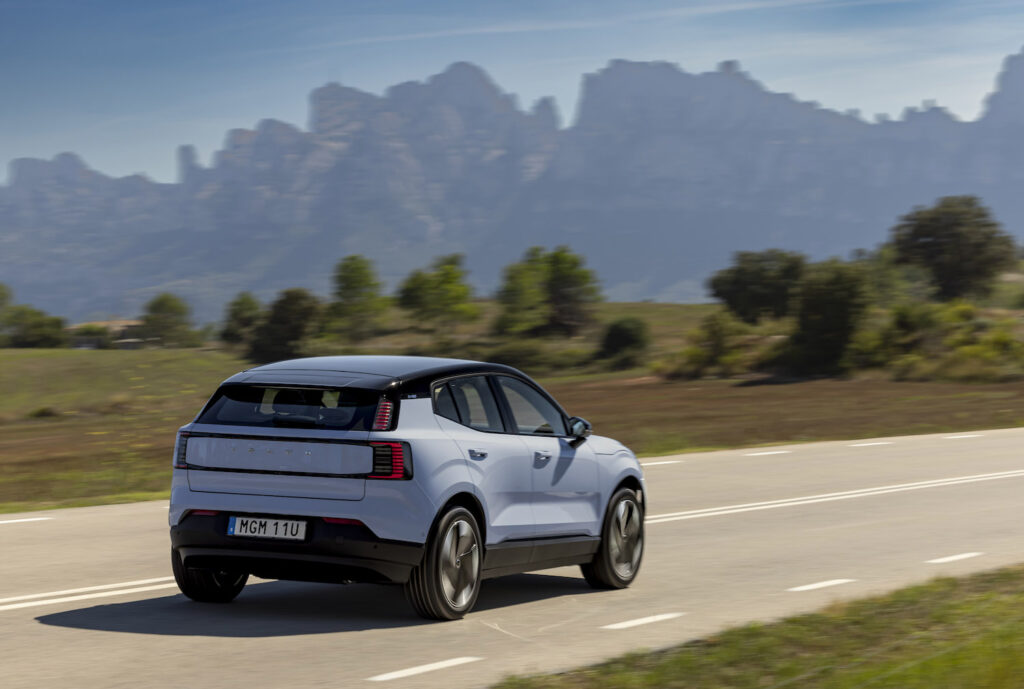 Both the single- and dual-motor EX30s have a one-pedal driving mode that you can turn on and off, and while you can spec the top-shelf Ultra trim with 20-inch wheels, the smaller 19s or even the base 18s give this SUV a better ride quality. Want something a bit more butch? Hold out for another year and get the high-riding, all-terrain-tire-wearing EX30 Cross Country. That one should be super cool.
The single-motor EX30 comes in Core, Plus and Ultra grades, priced from $36,245, $40,195 and $41,895, respectively. The all-wheel-drive Twin Motor Performance only comes in Plus and Ultra levels, and the least-expensive example starts at a costly $46,195, which, as far as I'm concerned, pretty much seals the deal for sticking with one of the Single Motor Extended Range variants.
Besides, it's not like the lower-end EX30s are stripped-down econo-boxes; there's great fit and finish, plenty of standard equipment and a general high-quality vibe that's a hallmark of every Volvo. Add in solid road manners, decent range and genuinely rad interior get-ups, and the little EX30 is poised to be a big hit.