While certainly not perfect, the new GranTurismo Trofeo breathes new life into the Maserati brand.
Perhaps it's the brand's long-standing pedigree – or maybe its relative rarity – but Maserati still commands beaucoup caché. A lease-special Ghibli is absolutely nothing to write home about, yet well-heeled Angelinos still snap their necks in awe whenever one rips between the stoplights on Melrose Avenue.
Despite ongoing financial woes, parent company Stellantis is attempting to breathe new life into this storied Italian marque, and the new Maserati GranTurismo is a stunning example of what's possible. It certainly makes a statement with its classically beautiful proportions and MC20-inspired design, and it's got far more curb appeal than just about any other big luxury coupe you can buy today.
The GranTurismo's interior is another treat for the eyes, especially finished in my test car's searing, bordello-spec bright red. Maserati's done a lot to improve the material quality and fit and finish of its new cars, which is great to see, since older products like the Ghibli and Levante have a decidedly Chrysler-spec vibe. The GranTurismo's leather-wrapped surfaces feel great and the seats are properly plush. If there's a single nit to pick here, it's that the digital clock in the center of the dash looks oddly cheap. This really ought to be analog for the proper luxury effect.
A digital gauge cluster offers reconfigurable screens with appealing colors and fonts, and thank goodness, the central infotainment display runs an updated tech suite that works super well. Maserati's multimedia software responds quickly to inputs and supports wireless Apple CarPlay and Android Auto. The only thing that's a little convoluted is the operation of the second, lower screen; switching between the control panels for things like ambient lighting and climate controls is somewhat confusing at first.
Maserati's two initial GranTurismo offerings are powered by the same 3.0-liter twin-turbo V6 Nettuno engine that you'll find in the MC20, just detuned for this less-hardcore coupe. The more sporting GranTurismo Trofeo tested here offers 550 horsepower and 479 pound-feet of torque, delivered to the rear wheels through a ZF-sourced 8-speed automatic transmission. The less-powerful GranTurismo Modena detunes things slightly to 490 hp, and if internal combustion isn't really your jam, Maserati will soon launch the GranTurismo Folgore, powered by a 750-hp electric powertrain.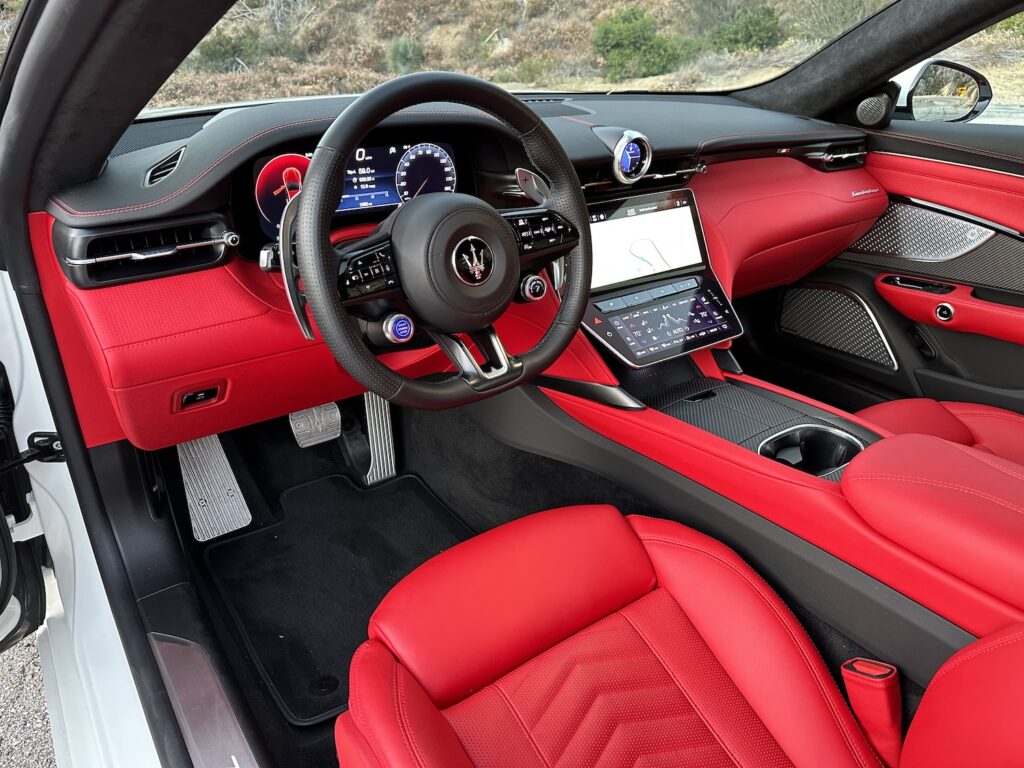 The name GranTurismo certainly reflects this car's grand touring aspirations, but the Trofeo's 550-hp Nettuno engine still kicks you in the pants under initial acceleration. It takes 3.5 seconds to launch this car to 60 mph, and the 8-speed transmission slaps through the gears. That brutality isn't what I've come to expect from the ZF8 gearbox, but here it's a welcome bit of emotion – an intentional bit of excitement that makes flooring the GranTurismo a rewarding thrill. I wish the large, metal paddle shifters were more responsive and indicative of this ferocity, but they're still fun to use – or, at least, to tap with my fingertips while waiting at a red light.
It's just a shame the engine sounds so lousy. Look, V6 engines are rarely known for their aural delight, but the Nettuno is particularly underwhelming. I can overlook some of this in the MC20 supercar because the engine is placed right behind the cockpit, meaning you're privy to all the V6's other woosh-suck-brapp intake and mechanical noises. Isolated under the hood of the GranTurismo, however, the V6 just sounds like… well, it honestly reminds me of a Subaru WRX's flat-4. Yikes.
A car this pretty absolutely deserves a better soundtrack. But I suppose that won't be a problem with the forthcoming GranTurismo Folgore.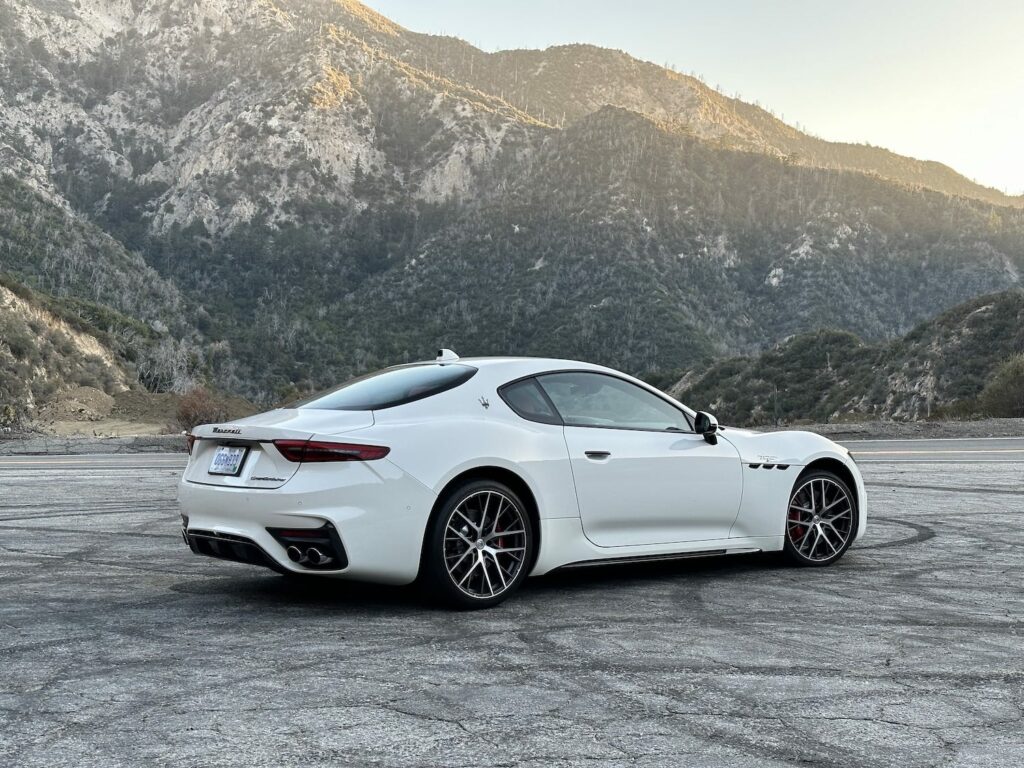 Nevertheless, drive the GranTurismo Trofeo in its Sport or Corsa modes – the latter of which deactivates traction control – and the coupe responds briskly to inputs through its light, sharp steering. The ride quality is certainly on the firmer side, and occasionally crashy over broken pavement, and switching to the lesser GT or Comfort drive settings doesn't really quell this all that much. BMW's M8 Coupe offers better balance at both ends of the spectrum – and its V8 engine is more pleasing to the ear, too.
The GranTurismo looks good and drives well, but its price will be a tough pill to swallow. The standard GranTurismo Modena starts at $175,995, including $1,995 for destination, while the Trofeo comes in at an eye-watering $206,995. Option one up with a full suite of driver-assistance features, a bangin' Sonus Faber sound system, ventilated seats, a digital rear-view mirror and more, and you can stretch well beyond $225,000. That's a ton, considering the absolutely stellar Porsche 911 Turbo starts under $200,000, or heck, the ferocious, luxurious, V8-powered BMW M8 Competition Coupe starts under $140,000.
But then again, when has a Maserati ever been bought of rationale? This is an aspirational luxury brand with the sort of clout other carmakers would kill for. And to that end, the new GranTurismo is a satisfying performance coupe one would certainly aspire to own.