May we all age as gracefully as the Volvo XC90. The 2023 Volvo XC90 is a three-row crossover SUV. Shop it against the BMW X5 and Audi Q7, as well as the Jeep Grand Cherokee L. The 2023 Volvo XC90 is one of our top-rated models. We love its subtle style, its gorgeous and spacious interior, and its powertrains that balance frugality with performance.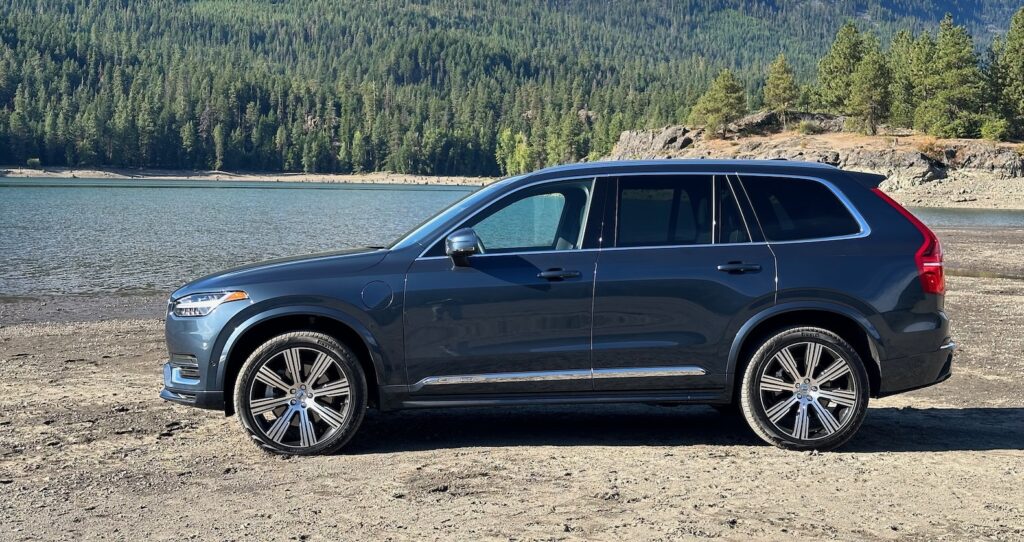 Volvo recast the XC90 lineup this year in Core, Plus, and Ultimate trims. You'll find newly standard all-wheel drive, and the range-topping T8 Recharge plug-in hybrid gains a bigger battery for a bit more power and an estimated electric-only range of more than 30 miles. Unchanged is the XC90's slick styling, which after eight model years since a full redesign remains plenty appealing. It's even better inside, helped out by wonderful attention to detail.
The 2023 Volvo XC90 is an exercise in Scandinavian restraint. It's handsome, but the 2023 Volvo XC90 doesn't shout about it. From its simple, elegant front end to its tall, distinctive taillights, the XC90 has aged exceptionally well since its 2016 debut. The XC90 is at its best in lighter hues, which show off subtle curves that offer nods to the brand's past. There's a general sense of boxiness here, but it's also muscular and lithe for a big SUV. Large 21-inch wheels best fill out the XC90's enormous wheel arches, even if smaller wheels wearing tires with taller sidewalls offer a more supple ride. Some trims allow shoppers to select between chrome and blacked-out exterior trim, too.
The 2023 Volvo XC90 delivers good acceleration and impressive poise. For 2023 the XC90 comes only with permanent all-wheel drive. It's not an off-roader, though. Volvo offers three engines in the XC90: a 2.0-liter turbo-4 called B5 that puts out 247 hp and 258 lb-ft of torque, a supercharged and turbocharged (yes both) version of the 2.0-liter turbo-4 called B6 rated at 295 hp and 310 lb-ft, and a 455-hp plug-in hybrid T8, in Volvo-speak, with 523 lb-ft. Each is paired with an 8-speed automatic, and each definitely has its own personality.

The base turbo-4 provides reasonable acceleration but can feel winded with a full load of passengers aboard. For that reason, we suggest stepping up to the B6, especially if you live in a hilly area. Either way, these smooth powertrains boast little discernible lag thanks largely to a 48-volt starter-generator that provides some electric boost.

The T8 is downright quick, thanks in part to a larger 18.8-kwh battery pack that boosted the output from 400 hp to 455 hp. But don't let this powertrain convince you that the XC90 is a performance-minded machine. It's not. Instead, it's a sedate, exceptionally composed cruiser, especially with the available air suspension that soaks up pockmarked pavement. It has an estimated range of 30 miles on electric power alone. Sure, M and AMG versions of Germany's top SUVs may perform better on a track, but the XC90 is tops when it comes to day-to-day usability.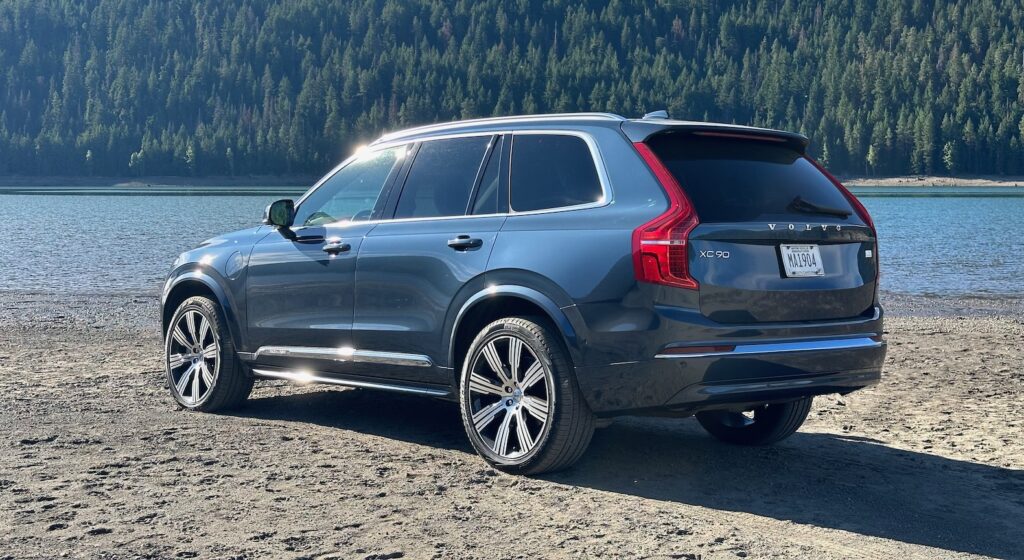 The 2023 Volvo XC90 offers decent fuel economy for a big crossover SUV, but it's best as a hybrid. Base Volvo XC90 B5 models score fairly well thanks to 22 mpg city, 28 highway, 25 combined estimates from the EPA. The B6 is a bit thirstier at 20/26/22 mpg. The EPA has yet to test the XC90 Recharge in its latest configuration, but Volvo estimates upward of 30 miles of electric range on a full charge and a 58 MPGe rating overall.
The 2023 Volvo XC90 is one of the safest SUVs available today. The XC90 has performed exceptionally well in crash tests and it comes with a wide array of driver-assistance features. Automatic emergency braking, adaptive cruise control, active lane control, blind-spot monitors, adaptive LED headlights, and parking sensors are standard across the range. Unlike some luxury rivals, Volvo fits everything almost in its playbook in the XC90, including its Pilot Assist system that can accelerate, brake, and steer the vehicle for short stints of relaxing, hands-free motoring.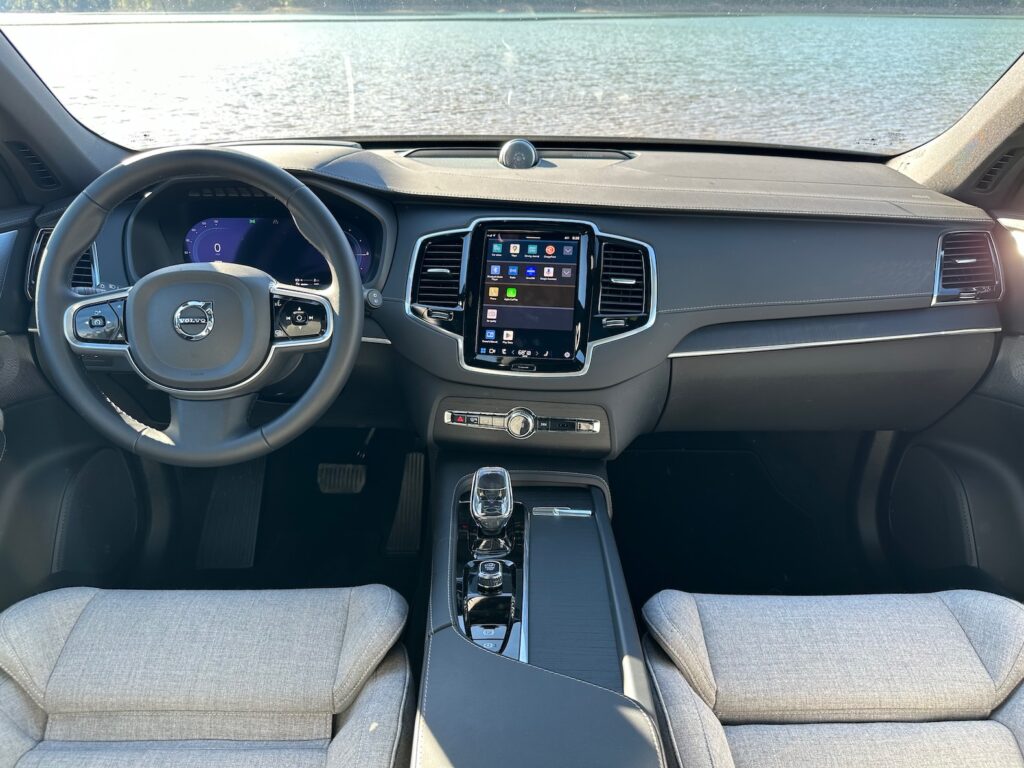 This spacious, well-wrought cabin remains at the top of its game. The 2023 Volvo XC90 still offers one of the nicest interiors available at any price. It can easily accommodate passengers in all three rows, the big cargo area is ultra-flexible, and the materials Volvo offers set a high standard. The XC90 features a vertical touchscreen that cants toward the driver. The basic look is clean enough, but what really appeals here is the attention to detail.
From the thin seats that offer tremendous support to gorgeous upholstery and trim hues, the XC90 manages to feel special in any configuration. If the XC90 impresses by the numbers, it dazzles with its details. Even in base form, it's a pleasant place. Step up to Ultimate trim and you'll find open-pore wood trim, soft leather (or wool), and an Orrefors crystal shift lever.

The XC90 is offered with two front seat designs, both of which deliver all-day comfort. The "Contour" seats on higher-end versions have slightly more adjustment and a massaging function, plus the top version of the XC90 Recharge trades leather for an innovative, sustainable wool blend that may be our favorite seat covering on the market. If only it was more widely available.

Second-row riders will find good room. Volvo charges a bit more for less to go from a three-seat bench to two second-row captain's chairs, though the choice is yours on most trims.
Row three is easy for kids to access and offers enough space for medium-size adults to ride in relative comfort. You'll find about 16 cubic feet of space behind the third row, which grows to 42 cubes with the third row folded flat and a maximum of 86 cubic feet with both rear rows flat.


A range of powertrains and trims means there's an XC90 for just about every budget. The Volvo XC90 exceeds our expectations for a luxury SUV. Its standard fare, optional extras, quality infotainment system, and 4-year/50,000-mile warranty with three years of maintenance. The XC90 starts at $57,095 this year, a big jump that reflects more standard features and the deletion of a front-wheel-drive version. In base form, you'll find plenty of active safety tech, a 9.0-inch touchscreen with Apple CarPlay and Android Auto compatibility, 19-inch alloy wheels, a power liftgate, and synthetic leather upholstery paired with aluminum trim. The B6 engine adds $4,900, plus real leather and wood trim.

The base Core trim with the B6 engine is probably enough for most users, though we'd consider stepping up to the Plus trim level. It adds a surround-view camera system, a heated steering wheel, 20-inch wheels, leather and wood trim, and a few other bits for $3,900. The Ultimate trim costs nearly $10,000 more, but it lives up to its name with 21-inch wheels, cooled and massaging front seats, a head-up display, and Harman Kardon audio. XC90 Recharge hybrid starts at $72,995, while stepping up to Ultimate trim and adding an air suspension, Bowers & Wilkins audio, and a few more bits and pieces can nudge it over $85,000.


The 2023 Volvo XC90 remains our top pick for large luxury crossovers; it does everything well and is a decent value compared to its German rivals too. Which XC90 you pick really comes down to where you'll be using it, if you're going to be driving around town and funds are no issue, spring for the Recharge with great fuel economy, but if you're going to be driving longer distances daily, we're recommend getting the B6 and saving the cash. There really isn't a bad choice, because the 2023 Volvo XC90 really is stellar in every regard.