The 2023 Subaru Forester is a highly rational crossover SUV, but don't shop the competition without paying close attention to the Forester, too. The 2023 Subaru Forester is a compact five-seat SUV. Shop it against the Toyota RAV4 and Honda CR-V, among myriad others. It's an excellent choice overall, with a big cabin, a composed ride, and a spectacular safety record all serving as assets.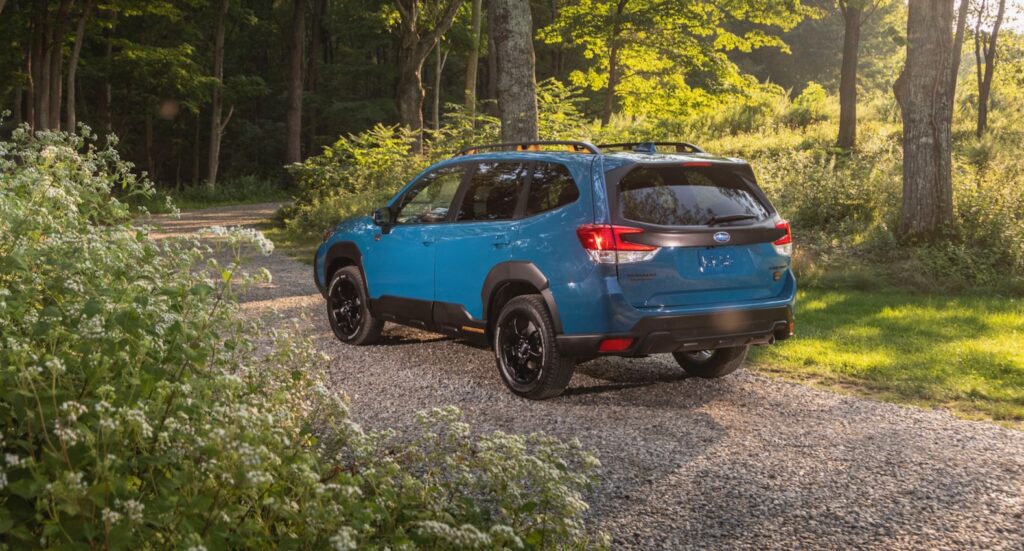 The 2023 Subaru Forester charts its own styling course. It's distinctive, if not exactly pretty. Outside, the Forester is a boxy, chunky SUV with a huge greenhouse—that's the glassed-in area. Base versions with un-tinted windows highlight this aspect particularly well, though they also invite the sun's rays to invade the cabin. Like a bulldog ,the front end has a tough snout with a big grille surrounded by edgy headlights with LED inserts, a look repeated at the rear. There's no shortage of unpainted plastic for a pseudo-rugged look backed up by actual capability. Forester Wilderness models go a few steps farther with their high-riding suspension, tweaked front end with an improved approach angle, and brightly colored accents.

There's not a road, paved or dirt, that the Subaru Forester can't tame. The 2023 Subaru Forester is a genuinely rugged choice, though it's docile around town, too. Subaru fits all-wheel drive to every Forester. Forester Wilderness models sit half an inch taller and have more suspension travel to help them live up to their name. There's a full-size tire and an aluminum skid plate up front for when the going gets especially tough. All but the base Forester also have off-road traction control modes.


Speed is not one of its attributes. The 2023 Forester squeezes 182 hp out of a 2.5-liter flat-4 that thrums at idle and snarls as it builds power. The CVT does its best to keep revs low in normal driving, but highway on-ramps and passing require a deep stab that results in as much underhood rumble as increased forward motion. Paddle shifters make the most out of the CVT for hilly terrain, but for the most part the gearbox fades into the background in routine commuting.

The Forester's prime asset is its ride quality. Unlike previous models, the suspension is tuned softly to smooth out bumps in the road. Even with that impressive impact absorption, this crossover SUV can snake down a winding road with confidence thanks to quick-witted, light steering. It's calm, capable, and ready for adventure; even if that adventure is a quick run to the grocery store.
The 2023 Subaru Forester is a frugal choice for an all-wheel-drive crossover. It's not bad, even though some competitors offer hybrid models that easily top the Forester. Even with standard all-wheel drive, most versions of the 2023 Subaru Forester rate 26 mpg city, 33 highway, 29 combined according to the EPA. High-riding Wilderness models slip to just 25/28/26 mpg, though, so think twice about how bad you really need that extra ground clearance.
The 2023 Subaru Forester is hard to top when it comes to safety. The Forester earns top marks from the IIHS and the feds, it comes standard with excellent crash-avoidance tech, and it offers terrific outward vision. It would only perform better if it came with hands-free tech typically reserved for far pricier models. The IIHS gives it almost top marks all around, with only an "Acceptable" score in its latest, more demanding side-impact tests. It gets five stars from the NHTSA with a typical four-star rollover rating. Subaru includes automatic emergency braking, adaptive cruise control, and active lane control across the line, while blind-spot monitors and rear cross-traffic alerts are widely available. Narrow roof pillars and a high seating position aid outward vision.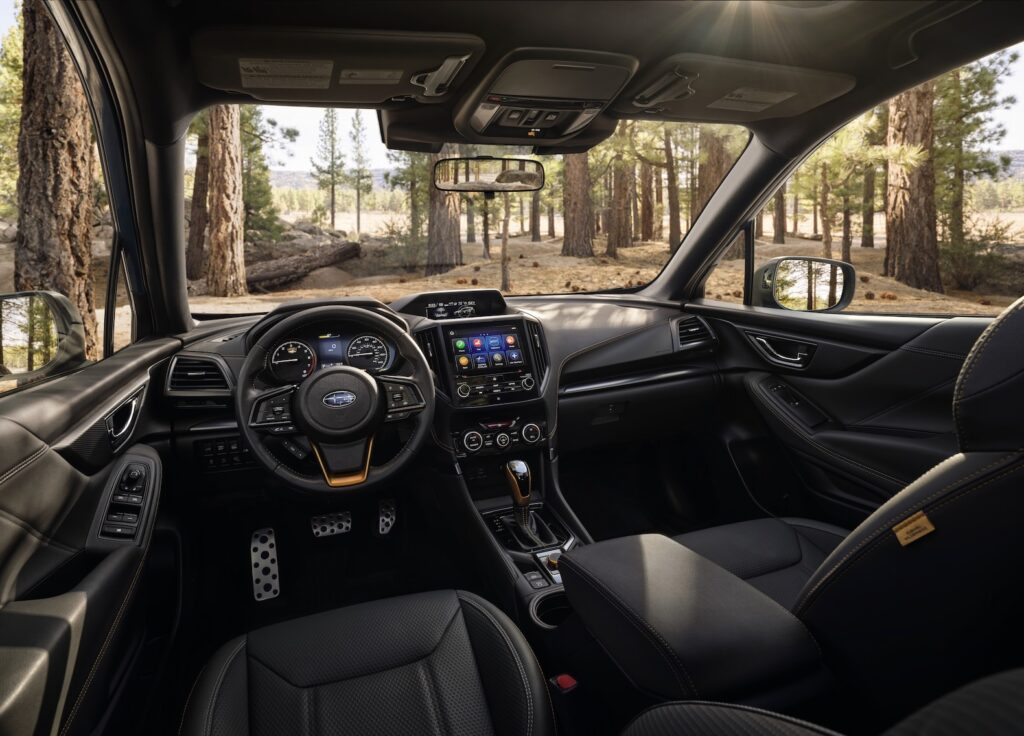 Subaru carves out plenty of human and gear space inside the 2023 Forester. Inside, the Forester's symmetrical dash brims with buttons, knobs, screens, and other details. It's an assault on the senses, but it's a logical, orderly one, and it calms down a bit with lighter hues or the Touring trim's available saddle brown. It's not big on the outside, but the 2023 Subaru Forester boasts a huge, comfortable interior. It's genuinely capable of hauling five adults and their suitcases, with room to spare for their cell phones and beverages.

The front seats have good support, though base models lack power adjustment for the driver. A power passenger's seat comes on the top Touring trim.Rear-seat riders lavish in nearly 40 inches of leg room, an astounding figure for a crossover SUV that measures less than 183 inches between its bumpers. The rear bench has nice padding, plenty of head room, and enough width for three moderately sized adults to sit side-by-side. A huge tailgate powers upward on most versions to reveal 35.4 cubic feet, which more than doubles to a 76.1 cubic-foot hold when the rear seatbacks are flopped forward. The cargo area sits reasonably low to the ground for easy loading, too.

Subaru packs a lot of features into the 2023 Forester. The Forester wants for little in most trim levels, though there are few individual options and the brand's basic 3-year/36,000-mile warranty is nothing special. The base Forester runs $27,620 to start with steel wheels, a 6.5-inch touchscreen with Apple CarPlay and Android Auto compatibility, active safety and driver assistance tech, and even a CD player; a rarity these days. Roof rails and alloy wheels are bundled together for a reasonable $625 more.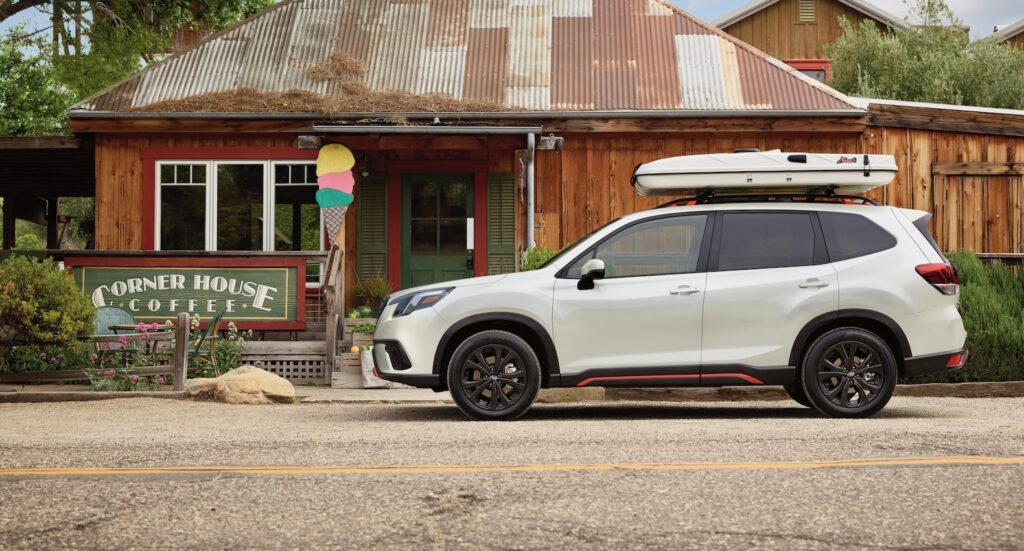 Subaru's standard 6.5-inch touchscreen is OK, but the optional 8.0-inch unit fitted to Limited and Touring trims and optional on Sport and Wilderness versions is a lot brighter and sharper. We'd bypass the base model for the Premium, which at $30,620 includes alloy wheels, roof rails, heated front seats, a leather-wrapped steering wheel, a power-adjustable driver's seat, and a panoramic sunroof. Blind-spot monitors, rear cross-traffic alerts, and a power tailgate cost $1,165 more, which is reasonable enough.

Alternatively, the Forester Wilderness for $35,245 may be a great value for rugged types. It largely builds on the Premium trim, albeit with a suspension lift, a chunkier roof rack, easy-clean upholstery, and a few other niceties. At $37,720, the Forester Touring includes a power passenger's seat, leather upholstery, Harman/Kardon audio with navigation, 18-inch wheels, and a driver attention monitor.
Subaru's Forester is a unique choice in a myriad of small crossovers by being the only choice to offer standard all-wheel-drive. The 2023 Forester is the sensible choice with tasteful styling and features that many families want with stellar safety scores. It's the familiar family crossover that we'd want to be driving on a daily basis since it does everything well. What the Forester lacks in pizzazz it more than makes up for in surefootedness driving and reliability that we appreciate for years to come.