Since its inception, Buick has been a bit of a middle child in the GM brand hierarchy. Always below Cadillac but definitely above Chevy, Buick basically invented the "near-luxury" segment, where it remains to this day. These days Buick is in the first stages of a renaissance as the brand seeks to attract a new, younger generation. To do so, they're going to need cars that grab attention. If the 2024 Buick Envista I drove is any indication of where things are headed, Buick is on to something good.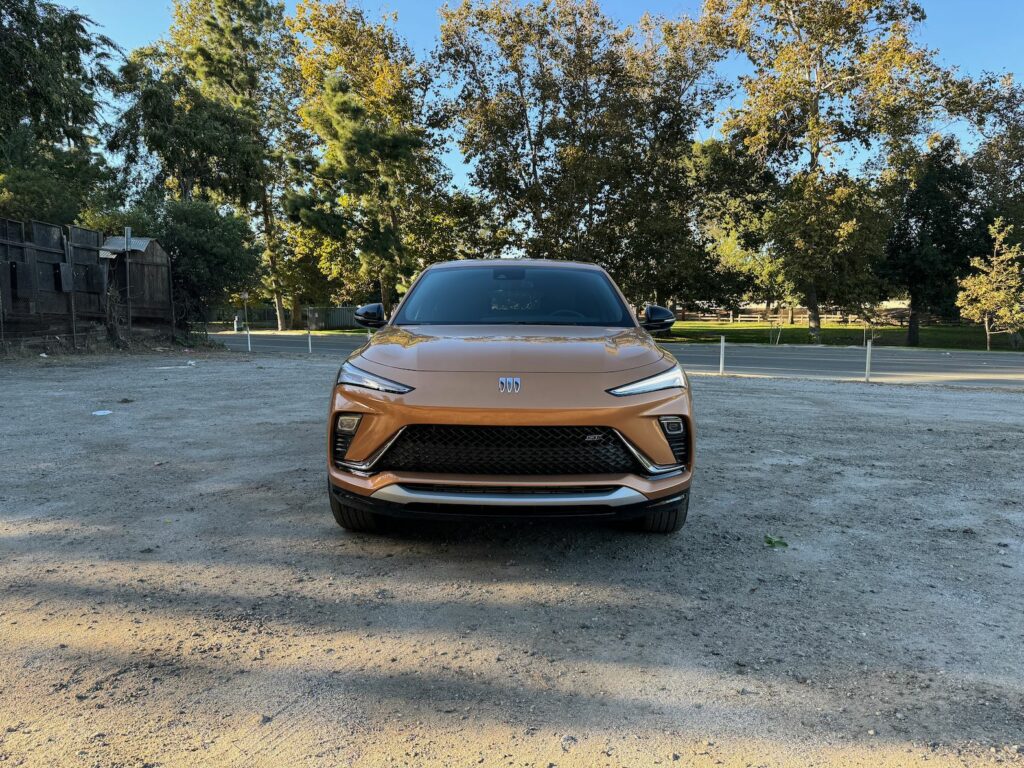 The 2024 Buick Envista is the first full-realized vehicle from Buick's reimagining. Inspired by the stunning Buick Wildcat concept car, the all-new for 2024 Buick Envista even has an entirely new logo.
In my week of driving the 2024 Buick Envista around LA, this baby Buick garnered more stares (and even a few thumbs up) than I anticipated. I'm sure the vibrant "Copper Ice Metallic" had something to do with it, but the 2024 Buick Envista's styling is a high point. An aggressive shark nose front is applied to a sleek coupe SUV body (that somehow manages to avoid the humpback look so many of them have). The 2024 Buick Envista's tail is perhaps my favorite part, with well-resolved proportions and attractive taillight graphics. Add to this the optional 19″ gloss black alloy wheels of my ST tester (18″ alloys are standard on this trim, also finished in gloss black), and you're definitely not looking at any kind of Buick you've seen before. Simply put, the 2024 Buick Envista looks more expensive than it is.
On paper, the 2024 Buick Envista's powertrain appears, well, uninspiring. Its tiny 1.2L turbocharged three-cylinder produces a modest 137 hp and 162 lb-ft of torque. But just like other parts of the 2024 Buick Envista, the result is a bit greater than the sum of its (on paper) parts. Mated to a well-suited, unobtrusive 6-speed automatic, the little 1.2-lt turbo has been tuned to offer plenty of low-end torque, equating to punchy, responsive maneuverability in city driving. Get the 2024 Buick Envista on the highway, and while not blistering by any means, it performs commendably, getting to 65 mph in a non-sweat-inducing amount of time. Add to this decent efficiency, rated at 30 MPG combined, which we observed to be accurate during our testing, only sweetens the tiny-engined pot.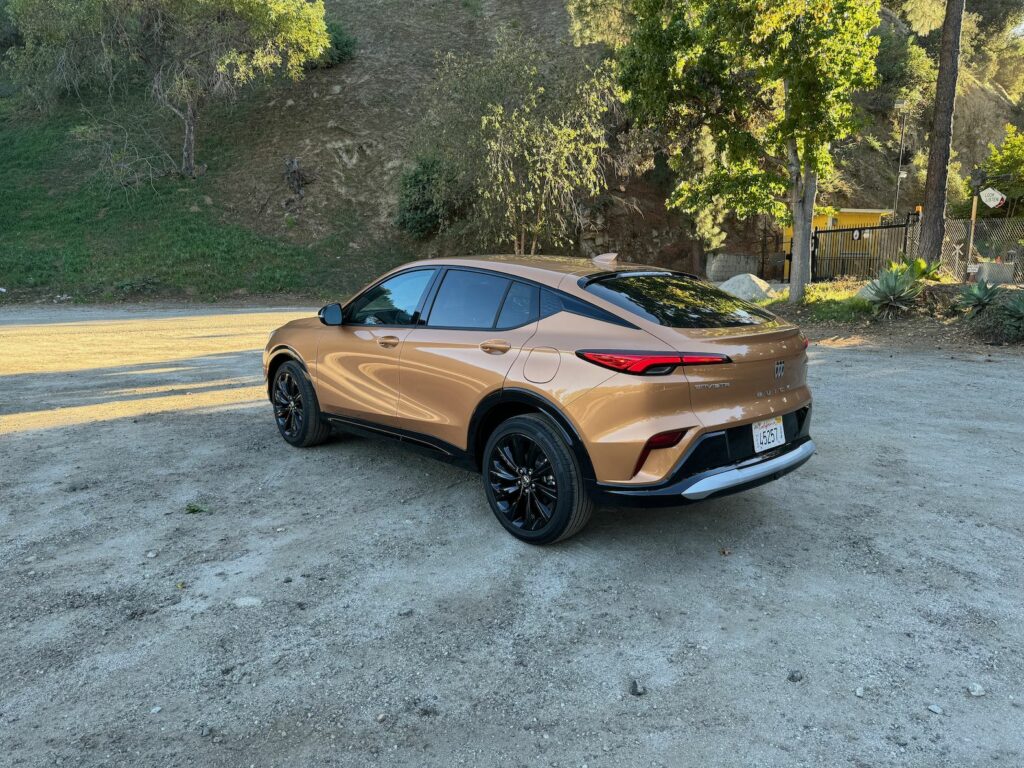 Another interesting tidbit – though small, the 2024 Buick Envista's 1.2L turbo sounds a lot better than most would assume, emitting a muffled V6-like snarl when pushed, rather than the typical four-cylinder drone. It's a little thing, but again, those little things can make a big difference.
The 2024 Buick Envista's suspension tuning is another high point, being plenty comfortable yet not soft and mushy. It truly rides like a vehicle from a price class up. Are you catching the trend here? And it certainly is quiet, in sticking with Buick's trademark Quiet Tuning that includes both active noise cancellation and extra sound-deadening, delivering a notably hushed cabin that makes tooling around town that much more relaxing.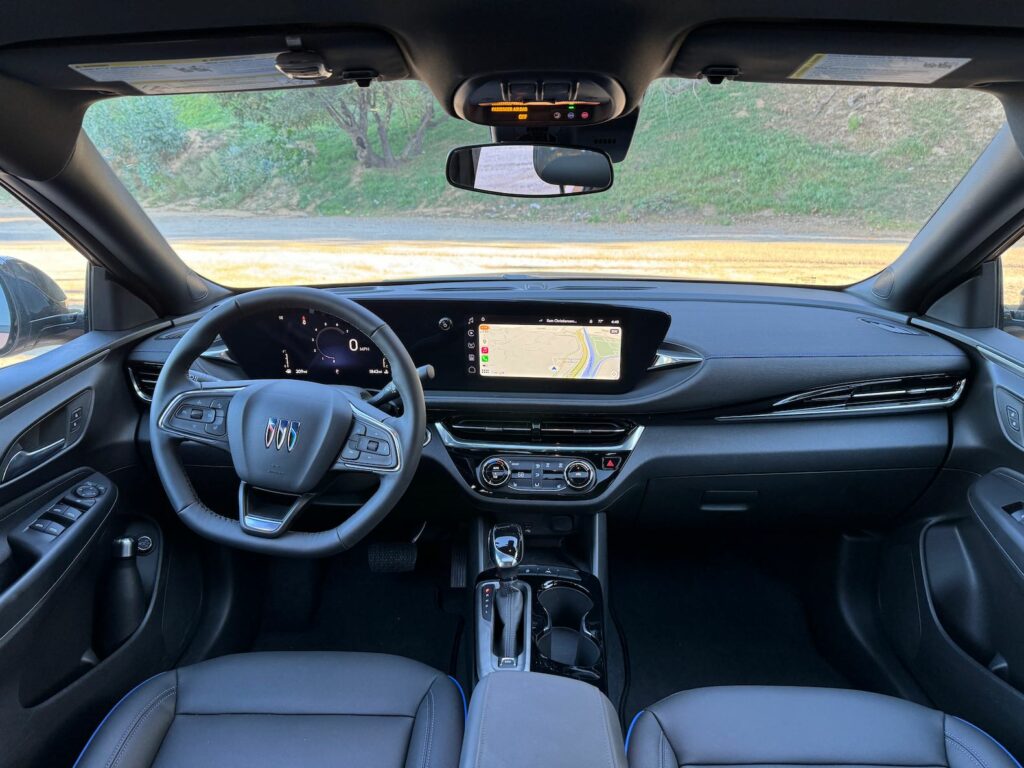 The 2024 Buick Envista's interior is clean, straightforward, and generally a good place to be. Though built to a specific price point, Buick has made mostly the right choices regarding where to spend and where to save. Drivers are treated to an 8-inch digital display and an 11-inch infotainment screen with wireless Apple CarPlay and Android Auto capability. Material quality is generally good for the price. You'll find plenty of hard plastics here, but it's well-textured and looks reasonably good. The dash is covered in slightly squishy plastic that features real contrast stitching, which goes a long way to making the 2024 Buick Envista feel reasonably upscale. Annoyances include no auto-up for any of the windows and no rear center armrest on the base Preferred or mid-tier ST trims like my tester (top trim Avenir models do feature one), but these all start to melt away when you begin to look at pricing.
And oh boy, the pricing is also a thing of beauty. Available in three trims, Preferred, ST, and Avenir, it's nearly impossible to push the 2024 Buick Envista above the $30,000 mark. This past year, the average vehicle's new price was just below $50,000; the base Preferred model starts at $22,400 (not including destination fee). That's a lot of car for the price, no matter which trim you choose.
My thoughts on the 2024 Buick Envista can be summed up as such – If I were to have spent my own money on a 2024 Buick Envista, I would feel like I got more than what I paid for. In this day and age, that's a luxury in itself.