The 2022 Toyota 4Runner trades on its deservedly rugged reputation, but it's a poor everyday driver. The 4Runner is a versatile, capable, and not especially comfortable SUV. It's best shopped against the Jeep Grand Cherokee, Jeep Wrangler, Ford Bronco, Honda Passport, and Subaru Outback.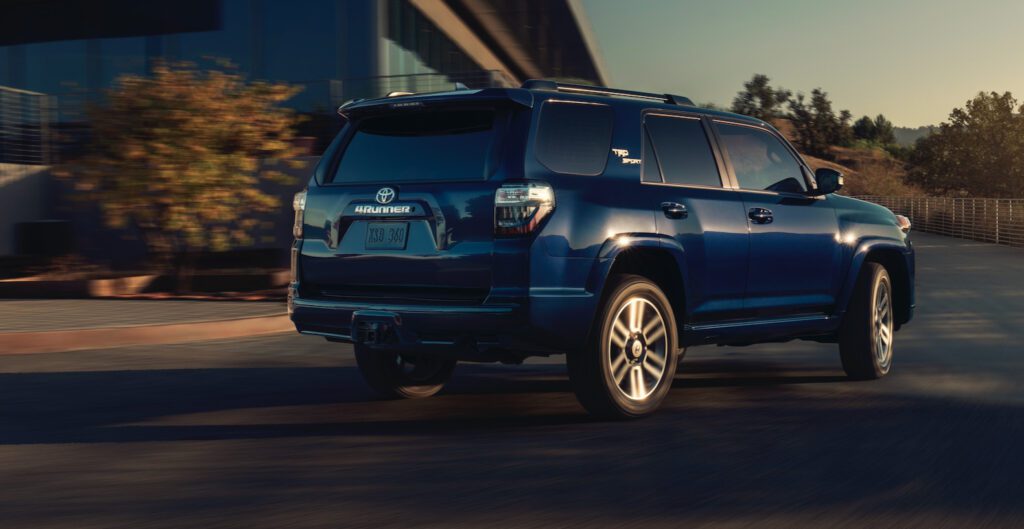 For what it is, the 4Runner delivers an unmatched combination of off-road capability, weathertight cabin, and resale value. As a daily driver for someone not likely to explore much beyond paved parking lots, it's a hopelessly dated SUV. For 2022, the width of the 4Runner lineup grows even greater this year with the addition of a new TRD Sport trim level aimed at improving on-road handling. Additionally, the SUV's LED headlights are upgraded.
There's no arguing that its boxy looks are as rugged as a six-day beard, though, and TRD versions with their extra bits are even better. Aside from the Limited, all 4Runners share a front end that's busy and bluff, in perfect sync with its mission. Styling differentiators between trim levels mostly come down to different wheels. The Limited swaps in a chrome-heavy grille and big wheels that defeat the off-roady purpose here.

The 4.0-liter V-6 underhood musters 270 hp through a 5-speed automatic transmission. Performance is acceptable, fuel economy less so. Rear-wheel drive is standard for those in sunny states who just want the look, but the 4Runner is at its best with four-wheel drive and a weekend's worth of camping gear loaded in its cargo bay. At 16 mpg city, 19 highway, 17 combined in all variants, the 2021 4Runner isn't the most frugal with fuel. Competitors generally top 20 mpg on the highway, and some can even hit 20 mpg combined without sacrificing much off-road ability.

The 4Runner remains a conventional, traditional SUV, and one of the last body-on-frame holdouts. That's a boon for off-road use, but in town this chunky SUV can feel bulky and far from nimble. The optional Kinetic Dynamic Suspension System is an underrated choice that both improves on-road handling and aids off-road suspension travel. Seek it out on TRD Off-Road trims.

The Toyota 4Runner partially makes up for its mediocre crash-test scores with a good array of standard crash-avoidance tech. Some blemishes prevent the 4Runner from earning an IIHS Top Safety Pick rating, though new headlight designs this year may improve its score slightly. Additionally, the NHTSA grants the 4Runner a relatively rare four-star overall rating. Standard equipment includes automatic emergency braking, adaptive cruise control, and lane-departure warnings, a good feature set for an off-road SUV.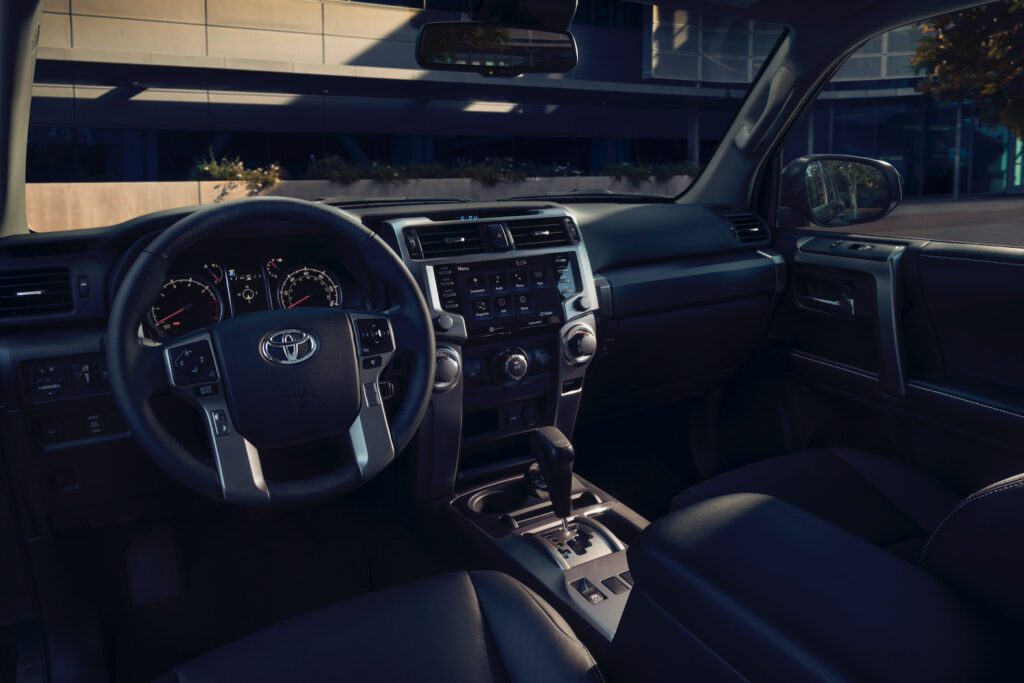 A high step-in reveals a relatively narrow cabin, though front-seat riders have a decent view out and supportive seats draped in cloth, synthetic leather, or even real hides (that somehow manage to feel fake) on some versions. Rear-seat riders are offered up just 33 inches of leg room. 
A third-row seat is optional on some versions, but access is a challenge and it's a comically cramped affair. Skip it and buy a Toyota Highlander if carrying more than four passengers is important. That third row robs some cargo room, too. Without it, the 4Runner serves up around 48 cubic feet of space, and many models come with a convenient slide-out tray. The second row folds down to open up nearly 90 cubic feet of room.

The 4Runner lineup starts in the upper-$30,000 range for a rear-wheel-drive SR5, with four-wheel drive commanding about $2,000 more. A bog-standard SR5 is plenty of SUV for drivers looking for basic exploration, though the TRD Off-Road includes traction control modes plus a locking rear differential that may come in handy. At around $42,000, it's not a bad value against a Jeep Wrangler. We'd spend extra for the Kinetic Dynamic Suspension System, too. The Premium trim level on SR5 and TRD Off-Road versions adds synthetic leather seats and a sunroof, which may be appealing to some drivers.

More experienced off-roaders will want to consider the TRD Pro for its Fox shocks, raised suspension, and a few other four-wheeling bits. The $48,000-or-so Limited seems to miss the mission for the 4Runner. Toyota tends to offer special edition versions of the 4Runner throughout the year, and this year's first is the TRD Sport that has a road-oriented suspension from the Limited but at a lower price. A TRD Pro tops out at around $52,000.
At the end of our week, we came away super impressed that Toyota has been able to bring stellar capability and refinement with reliability and a warranty to the true off-road enthusiast. If your weekend adventures involve mudding, rock climbing, or taking your outdoor gear to some of the most remote extremes on the planet, the 2022 Toyota 4Runner should be at the top of your list because no one else does it better.