With the 2022 G80, Genesis sketches a fastback mic-drop and draws ever closer to German four-doors with vibrant performance. Genesis wraps a sleek shape around a mid-size sedan with room for up to five people. In rear-wheel drive or all-wheel drive, with a turbo-4 or twin-turbo V-6, respectively; the G80 represents Hyundai's luxury line against rivals like the Audi A7, BMW 5-Series, and Mercedes E-Class. It's sophisticated and stunning, more so because it comes from a brand that most have barely heard of. For 2022, Sport models have standard all-wheel drive, and a 14.5-inch touchscreen graces the dash. Otherwise the G80 remains a stunning sedan with lithe looks, strong performance, and top-flight safety and technology.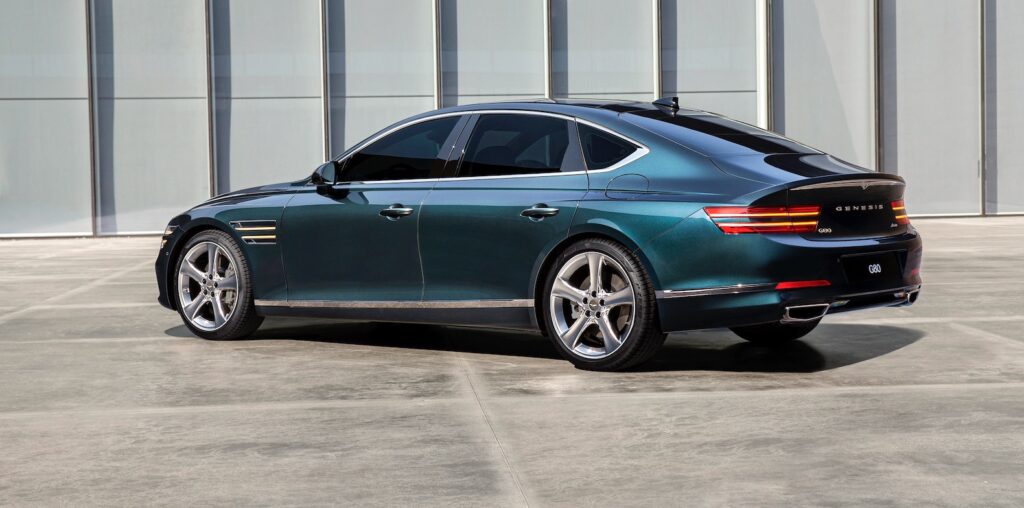 Genesis drapes its low-slung sedan with a wide crest-like grille, pointed at its bottom and honeycombed in its texture. Thin LED ribbons strap across its headlights, leading into the side view, where the G80 takes its long, sleek shape to coupe-like lengths. Though it has a trunk, it looks like some of the most lissome hatchbacks we know. Sport versions wear dark glossy trim, with a more pronounced front bumper. It's a gorgeous artful shape that happens to be a striking fastback.

Through its base versions, the G80 brandishes a 300-hp turbo-4 with rear-wheel drive. Teamed with an 8-speed automatic and a multi-link suspension, it's a fine starter kit—but we'd spend up to the AWD Sport and its 375-hp twin-turbo V-6. It rockets to 60 mph in about five seconds, pulling Mustang-like acceleration and grip along the way. The G80 skims the road surface with standard adaptive dampers that range from cushy to jittery, depending on its selected drive mode; available rear-wheel steering helps the G80 Sport take direction calmly.

Some turbo-4 cars have rear-wheel drive, while others (and all twin-turbo V-6 cars) have a basic all-wheel-drive system which can send half of the torque from the rear wheels to the front end for improved traction. With the base 300-hp 2.5-liter turbo-4, the G80 snips off 0-60 mph runs of about seven seconds. We've spent less time in this version, but enough to judge that its performance flair runs more mild and its engine runs less quietly than the one we'd prefer.

That would be the 375-hp 3.5-liter twin-turbo V-6 in the G80 3.5T AWD Sport. With its 391 lb-ft of torque shuffling through eight automatically chosen forward gears, and drive modes that fine-tune its personality from economy to sport, it's a genuine performer. It does disguise its brisk acceleration well: the turbos show some lag before the transmission cuts off discussion. The Sport can belt out 0-60 mph times of about five seconds, despite a hefty loaded curb weight of 4,497 lb, once it's set to the drivetrain's Sport mode for the quickest, crispest shifts.

The G80 rides with ease, even in 2.5T Prestige spec with its smaller 18-inch wheels and non-adaptive suspension. It's a relatively firm compromise that works well in most pavement situations, though enthusiasts would say it's too soft for their driving style. That's the niche for the Sport models, which take the standard multi-link setup and graft on camera-informed adaptive dampers that continually adjust to the road, as well as rear-wheel steering on all but the base Sport.

With those features, the G80 gets more compliance when it needs it, even with 20-inch wheels fitted that tramline along with grooves in the highway. It can judder over freeway joints and gaps and bound over two-lane roads that switch back and forth rapidly. But that can be honed down by clicking the suspension into Sport mode, which sends the revs higher while it calms the ride motions down to a light chop and tunes the steering firmer. The G80 has the composure and the alert responses that show how close its come to the paragons of this class.

EPA ratings peg it as average, and there's no hybrid or plug-in to mitigate that. The best ratings come with the turbo-4, rear-drive G80: it checks in at 23 mpg city, 32 highway, 26 combined. That drops to 22/30/25 mpg with all-wheel drive. With all-wheel drive, the twin-turbo V-6 G80 only gets 17/26/20 mpg.

The safety front has good news all around, as the IIHS gives it a Top Safety Pick+ award, while the NHTSA sets it at five stars overall. The G80 thrums with safety features, including automatic emergency braking, active lane control, blind-spot monitors, and automatic high-beam LED headlights. A head-up display, a surround-view camera system, and rear automatic emergency braking can be had on some models.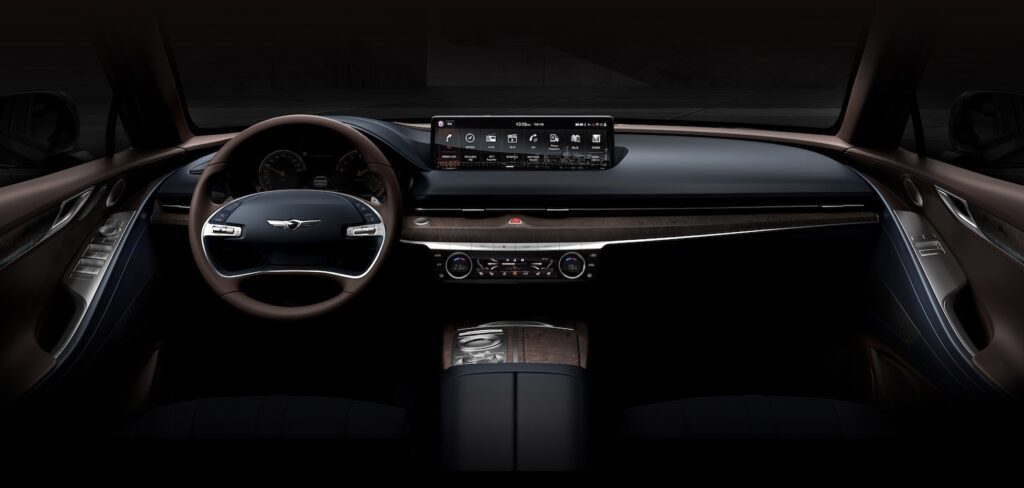 The cabin musters a modern-master vibe, with layers of wood and brightwork gracing its dash and stitching that draws attention to its fine hides. It's not subtle: it reeks of styling confidence, and it's right to. Genesis stocks the G80 with insanely cozy heated and cooled front seats covered in quilted leather on its most spendy trims. There's room for at least four on board, though the small trunk puts a cap on its ultimate utility. Small-item storage, from Yeti bottles to smartphones, is better than the fifth seat, a flat, narrow back-seat perch that straddles a letterboxed transmission tunnel. Omage to its inherent rear-wheel drive layout.

The G80 measures 196.7 inches long, and sits on a 118.5-inch wheelbase. It's squarely a mid-sizer, with a base setup that includes heated synthetic leather front seats with 12-way adjustment. All the G80s we've driven have been buffed up with front sport seats wearing nappa leather and dressed with power side bolsters, leg-rest extensions, and cooling and heating. In a word, they're fantastic. Most drivers can dial in a perfect seating position and use the stout lumbar padding to sort out nagging back issues with the "posture assist" lumbar mode. Back-seat passengers get some of that cosseting, too, with tailored outboard seats shaped to fit a wide range of backsides and to sort out enough head and knee room for bigger adults.

The G80 doesn't miss a step when it comes to standard features and cutting-edge technology; not even in warranty, with its top-flight coverage of 5 years/60,000 miles with 3 years/60,000 miles of free scheduled maintenance. The $49,345 G80 offers lots of gear, from 18-inch wheels to 12-way power front seats with heating, LED headlights, synthetic leather upholstery, and a 14.5-inch touchscreen infotainment system with Android Auto and Apple CarPlay. All-wheel-drive versions cost $52,495.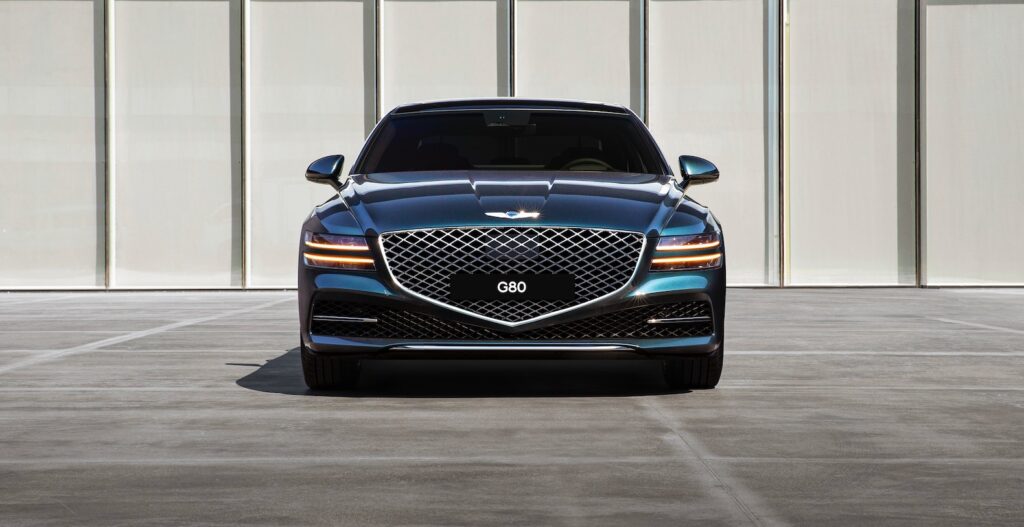 Options on the G80 include an Advance package with a panoramic sunroof, 19-inch wheels, cooled front seats, matte wood trim, and 21-speaker Lexicon audio. A Prestige package on rear-drive G80s adds a surround-view camera system, leather upholstery, remote park assist, more front-seat adjustments, heated rear seats and a heated steering wheel, and wireless smartphone charging. Our top pick is the $64,795 Genesis G80 3.5T AWD Sport, which has most of the turbo-4 car's options as well as the electronically controlled suspension and Android-based digital key services. Options include 20-inch wheels, blind-spot cameras, Nappa leather, and a 12.3-inch digital gauge cluster.

Genesis is still the new kid on the block but with knockouts like the G80, has quickly become top dog in its class. With stunning looks, commendable driving manners, and topnotch technology with a great value proposition; it's easy to see how the new Genesis G80 is stellar. For those looking to try something new and step out of the current luxury flock, the G80 is definitely worth a look.