Low-key luxury lies in the 2021 Volvo XC90's crisp and clean styling, serene cockpit, and in its strong acceleration. The XC90 is a six- or seven-seat luxury crossover SUV. It's often compared with vehicles like the Audi Q7, BMW X7, and Acura MDX, but it takes a different path to its luxury credentials. The 2021 Volvo XC90 puts bluff and rugged luxury SUVs on notice: there's another way, it proves, with small engines and discreet style.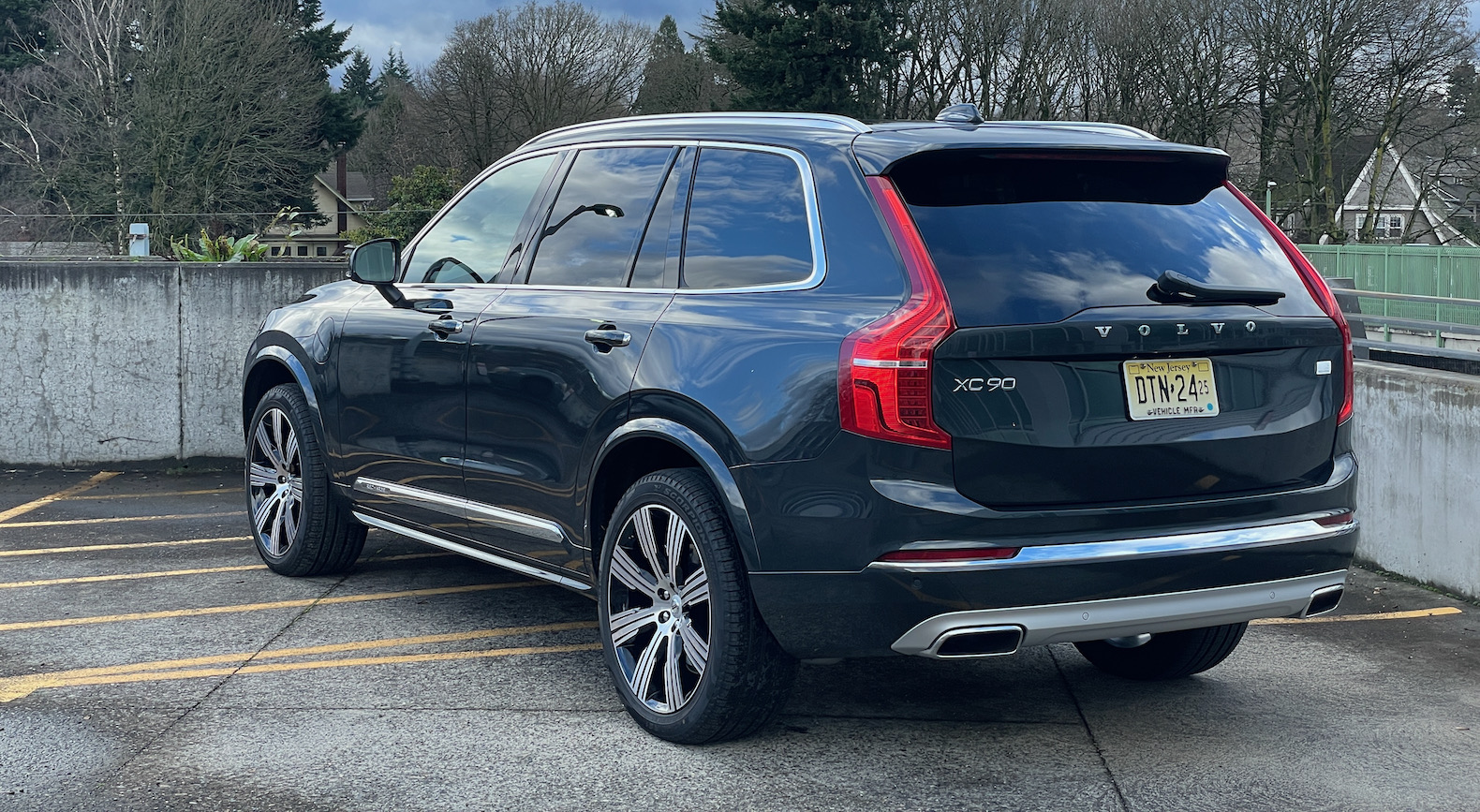 The XC90 remains our favorite luxury SUV, thanks in part to its rationally attractive style. From its spare LED headlight signature to its relatively unadorned body, the XC90 doesn't need to shout its luxury credentials with lots of chrome and bling. Inside it's a master class in understated elegance, with high-end models draped in ribbons of whitewashed wood and neutral leather. It's so good, the iPad-style screen in the center of the dash reads like a piece of statement jewelry.

Volvo sells a base T5 version of the XC90, with a 250-horsepower turbo-4 and front-wheel drive (optional all-wheel drive) and an 8-speed automatic, but most drivers will pick the turbo-4 with supercharging and all-wheel drive in the T6. That car's blessed with a calm demeanor from its available air suspension to its light steering that's the polar opposite of Germany's brawniest SUVs. A plug-in hybrid, badged the T8 but being rebranded as the XC90 Recharge Plug-In Hybrid, caps the T6 drivetrain with 18 miles of electric driving.

The XC90 has six or seven seats with a generally high degree of comfort, though the back two rows aren't as good at it as the sumptuous front buckets. We like them best in wool, though real or synthetic leather are more common. The XC90's still a cargo champion, too, with as much interior space as the biggest three-row crossovers from its rivals. It also scores top ratings in crash-tests, and comes with automatic emergency braking, though the XC90's driver-assist setup isn't as smooth as those from BMW or Mercedes. All models now come with blind-spot steering assist, which directs the car away from approaching obstacles, front parking sensors, standard LED headlights, and wireless smartphone charging.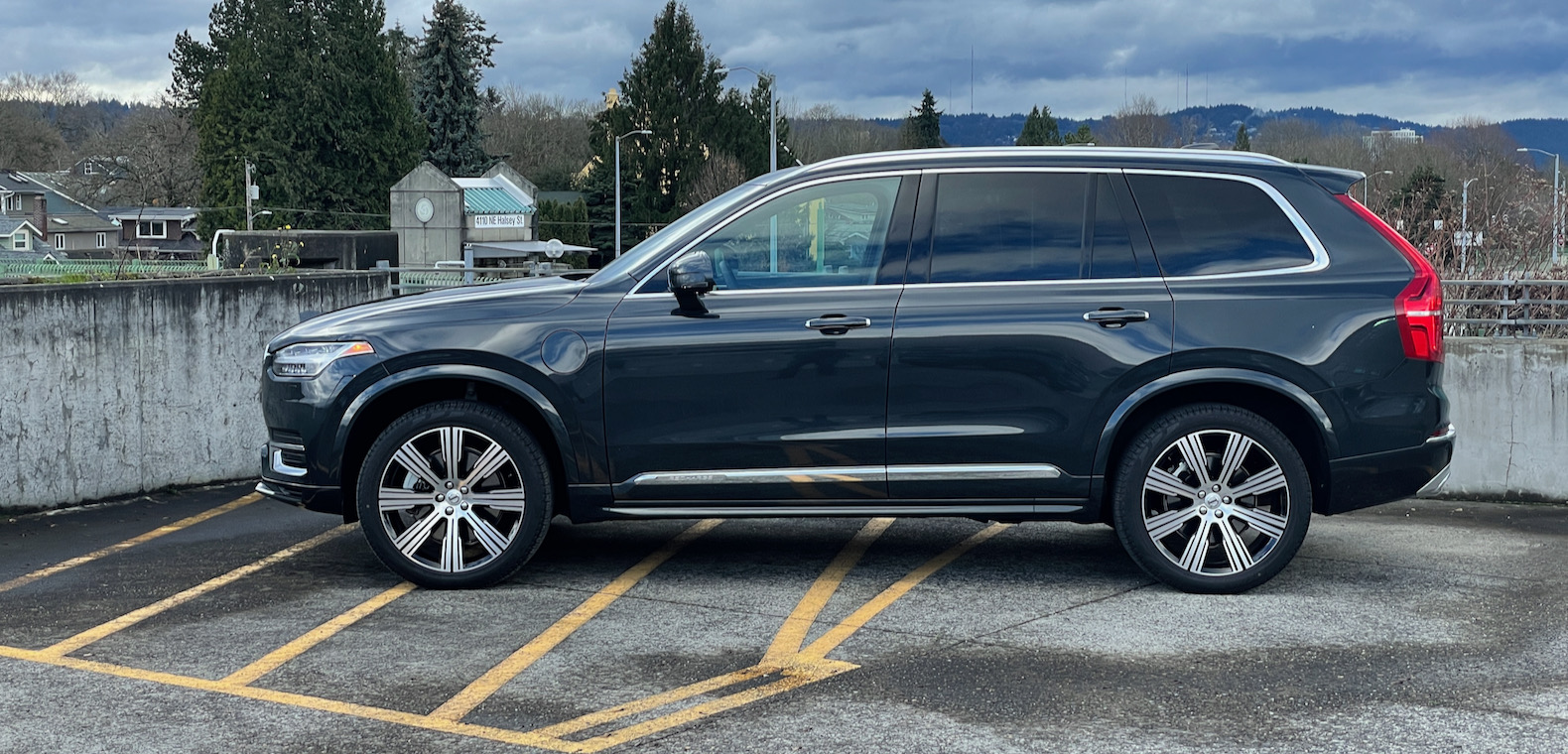 Crisp and clean, the Volvo XC90 dares to do more with less. It's been on the road for more than five model years, but the XC90 still has ageless styling. It's conservatively styled, for sure, but in the most sophisticated way possible. Refreshed last year with minor updates to the front and rear ends, the XC90 still wears its body panels like timeless armor. The light signature's still in style, the creases all still tasteful, the proportions still just right. The thoughtful design that emerged in the 2016 model year has a lot of mileage left in it.
The XC90 makes its power with turbocharging, and on some models supercharging too. A turbo-4 engine forms the core of the XC90's performance profile, and while that may give some luxury-car buyers and V-8 aficionados heartache, it provides plenty of power in the big Volvo crossover. The XC90's quick on its feet, helped by available supercharging and plug-in hybrid add-ons, and it's tuned for a responsive but comforting ride. It's mid-pack in base spec, powerful in all other versions.

Base XC90s sport a "T5" 250-hp 2.0-liter turbo-4 with front-wheel drive and an 8-speed automatic transmission. The XC90 weighs about 4,500 pounds, so this version is the slowest of the bunch, and rare, too. Our advice would be to pick with the "T6" drivetrain or higher, which adds a supercharger for an extra 66 hp, and a total of 316 hp and 295 lb-ft of torque. All-wheel drive comes standard on this version, and with its engine noises muted well behind lots of sound deadening, the T6 delivers mostly seamless acceleration and shifts.

The Recharge models, prevoiusly named T8, deliver even more. It takes the T6 power module and all-wheel drive, and adds on an electric motor and an 11.6-kwh battery to provide 18 miles of all-electric driving when fully charged. Volvo quotes 400 hp and a 0-60 mph time of under six seconds; while more range would be nice, we often found ourselves getting electric range in the low 20's when driven judiciously.

The XC90 doesn't disappoint in other performance dimensions. It keeps its ride well-controlled, given its tall-wagon body, and the steering has very light effort but delivers precise responses. This isn't an X5 or Cayenne rival; those SUVs aim for strong off-road ability as well as scorching performance in top models. The Volvo's game is comfort, delivered with each mile by an available air suspension, and a soothing, well-damped ride to match its well-damped mechanicals. The ride and handling balance are just about perfect.
Plug-ins fare better, but the XC90's fuel economy is on the high end of average. Turbo-4 engines and plug-in hybrid technology earn reasonable fuel economy in the XC90, but it's not a magnitude leap higher than other three-row SUVs. The XC90 T5 with front-wheel drive earns EPA ratings of 21 mpg city, 30 highway, 25 combined. With all-wheel drive, the ratings fall to 20/28/23 mpg. With supercharging, the all-wheel-drive T6 drivetrain drops to 19/28/22 mpg. Recharge plug-in XC90s gain 18 miles of all-electric driving. It's low, but contributes to an MPGe rating of 55 mpg combined; the combined rating without battery range checks in at 27 mpg. In our week with a Recharge XC90, we were able to get up to 24 miles of all electric range and averaged 24.9 mpg on gas only.
The XC90 reaffirms Volvo's reputation for safety. Volvo installs most of its latest safety hardware in the XC90, and makes the cutting-edge features available widely. It also performs beautifully in crash tests. The XC90 earns a Top Safety Pick+ from the IIHS, and five stars overall from the NHTSA. All models come with automatic emergency braking, adaptive cruise control, active lane control, blind-spot monitors, parking sensors, and new this year, LED headlights and steering assist for those blind-spot monitors. Volvo offers a Pilot Assist driver-assist system that can steer, accelerate, and brake for the driver during brief hands-off pauses. The system works fairly well and is worth the optional cost if lots of highway miles are in your future.
The XC90 has excellent comfort and elegant trim. The cool interior design leaves brash in the trash, and puts glitz in the recycling bin. It's laid out in a serene way, with a band of wood trim that makes way for a portrait-style display mid-dash. Composed in airy glass and enlivened with light tones and open-pore wood trim, the XC90 trims have a minimalist, pretty look that's yet to be replicated by any other make.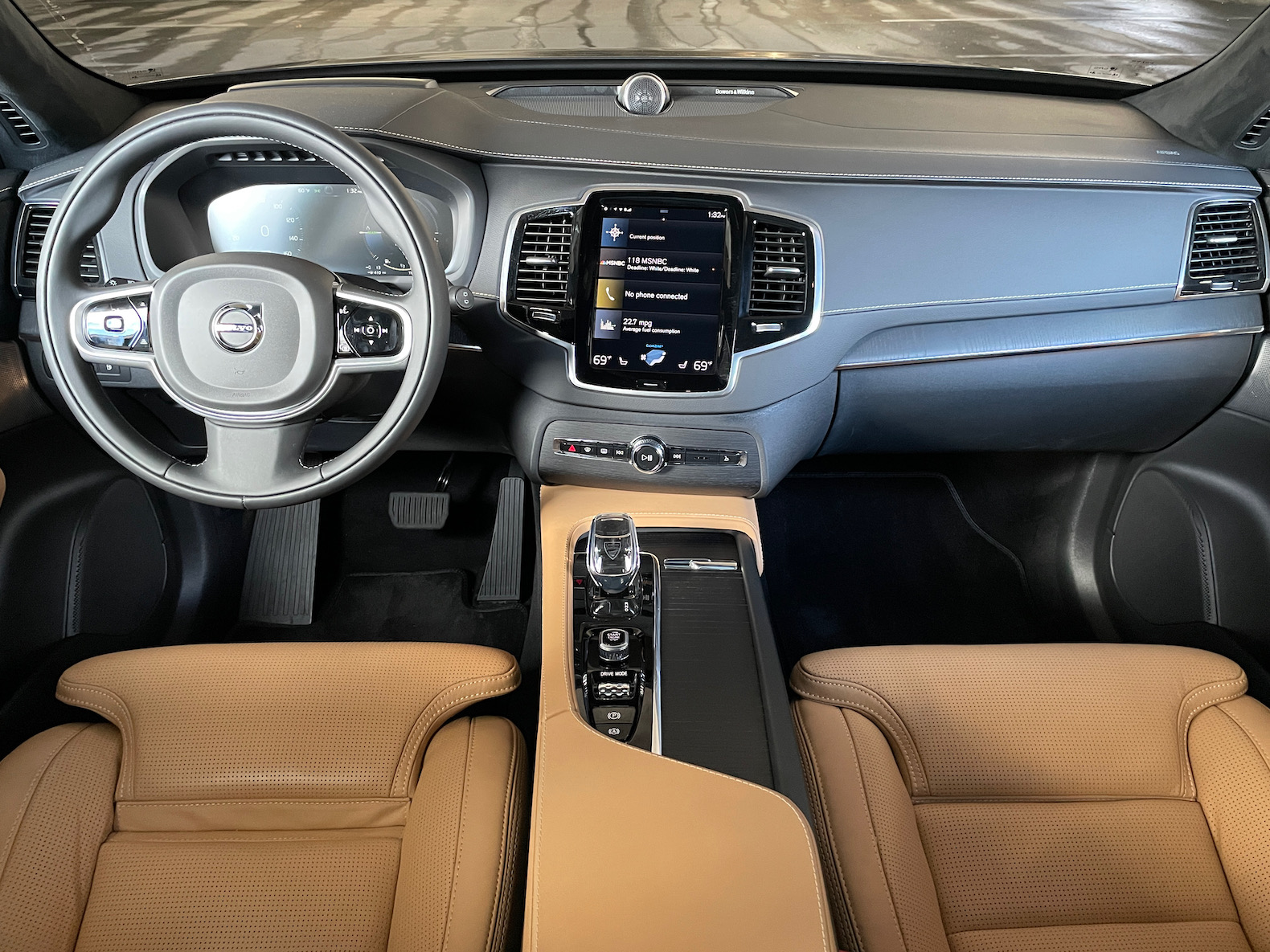 Volvo wraps a beautiful cabin around as many as seven seats inside the XC90. Base versions can seem a bit stark, but elegant wood trim and wool seats on upper versions strike a new path for luxury. The clean design of the XC90 continues in its cabin, where drivers can choose between black synthetic leather and dark trim, all the way through driftwood-white panels and buff leather and a shift lever capped in Orrefors crystal. In its priciest versions the XC90 is stunning and glitz-free, a very rare combination.

Its front seats feel thin but offer all-day driving support. They're upholstered in synthetic leather or in real hides, or in a very soothing gray wool, with available heating and cooling and adjustments from lumbar to leg extenders. The second-row seats have a little less support, but plenty of room for three adults to sit across the bench; two captain's chairs can be fitted instead. The third-row seat is fairly easy to access with fold-away levers, and a smaller adult can fit in it for cross-town trips. The XC90 has up to 85.7 cubic feet of space behind the front seats, 41.8 cubic feet behind the second row, and 15.8 cubic feet behind the third row. It's enormous—and enormously useful.
Volvo fits every XC90 with generous standard equipment, and offers plenty of options. We like its infotainment system too, and this year free maintenance couples with a strong warranty to earn a place on your shopping list. We're on board with any of them, including the $50,640 XC90 T5 Momentum with front-wheel drive. It comes with a power tailgate, synthetic leather upholstery, and Volvo's 9.0-inch touchscreen with Apple CarPlay and Android Auto compatibility. Wireless smartphone charging and front parking sensors are newly standard for 2021, too.

Volvo bundles other features inside by trim lines. R-Design cars get black trim and distinct wheels, while Inscriptions get perforated leather upholstery and open-pore wood trim. Other options include heated and cooled front seats, fabulous wool upholstery, and six-passenger seating, as well as an excellent Bowers & Wilkins audio system. The $70,145 XC90 R-Design Recharge plug-in hybrid is at the top of the ladder. Like all other XC90s, it comes with 4 years or 50,000 miles of warranty coverage, and now includes the first three maintenance visits for free.

The 2021 Volvo XC90 remains our top pick for large luxury crossovers; it does everything well and is a decent value compared to its German rivals too. Which XC90 you pick really comes down to where you'll be using it, if you're going to be driving around town and funds are no issue, spring for the T8 with great fuel economy, but if you're going to be driving longer distances daily, we're recommend getting the T6 and saving the cash. There really isn't a bad choice, because the 2021 Volvo XC90 really is stellar in every regard.
For all your new car shopping needs, check out: drivevise.com Vehicle shopping made simple!