The 2021 Toyota Avalon lives its best life as a luxury-car companion. Corollas and Camrys are for the youngsters: The 2021 Toyota Avalon takes up residence as the grown-up sedan in the company's fleet. That doesn't mean it's retired: The Avalon now offers all-wheel drive and sporty XSE and TRD models to go with the usual XLE, Touring, Limited and Hybrid editions. The 2021 Avalon is still a five-seat four-door sedan. It's a relaxed highway cruiser, one that's ready to soak up long-distance drives, especially in high-miler hybrid form, where it's as thrifty as a small sedan but blessed with a large interior.

This year the Avalon gains standard Android Auto, as well as some new color choices. The big news is all-wheel drive can be ordered on the XLE and Limited models. All Avalons have a tapered roofline and a sleekly rounded shape that wears trim headlights and taillights. The difference between XLEs and Limiteds and Tourings, and the more adventurous XSE and TRD editions starts with a tall mesh grille that stands out from the otherwise sober shape. Inside, the Avalon's tall infotainment touchscreen gives the cabin a modern look, while touches of wood and aluminum distinguish the luxury models from the more sporting versions.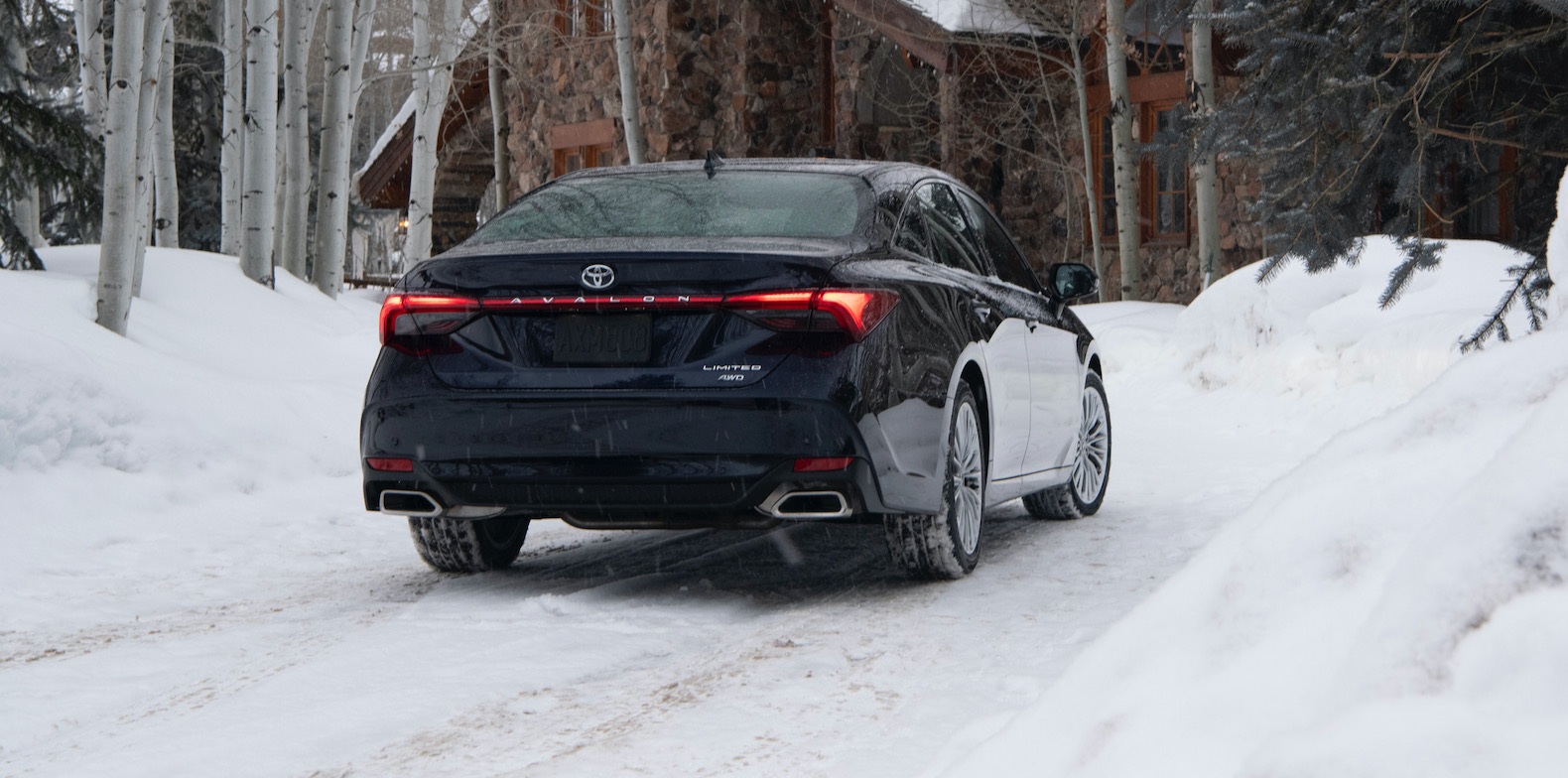 Avalon shoppers can choose between a 301-horsepower V-6, a 215-hp hybrid 4-cylinder, a new 205-hp non-hybrid 4-cylinder, and now between front- and all-wheel drive; although the latter dictates the former. Unfortunately the new all-wheel-drive model is only available with the least powerful motor; less power and more weight do not make a good combination. Our pick's the Hybrid, which returns fantastic EPA-rated gas mileage of 43 mpg combined; the V-6 car's much quicker from a stop, but it's also thirstier. The Avalon's strikingly composed ride is its best asset, and XSE and TRD models tighten that up with big wheels and stiffer shocks.

The Avalon's size keeps it from sport-sedan status, but it pays off with vast interior room. It can seat five adults, and has very comfortable front seats wrapped in synthetic leather or the real stuff, with heating and cooling. Limiteds have gorgeous wood trim, while XSEs wear ribbons of aluminum. The Avalon's 9.0-inch portrait-style touchscreen includes Apple CarPlay and Android Auto compatibility, and every Avalon gets automatic emergency braking, too. Good crash-test performance and a long list of standard features come with every Avalon; so does an average warranty, but Toyota now includes a 2-year/25,000-mile maintenance plan for free. The base price for the 2021 Avalon is $36,830.
The Avalon seeks sport-sedan status with a daring shape. The Toyota Avalon has a muscular, toned look on the outside, and a quiet and subdued interior. We think the simpler versions of the Avalon are better looking than the more highly flared versions. Avalon XLE and Limited sedans have a cohesive, clean look with a tall grille that flows into smoothly curved fenders and a tapered roofline, with slim taillights at the rear. The Avalon XSE and Touring sedans have a much larger grille with a mesh insert that seems too tall, and doesn't mesh with the organic nature of the rest of the car. The Avalon TRD wears functional aerodynamic add-ons: It's a striking thing to see Toyota's most sedate four-door get boy-racer-like add-ons, but we're not convinced that it works.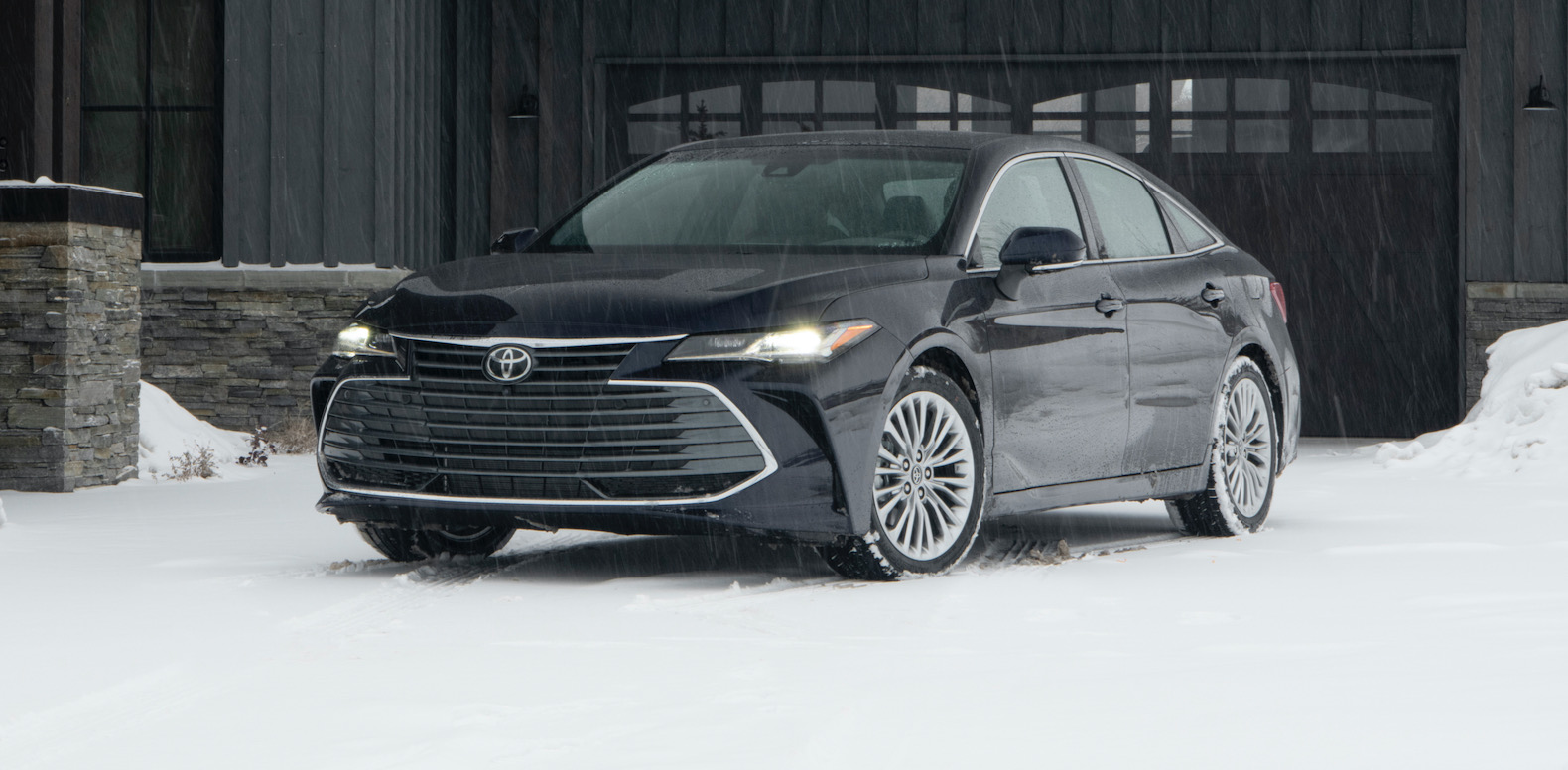 Sporty TRD pretender aside, the Toyota Avalon's a plush-riding performer. Toyota offers the Avalon as either a V-6 charger, all-wheel drive performer, or a hybrid fuel-sipper; we're more fans of the latter, but in either case the Avalon's calling card is its supremely controlled ride. A 301-hp 3.5-liter V-6 powers some Avalons, and its healthy output combines with an 8-speed automatic transmission for urgent acceleration. It tugs with authority though it keeps engine noise muted to a happy growl; except in Avalon XSE and Avalon TRD trims, which get some of their engine noise piped into the cabin.

In the Avalon Hybrid, a 176-hp 2.5-liter inline-4 teams with an electric motor for a net 215 horsepower served up through a continuously variable automatic transmission (CVT). The hybrid's acceleration is more moderate in pace, and it can feel winded as it passes slower traffic or as it climbs hills. It's still our chosen version, thanks to its stellar 43-mpg EPA combined fuel economy and the fact that it suits the Avalon's demeanor best. The last powertrain is a new entry this year; it's a 2.5-liter non-hybrid inline-4 that puts out a meandering 205-hp and is paired standard with all-wheel-drive. The Avalon finally offers all-wheel-drive if you can't live without it.

Regardless if the Avalon comes with either front-wheel drive or all-wheel drive; all versions have a strut front and rear multi-link suspension, which translates into better wheel control and a more composed ride. The Avalon Touring also has adaptive dampers, which can adjust its ride quality through a drive-mode selector that ranges from comfort to sport settings. The Avalon's steering has ample weight, so it can feel entertaining in curves, though it's not the ideal car to choose for canyon runs. It's gentle and soft, and far from tossable, though the harder-edged Avalon TRD steps in that direction. With its 19-inch wheels and louder exhaust, it rides more stiffly but gives up some of the benchmark composure. We'd recommend the related Camry TRD if you're interested in a more enthusiastic Toyota sedan.
Avalon Hybrids are stingy on gas, the rest are about average. With its V6 engine, the Toyota Avalon earns middling EPA ratings, the all-wheel-drive checks in decently for such a large sedan, but the Hybrid's a high-miler. The EPA pegs the V-6 Avalon at 22 mpg city, 31 highway, 25 combined; the XLE version's smaller wheels and tires boost those numbers to 22/32/26 mpg. Meanwhile the all-wheel-drive 4-cylinder only powertrain checks in at 25 mpg city, 34 highway, 28 combined. With the hybrid system, the Avalon's ratings soar to 43/43/43 mpg, or on the XLE, 44/43/44 mpg. After a week in our hands, an all-wheel-drive test vehicle pulled in a respectable 27.5 mpg average; not bad for such a large AWD vehicle.
The Avalon excels in crash protection so we give the Avalon top marks for safety. It earns a five-star overall rating from the NHTSA, with four-star protection for front passengers. The IIHS scored it a Top Safety Pick+ for 2019, but unfortunately it doesn't get to keep that rating for 2021 because of the new stricter headlight requirements. The Avalon also comes standard with generous driver-assistance features. Driver-assistance technology includes automatic emergency braking, blind-spot monitors, active lane control (to keep the car in its lane), automatic high-beams, and adaptive cruise control. It's all standard on the Avalon, while a surround-view camera system is an option.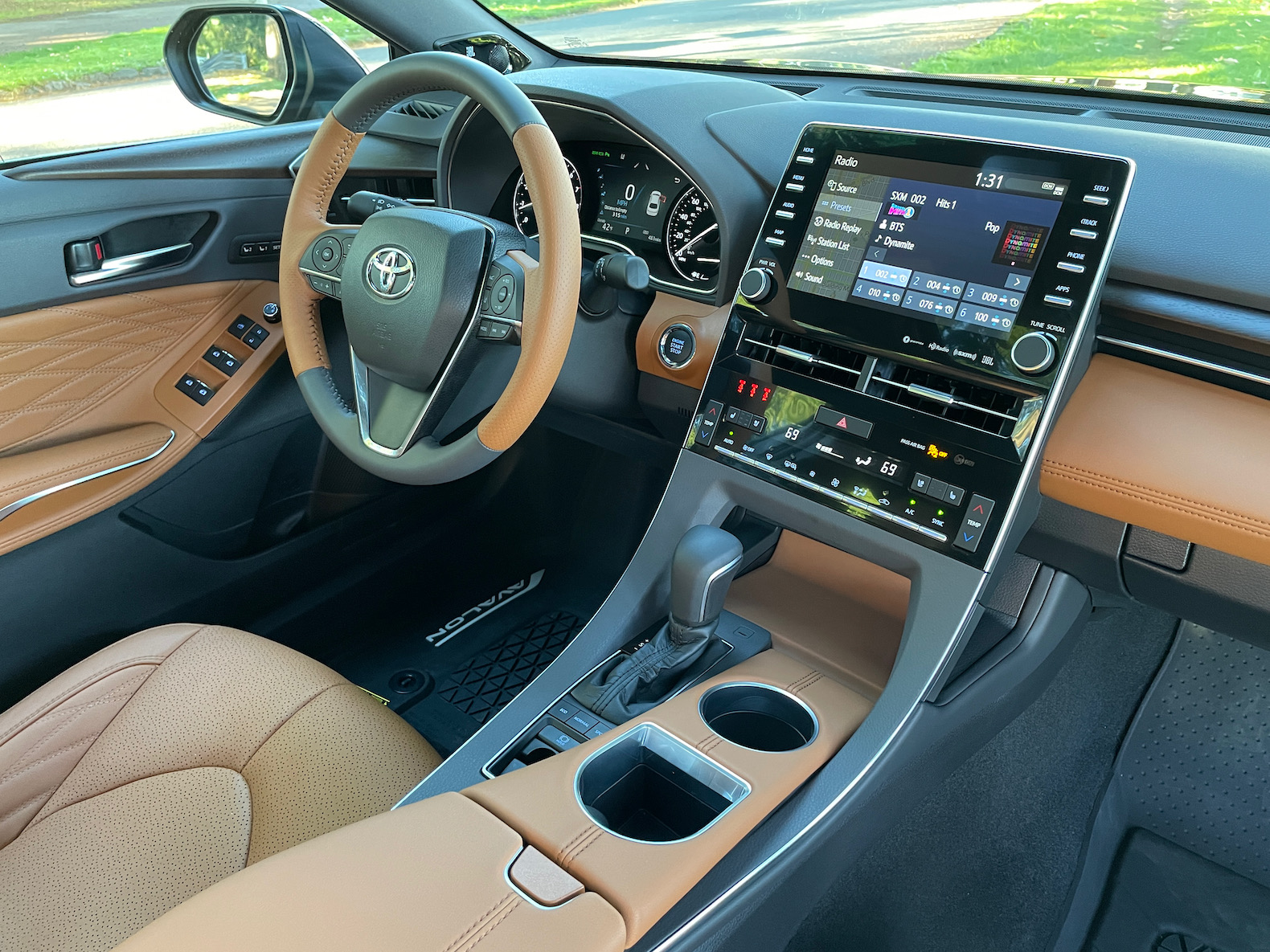 The Avalon's interior adopts a big center touchscreen that vaults the cabin into a more futuristic look. The looks range from ordinary grays and beiges in base versions to striking wood-trimmed Limited trims. The screens themselves are generously sized, but the Avalon's interior is purposefully pared down to simple sweeping lines and straightforward shapes. A fine line separates it from its Lexus kin; a very fine line, when it's a Touring or Limited model. The Avalon's big and roomy, with an interior trimmed in a high grade of materials. It could cost $50,000 and wouldn't raise eyebrows. The base Avalon XLE has synthetic leather and more black plastic, but it's still an impressively finished vehicle. Avalon XSE and Touring models have aluminum trim, while the Limited gets wood trim supplied by musical instrument maker Yamaha. The Avalon's also relentlessly quiet inside, though TRD models allow a bit more road noise to enter the cabin.

The Avalon's made for long-distance drives with four or even five passengers. The front seats offer the kind of support that makes trips of hundreds of miles possible. It's bolstered well enough for curving roads, and with power adjustments even on the base version, it's a snap to find an excellent driving position. Expensive versions offer leather upholstery, plus heating and cooling. In the back seat, the Avalon sports 40 inches of legroom, which means adults can cross their legs behind the front seats. Three people can fit across the rear bench or it can be folded down to open the 16-cubic-foot trunk to longer objects.
The 2021 Toyota Avalon is well-equipped and looks the part. For 2021, Toyota piles on standard equipment on the Avalon, and doesn't stop adding on luxury features that rival those in Lexus cars. It's a well-equipped sedan at every step of the way, with good infotainment and excellent value. For 2021, the Avalon adds standard Android Auto compatibility, and its hybrid battery switches to lithium-ion chemistry for better efficiency. All-wheel drive now is available on the XLE and Limited trims.

The base price of $36,830 Toyota Avalon XLE includes a 9.0-inch infotainment touchscreen with Android Auto and Apple CarPlay compatibility, power heated front seats, synthetic leather upholstery, and five USB ports. All-wheel drive costs nothing extra. Toyota's infotainment system has grown much easier to use with the adoption of touchscreens. The $44,255 Avalon Limited Hybrid is the most expensive model. It gets a plusher ride through softer suspension tuning, a leather-and-wood interior, JBL audio, 18-inch wheels, and cooled front seats. Toyota's standard warranty runs for 3 years or 36,000 miles. Hybrids have an 8-year/100,000-mile warranty on battery packs. Toyota now includes two years or 25,000 miles of free maintenance.
The best version, as far as we're concerned, is the Avalon Limited Hybrid, which for around $43,000 comes with the plushest suspension settings and an interior draped in leather and wood, the kind of trappings we'd expect from a much costlier luxury car. The fact that Toyota is now able to offer all-wheel-drive only adds to the appeal of the Avalon. So if a large sedan with great road manners, class leading fuel economy, and impeccable reliability are on your list; look no further than the Toyota Avalon.
For all your new car shopping needs, check out: drivevise.com Vehicle shopping made simple!