The 2021 Mercedes-Benz GLS-Class is a three-row crossover SUV that redefines luxurious family transport. The GLS-Class SUV is a masterful blend of performance, comfort, and luxury worth every dollar the automaker charges for its sublime ride, luxurious interior, and prodigious power. It's so nice it's hard to imagine how Mercedes will improve upon the GLS with an ultra-decadent Maybach version, something to woo Range Rover drivers into its showrooms in the future. This year, Mercedes bolsters the top end of its lineup with the most luxurious SUV to ever bear the three-pointed star. The new GLS600 Maybach wears a special grille and comes with an interior decked out with all the leather Mercedes could throw at it. Equally as impressive is the new AMG version of the GLS. The new GLS63 boasts 603 horsepower from its mild-hybrid V-8 powertrain, with a throaty exhaust note to match. After all, the Benz GLS proves that you can have it all.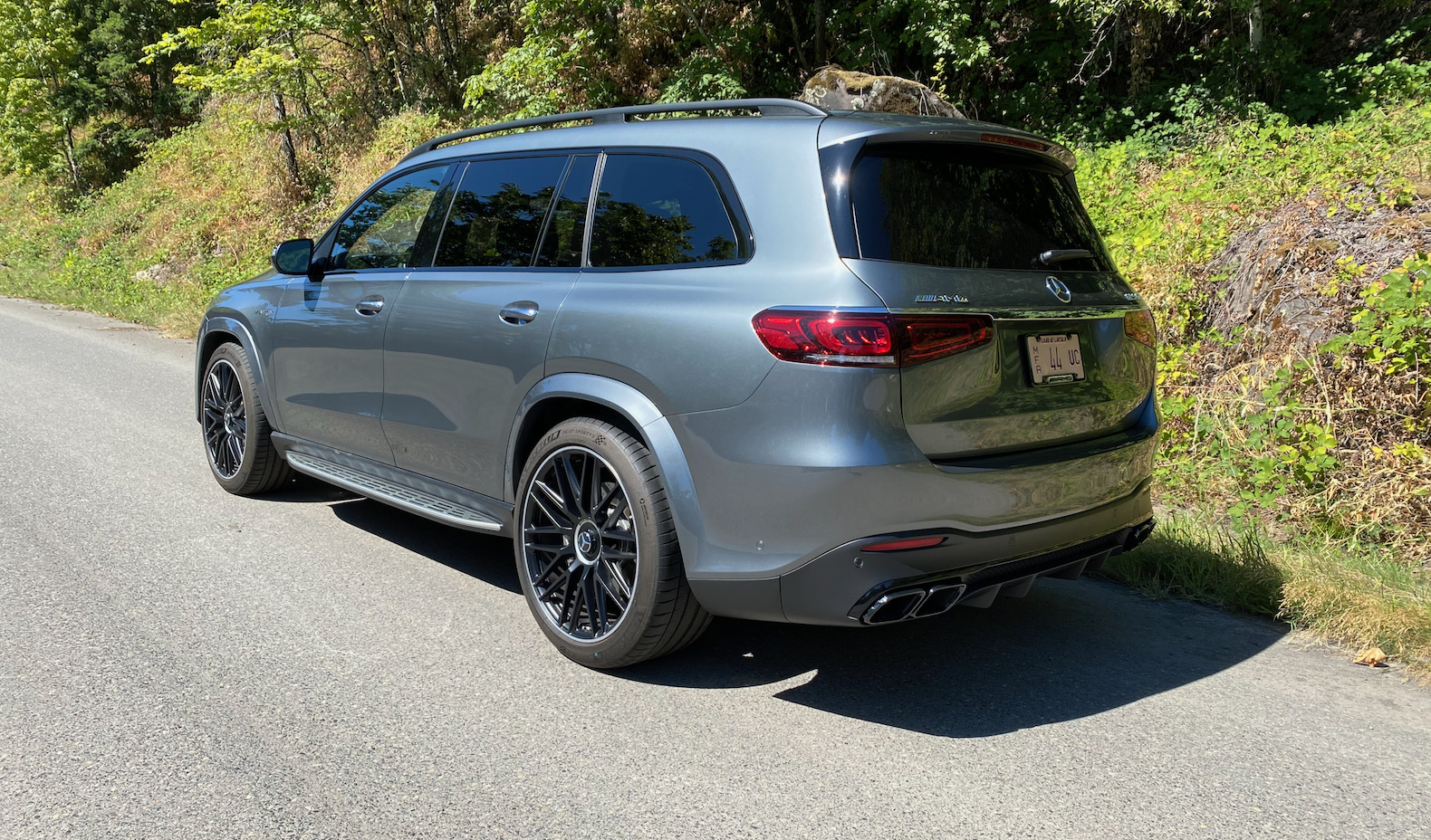 The GLS shares its underpinnings with the Mercedes-Benz GLE-Class and the two are built on the same Alabama assembly line. However, the GLS stretches a hefty 205 inches between its bumpers and rides on a 123.4-inch wheelbase. It comes standard with seating for seven, though second-row captain's chairs with a narrow pass-through are likely to be popular. The GLS is plush enough in base form, downright decadent with the extra-cost Executive Rear Seat Package that adds power-adjustable, heated, and cooled thrones in the second row and a Samsung tablet that works like a mirror to the 12.3-inch touchscreen for infotainment plastered to the dashboard.

Under the hood, the GLS450 is powered by a 362-horsepower turbocharged inline-6 paired to a 48-volt electrical system that can add more grunt with a deep stab of the throttle. The GLS450 is plenty fast even with a full load of passengers aboard, and it makes the premium for the 483-hp, V-8-powered GLS580 tough to swallow. Meanwhile the uber impressive AMG GLS 63 utilizes a 603-hp handcrafted AMG V8 to really get the groceries flying. All-wheel drive is standard and Mercedes even offers an off-road package that jacks up the suspension at the tap of a button and makes it into a remarkably capable beast, for those few who will relish dirtying this luxury SUV.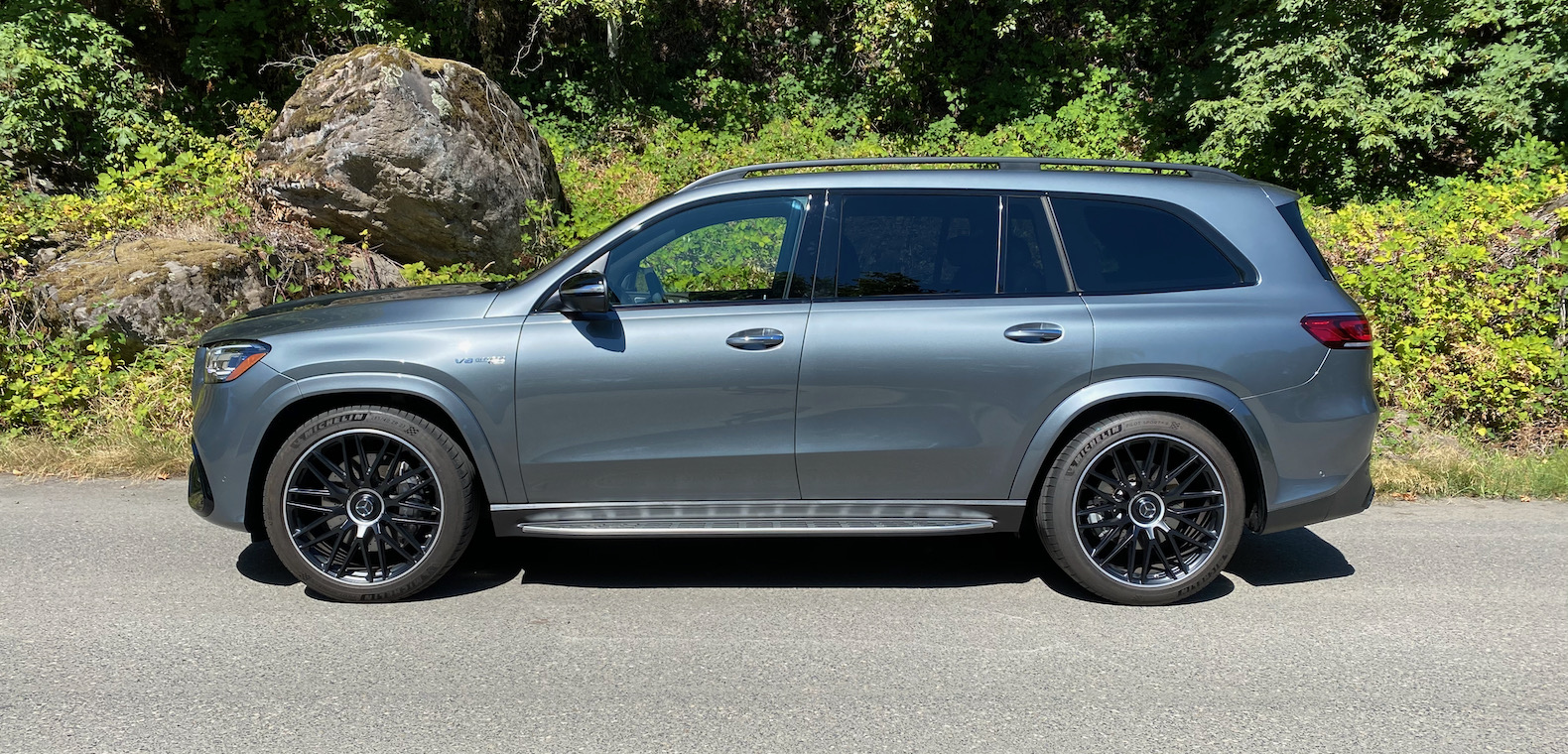 The base air suspension provides a supple ride that's perhaps too soft in standard mode but just right in sport. The 48-volt setup powers an optional system that uses the car's active safety gear to read the road ahead and adjust the suspension accordingly. The system does a stellar job quelling road imperfections but reacts almost too well in corners to keep the SUV upright. Try before you buy, but it's hard to go wrong with any version of the GLS.
Supple lines help mask the 2021 Mercedes-Benz GLS-Class' massive size. The GLS has presence, but it doesn't boast the way that some rivals do. Mercedes took the GLS' basic two-box silhouette and rounded its edges. A big grille up front digs into the front bumper and is flanked by headlights larger than a typical passenger car but not outlandishly grotesque like on some competitors. At the rear, the GLS has a clean, simple look. The new GLS600 Maybach is garish in every way, but that's probably just fine for those attracted to its badge and its luxury. A chunkier body kit, bigger wheels, and different trim give the GLS63 as sporty a look as a big family-hauler can handle. Overall, this big SUV should age better than its BMW X7 rival and will give the classic elegance of the Range Rovers a run for their money.
The 2021 Mercedes-Benz GLS-Class defies its mass with a supple ride and strong power, but AMG GLS really impresses. The GLS-Class overperforms in any configuration. Underhood, the GLS450 makes use of a 362-horsepower, 369 pound-feet of torque 3.0-liter turbo-6 paired with a 48-volt electric starter generator and battery that can provide an additional 21 hp and 184 lb-ft of torque. The 48-volt system takes away any hint of turbo lag and helps the powertrain compensate for electrical draw from accessories such as the air conditioning system.

The standard engine is strong, silent, but the GLS 580 with its 483-hp, 516 lb-ft of torque 4.0-liter turbocharged V-8 is even more so with plenty of power in reserve. The GLS580 also benefits from the 48-volt integrated starter generator system's power boost and it uses a version of the 9-speed automatic transmission found in the GLS450. Short of providing more power to handle trailers as heavy as 7,650 pounds, the big engine has impressive linear power. We found the transmission tuning in the GLS580 to downshift too eagerly, vaulting the massive SUV to illegal speeds in a blink.
AMG's glorious AMG GLS 63 is the performance pinnacle of the lineup. The incredible powertrain churns out an astounding 603-hp and 627 lb-ft of torque from it's handcrafted AMG 4.0-liter turbocharged V-8. All the thrust is directed to all four wheels via AMG Speedshift 9-speed automatic transmission. All that massive power is accompanied by EQ Boost system providing up to 21-hp and 184 lb-ft of torque. This year's new luxury laden Maybach uses a 550-hp version of the 4.0-liter V-8 also coupled to a 9-speed automatic transmission and standard four-wheel-drive system.
Underneath, the GLS comes standard with an air suspension that can be softened or firmed up at the tap of a drive mode button. The softest mode floats over bumps with land yacht-like comfort, while Sport and Sport+ modes tighten reflexes for more control. We found Sport to be the Golidlocks of suspension modes, and Mercedes conveniently includes an Individual setting that allowed us to custom tailor the different drive functions to keep the Sport suspension setting with the Comfort drivetrain setup.


Optional on 450 and 580, but standard on the AMG 63 Maybach, the E-Active Body Control system that uses the 48-volt integrated starter motor to control each wheel's spring forces individually. Using the adaptive cruise control's myriad sensors that watch the road ahead, E-Active Body Control prepares each wheel for pavement imperfections. The system works fabulously to tame bumpy roads, but it also defies physics on winding pavement as it keep the SUV's passenger compartment almost completely level. An optional off-road package includes a special four-wheeling traction control mode, though it's hard to imagine many buyers will choose the GLS for its adventuring abilities. Overall, the GLS has a nimble feel in urban situations and it settles comfortably into high-speed highway cruising. Its steering delivering decent communication for its size.
The 2020 Mercedes-Benz GLS gets decent fuel economy for such a large vehicle. Rated by the EPA, the GLS450 comes in at 19 mpg city, 23 highway, 21 combined while the EPA gives the GLS580 a rating of 16/21/18 mpg. The GLS 63 with its fire-breathing V8 rings in at 14 mpg city, 18 mpg highway, and 16 mpg combined. Mercedes' Maybach splits the different with 15 mpg city, 19 mpg highway, and 17 mpg combined. That's towards the top end compared to the GLS competitors and class. Large and in charge, our AMG GLS 63 test vehicle was able to manage an average of 17.1 mpg in our week of testing.
The 2020 Mercedes-Benz GLS can't quite drive itself, but it comes close. The GLS-Class hasn't been crash-tested by either federal or independent testers yet and we wouldn't hold our breath since high dollar vehicles are often not tested. Regardless, the 2020 GLS comes outfitted with a high level of collision-avoidance tech, and a few additional features are bundled in an option package. Automatic emergency braking that can detect pedestrians and cross-traffic is standard. Additional features available include adaptive cruise control, active lane control, and a system that can automatically move the GLS into an open lane of traffic at the tap of the turn signal. The GLS is also equipped with car-to-X communication, a function not widely used yet that can warn the driver of upcoming road conditions including hazards.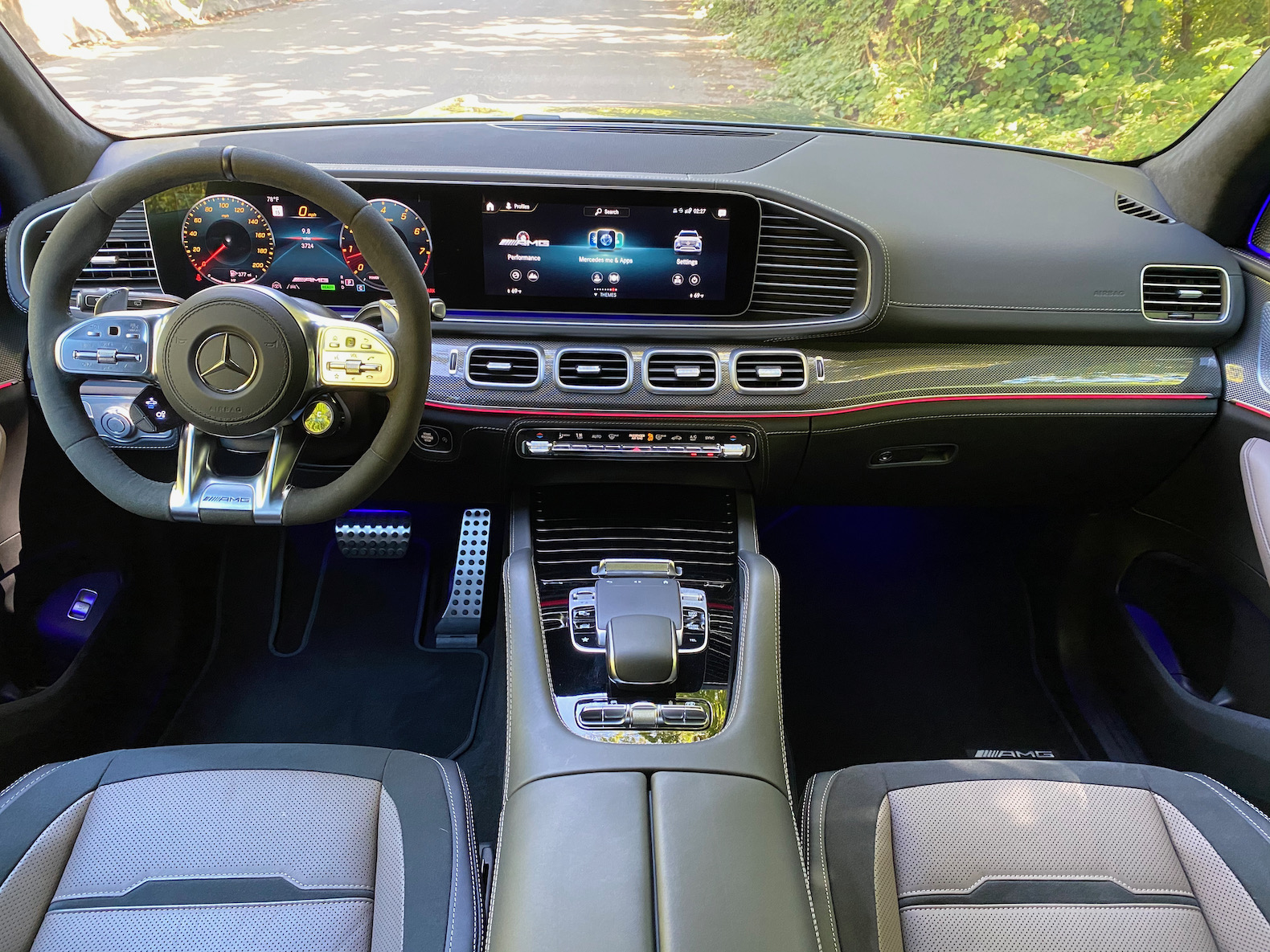 The 2021 Mercedes-Benz GLS would feel appropriately luxurious at nearly twice the price. It's inside where the 2021 GLS makes its biggest steps forward. A pair of 12.3-inch touchscreens sit under a single pane of glass, one handling instrument cluster functions and the other serving as the infotainment system's display. The big panel juts out from the dashboard more subtly than in some other Benz models. Four square climate control vents sit below to bathe yourself in airflow. Big wood panels available in a variety of glossy, matte, and open pore finishes complete the look. We prefer the AMG GLS 63 the most with its carbon fiber trim; all black makes the cabin look a little sinister although the standard power moonroof can brighten things up.
Though base models are draped in synthetic leather upholstery, the 2021 Mercedes-Benz GLS-Class offers a generously luxurious feel inside. Front-seat riders are treated to standard power-adjustable and heated thrones covered in soft synthetic leather. Real hides are optional on 450 and 580 models, but are likely to be fitted to most GLS SUVs, and we imagine many will be ordered with cooled and massaging seats that are simply divine; all of which are standard on the AMG 63 and Maybach variants.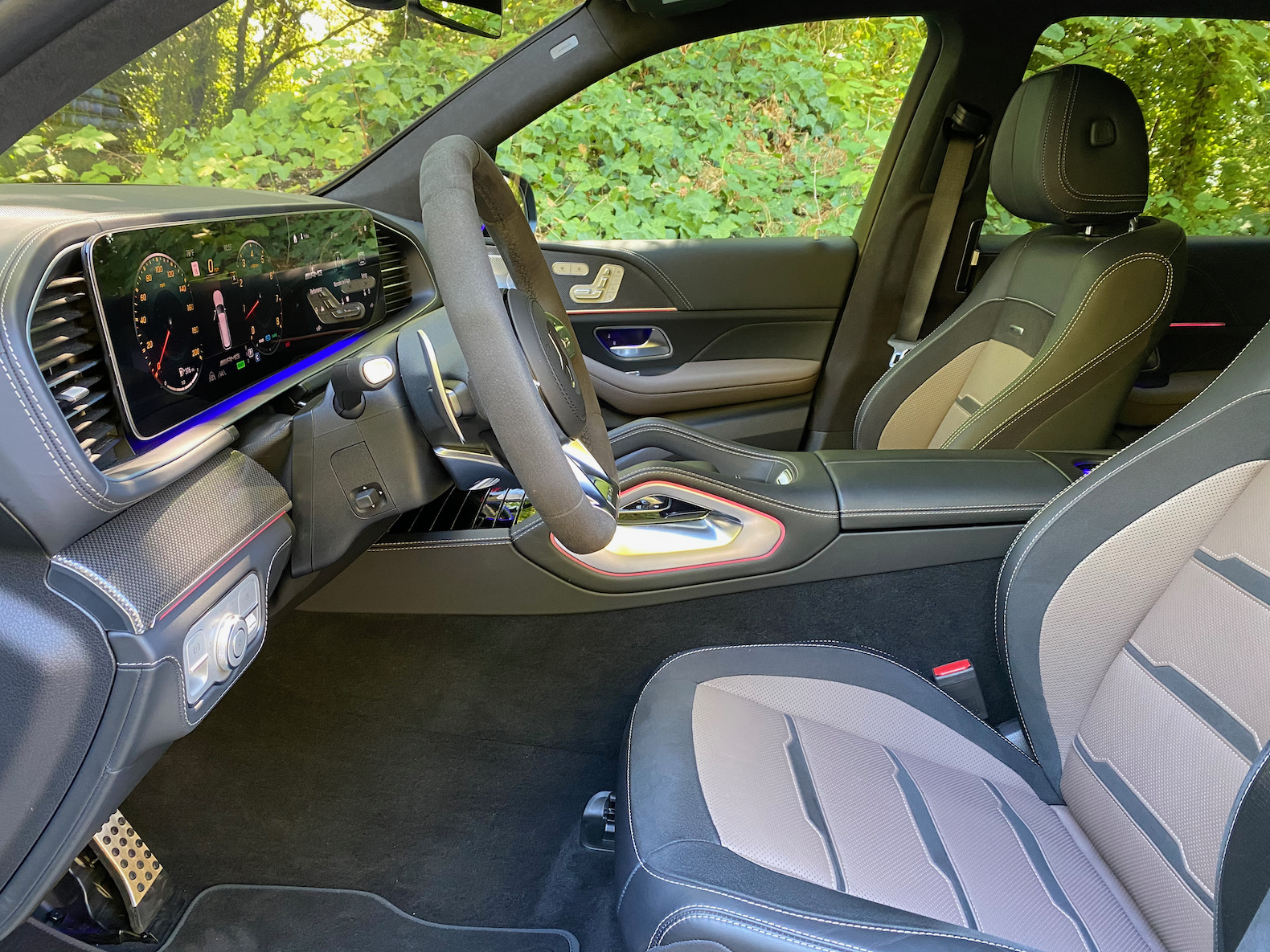 Row two is hardly a downgrade. The standard setup includes good space for three adults to sit abreast, plus standard rear-seat climate controls and plenty of USB ports. Heated and cooled second-row seats are optional, as are individual captain's chairs that delete the middle seat. The Executive Rear Seat Package makes the second-row seats power-adjustable and includes a Samsung tablet located in the center console that runs the same MBUX software as the infotainment screen in the dashboard, allowing for wireless control of the audio settings and more. The third row has enough space for two adults and is relatively easy to access. USB-C ports for third-row passengers should provide a good enough distraction while rear air vents keep them refreshed.

The GLS can hold nearly 85 cubic feet of cargo with the second and third rows stowed away. Raise row two and that figure shrinks to a still-impressive 43 cubes, or 49 cubes with the second row shoved all the way forward. With all three rows up, the GLS has 17.4 cubic feet of cargo. Tapping a button in the cargo area lowers the rear suspension to make lifting large or heavy items into the truck easier.
The automaker's latest infotainment software responds quickly to taps and flicks, with items buried behind icons, our favorite is the lotus flower-looking "wellness" page. The gesture controls are harder to master, however, but can be handy under the right circumstances. The available Burmester audio system surrounds passengers with warm sound fed by radio, satellite radio, or one of the many USB-C ports scattered about the cabin.
If the 2021 Mercedes-Benz GLS isn't lavish enough for you, the Maybach version is. With a price that's comfortable in the six-figure range with optional equipment added, the 2021 Mercedes-Benz GLS-Class had better be luxurious. Fortunately, it is downright plush even in base GLS450 form with its massive infotainment screen and its high-end options. The GLS450 costs $76,195 and comes with a pair of 12.3-inch screens housed under a single glass panel, navigation, Apple CarPlay and Android Auto compatibility, blind-spot monitors, a surround-view camera system, a power moonroof, and seating for seven passengers. The options list is lengthy and includes features such as leather upholstery, second-row captain's chairs, cooled front seats, and more. The E-Active Body Control suspension changes the SUV's ride and handling and is any impressive option to consider.

The GLS580 costs about $22,600 more. Mercedes offers numerous interior and exterior trim customizations such as special leather colors, various types of wood trim, and even unique headliners. It pays to take time sorting through the available options before placing an order since there is plenty of choice. Our favorite, the AMG GLS of 63, includes all the 580 standard features and adds AMG specific specifications for $132,100. Spend up to the GLS63 AMG and you'll add a standard surround-view camera system, active LED headlights, Burmester sound, wireless smartphone charging, and a choice of up to 23-inch wheels. The opulent Maybach, starting at $160,500 includes just about everything standard but uniquely deletes the third row to push the middle two thrones back for NBA levels of legroom. All versions of Mercedes GLS-class are protected by a 4-year, 50,000-mile warranty.
The 2021 Mercedes-Benz GLS-class is the most impressive large SUV we have ever driven; there's nothing it doesn't do well. Whether yours needs are practical family hauling, traversing numerous highway miles, crawling sand dunes and boulders, or carving your favorite line at your local autocross circuit; the GLS-class is shockingly master of them all. What really makes the GLS a standout is surprisingly not that it can do all these things, but the fact that it can do all these things while keeping the occupants cosseted and safe in a stylish tranquil environment of serenity. The 2021 Mercedes-Benz AMG GLS 63 is the best SUV we have ever tested, bar none.
For all your new car shopping needs, check out: drivevise.com Vehicle shopping made simple!