The 2021 Lexus RX stays strong in an increasingly crowded class with styling that stands out. The RX is a luxury mid-size crossover SUV that was refreshed for 2020 for sportier handling. Despite edgy styling, it doesn't stray too far from being the comfy, quiet cruiser that has defined it for more than 20 years. It can be had in sporty F Sport trim or can seat up to seven passengers in RXL form, but it's best as a five-seater with a hybrid powertrain that gets 30 mph combined. With many customers, the RX is still the bestselling Lexus model. The hybrid option with standard all-wheel drive makes a lot of sense, and improved interior controls address some long-standing gripes. New features are minimal following last year's refresh. Power-folding side mirrors come standard, and blind-spot monitors with rear cross-traffic alerts come with the already impressive suite of standard safety features.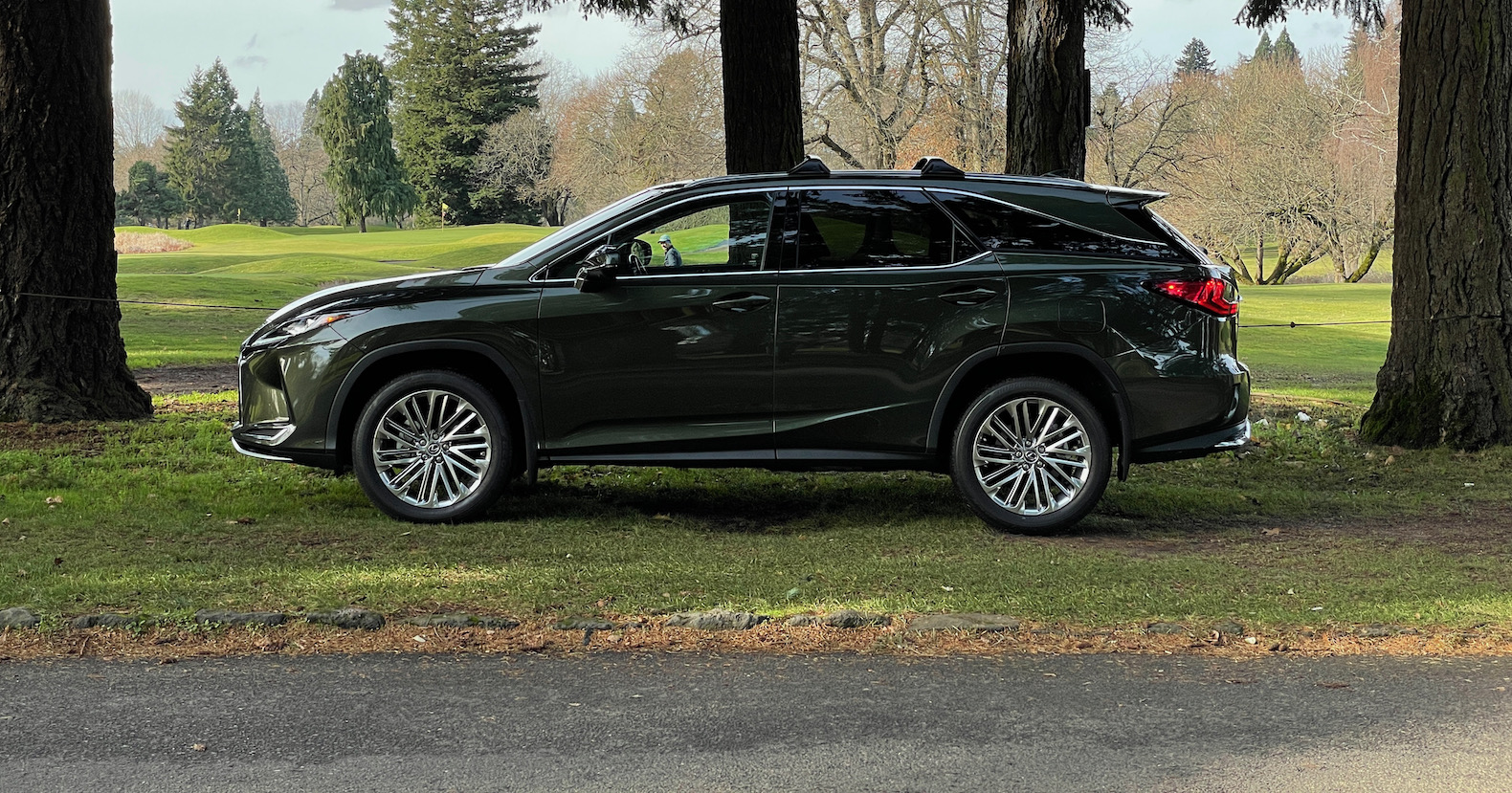 The Lexus RX has adapted with the times, emerging from its egg-shaped past into an edgier present. Narrow headlights cinch the spindle grille, and side air intakes and sharp creases cut a shape. Inside it's more sedate and reserved with a driver centric dashboard, unless you go garish with the F Sport. Despite the makeover, the RX puts comfort ahead of speed with two V-6 options, including a hybrid model with standard all-wheel drive that can get 30 mpg combined. The ride remains composed even with larger wheels and the F Sport's Sport mode.
Two body sizes give consumers more choice, but the five seater is best. The L model crams in a third row in its additional 4.4 inches of length. It can work for short trips for the shortest people on occasion. With the third row down, or in the base five-seat model, comfy seats for all but the rear center position provide plenty of leg, head, and cargo room. The cabin is well appointed in both body styles. Every RX comes with automatic emergency braking, adaptive cruise control, and blind-spot monitors that help it avoid collisions. While the NHTSA only gives it four stars overall, the IIHS awards it a Top Safety Pick.
The RX 350 is more in your face than subdued, and maybe it needed to stand out among all the competition. It sure has changed over the years, and the current edgier modern design helps attracts types of customer that have made the RX a bestseller since it launched for 1999. It's more daring than dull. The bulbous egg shape of the past has been taken to the art school runway with avant-garde angles and edges. The hourglass mesh grille, stamped like a robot nose on the face of most Lexus vehicles, centers the design. The squinting eyes angle into the hourglass and large side air intakes taking the design further. Creases extend over the hood then cut down the beltline to a pinched rear and an integrated roof spoiler that leads to another hourglass shape on the liftgate, cinched with the taillights.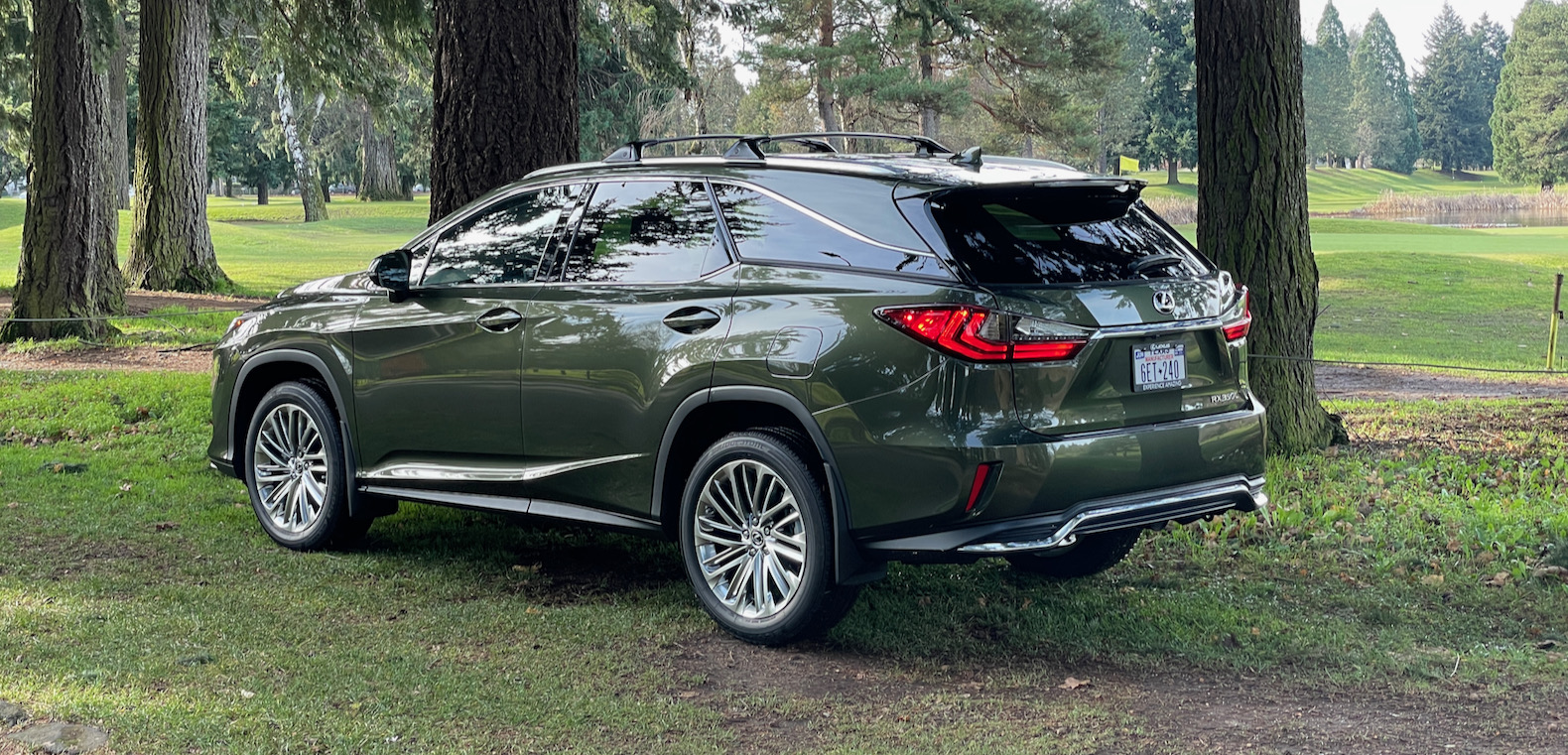 The 2021 Lexus RX may look racy, but it's built for comfort, not for speed. The RX is powered by either a gas V-6 dubbed RX 350 or a hybrid V-6 dubbed RX450h. It comes in standard length or longer L with a third row and a badge that reads RX 350L or, in hybrid form, RX 450hL. The RX 350 comes standard with front-wheel drive but all-wheel drive is available for a reasonable $1,400 upcharge. Base versions of the RX uses a 295-horsepower 3.5-liter V-6 that makes 267 pound-feet of torque and uses an 8-speed automatic to help it tow up to 3,500 pounds. The RX 450h taps the same size V-6 teamed with a battery pack powering two electric motors to make 308 hp total. The engine powers the front, the motors power the rear for standard all-wheel drive teamed with a continuously variable automatic transmission.
Speed wise is not too shabby for an SUV weighing more than 4,200 pounds. It can reach 60 mph in 7.7 seconds, with the extra output of the hybrid offset by the extra weight. F Sport models channel an exhaust note into the cabin for a sportier vibe, but no discernible difference when it comes to acceleration. The other RX models are as quiet as they've been for decades. The F Sport's difference mostly comes from adaptive dampers that are stiffer than the regular set up and combine with 20-inch alloy wheels for more athleticism and a stiffer but still comfortable ride. Regardless of powertrain or length, the ride quality remains consistently composed. A drive mode selector in all models has an Eco mode that lightens the gauge cluster and creates a spongier throttle that conserves fuel, and Sport and Sport+ modes that firm up the response and illuminates the cluster in red. Using the paddle shifters can delay the shifts and quicken the pace.
The hybrid model is very good on gas for a luxury crossover SUV, getting an EPA-rated 31 mpg city, 28 highway, and 30 combined. If most of your miles happen around town, it's the one to own, especially with standard all-wheel drive. But most RX buyers opt for the gas model. It gets 20/27/23 mpg with front-wheel drive, and all-wheel drive eats 1 mpg off of that. The RX 450h L gets 29/28/29 mpg. That's loads better than the Infiniti QX60's 22 mpg combined, and even better than the impressive MDX Sport Hybrid with 27 mpg combined. At the low end of the RX range is the 350L AWD at 18/25/21 mpg, which was our text vehicle that averaged 21.7 mpg over its week with us.

The Lexus RX comes standard with plenty of safety features to help it avoid and mitigate a crash, which is good because crash test results are mixed. The standard features and crash results earn it a Top Safety Pick award from the IIHS. The IIHS gave the 2021 Lexus RX top "Good" scores on all six crash tests. But the NHTSA, whose tests are considered less rigorous than the IIHS, gave it a four-star rating with front-wheel drive, but five stars with all-wheel drive. Both versions earned only a four-star rating in tests that simulate a head-on collision at 35 mph. Fortunately, the RX comes with standard equipment to avoid such scenarios. In addition to standard automatic emergency braking, automatic high beams, adaptive cruise control, and active lane control, the 2021 model comes standard with blind-spot monitors with rear cross-traffic alerts. Outward vision is good out the front and sides, as it should be for a tall vehicle, but the tapering roofline and raked rear glass limit rear vision.
The 2021 Lexus RX serves five passengers best. The interior tones down the avant-garde exterior styling with a driver-centric asymmetrical dashboard.. The touchscreen rules the dash roost, and the center stack is canted toward the driver. For so long, the Lexus RX has embodied the characteristics of a retiring librarian, where quiet is a state of being and comfort is a cashmere cardigan sweater. Lately, Lexus unveils another side of the RX with red leather, wood bangles, and metallic accoutrements. F Sport models turn it up a notch with options such as Circuit Red leather and scored aluminum trim. Synthetic leather that comes very close to the real thing covers most RX crossovers, until you get the real deal semi-aniline leather available in the Luxury package. Contrasting wood and metallic surfaces tempt the fingertips and please the eye.

The front and rear seats offer ideal step-in height for knees and backs of any type. Front bucket seats with power adjustability get comfier up the trim ladder, while the available red leather on F Sport trims have thicker bolsters for even more support. Second row seats bring the comfort, too, with a nicely padded bench and available bucket seats that recline. But a word of caution on those captain's chairs: they're only available on the RX 350L or 450hL. Fitting a power-folding third row into 4.4 inches more space results in second-row riders getting cramped to accommodate even-more-cramped third-row riders. For occasional carpool duty, or occasional caregiving of little kids, it can help. With all rear seats folded down, the RX grows from about 56.3 cubic feet of cargo space to 58.5 cubic feet in RX L models.
Better standard features and plenty of options highlight the 2020 Lexus RX. We can't reach the top step without taking a first step so let's start with the standard features on the base RX 350. All RX models come with LED headlights, power folding mirrors, 18-inch alloy wheels, power front seats, and an 8.0-inch touchscreen launched last year and set 5.5 inches closer to the driver than the old display screen. It's a relief. An available 12.3-inch touchscreen is bundled with the Navigation package with much better voice commands.
For $46,095, the RX 350 also comes with Alexa, Apple CarPlay, and Android Auto compatibility, the standard safety features mentioned above, a wi-fi hotspot, keyless start, synthetic leather upholstery, and six USB ports. The cramped third row in the larger RX 350L has power reclining and folding functions, as well as three-zone climate control for $48,925. For more bling, the $49,575 RX 350 F Sport freshens the front and rear with distinct bumpers and badges, features performance dampers, rolls on 20-inch black alloy wheels, and trims the inside with more thickly bolstered front seats and wood and aluminum accents.
The RX 450h tops the lineup with standard all-wheel drive, but even here, there are steps. The hybrid with the F Sport trim costs the most at $52,225. But even at this price point, you have to pay more for wireless charging, heated and ventilated front seats, a heated wood and leather steering wheel, a Mark Levinson 15-speaker sound system, and a power liftgate with a kick sensor. That's why we can't call it a value, even though it hovers in the $50,000 range. Our recommendation, especially for mostly around town drivers, is the RX 450h for $48,745. The hybrid powertrain is essentially a $1,250 upcharge over the RX 350 with all-wheel drive. The RX comes with a 4-year/50,000-mile warranty, and the RX 450h hybrid models get an 8-year/100,000-mile coverage for the hybrid system.
The Lexus RX remains at the top of the midsize luxury crossover class that Lexus helped first create. With the long "L" version, Lexus now caters to families needing an extra two seats for smaller riders. Meanwhile the RX retains all its core virtues that it's built a legacy with; composed driving dynamics, a quiet and cosseting ride, and unwavering reliability. The fact that this is the best looking RX yet, doesn't hurt either.
For all your new car shopping needs, check out: drivevise.com Vehicle shopping made simple!