The 2021 Lexus IS doesn't gain any ground on the more performance-oriented compact sedans, but it's priced right. The 2021 Lexus IS compact luxury sedan induces new or first-time Lexus buyers into Toyota's luxury brand. It competes with the Genesis G70 and Cadillac CT4, and more aspirationally the BMW 3-Series and Mercedes-Benz C-Class. It is a solid entry-level luxury car, but it's aging, even with this year's updates. The skin is pulled back, tightened, tucked, and takes selfies from a high angle. The front and rear light signatures get updated, and the mesh hourglass grille wears a corset that flexes a bulging hood.

The three powertrains carry over with a 2.0-liter turbo-4 and two 3.5-liter V-6s, but the suspension gets stiffer, the handling is more composed, and steering more precise. It's more fun to drive, and marginally more efficient at 25 mpg combined with standard rear-wheel drive. All-wheel drive is available with a 6-speed automatic transmission on either the IS 300 or IS 350, which this year includes the F Sport upgrades. A separate handling package replaces the F Sport trim level.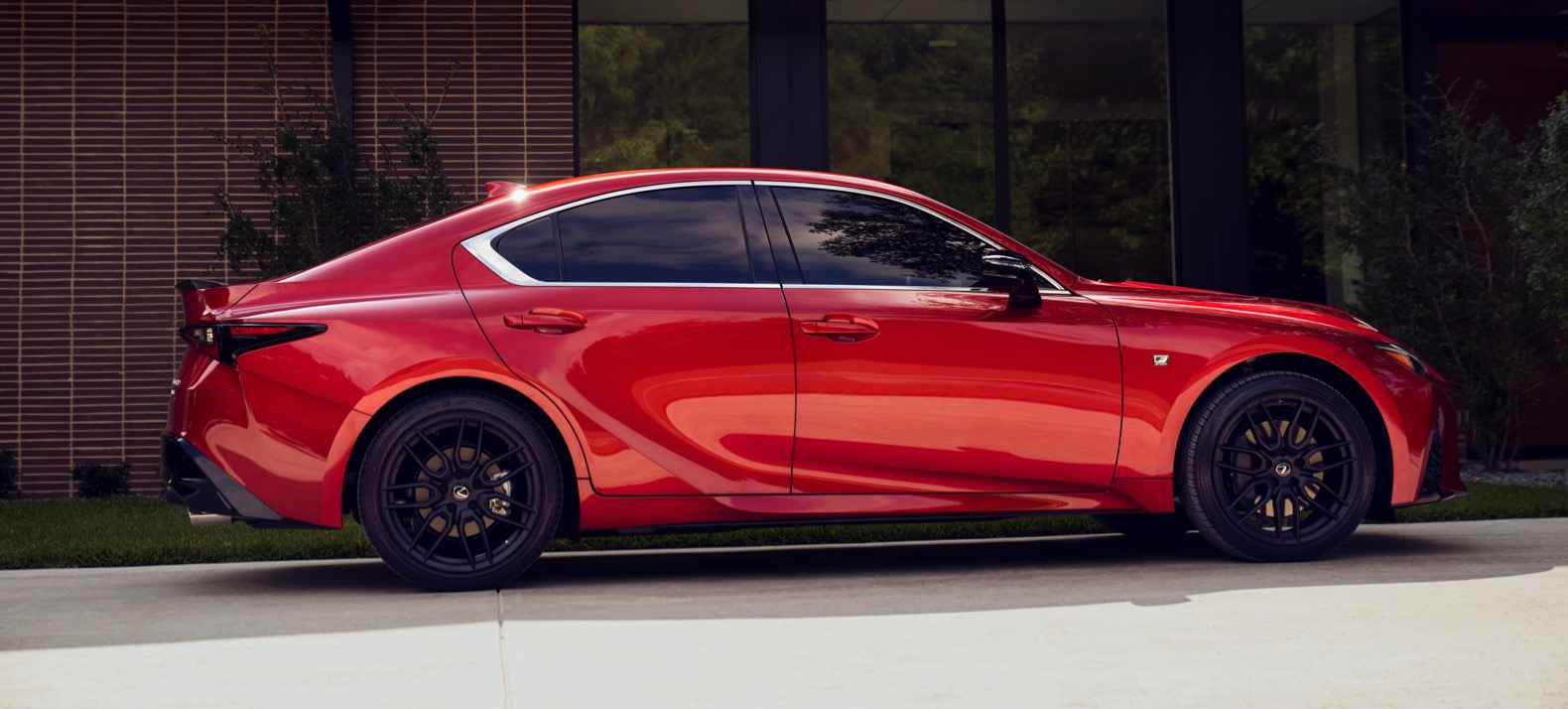 It's an inch wider and longer, but that doesn't address the cramped rear seats and limited cargo volume in the trunk. Still, the cockpit comes with plenty of standard features, including synthetic leather seats that are power-adjustable, an 8.0-inch touchscreen with smartphone and Amazon Alexa compatibility. The wealth of standard safety features expands from automatic emergency braking and adaptive cruise control to blind-spot monitors with rear emergency braking. 
Significant updates to the outside and inside freshen the aging 2021 Lexus IS. The mesh hourglass grille is cinched by Lexus "L" swoosh LED running lights on top of instead of below the LED headlights. They form the belt on that hourglass grille, and appear to inflate a more pronounced muscular hood with more of a drop. Side mirrors and lower air intakes are new, as is the grille pattern. A check mark stamps a crease down the sides before rising up to the trunk, where the 2021 changes are most pronounced. The deck lid creates a lip or shelf over a single rear light stretching under the lid from one taillight to the other. Those taillights also appear as check marks. The single band of light makes for distinct branding at night that looks pretty cool. A new black diffuser and dual exhaust pipe design completes the makeover.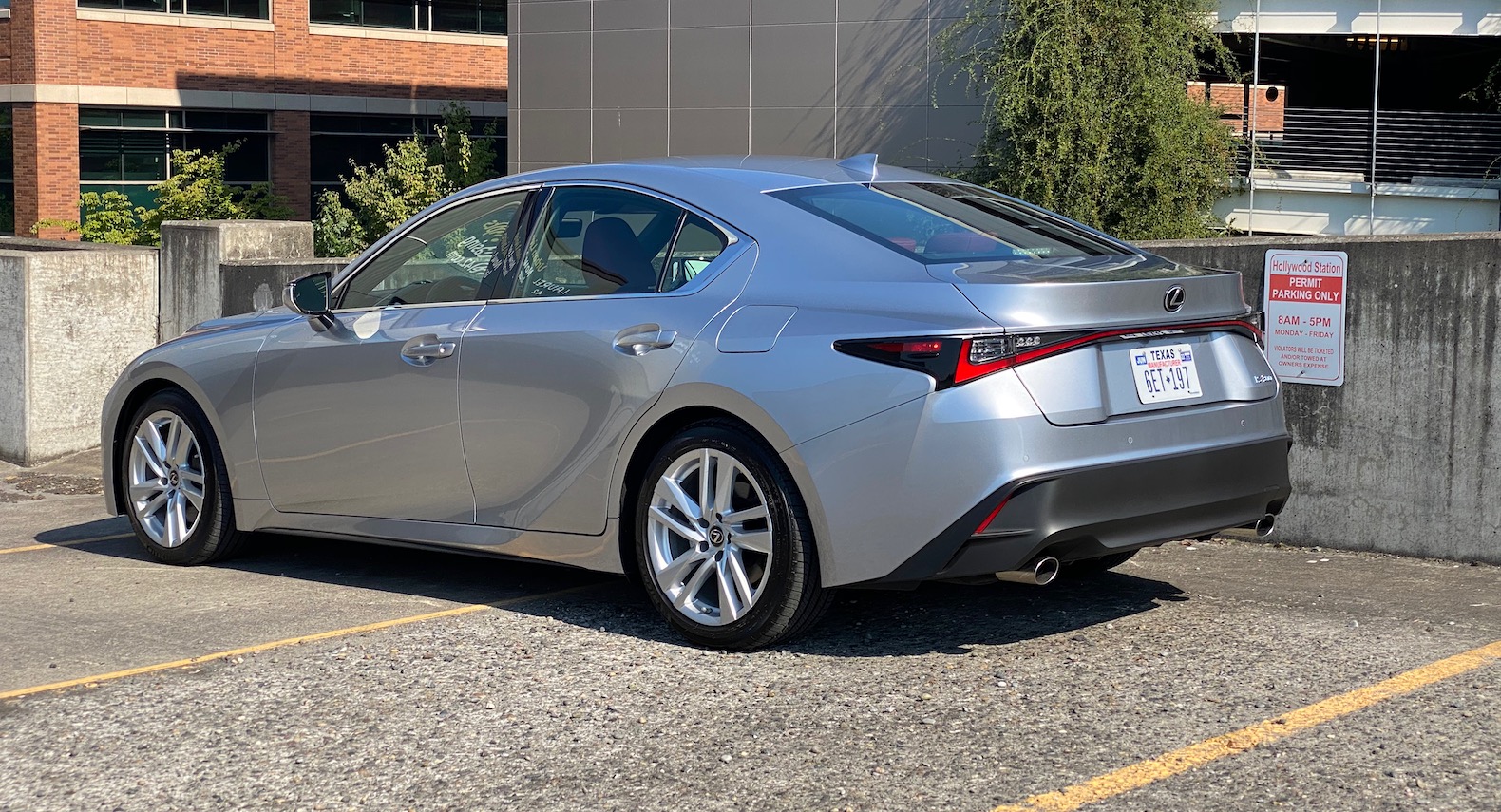 Aging engines get overshadowed by better handling in the 2021 Lexus IS.The same three engines can be found in the 2021 Lexus IS, even though the trims have been streamlined down to two. The feel and handling are improved, and acceleration is good. It starts as rear-wheel drive, but all-wheel drive can be added for $2,000. The quickest IS is the IS350 with rear-wheel drive. It goes 0-60 mph in 5.6 seconds, according to Lexus. That's about the same as the base BMW 330i. Acceleration is not its best quality, but the sound and predictability of a free-breathing V-6 still satisfies.

Both IS 350s use a 311-horsepower 3.5-liter V-6 that makes 280 pound-feet of torque. They come with the cosmetic and aerodynamic upgrades distinct to the F Sport, since F Sport is no longer a distinct trim. For the full F Sport feel, owners should upgrade to the Dynamic Handling Package with adaptive dampers and 19-inch forged-alloy BBS wheels for up to $4,200 more. We'll report back on whether it's worth the upcharge after we drive it.

The base IS 300 with rear-wheel drive is on the slower end of the class. It uses a 241-hp 2.0-liter turbo-4 that makes 258 lb-ft. of torque and can reach 60 mph in 6.9 seconds. The larger 260-hp 3.5-liter V-6 that makes 236 lb-ft. in all-wheel drive can get there in 6.1 seconds. It hits its happy spot just above 3,000 rpm, and the 6-speed automatic that comes with all-wheel-drive models is keen to stay in that range. In our test vehicle, an all-wheel-drive IS 300, the engine felt more than adequate for daily driving.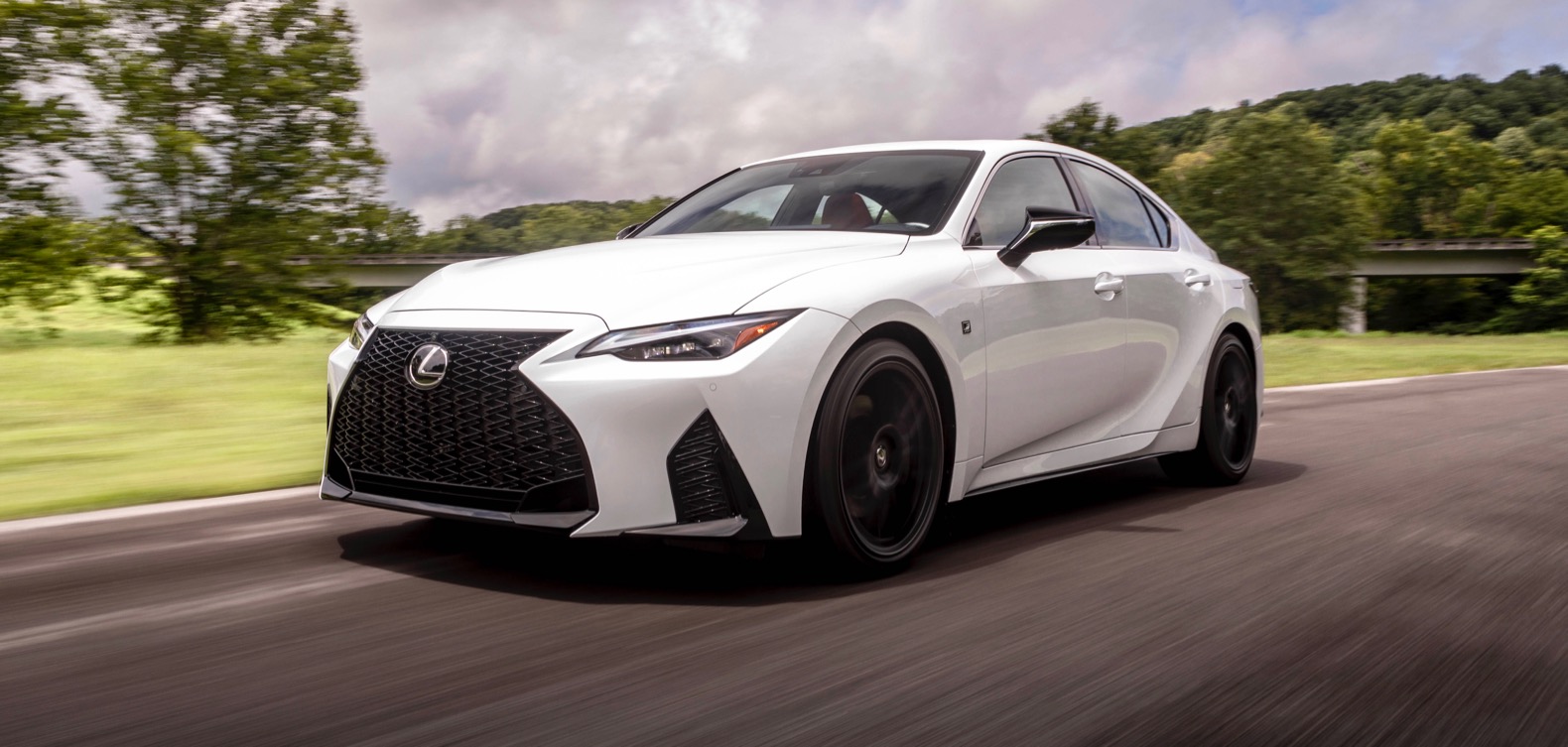 It's quick but stable, and even with AWD biased to the rear it can send up to 50% of torque to the front wheels for more control while turning. Overall balance is impressive, and precise steering helps maintain the intended line. Eco, Comfort, and Sport modes offer some variability in throttle response, and for everyday driving, the IS 300 provides modest thrills and good overall composure. Rear-drive models use a more modern 8-speed automatic transmission, and 91-octane fuel is recommended in all three engines.
Improved from last year, the 2021 Lexus IS still trails the pack on efficiency. The luxury compact sedan improves 1 mpg over 2020 with an EPA-rated 21 city, 31 highway, 25 combined in the base 2021 Lexus IS 300 with rear-wheel drive. All-wheel drive with either V-6 drops the IS significantly to 19/26/22 mpg in the IS 300 or IS 350.  The 2021 IS350 with rear-wheel drive gets 20/28/23 mpg. At the top of the class, the base BMW 330i achieves 26/36/30 mpg, and the Mercedes C300 with rear-wheel drive is 24/35/28 mpg. The Genesis G70 and Lexus IS trail the compact sedan pack. Our AWD IS 300 test vehicle averaged 21.7 mpg in its week with us.
Good crash-test results and impressive standard safety tech helps protect both the Lexus IS and its occupants. The Lexus IS withstands crashes well and also avoids them with a slew of standard safety features that typically cost extra from other luxury automakers. Its five-star NHTSA crash-test rating and standard safety features prove the point. In the hands of the IIHS it earned "Good" marks on the other five, as well as "Superior" ratings for its ability to stop and avoid crashes in 12- and 25-mph tests.

For 2021, the standard driver assist systems improve on the IS. Automatic emergency braking has a broader radar range to detect a vehicle, pedestrian, or cyclist when turning in the daytime. Adaptive cruise control can go restart from a stop and, when overtaking another car, the system will accelerate back up to the set speed when you turn on the indicator and change lanes. Active lane control, automatic high beams, and, new for 2021, blind-spot monitors with rear cross-traffic alert come standard. Options include one package with parking sensors with automatic braking if you get too close, or an upgraded package that throws in a surround-view camera system.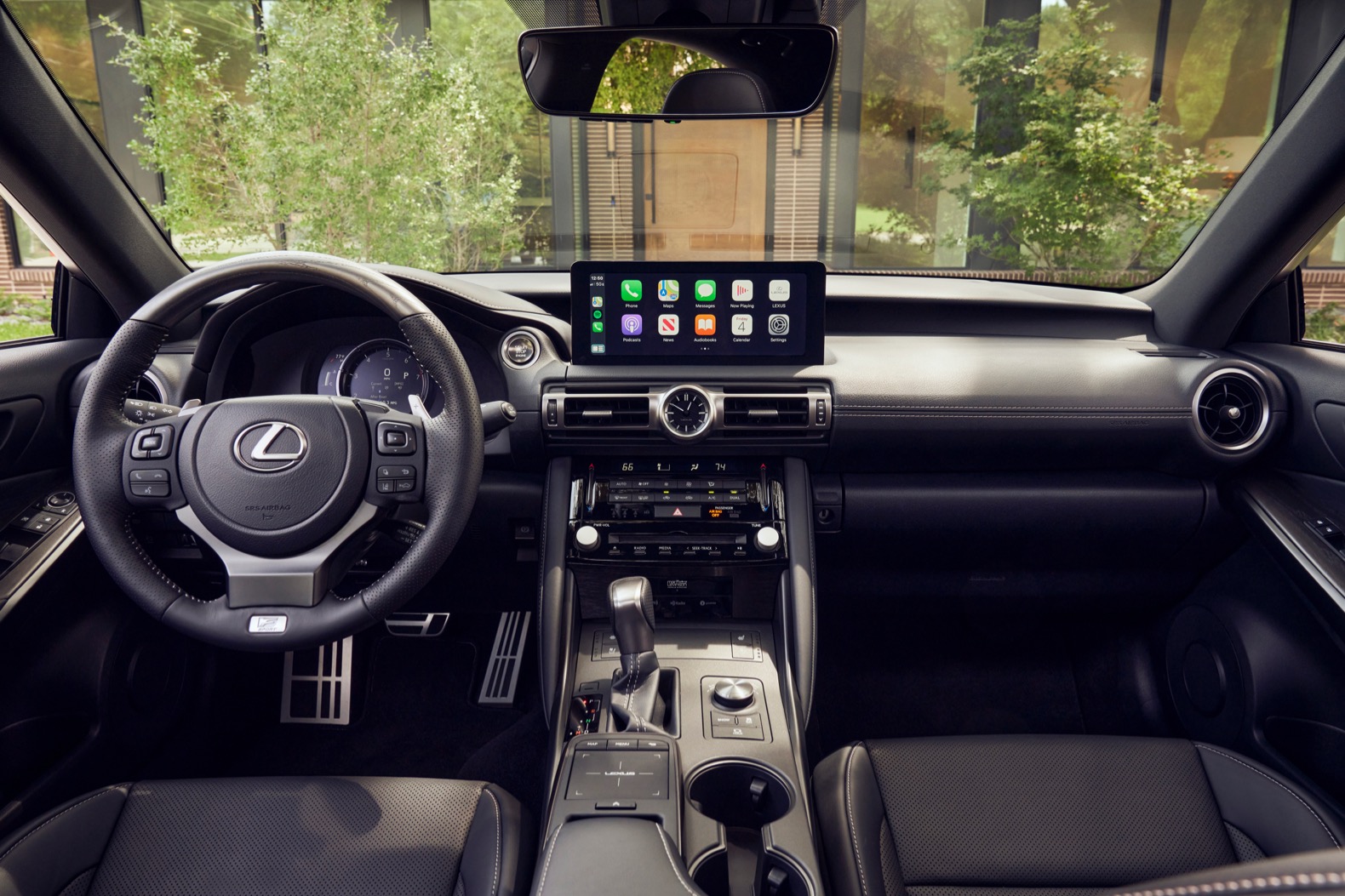 The 2021 Lexus IS has improved. Inside, a new touchscreen rules over a horizontal dash that accentuates the low and wide profile with stylish circular vents on the outside. In the center, it tends to the busy side with buttons, dials, and a temperature climate control slider that's wider for a better feel. Gratefully, a touchpad replaces the old controller thing, but the analog clock remains under the touchscreen, as if to show this is after all a Lexus.

The 2021 Lexus IS grows by an inch in length and width over the 2020 model, but Lexus didn't address the interior roominess that limit the appeal of the IS. Synthetic leather seats with 8-way power adjustments welcome front seat riders, but the tight rear seats may cause some to pause if you frequently have rear seat riders. The driver of an all-wheel-drive IS 300 or IS 350 must contend with a hump in the driver's footwell from the all-wheel drive system. You can rest your calf on it while cruising, which can be comfortable but might take a little getting used to. The IS is a car better equipped to handle two, with well-bolstered front seats and enough adjustability to stay comfortable on longer trips.

It seats five but the middle seat rider has to contend with a significant hump from the drive shaft running to the rear differential. That spot is better used for a flip down armrest with cupholders, or to fold down the 60/40-split rear seats. With only 32.2 inches of rear leg room, the rear seats might be better off being folded down. By comparison, the BMW 3-Series has 3.0 inches more rear leg room. Like the other interior dimensions, cargo volume in the trunk remains the same 10.8 cubic feet. It's wide but shallow, and the small-ish opening requires some clever angling of larger items.

The 2021 Lexus IS comes in essentially two well-equipped trims with a few optional packages and a godo warranty. An improved infotainment system begins to correct a longstanding gripe. The standard 8.0-inch screen has morphed into a touchscreen moved 5.5 inches closer to the driver, and a touchpad replaces the balky mousy controller. The driver can access most of the useful info through the steering wheel controls, touchpad, touchscreen, or voice commands. Standard Apple CarPlay, Android Auto, and Amazon Alexa help the cause. The available 10.3-inch touchscreen helps the cause even more.
With just two trim levels but three carryover powertrains, the price spread on the 2021 Lexus IS is pretty small. It starts at $40,025 for the IS 300 with the turbo-4, and finishes where we'd want to be at $43,925 for the IS 350 F Sport with the 311-horsepower V-6. All-wheel drive adds $2,000 to either. If performance doesn't matter, standard features on the IS 300 include 18-inch wheels, synthetic leather seats, 8-way power-adjustable front seats, keyless start, LED head- and taillights, two USB ports, as well as the infotainment and safety upgrades mentioned above. The IS 300 is a pretty good value for $40,025, including destination. All-wheel drive with the smaller V-6 add $2,000.

The recommended Lexus IS 350 F Sport is $43,925 while all-wheel drive is $2,000 more. It comes with distinct color options, bumpers, rear spoiler, exhaust tips, and 19-inch wheels. On the inside, it gets a distinct instrument cluster, aluminum pedals, and available red synthetic leather. The front seats come heated and cooled, and a heated steering wheel comes standard. Options include a power sunroof, 17-speaker Mark Levinson sound system, and the dynamic handling package. Add those and the price climbs over $50,000. Lexus still have a better-than-average 4-year/50,000-mile warranty with the first two scheduled service calls included.
The Lexus IS is an even better vehicle than it was before with its 2021 nip and tuck. Luckily the slew of changes and updates address a lot of the IS's previous shortcomings. The newly invigorated IS still has impressive handling dynamics and value but now sports a chiseled new look and better technology.  Adding in Lexus reliability and resale value only make the new IS a must see.
For all your new car shopping needs, check out: drivevise.com Vehicle shopping made simple!