The 2021 Honda Ridgeline is the just-right pickup most users really need. The Ridgeline is a mid-size pickup that splits the difference between crossover SUVs and utilitarian trucks such as the Toyota Tacoma, Nissan Frontier, and Ford Ranger.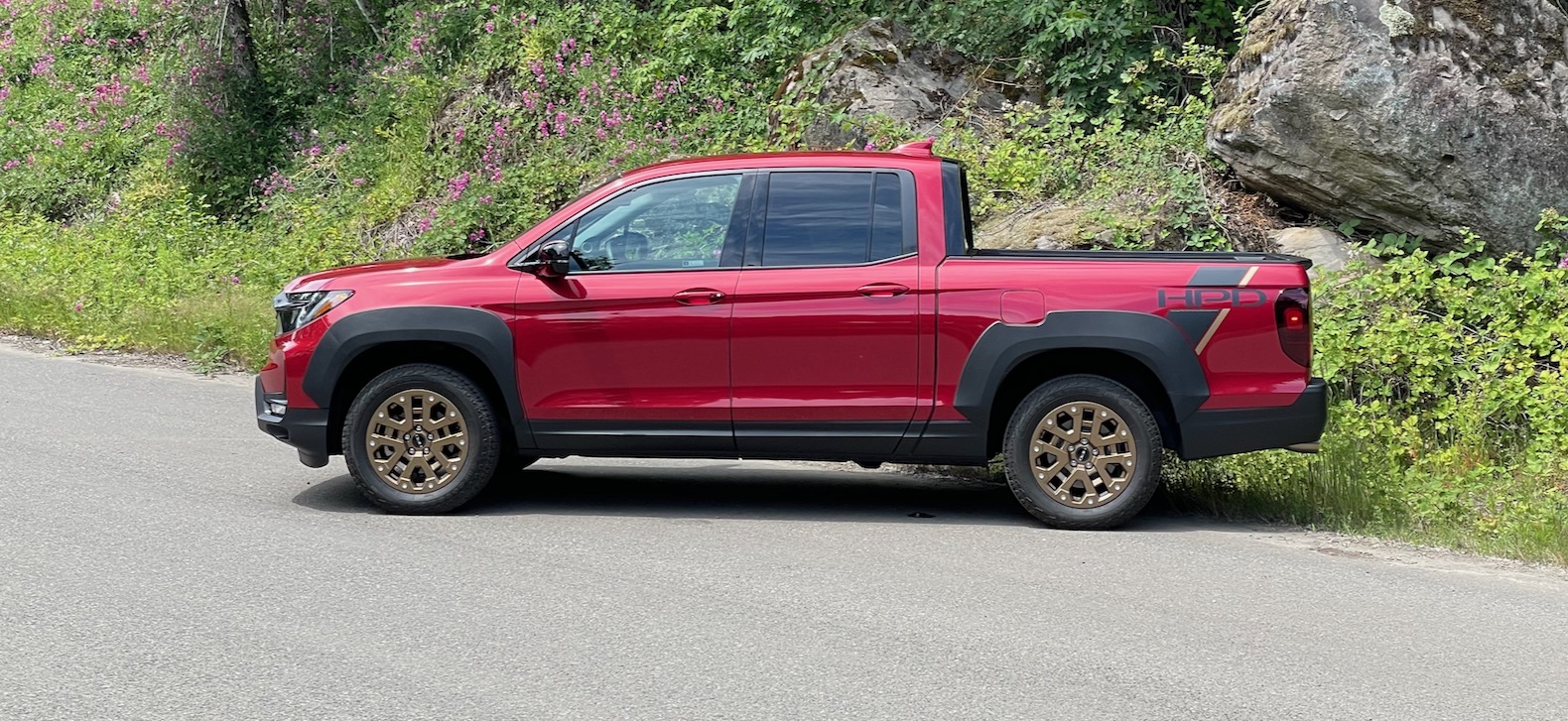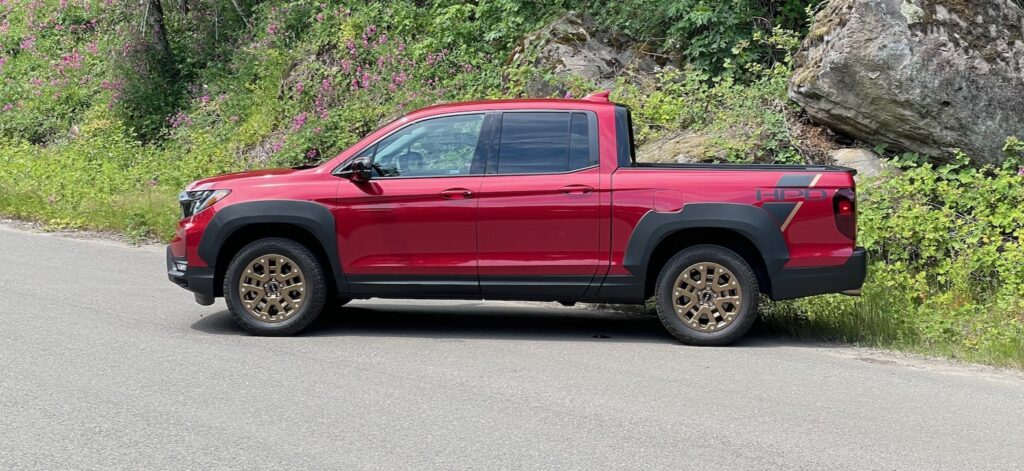 Sold in Sport, RTL, and RTL-E trim levels, the 2021 Ridgeline is an excellent pickup thanks to its crossover-like driving attributes and interior as well as its impressive utility. For 2021, Honda tweaked the Ridgeline's looks this year, giving it more conventional styling to look less like a soft crossover and more like a rugged truck. Its bones remain the same, though. Additionally, a new Honda Performance Development model, that's HPD, in Honda-speak, tosses in different styling with nifty bronze wheels.

Though it's still not as beefy-looking as its rivals, the updated 2021 Honda Ridgeline has more of a the broad-shouldered look to its front end than before. This year, its grille is oriented vertically, and is topped with a chrome brow that slices into upsized LED headlights. New HPD bits include black fender flares and bronze-hue wheels, but no major functional upgrades.

Otherwise, the Ridgeline is largely the same today as it was when the current model debuted for the 2017 model year. That's no bad thing. Underhood, you'll find 280 horsepower from a 3.5-liter V-6, shuffled to all four wheels through a 9-speed automatic transmission. The all-wheel-drive system lacks the mud-plugging low range found in rivals, but most buyers won't miss it. Tow ratings rise to 5,000 pounds.

The Ridgeline rides and handles like a Pilot. It's comfortable and smooth on almost any road surface, and the steering doesn't have the remote and disconnected feel of most mid-size pickup trucks. Honda fits four-wheel drive on the Ridgeline. The all-wheel-drive system has a lock button for deeper snow or muck.

The Ridgeline shares its structure with the Honda Pilot, which is one of our favorite SUVs. You'll find a similarly spacious passenger compartment, with convenient controls and a standard 8.0-inch touchscreen that now incorporates an actual volume knob rather than a distracting slider. The dash largely shared with the Pilot and Passport crossovers has more graceful, flowing lines than we typically see from a truck. The upside: controls, such as the updated infotainment system, are easy to locate, and storage bins are all over the place. Firm, supportive front seats are paired with a rear seat that can be folded up to increase weather-tight cabin storage if needed. Five people fit easily and comfortably.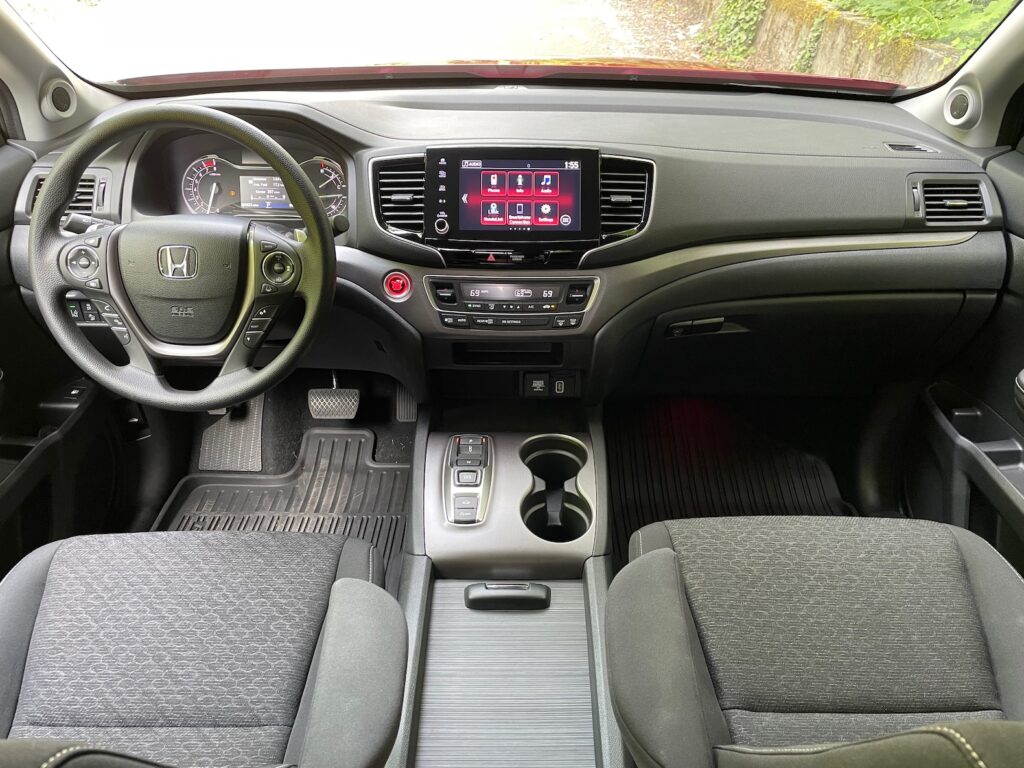 The bed measures about 60 inches long and 50 inches between the wheel wells, meaning it's on the small side for a pickup. Make no mistake, though: the Ridgeline is properly useful. A dual-action tailgate is hinged at the bottom or can be swung to the side to make loading heavy items easy. Our favorite feature might be the in-bed trunk, which can be hosed out, used as a cooler, or simply as water-tight storage. Honda even offers in-bed charging and speakers for excellent tailgating.

Honda provides among the most comprehensive crash-test gear of any pickup as standard fare. Look for automatic emergency braking, active lane control, and adaptive cruise control on every Ridgeline. Crash-test scores come in at five stars overall for the NHTSA, but the IIHS calls its headlights "Marginal" and its passenger-side front-impact protection "Acceptable."

Honda sells the Ridgeline in Sport, RTL, and RTL-E trim levels, and adds on a Black Edition or an HPD package to those models. We rate the range at 8 out of 10 for its standard and available features and for its value. Unless you really want a sunroof or leather upholstery, we suggest sticking with the base Ridgeline Sport. Priced from $37,665, it offers standard LED headlights, keyless start, cloth upholstery, power features, 18-inch wheels, and an 8.0-inch touchscreen with Apple CarPlay and Android Auto compatibility. RTL editions gain leather upholstery, a power sunroof, a 10-way power driver seat and a power passenger seat, for about $3,000 more.

The 2021 Honda Ridgeline is unique in the best way possible. It takes a very different approach to truck life; one that for more than 95% of the population is a perfect fit. While it may not have boulder-hopping capability and huge towing capacity; the benefits of a car-like driving experience, smoother and quieter ride, and better flexibility more than out weight the slight drawbacks. At least now it has some butch looks to go with it's pedigree. In the end, Honda's Ridgeline is the best midsize pickup truck money can buy.