With the 2020 Supra, Toyota doesn't disappoint. The new Supra has agile moves, turbocharged inline-6 power, and loads of smile-inducing fun. It's been a 21-year wait, but sports car fans finally have a new Supra from Toyota. The 2020 Toyota Supra returns as a hatchback coupe developed as a collaboration between Toyota Gazoo Racing and BMW. It features inline-6 power, which enthusiasts and purists will view as a proper engine for a Supra. Short, wide, and powerful, the 2020 Supra is one of the more agile sports cars on the market. It launches from 0 to 60 mph in just 4.1 seconds, attacks corners like an autocross champion, and is loads of fun to toss around town or a track.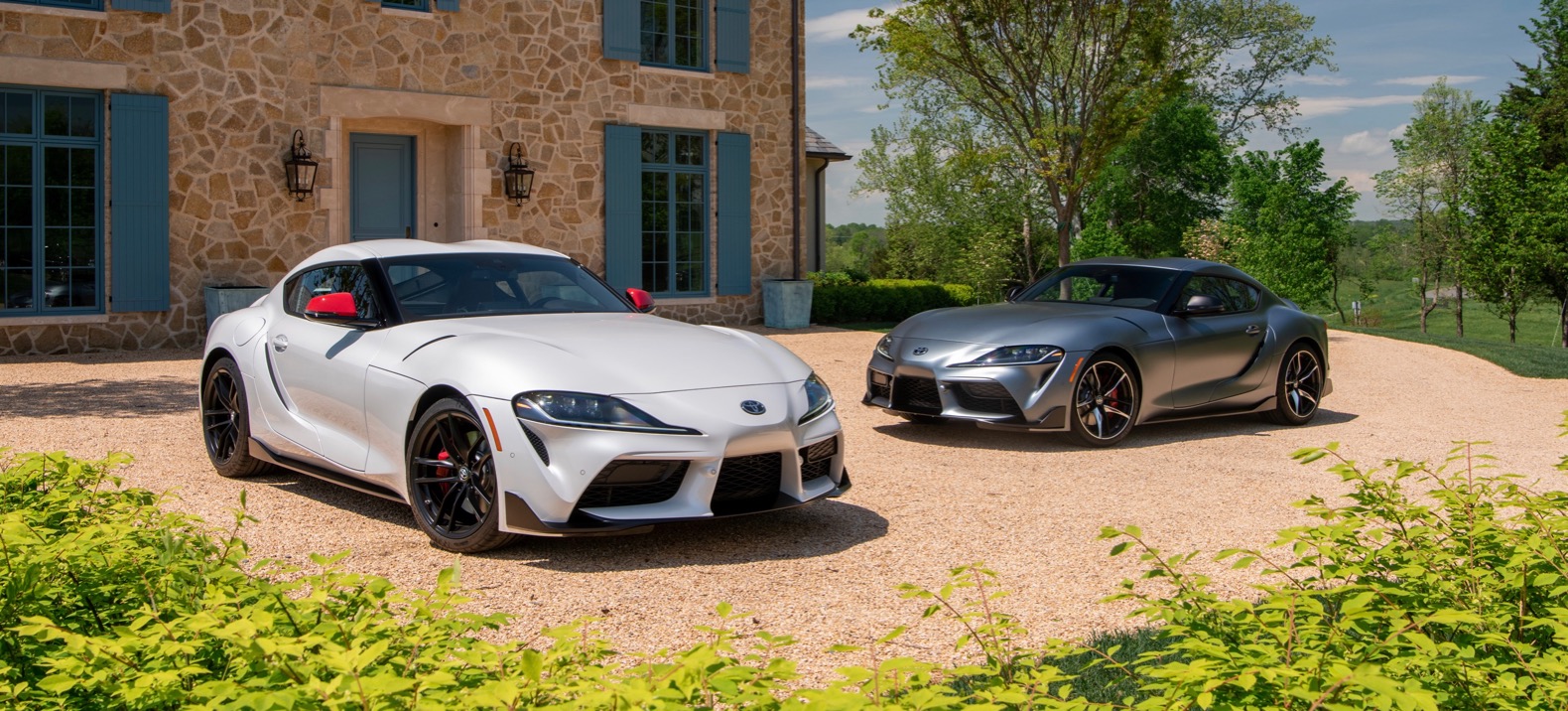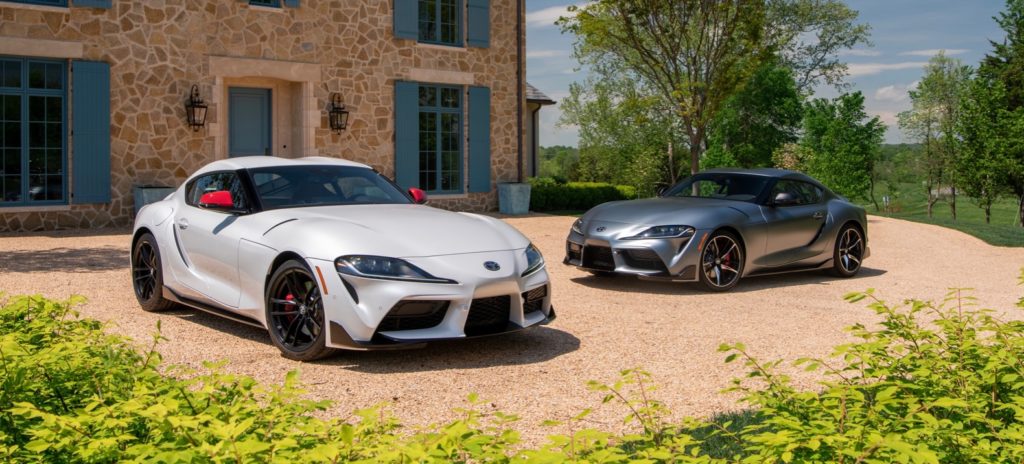 The fifth-generation Supra takes some of its design cues, mostly its basic shape, from the fourth-generation car of the 1990s but the look is effectively a shortened version of the FT-1 concept car shown in 2014. Its body is sculpted, with rounded organic shapes, creases for air ducts, and a nose that resolves into a semi-horse collar look. The Supra has classic sports car proportions with a long hood, a set-back cabin with a double-bubble roof design, wide rear haunches, and a short rear deck with a prominent spoiler.
Sports car enthusiasts will appreciate the Supra's stiff structure, perfect 50/50 weight balance, and low center of gravity. Underneath, it features aluminum front control arms to reduce unsprung weight, a five-link rear suspension also made from aluminum, and adaptive adjustable dampers. It also has an active rear differential, variable-assist and variable-ratio power steering, and 13.7-inch front brake rotors with four-piston calipers. The Supra rides on staggered Michelin Pilot Super Sport tires, 255/35R19 up front and 275/35R19 out back. Total weight is 3,397 pounds.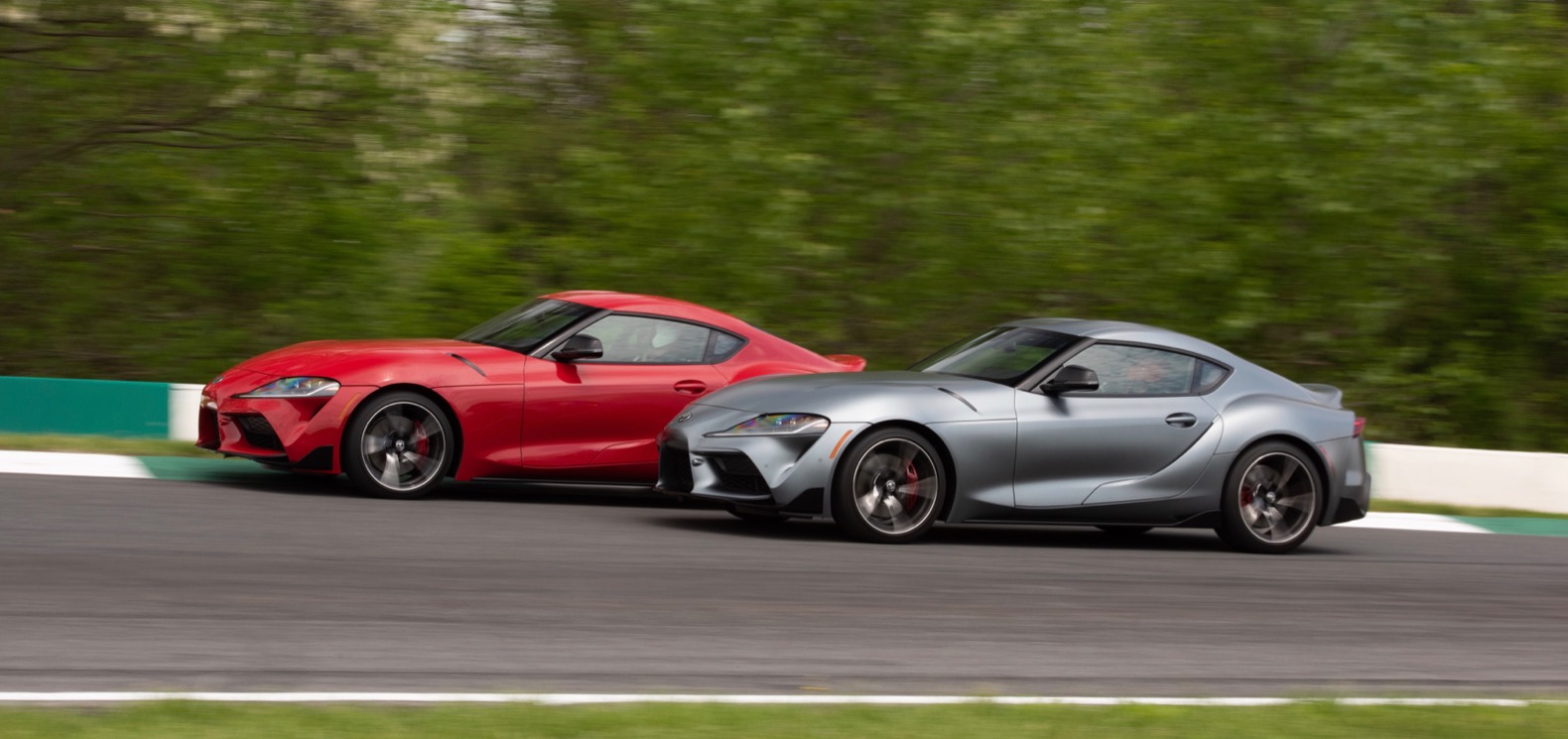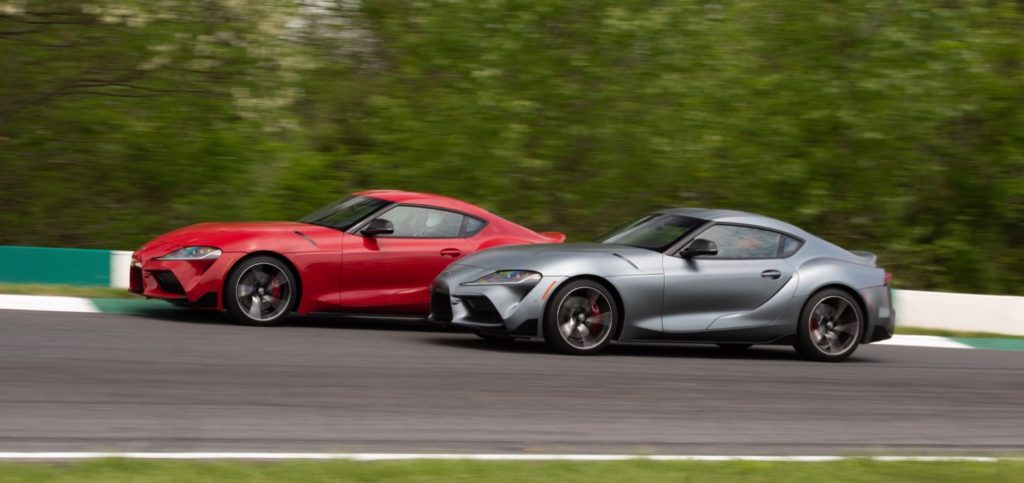 Push the Supra on a track or autocross, and it comes alive with slot receiver agility and immediate, rambunctious acceleration. The short wheelbase foregoes cornering stability for a more playful cornering attitude. It's fun to play with the car's angle of attack with careful application of the brake and throttle in a corner, but we don't recommend turning off the stability control for fear the rear end will step out too far. Two drive modes are standard: Normal and Sport. Each mode adjusts the traction control, throttle response, steering weight, transmission shift points, differential tuning, and exhaust sounds. The Normal mode activates a Comfort setting for the dampers that makes the Supra reasonably comfortable on the street.
Short and wide, the Supra reinterprets the FT-1 concept's looks with lines, creases, and ducts that are sure to polarize. The Supra scales the FT-1 concept's looks down to a smaller vehicle while incorporating classic sports car themes. It works in some ways and it's sure to polarize. It's dynamic and bold, with strong rear haunches to highlight its rear-drive architecture, a long hood to call out its inline-6 lineage, and a set-back cabin that hints at the perfect 50/50 front/rear weight distribution. Along the way, the Supra is replete with curves, scoops, and character lines.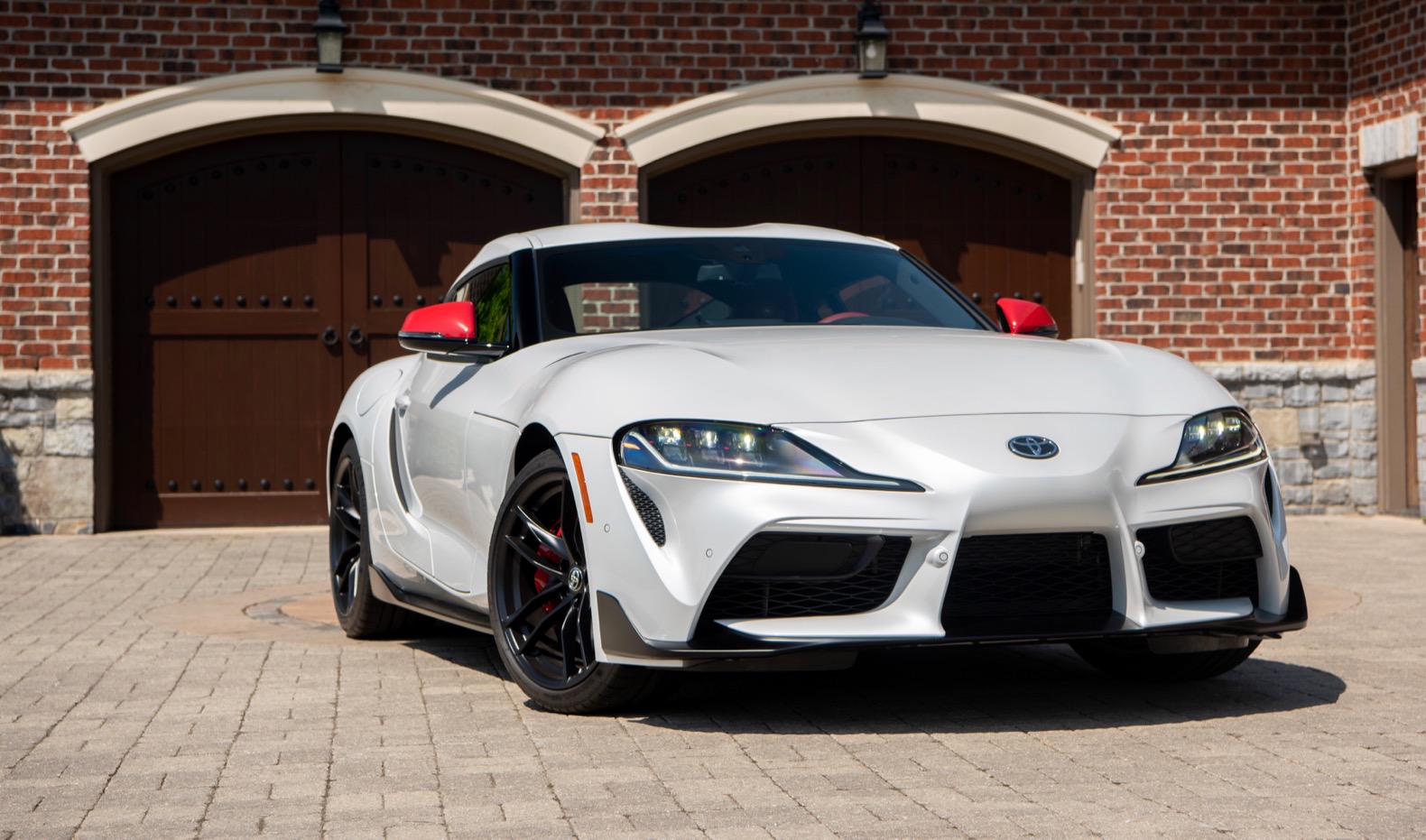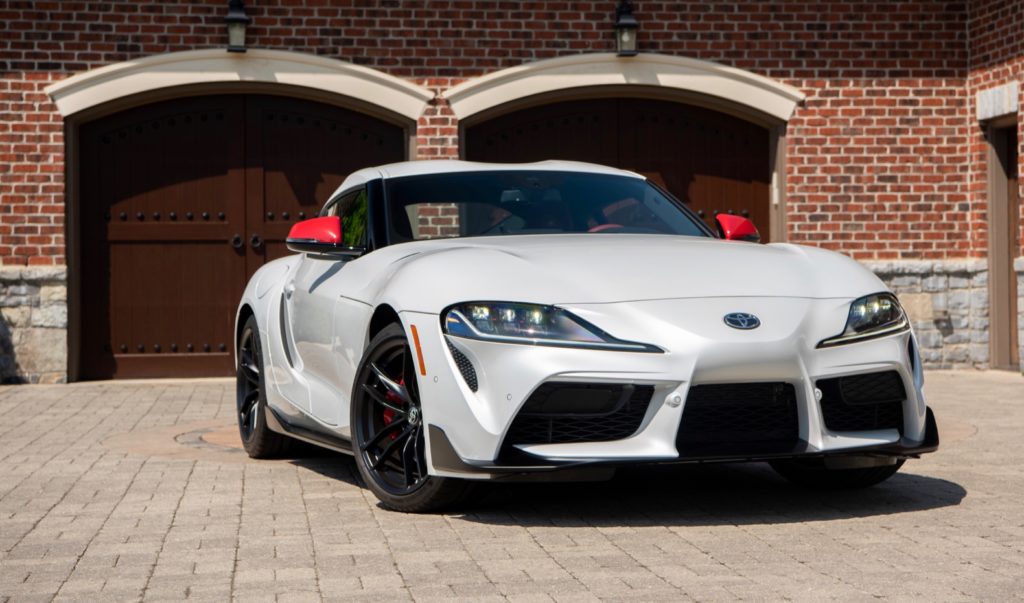 Up front, the Supra uses a slightly different take on the FT-1's open-wheel racer-inspired front end, and adds a central grille that reads as a small horse collar shape. The ducts and scoops up front and along the sides serve to cool the high-output engine and the brakes. The six-lens headlamps contain three low- and three high-beams as well as an LED daytime running light signature underneath. Curved lines flow over the hood, up onto the double-bubble roof, and along the sides, where a character line starts at the bottom and resolves into a large rear-wheel haunch complete with a cooling duct. At the rear, the roof angles down quickly, creating a teardrop shape for the side windows, then meets an integrated kick-up spoiler that is meant to recall the hoop spoiler of the fourth-generation car. From the dead-on rear, thin LED taillights flow out of air ducts, a central light panel recalls the center grille up front, and numerous lines come together in a busy design. Overall, the Supra shouts for attention and will be sure to receive it.
Under the hood sits a BMW turbocharged 3.0-liter inline-6 that spins out 335 hp and 365 lb-ft of torque. Those numbers seem under-reported, as the Supra can vault from 0-60 mph in just 4.1 seconds and is electronically limited to 155 mph. Power is always at the ready thanks to a twin-scroll turbo that makes peak torque available at just 1,600 rpm, and the 8-speed automatic transmission delivers almost telepathic gearshifts. On the road, the Supra feels stable, hunkered down, and reasonably comfortable. The standard adjustable adaptive dampers' Comfort setting help the suspension soak up road imperfections better than expected for such a small, sporty car.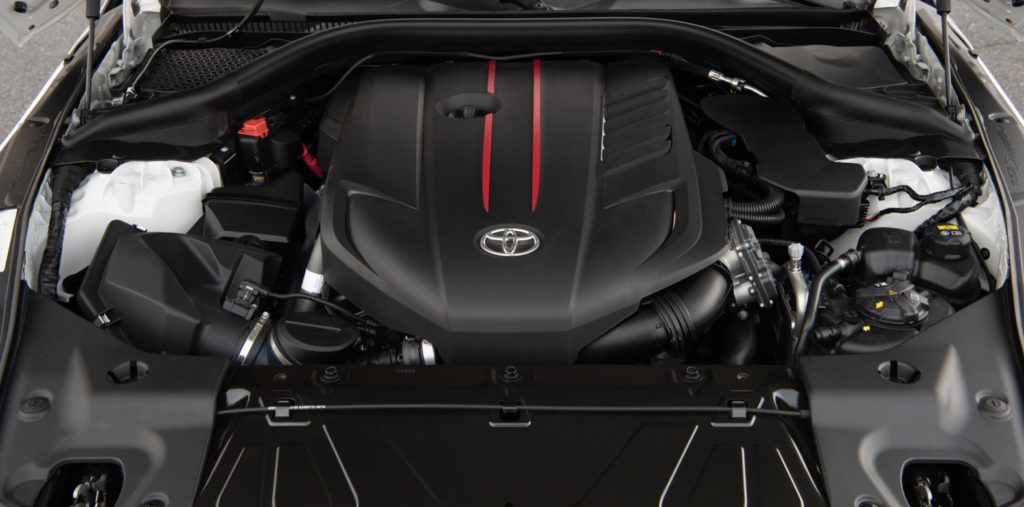 Short and wide, the 2020 Toyota Supra excels for both agility and power. The Supra expands Toyota's sports car offerings over the 86 with a shorter, wider coupe that offers far more grip and power. It's built to slay autocrosses and provide lots of fun on a racetrack. The Supra shares its structure with the BMW Z4, and uses the same double-joint spring strut front suspension, five-link rear suspension, and adaptive adjustable dampers with Comfort and Sport settings. Its wheelbase is just 97.2 inches, which is 4 inches shorter than the already small Toyota 86, but it's almost 3 inches wider than that car.
Those dimensions team with a very low center of gravity to give the Supra incredible agility. The car darts into and out of corners, has great grip, and changes directions like a humming bird. While the Supra is stable during heavy braking, the downside is instability during at-the-limit cornering. That's actually a blessing and a curse. It's fun to adjust the car's attitude with the throttle and brake in the middle of a corner, but the Supra doesn't track true through a corner like sports cars with longer wheelbases. It's fidgety in a corner and the rear end wants to swap places with the front if the driver hits the brake or gas too hard in the middle of a turn.
Considering its power and speed, the 2020 Toyota Supra won't set you back too far at the pump. Not too many cars can get 31 mpg on the highway and sprint from 0-60 mph in 4.1 seconds. One of them is the 2020 Toyota Supra with EPA estimates of 24 mpg city, 31 highway, 26 combined. Those ratings are for the turbocharged inline-6 engine with an 8-speed automatic transmission. Future Supras could be even more efficient should Toyota add the turbo-4 from the BMW Z4. A manual transmission could come as well.
New to the market, the 2020 Toyota Supra lacks crash-test ratings, but it offers a nice array of active safety features. The 2020 Toyota Supra is both new and a low-volume sports car. Therefore, it hasn't been crash tested by either of the U.S. agencies that do that kind of testing and it isn't likely to be any time soon. However, the 2020 Toyota Supra comes standard with eight airbags, forward-collision warnings with automatic emergency braking, and active lane control. Offered in the optional Driver Assist Package are adaptive cruise control, blind-spot monitors, rear cross-traffic alerts, and front and rear parking sensors. The Supra's stability control program has three settings: On, Sport, and Off. Drivers can use the Sport or Off settings for spirited track driving to let the car slide around without the stability control stepping in too soon (in the case of Sport) or at all (for Off).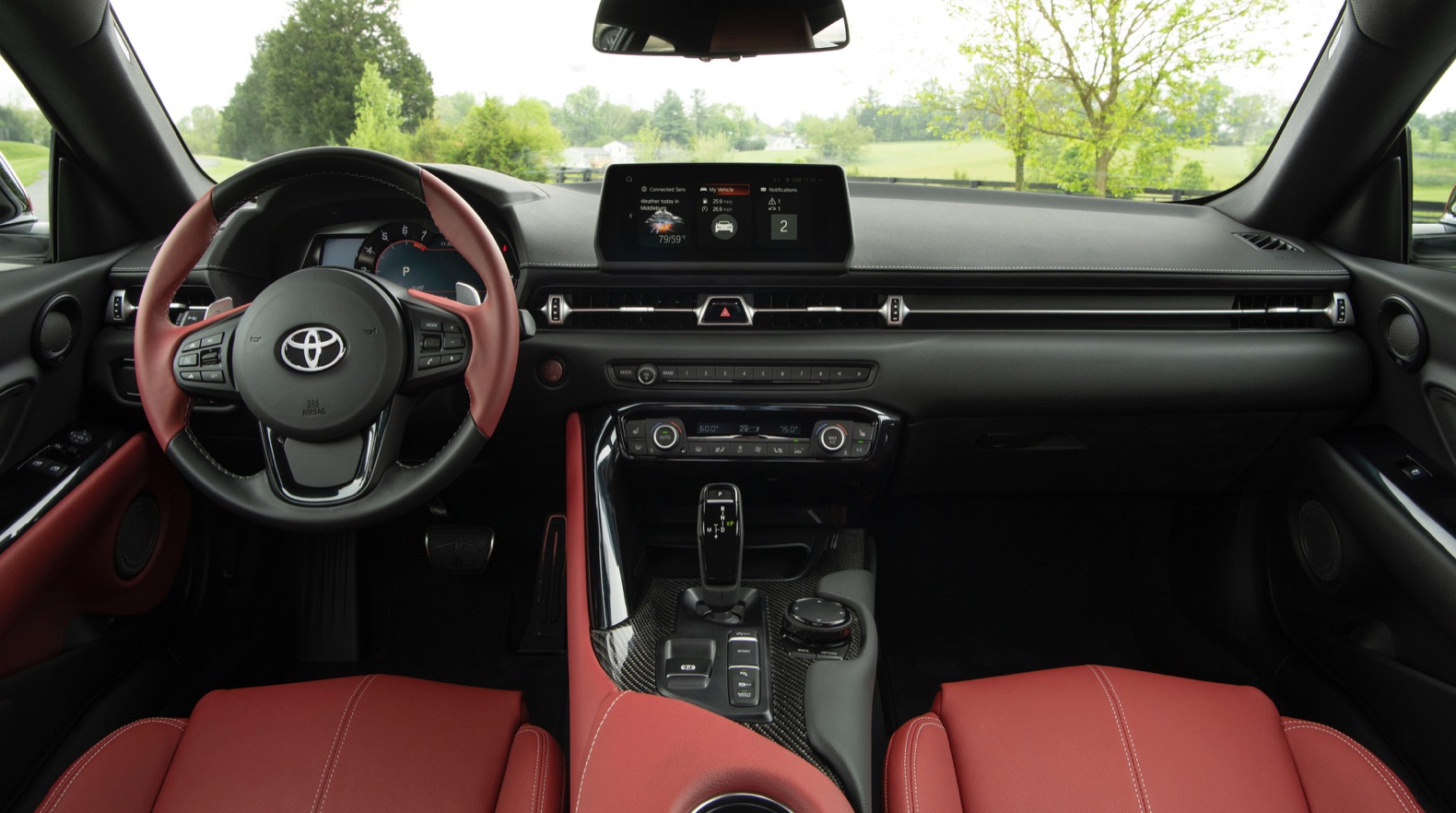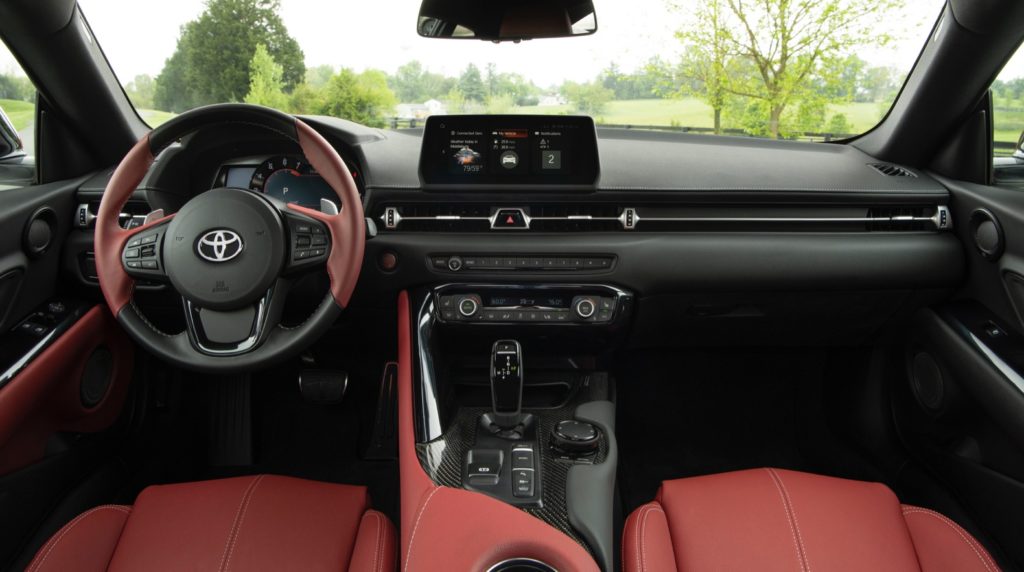 The Supra feels like a BMW inside because it uses BMW components. Its strengths include comfortable, form-hugging seats and a driver-focused control layout, but tall drivers will want more leg room and the Supra lacks a rear seat. Occupants sit snugly in the Supra, wrapped in 14-way adjustable sport seats with enough bolstering to keep them stable during the spirited driving the Supra encourages. Leg room starts to become a problem for drivers taller than 6-foot-1 inch like your editor. From the driver's seat, the controls are all within easy reach. The base setup includes a 6.5-inch screen and BMW's iDrive rotary controller. Go for the 3.0 Premium model or the Launch Edition and the center screen grows to 8.8 inches and adds touch capability to go with that rotary knob. With either setup, drivers gather a variety of information from an 8.8-inch digital gauge cluster.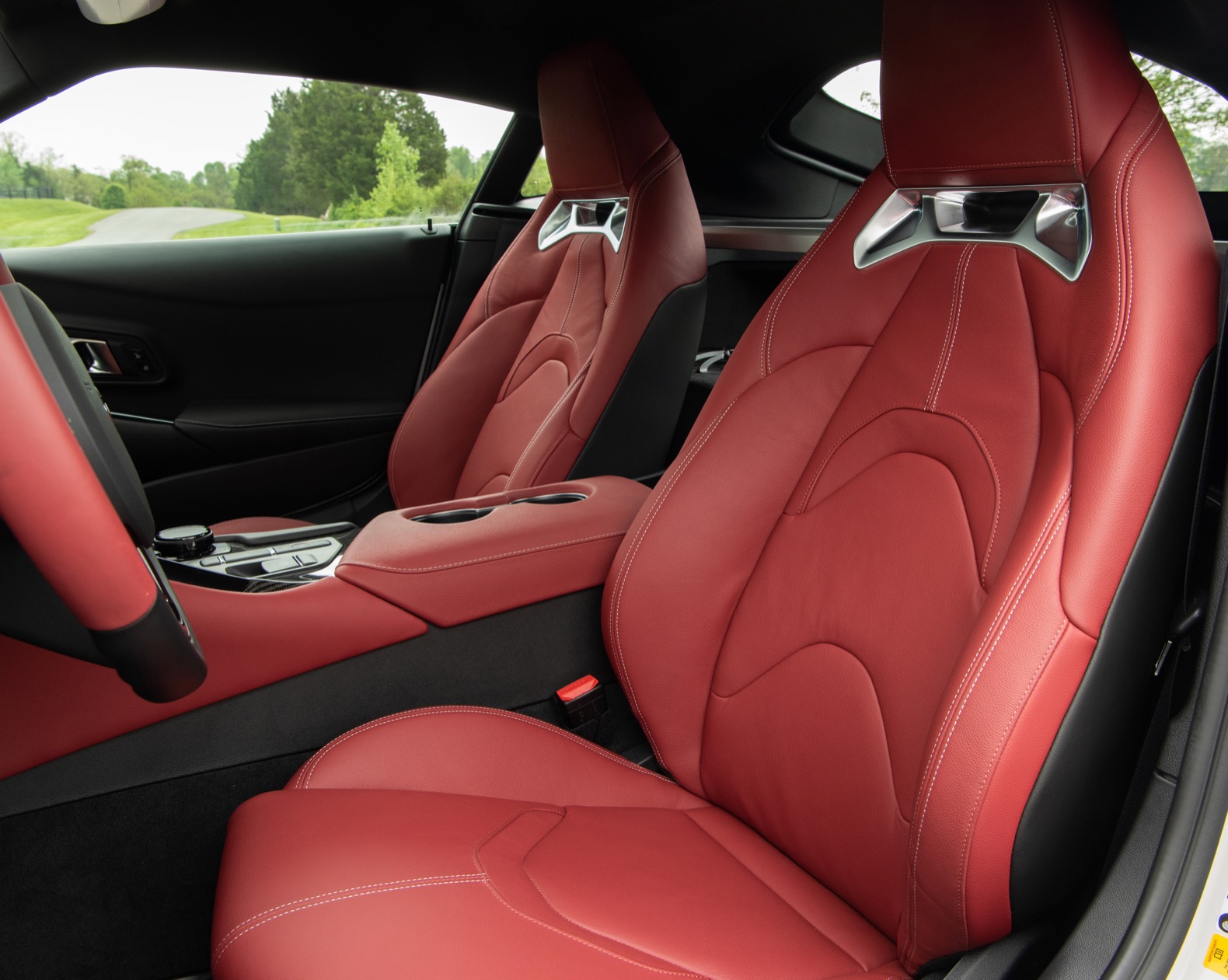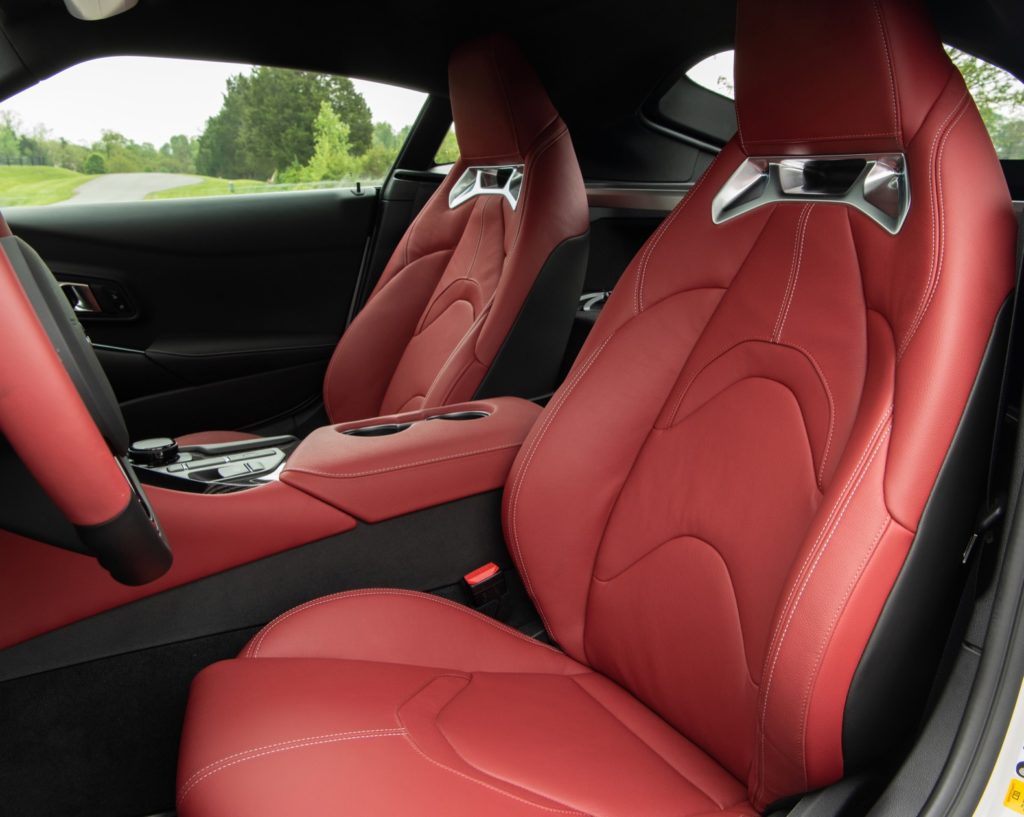 The interior may be BMW in design and execution, but it's rather stark. Toyota opts for a black theme for all but the Red and White Launch Edition models, which get red seats. Still, all the dashboards are black, with some nicely stitched soft-touch surfaces and carbon-fiber trim. It's quality we'd expect for a $50,000 sports car. The Supra won't wow for cargo space, but its hatchback design leaves a pass-through to the rear for some longer items. Don't expect skis to fit, though, unless you want them to sit up on the dash. The fast roofline means a carry-on bag will barely fit under the hatch. Total cargo volume is small for a hatch at 10.2 cubic feet, but that's about the size of a subcompact sedan's trunk.

The 2020 Toyota Supra is a value among sports cars with a reasonable price to go with its raucous performance. The Supra comes well equipped and additional features aren't too much of a stretch. Toyota offers the 2020 Toyota Supra in the 3.0 and 3.0 Premium trim levels, plus a special Launch Edition. Standard equipment on the 3.0 model includes keyless entry and starting, an 8.8-inch digital gauge cluster, a 6.5-inch center screen, satellite radio, a 10-speaker audio system with 205 watts of power, Bluetooth connectivity, 14-way power adjustable Alcantara sport seats with driver's side memory, dual-zone automatic climate control, automatic LED headlights, and 19-inch forged aluminum wheels that mount staggered Michelin Pilot Super Sport tires.

The 3.0 Premium model adds an 8.8-inch center touchscreen with navigation and touch-sensitive dial, Supra Connect telematics, wireless Apple CarPlay compatibility, wireless phone charging, a color head-up display, a 500-watt JBL sound system with 12 speakers, and larger rear brakes. Toyota will build 1,500 of the Supra Launch Edition models based on the 3.0 Premium. They all get red mirror caps and matte black wheels. White and black versions also feature a red interior and carbon-fiber trim. All also have a dash plaque with Toyota CEO Akio Toyoda's signature. The only option of note is the Driver Assist Package with adaptive cruise control, blind-spot monitors, rear cross-traffic alerts, and front and rear parking sensors. The base 2020 Supra costs $50,920 for the 3.0 and prices rise to $56,180, including destination, for the Launch Edition, which comprises the first 1,500 cars.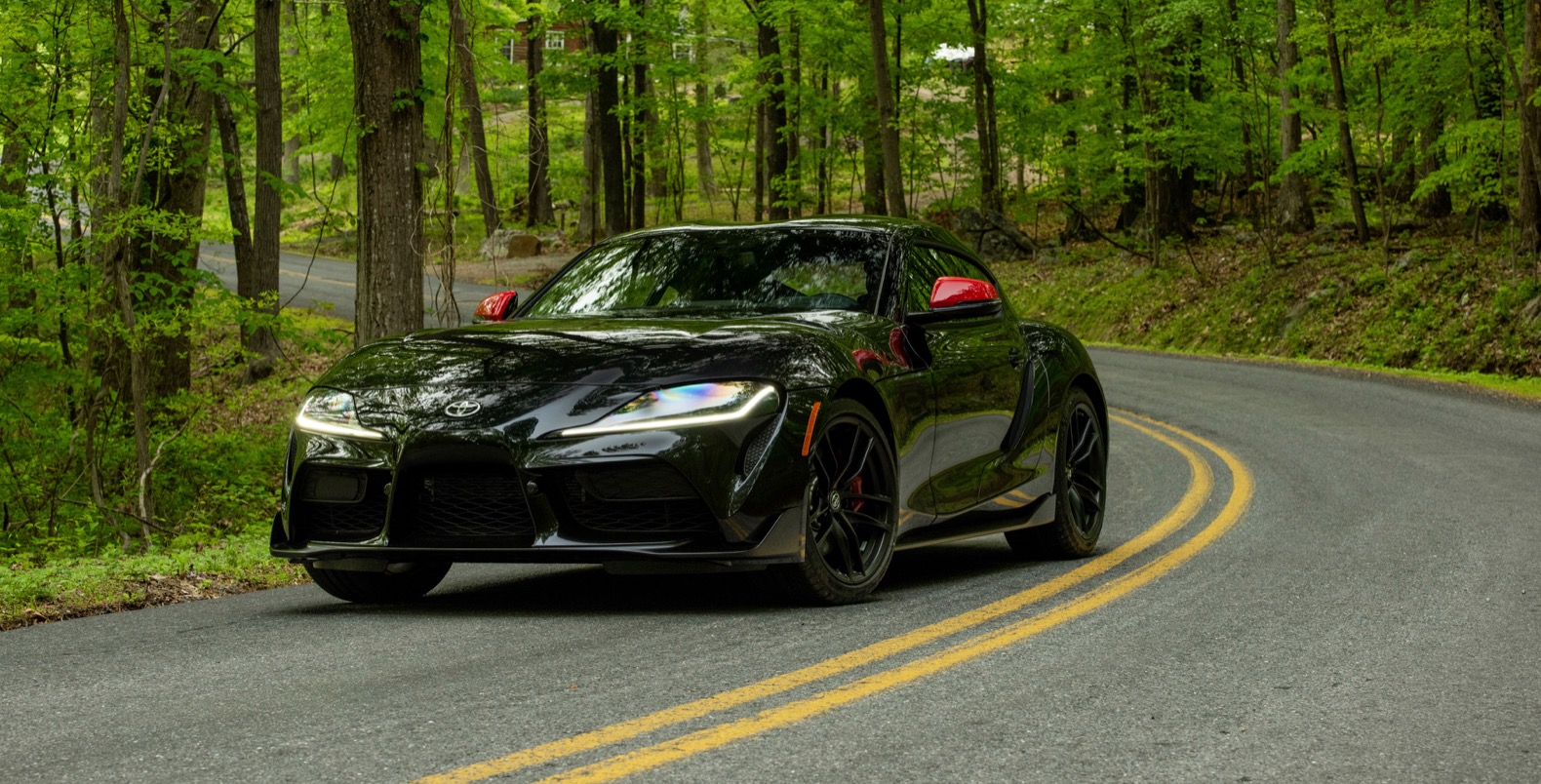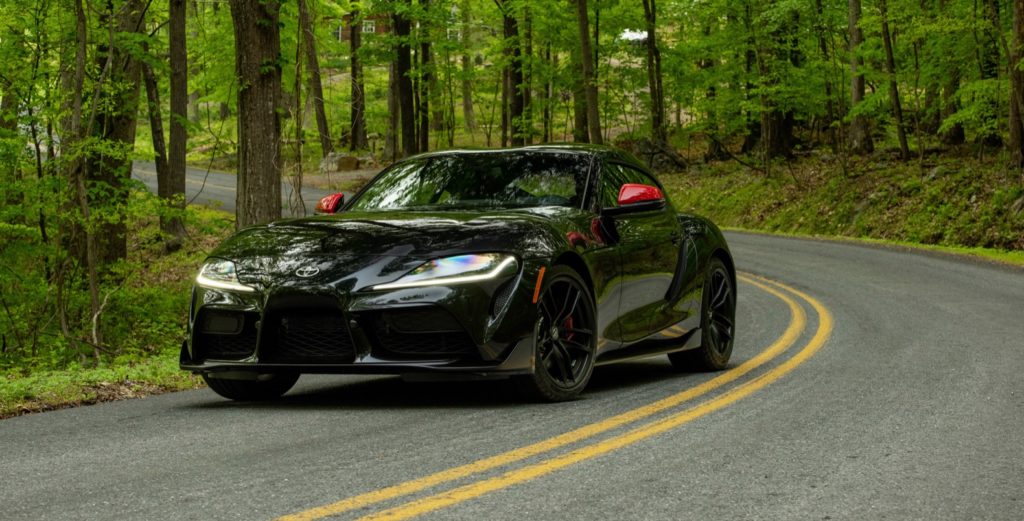 Purists should rejoice in the return of the Supra, regardless of its platform sharing. All the Supra superlatives are present: polarizing performance with a hallmark inline-6 engine, stunning styling, and great value for the money. Toyota has once again has a winner on its hands. The new Supra might have been a long time in coming, but it was well worth the wait.

For all your new car shopping needs, check out: drivevise.com Vehicle shopping made simple!