The 2020 Lexus GX is a rugged luxury SUV for those few who want serious capability in a plush package. The GX 460 is probably the most capable off-roader valet parked in front of a swanky restaurant or an upscale shopping center, at least as long as there are no Range Rovers present. For many buyers, that image is important, even if they won't use the 2020 GX's prodigious capabilities. Mildly revised styling up front this year is offered in a streamlined lineup available in base, Premium, and Luxury trim levels. Lexus pulled some of the more serious off-roady bits previously standard on high-spec GXs and made them available in a single extra-cost Off-Road package, a move we applaud almost as much as the newly standard active safety tech. A revised Sport Design appearance package goes in the opposite direction with taller wheels and zippier styling bits.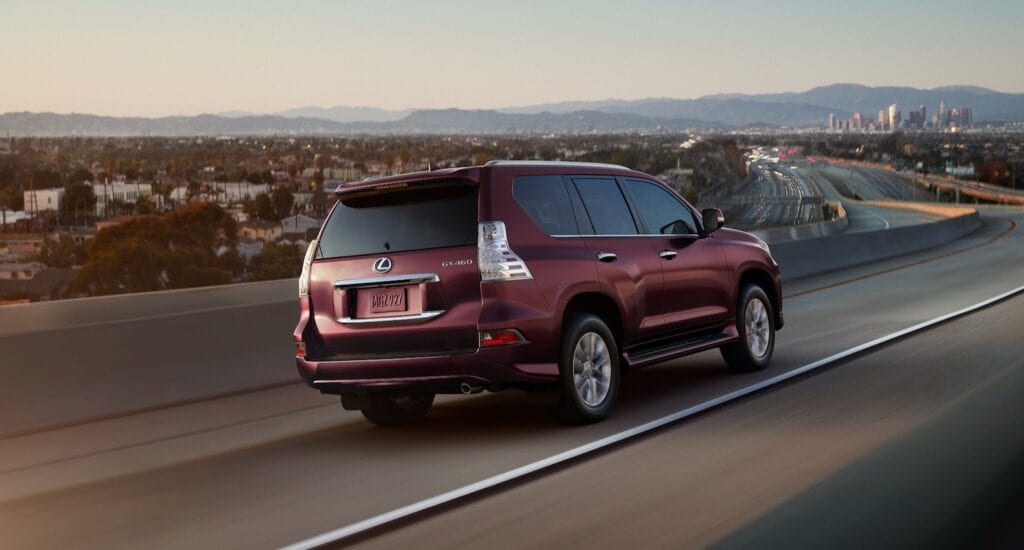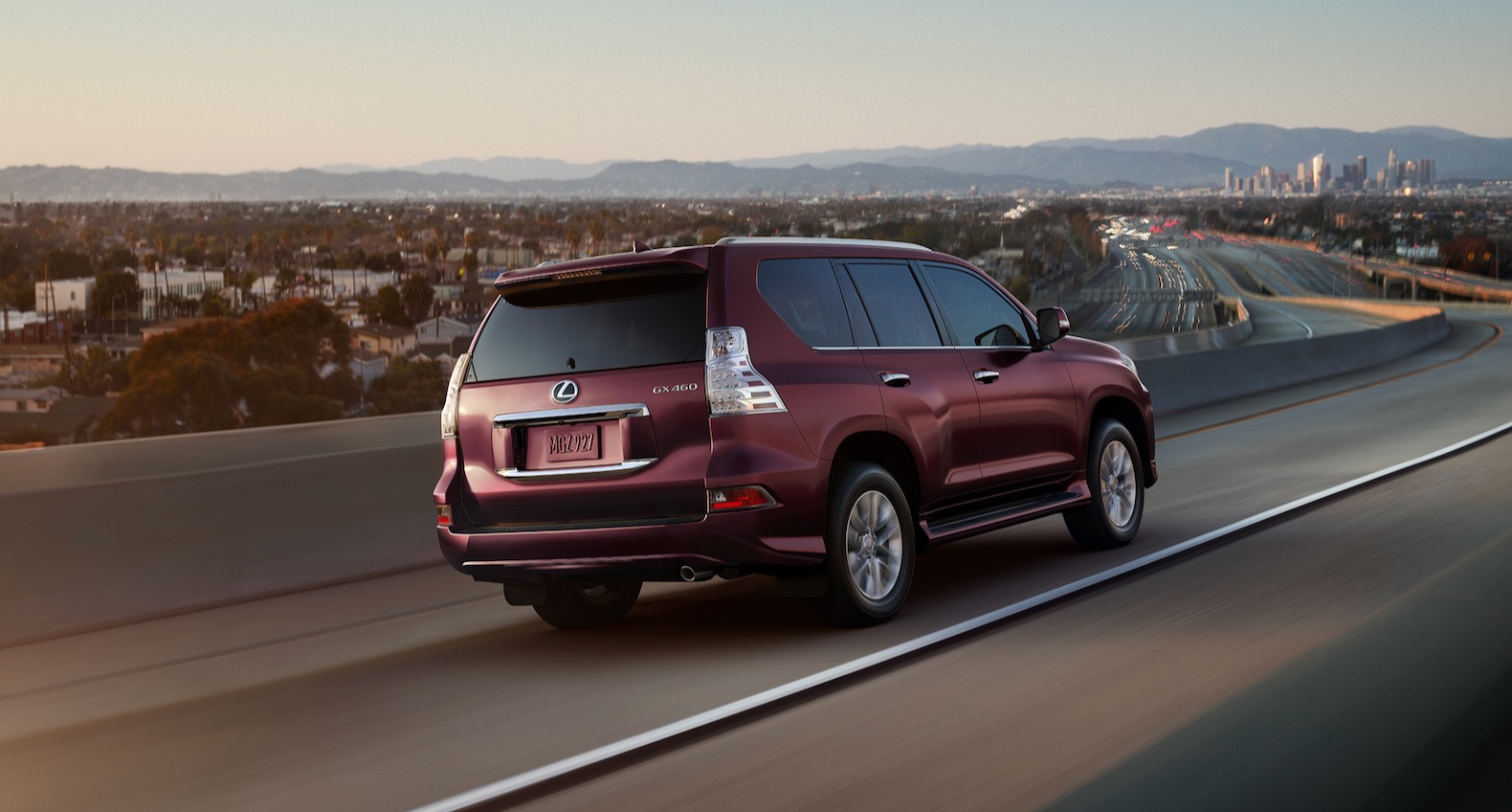 All GXs use a 4.6-liter V-8 to shuttle power to all four wheels through a 6-speed automatic transmission and a two-speed transfer case. The separate ladder frame and coil-sprung solid rear axle, a load-leveling rear suspension is optional, delivers a plusher ride than you might expect, good off-road ability, and a 6,500-pound trailer-towing rating. Handling is a mixed bag of sloppy steering and decent body control afforded by a high-tech hydraulic system that works with massive sway bars to trim body lean. After curiously relegating collision-avoidance tech to only the highest trim levels last year, Lexus this year made automatic emergency braking and adaptive cruise control standard on every GX.
The 2020 Lexus GX 460 is like an avant-garde hiking boot. Sure, it exists, but does it work? This year, the GX's massive grille has a new texture and design that looks more like the automaker's sedans. It blends well with the bulky upright exterior and bulging fender flares; never mind that the low-hanging front bumper is a detriment to real off-road use. The optional Sport Design package includes 19-inch alloy wheels and dark-finish exterior trim. The GX is a rarity at the rear where the tailgate is hinged on the passenger's side; it takes some getting used to but is handy without the overhead weight.
The 2020 Lexus GX 460 can go further off-road than many drivers are likely to venture. It may have a flashy grille, but the 2020 Lexus GX is old-school 4×4 underneath. Its separate chassis, truck-style solid rear axle, and two-speed transfer case read like they're out of a 1995 SUV brochure. Still, the 2020 GX does a surprisingly good job with its old-fashioned tools. Its soft ride and off-roady bits impart a true sense of confidence. The GX use a 4.6-liter V-8 rated at 301 horsepower that delivers power to all four wheels through a 6-speed automatic transmission. The GX accelerates smoothly and quietly and can lug up to 6,500 pounds of trailer.
Trick hydraulically controlled sway bars press down on the wheels during hard cornering to reduce body lean on a curvy road, while allowing for more wheel travel on undulating terrain. The system doesn't mask the SUV's vague steering, though it helps the GX feel more confident and stable. This year's new Off-Road Package pairs four-wheeling goodies previously standard on some trim packages into a line-item option group. For four-wheelers, the off-road traction control modes, low-speed crawl control system, skid plates, and surround-view camera system are must-haves. If off-roading to you is turning off the freeway and into the Neiman Marcus parking lot, the package is easy to skip.
The Lexus GX 460 might excel off-road but not its fuel economy. There's no getting around it: The 2020 Lexus GX 460 drinks a lot of premium fuel. The EPA says to expect 15 mpg city, 19 highway, 16 combined. That highway figure is actually 1 mpg higher than last year's, so perhaps the mild front bumper revisions have made the GX a little more slippery. Or maybe the wind was blowing the right way on EPA testing day. No matter what, the GX will drink plenty of premium fuel, and there is no hybrid version available.
Newly standard active safety tech finally brings to the 2020 Lexus GX. The 2020 Lexus GX 460 finally includes active safety tech as standard equipment this year, though there's a lack of government crash-test data. This year's GX comes packed with forward-collision warning, automatic emergency braking with pedestrian detection, lane-departure warnings, automatic high-beam headlights, and adaptive cruise control. Blind-spot monitors are standard as well. There's no hands-off steering mode and the truck won't center itself in a lane, but at least all versions can stop themselves if they detect an impending collision. The GX also includes 10 airbags, stability control, full-time four-wheel drive, and its front seats are equipped with active headrests that move forward to catch occupants' heads to reduce the risk of whiplash.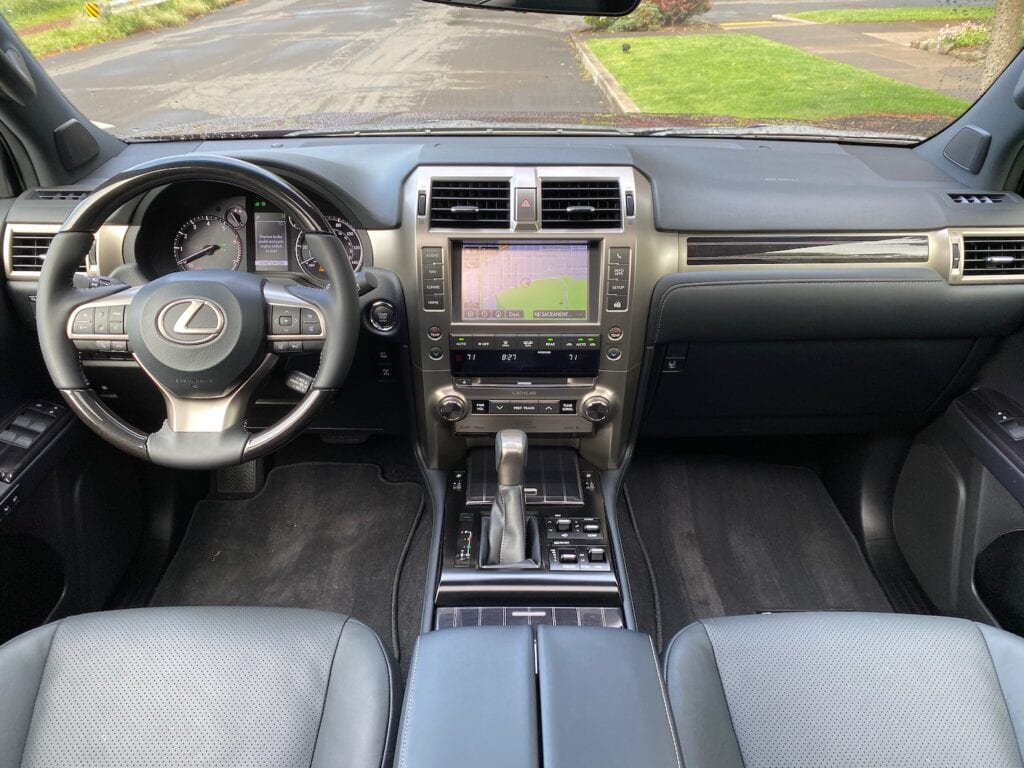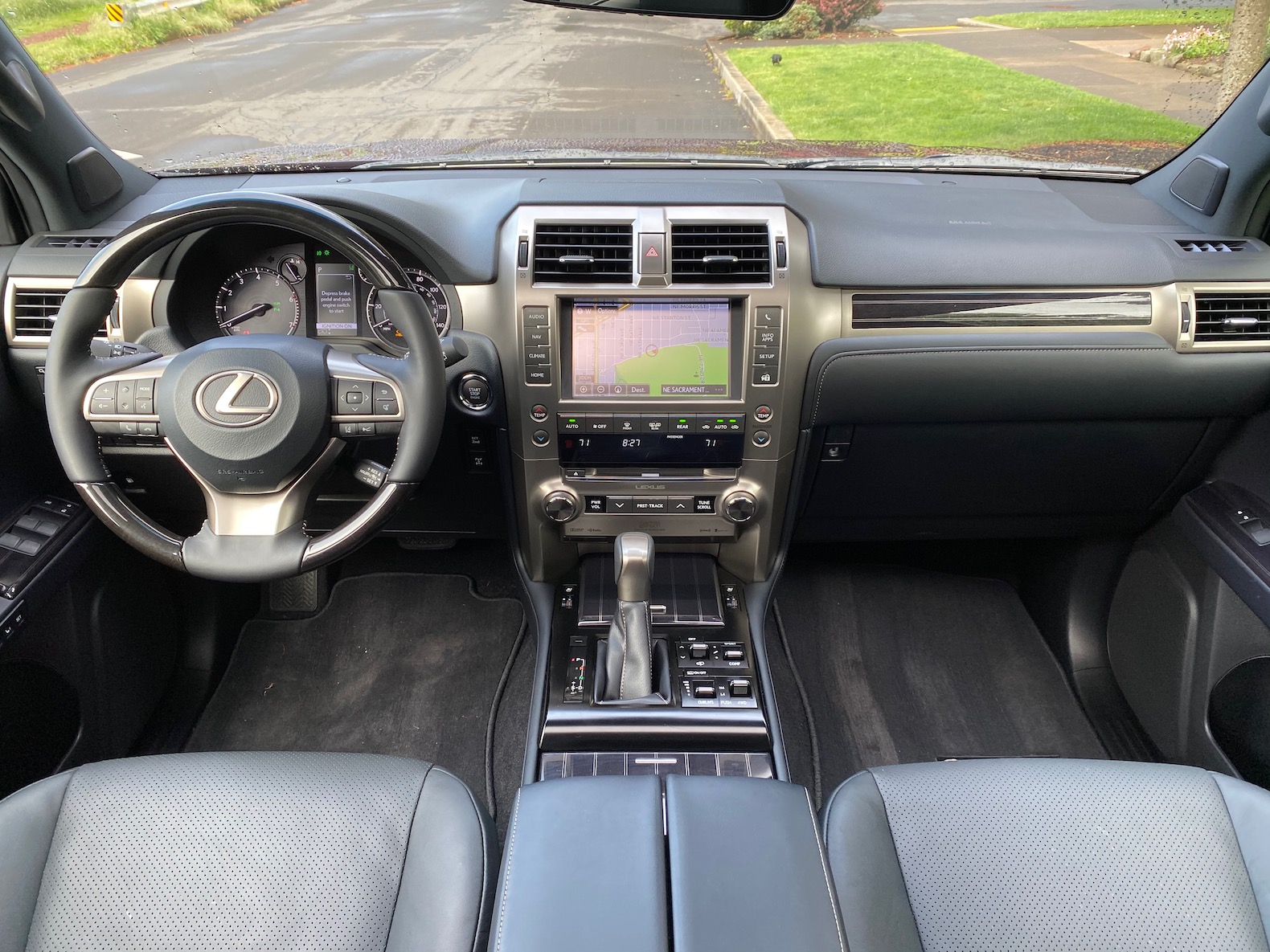 The GX's interior has good, but not exceptional space, and the seats are comfortable in the first two rows. The standard third row is kid-friendly, but that's about it. The side-hinged rear door opens curbside, a reminder that the GX shares its design with a Toyota SUV that's popular in right-hand-drive markets such as Australia and New Zealand. Cargo space with the third row in place is on the small side given the GX's footprint but well-arranged.
The 2020 Lexus GX 460 is plush and spacious, if not exactly fancy inside. Climb aboard the 2020 Lexus GX 460 and you'll find a spacious interior for most passengers and plenty of cargo space, though there are some compromises. The chair-like front seats offer good support and plenty of power adjustment. The standard synthetic leather has a durable feel, while the optional hides are typical Lexus-soft. Heated and cooled front seats are standard on most trims and the second row can be heated as an option. The interior isn't awash in exotic materials otherwise, but the glossy wood trim that dresses up the interior to old-school luxury levels.
Rear-seat riders in row two will find good space with either the standard three-seat bench or the individual captain's chairs aimed at keeping warring offspring from escalating whatever battle started before climbing into the 2020 GX. The third row is a kid-only affair, and it's a challenge to access for anyone taller than about 5 feet. Fold the second and third rows away, and the curb-side-hinged rear door swings open to reveal 65 cubic feet of cargo space which is wide and liftover is fairly low for an SUV because of the side-hinged door.

The 2020 Lexus GX 460 lacks some smartphone tech that ought to be standard by now. Compared to rival SUVs, the $54,025 2020 Lexus GX 460 trades high-tech features for off-road and towing equipment with standard full-time four-wheel drive. The 2020 GX comes in base, Premium, and Luxury trim levels. All versions come with active safety gear, an 8.0-inch touchscreen for infotainment with Bluetooth connectivity and a USB port, power front seats, and power moonroof.

The full-boat $65,290 GX 460 Luxury comes with softer leather seats, navigation, Mark Levinson audio, an adaptive suspension, and a few other features. Most buyers will opt for the $56,815 Premium that adds heated and cooled front seats, plus the option to select leather seats and the Off-Road package. We think that's the one to have.
Regardless of trim the 2020 Lexus GX 460 makes no excuses for its old school approach to modern SUV-dom. It's one of the few luxury SUV's remaining that actually can go off-road if you so choose. At the same time it retains all of the Lexus hallmark's you've come to expect; a refined driving demeanor, impeccable fit and finish, and stellar reliability. The Lexus GX is a rarity that deserves to be admired for it's no-nonsense approach.
For all your new car shopping needs, check out: drivevise.com Vehicle shopping made simple!