The 2020 Honda Insight is a fuel-efficient compact sedan that has a secret: it's among the safest cars on the road and one of the best hybrids available. Efficiency-focused shoppers would do well to consider the 2020 Honda Insight hybrid sedan. The small car from Honda returns not only more than 50 mpg combined in most configurations, according to the EPA, it also manages to do it for less than $24,000 in base form and perhaps, more importantly, without drawing attention to itself. With the Insight, Honda has a small hybrid commuter car that's efficient with fuel and its interior space. Four adults easily fit into the Insight's confines, with room for gear in the rear, too. Its looks aren't hatchback polarizing but rather a tasteful evolution from the Accord mid-size sedan.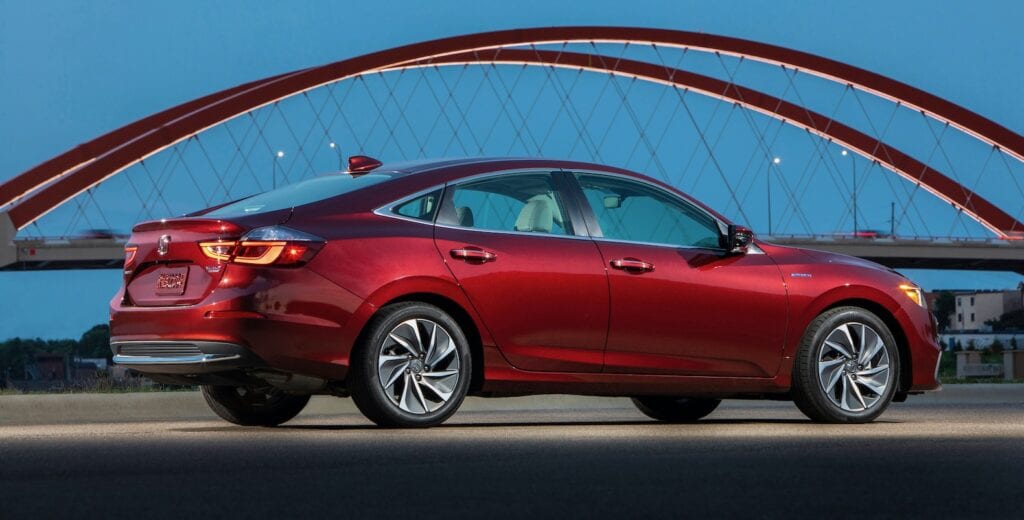 Under the hood of the Insight is an inline-4 and hybrid battery setup that's unique among its competitors. The Insight's 1.5-liter inline-4 engine mainly drives a generator that powers the hybrid batteries and 129-horsepower electric motor that drives the front wheels. The engine and the driver's right foot may be a little disconnected at times, but the Insight efficiently soldiers down a road at a mostly relaxed pace with a placid ride while most Insights are rated at 52 mpg combined by the EPA.

Four adults fit best, but five will fit in a pinch, with 15.1 cubic feet of cargo room in the trunk. The Insight's batteries don't eat into available interior space at all, and it's hard to tell the Insight apart from a Civic. Like the Civic, the Insight has superlative safety scores. Every Insight is a Top Safety Pick+ by the IIHS, and the sedan aced federal crash tests with top scores in every subtest. Very few cars can say the same.

For less than $24,000 to start, the 2020 Insight LX is equipped with 16-inch wheels, LED headlights, a 5.0-inch display for audio, Bluetooth connectivity, one USB charger, cloth seats inside, and active safety features. We see better value in the Insight EX that costs a little more than $25,000 and adds an 8.0-inch touchscreen for infotainment with Apple CarPlay and Android Auto compatibility, two USB ports, active lane control, a split-folding rear seat, and an uprated radio with more speakers.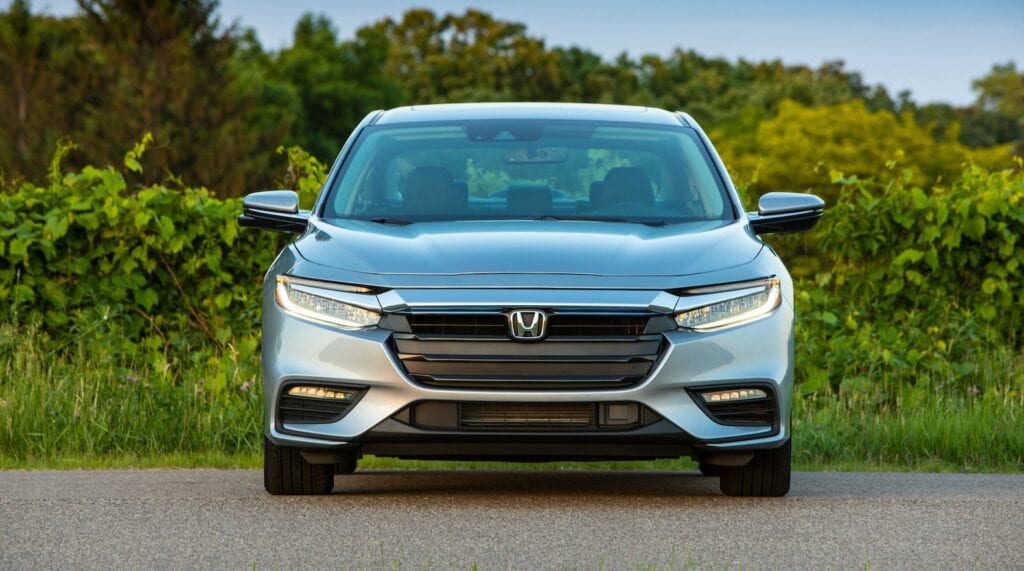 The 2020 Insight isn't a styling standout, but it's hardly offensive either. Built on a Civic but with looks from the Accord, the 2020 Honda Insight draws inspiration from two good sources. The Insight only gets the Civic's wheelbase and roofline, what's left for the Insight is a clean-sheet redesign that looks closer to an Accord mid-size sedan. The Insight borrows the Accord's nose and tail, with few creases along the body sides that's a less busy look than the Civic.

Performance is relative in the 2020 Insight. The hybrid compact sedan's superlatives are found in its fuel-economy figures, not 0-60-mph tests. Although it definitely drives more responsive than other hybrid competitors. The Insight's motivation comes from a 1.5-liter inline-4 that makes 107 hp and a 129-hp electric motor that make a 151 hp combined. That's not new math; the Insight's hybrid acceleration is fundamentally different than many other hybrids on the road.

In most cases, the engine powers a generator that feeds the battery, which spins up the electric motor that drives the front wheels. The engine drives the front wheels in only a few situations, which is a process unique to Honda hybrids. Honda calls the system a "two-motor hybrid" system and it skips the need for a conventional transmission. It relegates the gas engine to generator duty in many situations. The noticeable difference for many drivers will be the disconnection between their right feet and what's going on under the hood. In some cases, the engine could be humming along to power the generator at low speeds, or nearly silent at high speeds.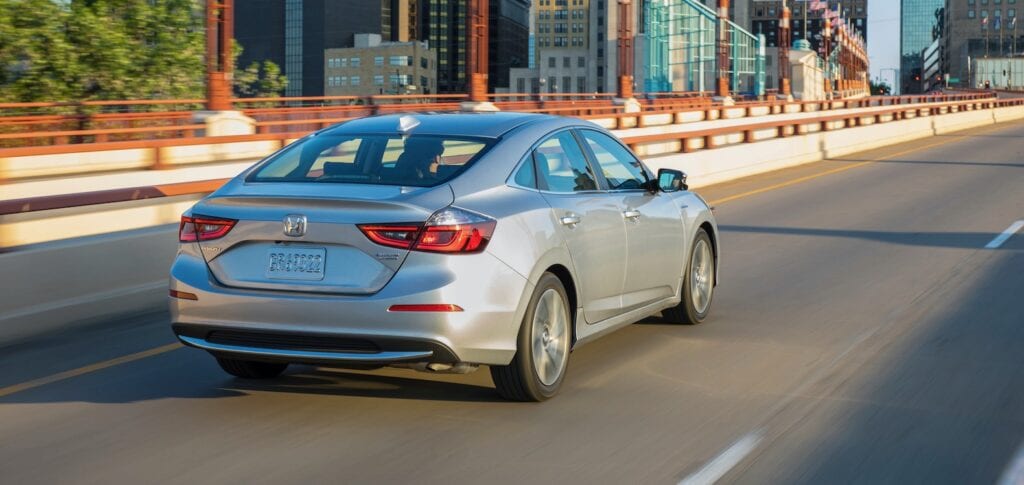 Zero to 60 mph happens in about 9 seconds, which is a little slower than most gas-only competition but quicker than other hybrids. Climbing hills or merging into traffic could take some advance planning. To help, the Insight is equipped with EV, Sport, and Econ modes that predictably impact performance, although Sport mode feels out of place here. In our testing, tipping the Insight into Sport made the throttle peppier and the engine rev higher. Switching over to Econ mode relaxes the throttle response, but didn't seem to push the car into all-electric mode any more than normal.

We've found that the Insight is best when operated without micromanaging; start the car up and go. Honda introduced a heavier-than-normal "kickdown switch" on the throttle so a relaxed attitude is best with the Insight. Acceleration aside, the Insight tempers rocky roads with complaint suspension pieces and good tuning. Front struts and a rear multi-link gulp down bad road behavior well. The 2020 Honda Insight is our favorite hybrid for driving dynamics. 
The trade-off is the 2020 Honda Insight is very efficient. At 52 mpg combined, not many cars are more fuel-efficient than the 2020 Honda Insight. Those that are more efficient typically come with a plug. The EPA rates the 2020 Insight at 55 mpg city, 49 highway, 52 combined. Insight Touring versions get their own rating, 51/45/48 mpg since those versions have bigger tires that cut into efficiency. Those numbers aren't backward. Hybrid cars typically fare better in city tests at low speeds where hybrid batteries help engines more. In our week of testing a Touring version of the Insight, we average an EPA beating 51.9 mpg.

The 2020 Honda Insight is one of the safest cars on the road, for less money than many others. Surprisingly safety is one of the 2020 Insight's best-kept secrets. In addition to stellar scores from crash-testers, the 2020 Honda Insight makes active safety features standard and outward vision is good. Testers from the IIHS gave the Insight a Top Safety Pick+ award in every configuration. That's relatively rare because many automakers don't bundle pricey headlights in base models. The IIHS also rated its automatic emergency braking system as "Superior" and noted that the Insight avoided forward crashes at 12 and 25 mph. Meanwhile, federal testers gave the Insight five stars across the board, including five stars in every sub test, another relative rarity. Every Insight is equipped with standard automatic emergency braking, adaptive cruise control, and traffic sign recognition. Insight EX and Touring versions add active lane control.
Efficient with fuel and space, the 2020 Insight carries people and cargo a long way on a tank of gas. Despite having a different name, the 2020 Insight is actually a Honda Civic underneath. That's good news for people and cargo, which both easily fit within the Insight's compact frame. Inside, the Insight has a low dash and a mild style that's more tasteful than trendsetting. The Insight's dash convenes toward the middle of the car in a subtle cue that draws eyes to the center of the cabin. The compact Honda also impresses with good cargo capacity at just a hair over 15 cubic feet.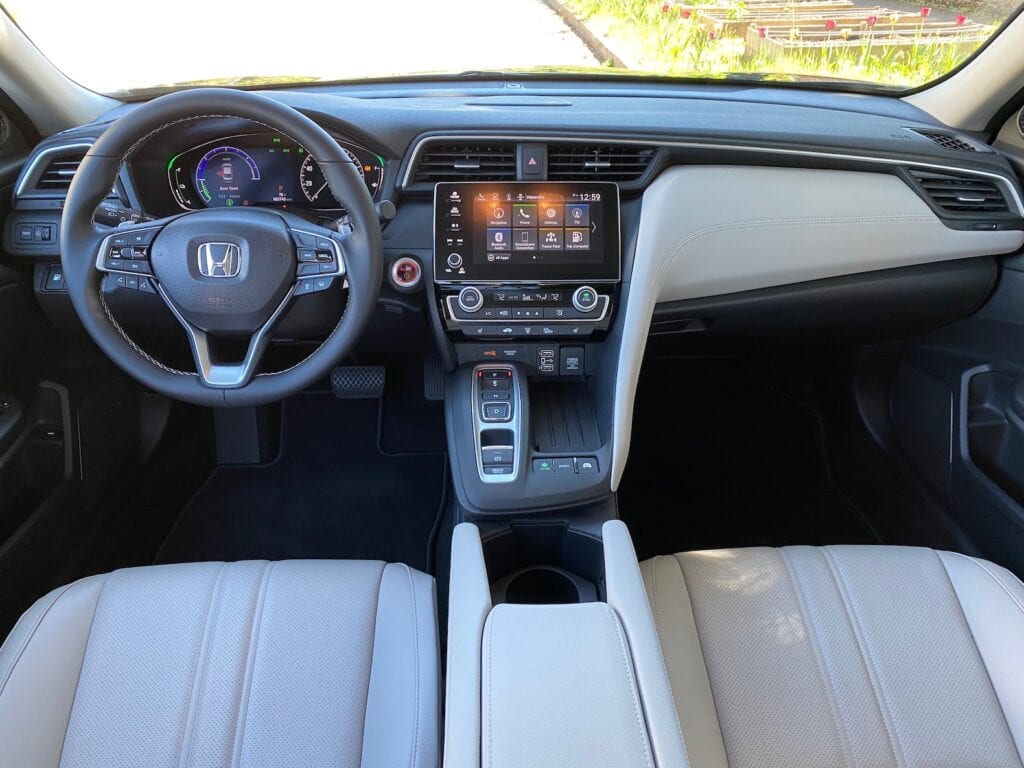 The Insight's seats are comfortable and supportive, but lower than we expected. The room up front is good for long bodies in any direction: 42.3 inches of leg room and 39.3 inches of head room. Drivers should find a wide range of adjustability is probably better for two. There's 37.4 inches of available leg room, enough for 6-footers to sit behind other 6-footers. The seat bottoms are supportive with good knee room and hip room for two big, wide American bodies. The Insight doesn't eat too much into cargo space, compared to the Civic. There's 15.1 cubic feet of cargo room under the lid, which expands when the rear seats are folded down.

Honda's native infotainment system is simple and straightforward, with easy-to-follow menus and a handful of customizable features. It's not as flashy as some competitors, but it works just as well. A bar across the top of the touchscreen shows frequently used tabs: phone, source, time, and what's playing. The hard buttons along the side offer quick keys to the home screen, brightness, track selection, volume control, and a back button. When connected, Apple CarPlay and Android Auto run smoothly with little lag.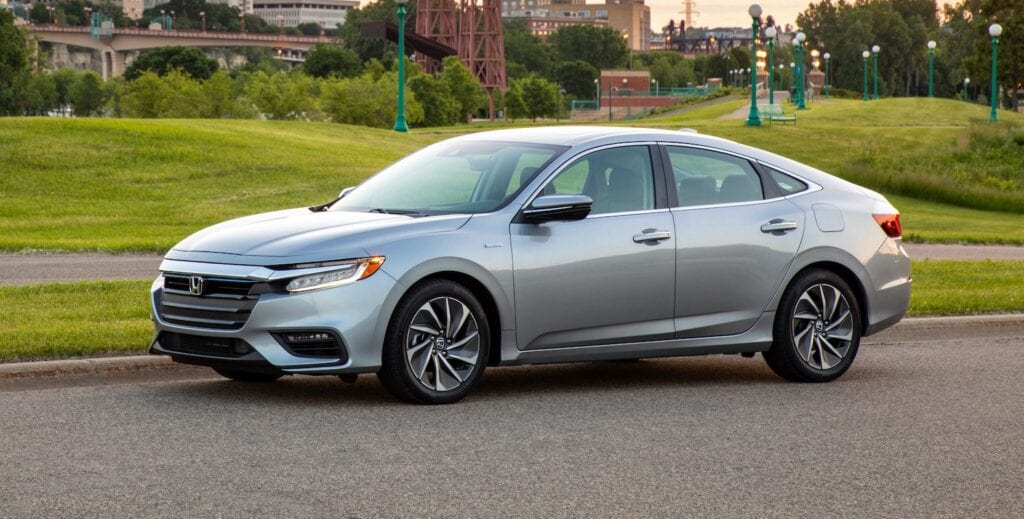 Honda's middle child in the 2020 Insight family is our top pick for value. The base 2020 Insight is a commuter special: inexpensive to buy and to run. Everything trim is well equipped and they're all good values. This year, Honda offers the Insight in LX, EX, and Touring packages. The 2020 Insight LX costs less than $24,000 and includes 16-inch wheels, LED headlights, a 5.0-inch display for audio, Bluetooth connectivity, one USB charger, cloth seats inside, and active safety features that we cover above.

We'd skip ahead to the Insight EX that adds an 8.0-inch touchscreen for infotainment with Apple CarPlay and Android Auto compatibility, two USB ports, active lane control, a split-folding rear seat, and and uprated radio with more speakers. Insight EX sedans cost about $25,000. At the top is the Touring version that heaps on navigation, a moonroof, 17-inch wheels, and leather upholstery. Unfortunately those larger wheels cost you on the EPA scale.
It seems to have taken years for Honda to get the Hybrid recipe right. While the Prius has dominated for decades, Honda has finally learned and caught up. The 2020 Honda Insight does everything a Prius does but better. It has class-leading driving dynamics, impressive safety features and scores, all while being one of the most fuel-efficient vehicles on sale. For all those reasons it's our new favorite Hybrid choice among small cars.
For all your new car shopping needs, check out: drivevise.com Vehicle shopping made simple!