The 2020 Buick Enclave is a crossover SUV with a luxurious feel and impressive amenities. With its 2020 Enclave, Buick aims for families looking for an upmarket crossover SUV with three rows of seats. For the most part, the 2020 Enclave hits the bullseye with all-wheel drive and safety options we consider essential for any family. Changes to the Enclave this year after a redesign last year include a new Sport Touring styling package and newly available massaging front seats, but otherwise the Preferred, Essence, Premium, and Avenir trims carry over unchanged.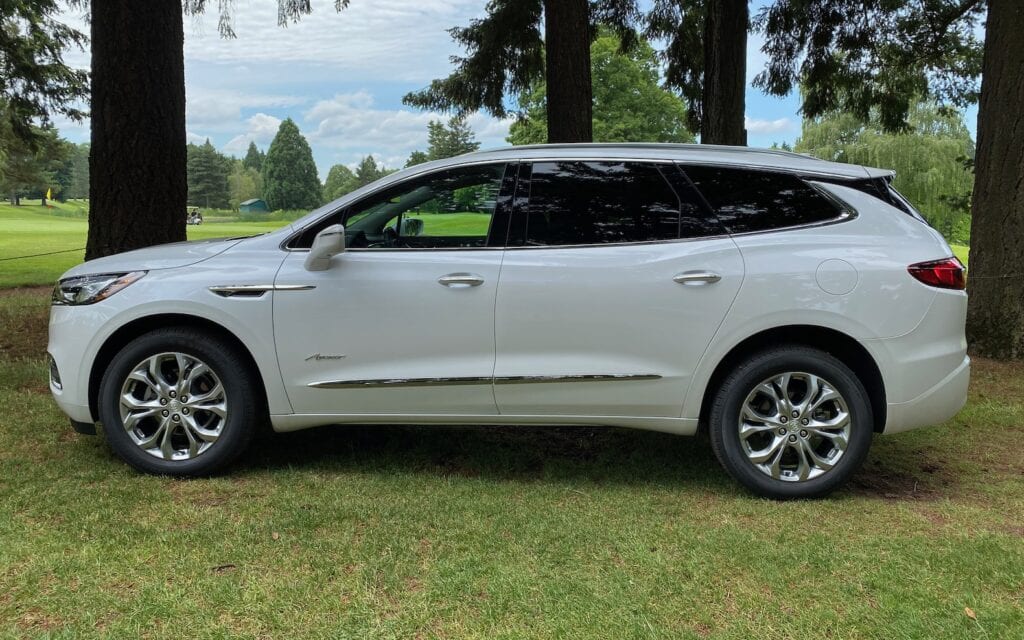 A 310-horsepower 3.6-liter V-6 powers either the front or all four wheels through a slick 9-speed automatic transmission. Premium and Avenir trims can be had with a more sophisticated all-wheel-drive system with a twin-clutch rear differential compared to the system available on the Essence. The base Enclave Preferred comes only in front-wheel drive. The Enclave rides firmly but comfortably and can handle challenging pavement with confidence. It fondly remind us of European suspension tuning. Beefy sound deadening keeps the cabin commendably silent, as we've come to expect from Buick.

The 2020 Buick Enclave has a well-proportioned look that could have come out of Europe's best styling houses and wears its chrome trim well. Its silhouette says mainstream crossover SUV, but its detailing is a notch above. The wide, slatted grille is flanked by brightwork that extends to the LED headlights and running lights. A hint of chrome on the rear fender does a much better job recalling Buick's design past than the chunky fake portholes the automaker used to glue to its hoods. At the rear, a big chrome stripe drapes across the tailgate between the high taillights. Big exhaust tips poke out of the rear bumper, a nice contrast that helps give the crossover SUV a strong look.

The range-topping Enclave Avenir from our test vehicle has its own grille and interior hues, but most of its features can be found at a lower price point. This year's new Sport Touring trim package for the Essence paints much of the chrome to match the body and has a few unique touches inside.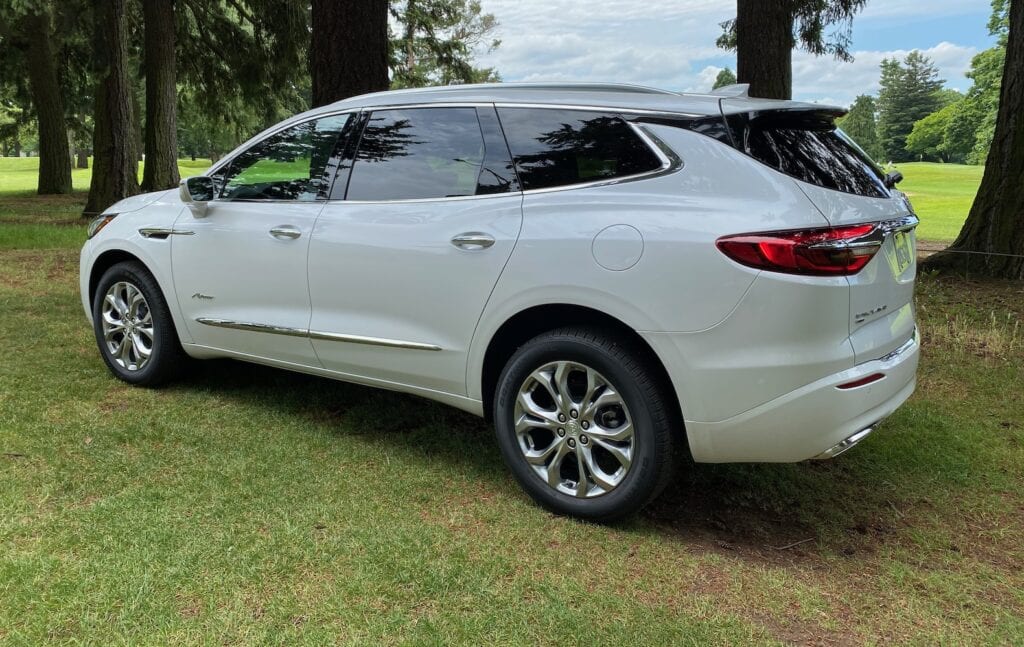 The 310-horsepower V-6 offers good thrust and it works well with the standard 9-speed automatic. The gearbox snicks through its nine cogs quickly, and the steering wheel-mounted paddle shifters are a boon for highway passing and descending grades. The Enclave comes standard with front-wheel drive, while mid-range models can be had with a basic all-wheel-drive system that brakes wheels to reduce slip. The costlier Premium and Avenir trims swap in a far more sophisticated system worth seeking out for wintry climates that includes a clutch in the rear differential to shuttle power between the wheels rather than applying the brakes.

A sublime ride quality earns the 2020 Buick Enclave our praise. Smooth suspension tuning on every version of the 2020 Buick Enclave, and not just the adaptive dampers fitted to the costly Avenir, keep the ride serene. The optional adaptive dampers on the Enclave Avenir have modes to soften and stiffen up the ride, though a so-equipped model is costly. The standard 18-inch wheels have plenty of sidewall that works well with the front struts and five-like rear suspension setup to deliver a composed, high-quality ride. Sharp, quick-responding electric power steering delivers decent road feel for an upscale family hauler. The Enclave is rated to lug 1,500 pounds in base configuration, while an optional towing package ups that figure to an impressive 5,000 pounds.
The 2020 Buick Enclave uses a moderately thrifty powertrain. With front-wheel drive, the Enclave is rated at 18 mpg city, 26 highway, 21 combined. Splurge for all-wheel drive and it dips to 17/25/20 mpg, figures that are about average for its class. In our week with an Avenir model with the more sophisticated all-wheel drive system, we averaged 21.9 mpg.
What good scores the Enclave gets from federal and independent testers gets spoiled by a lack of standard active safety features on lower trim levels. Federal testers rate the Enclave at five stars overall, albeit four stars for frontal crash and four in the calculated rollover risk assessment. The IIHS gives the Enclave good crash-test scores but drops it from Top Safety Pick status for its marginal headlights. Automatic emergency braking is now standard on the Enclave Premium and Avenir, but it is not available on the Preferred or Essence trim levels.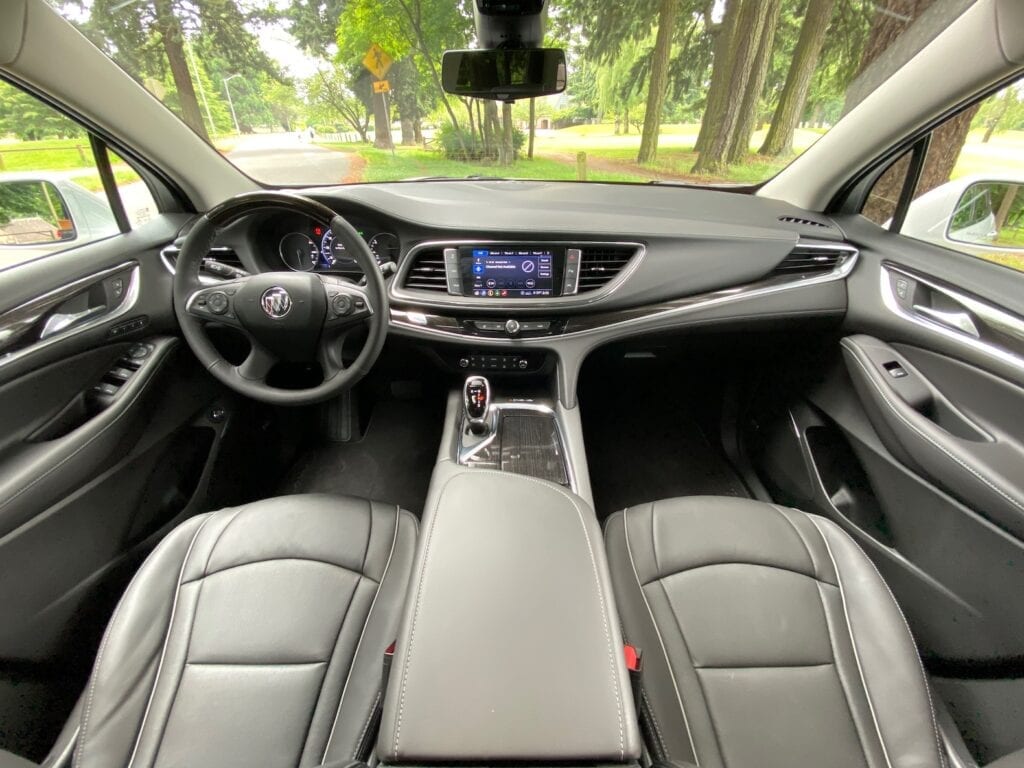 The 2020 Buick Enclave has a spacious, high-end interior with good attention to detail. The Enclave boasts a spacious, well-wrought interior available in warm earth tones on most trims. Leather upholstery comes standard on Essence and higher trims. Big door openings ease access to the first and second rows, while even the third row is spacious enough for adults to ride in a pinch. The Enclave can swallow nearly 98 cubic feet of cargo with all three rows tucked flat. A 3.1 cubic-foot bin under the cargo floor expands capacity even more.  

Inside, the 2020 Enclave is well laid-out, a reminder that there can be luxury in simplicity. The curved dashboard and control panel have few buttons to disturb the look, and a wide variety of interior hues are well-matched to the exterior. We especially like the butterscotch trim on higher-option Enclaves. Stretching 204.3 inches between its bumpers, the 2020 Buick Enclave has a wide-open interior with plenty of room for passengers in all three rows.

The 2020 Enclave's front seats boast good support and are separated by a wide center console. Power adjustment is standard, even with the cloth upholstery fitted to base models. Leather-upholstered and heated seats are optional, while massaging front seats are newly available for 2020. Row two features buckets that slide forward and back, plus good head room even on moonroof-equipped models. The passenger-side second-row bucket tips forward for easier access to the third row. back there, even adults will find decent space in the third row, though head room is compromised.

The 2020 Enclave is well-equipped at almost every level. The 2020 Buick Enclave costs about $41,200 to start, but versions we recommend are considerably more expensive. The base Enclave Preferred comes only with front-wheel drive and offers a limited color palette. If you're a sun-belter, it's a good value with its standard power-adjustable and heated front seats, power liftgate, and three-zone automatic climate control. Its tech story is good, too: Standard gear includes an 8.0-inch touchscreen for infotainment with Apple CarPlay and Android Auto compatibility, Bluetooth, wi-fi hotspot, and GM's OnStar safety and concierge service.

We recommend bypassing the $43,200 Enclave Essence and jumping instead to the $49,600 Premium trim, especially if all-wheel drive, for $2,300 more, is important. Not only does the Premium offer a more effective all-wheel-drive system than the system optional in the Essence, it includes automatic emergency braking and blind-spot monitors in addition to leather upholstery, massaging front seats, and a Bose audio system. The range-topping Enclave Avenir is mostly a styling package, though its available adaptive dampers may be worth a test drive. At around $60,000 with every option selected.
The Enclave ends up being the perfect Buick SUV. It's large enough to haul families and their gear, sports refined driving dynamics, and retains all the hallmark Buick traits being quiet and composed. The 2020 Buick Enclave ends up being a formidable player in the large SUV class that definitely deserves a look.
For all your new car shopping needs, check out: drivevise.com Vehicle shopping made simple!